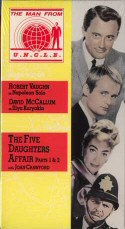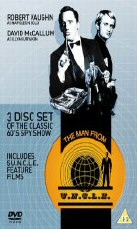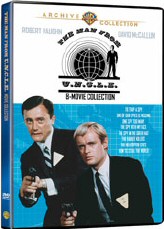 MGM/Arena. 92 minutes.
US TV: A two-part episode of the Man from U.N.C.L.E show, titled "The Five Daughters Affair," originally airing 3/31 and 4/7/67. (In production in Los Angeles from 2/7/67 to 3/9/67.)
UK theatrical release: August 3.
DVD releases:
9/8/03 (Region 2 only) as part of 3-disc set of 5 U.N.C.L.E. movies.
8/23/11 (US Region 1) as part of 4-disc/8-movie Warner Archive set including Joan's "Karate Killers."
Cast: Robert Vaughn, David McCallum, Joan Crawford (cameo), Curt Jurgens, Herbert Lom, Telly Savalas, Terry-Thomas, Leo G. Carroll, Kim Darby, Diane McBain, Jill Ireland.
Credits: Story by Norman Hudis and Boris Ingster. Producers: Norman Felton (executive), Boris Ingster. Director: Barry Shear. Cinematography: Fred Koenekamp. Original Music: Gerald Fried, Jerry Goldsmith. Art Direction: George W. Davis, James Sullivan. Editing: William B. Gulick, Ray Williford.