Andre Sennwald in the New York Times (June 22, 1935)
' No More Ladies,' a Film Version of the A. E. Thomas Play, at the Capitol -- 'Princess Charming.'
The kind of class which Eadie (who was a lady) used to spell with a capital K has been expensively buttered on the motion picture version of "No More Ladies," which opened at the Capitol Theatre yesterday. Joan Crawford has it, Robert Montgomery has it, the dialogue has it, Adrian's gowns have it, and the opulent Metro-Goldwyn-Mayer sets have it. The photoplay, despite its stage ancestry, is out of the same glamour factory as Miss Crawford's "Forsaking All Others." If it is less furiously arch than that modern classic of sledgehammer whimsey, it is also somewhat less successful as entertainment. Out of the labors of the brigade of writers who tinkered with the screen play, there remain a sprinkling of nifties which make for moments of hilarity in an expanse of tedium and fake sophistication.
Although the film preserves the skeleton of A. E. Thomas's stage comedy, it has been upholstered as a vehicle for exhibiting the distinguished personalities of Miss Crawford and Mr. Montgomery. With that fetching smirk which has made him America's dream boy, Mr. Montgomery is pretending to be a devil with the women, a fabulous blend of Rudolph Valentino and Peter Pan. In a careless moment he allows himself to be lured into matrimony by an intense young woman, Miss Crawford, who is confident of her ability to hold him. When he returns to his old ways, his wife decides to teach him a lesson. Thereupon she organizes a week-end party composed of the people whose lives he has messed up during his career as a bounder. She herself dashes off into the night with Franchot Tone, pretending that she, too, is going to play hob with the marriage vows.
The photoplay keeps a comic drunk and a comic Englishman on the sidelines for use in those frequent emergencies when the glamour becomes lumpy. Although Donald Ogden Stewart has contributed several really funny lines, the screen play is chiefly notable for its surface shimmer, the hollowness of its wit and the insincerity of its emotions. The sophistication of "No More Ladies" is the desperate pretense of the small girl who smears her mouth with lipstick and puts on sister's evening gown when the family is away. It ought to make a very respectable profit.
---
Joan Crawford Stars in "No More Ladies," Scintillating Romance of Young Moderns!
A story that fairly bubbles with comedy brings Joan Crawford and Robert Montgomery here next week in "No More Ladies," the new Metro-Goldwyn-Mayer hit.
Adapted from the Broadway stage hit, "No More Ladies" retains all the drama and sparkling humor of the original--with the addition of one of the finest screen casts of the year.
Prominently featured with the co-stars are Charlie Ruggels, Franchot Tone, Edna May Oliver, Gail Patrick, Reginald Denny and many others. Each sagaciously cast, these polished experts have created a beautiful photoplay from the rich material granted them.
When Marcia Townshend (Joan Crawford) marries Sherry Warren (Robert Montgomery), she knows his past; but they are sure that, in spite of their many "happily divorced" friends, they can make marriage work.
When, later, Marcia discovers she may have made a mistake, she decides to dry her tears and throw a party! All Sherry's ex-sweethearts are invited with their new swains and ex-husbands. That it doesn't turn out exactly as Marcia planned shapes the drama of the picture; and meanwhile the funniest party scenes ever filmed hold the screen.
You'll laugh and cry as Joan settles the problems of a 1935 bride.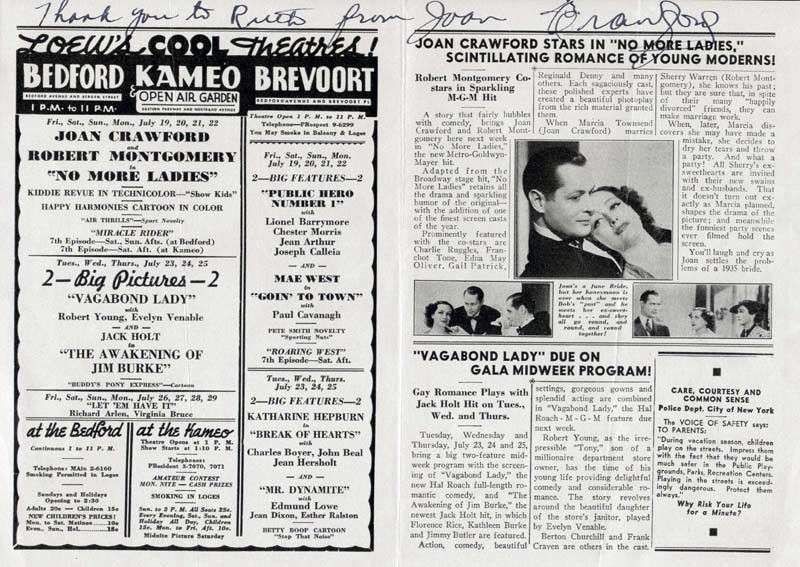 ---
Howard Barnes in the New York Herald Tribune (1935):
Miss Crawford's portrayal of Marcia...is incisive but unconvincing. The sophistication of her attitude towards matrimony and life is less a mood of her own creation than a pattern of gestures and spoken lines. She is handsome and engagingly defiant in the scene that brings together her husband's former conquests and marks her attempt to pay him back in kind for his infidelity, but on the whole hers is not a distinguished performance.
---
TV Guide.com:
A slick "formula" film with gorgeous costumes, lots of pseudo-witty lines, and an excellent cast, none of which can make up for the manufactured nature of the screenplay. Nonetheless, it's still good fun and has enough humor going for it to make this a pleasant diversion....Glamorous and well-produced,
No More Ladies
made a few dollars for the studio.