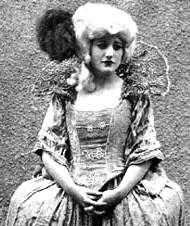 MGM silent. 74 minutes (6 reels). US release: 7/15/25 (premiere); 9/6/25 (general).
Not available on VHS or DVD.
Cast: ZaSu Pitts, Tom Moore, Ann Pennington, Lilyan Tashman, Bernard Randall, Helen D'Algy, Conrad Nagel, Norma Shearer, George K. Arthur, Lucille LeSueur (Joan as "Bobby"), Paul Ellis, Roy D'Arcy, Gwendolyn Lee, Dorothy Seastrom, Lew Harvey, Chad Huber, Walter Shumway, Dan Crimmins, Jimmy Quinn.
Credits: From the story "Hearts" by Adela Rogers St. Johns, which appeared in Cosmopolitan magazine. Adaptation: Alice D.G. Miller. Director: Monta Bell. Camera: Ira H. Morgan.
Plot Summary:
This comedy-drama about the Follies was written by veteran newspaper reporter and "sob sister" Adela Rogers St. John. Maggie (ZaSu Pitts) is the Follies comedienne, and she envies all the other girls in the show -- the pretty ladies with their sweethearts. She knows she's only there for the laughs, and that no one would ever give her a second look if not for her clowning. Things change when the accidentally falls into the orchestra and breaks the drums being played by Al Cassidy (Tom Moore). A friendship begins which blooms into romance, sparking the jealousy of Selma, the leading lady (Lilyan Tashman). Cassidy writes a hit for Maggie and sticks by her. Eventually they marry and start a family. Cassidy, who has become a renowned songwriter, is called to Atlantic City to prepare a new score for Selma. Finally he falls prey to her charms. A gossip informs Maggie of this fact, but when he returns home contrite she refuses to listen to him and pretends nothing has happened. Secretly, she prays it will never happen again. The supporting cast in this picture is impressive. It includes Norma Shearer, Conrad Nagel, and Ann Pennington as herself. In a bit part is an ambitious, up-and-coming young starlet by the name of Lucille LeSueur. It would be a mere matter of months before she became more well known as Joan Crawford. ~ Janiss Garza, All Movie Guide
Notes:
• This is Joan's first credited film appearance. She is billed for the first, and only, time with her birth name of "Lucille LeSueur."
• In the film, Joan appears as part of a "living chandelier" in one scene, along with fellow screen newcomer Myrna Williams (who's uncredited and would later adopt the last name "Loy"). The two struck up what would become a lifelong friendship.