The Best of Everything
Imperial House
150 East 69th Street
(between Lexington Avenue and 3rd Avenue)
22-G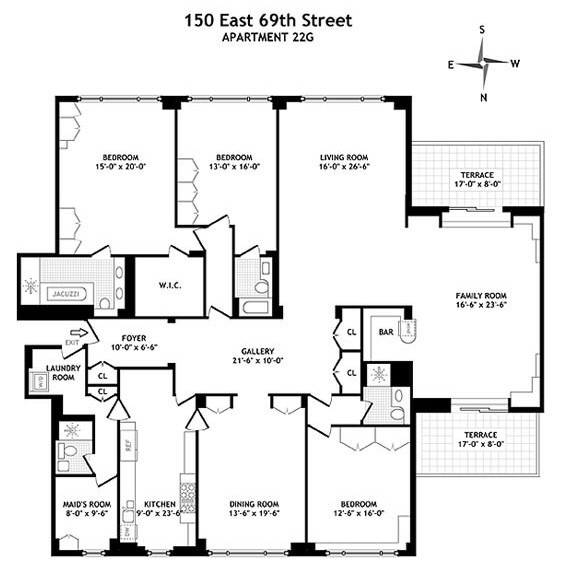 Joan lived in a 9-room apartment, 22-G, from 1967 to 1973. (From 1973 until her death in 1977, she was in a 5-room apartment, 22-H, in the same building.) Below is her description of the 22-G apartment:
...My next move was from the big Fifth Avenue duplex to the much smaller apartment I live in now....I had only a few blocks to go. But I had to dispose of a great many things and again it was a question of deciding what to send to Parke-Bernet for auctioning because I have much less storage space here for china and crystal....
I have the lovely upholstered pieces that were made for the Fifth Avenue apartment, and some of the fine Chinese pieces I acquired in California. My living- and dining-room walls, and those in the hall, are white. The sofas are egg-yolk yellow--not a metallic gold shade, which I find harsh. The linen draperies, too, which I brought from the other apartment and had shortened, are egg-yolk yellow with white linen behind them. (When they're washed only one set is taken down at a time, so that there's always something at the windows.)
The yellow is a lovely soft background for the leaf-green accents on small chairs and stools. The sofas are banked with green and yellow pillows, sparked with two chintz pillows in green and white. The same colors flow into the dining room, which seats eight very comfortably and ten if necessary, at a yellow baked-enamel Parsons table that I have covered with yellow felt for everyday wear and tear. The dining-room curtains have a pale-green-and-white floral design. The chairs are covered in green leather.
The living room is L-shaped, giving the effect of two rooms, and in each I have a large green area rug bordered in yellow. Lamps, sculptures, and bibelots, some I've had for decades, stand out strikingly against the white walls. And there are masses of green plants and flowers at all times of the year. There's a long low breakfront displaying the miniatures I've always loved collecting, and the hall is lined, floor to ceiling, with bookshelves containing books I've managed to keep with me from other years, and the new ones that seem to come in every day.
I've said that I avoid chintz, but very bravely I've added an armchair done in the same pattern as the pillows and the dining-room curtains and it's a great improvement. It softens and warms the room....
I'm beginning to run out of wall space. I have Margaret Keane's paintings, which I love, hanging in my bedroom and dressing room, and I think I would start putting them in the bathrooms if the walls weren't tiled to the ceilings.
First 4 photos below and above excerpt courtesy of Joan's 1971 autobiography My Way of Life.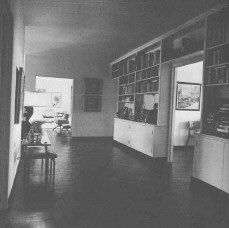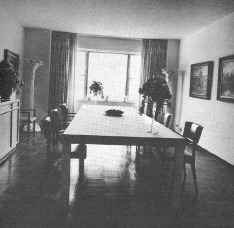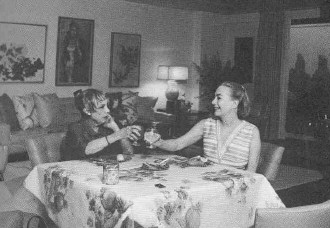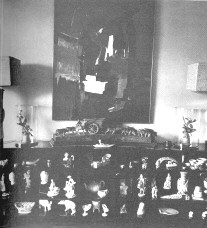 Photos below courtesy of Bryan Johnson.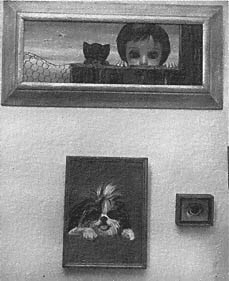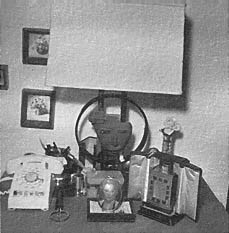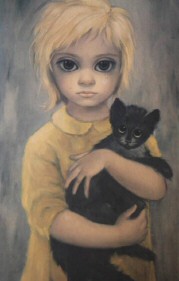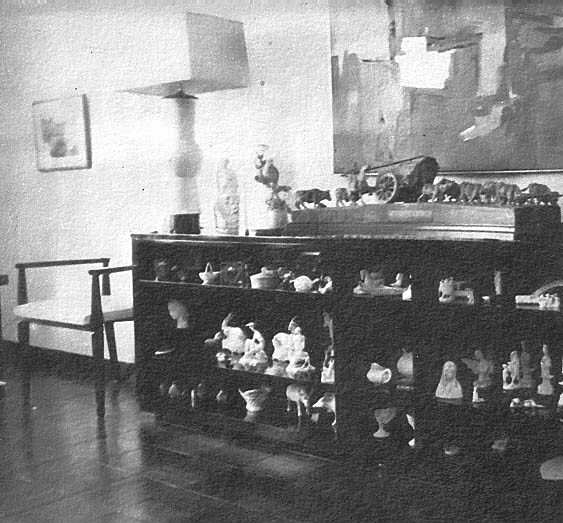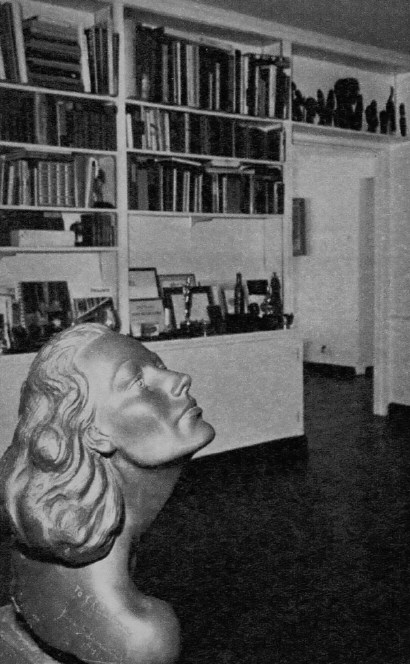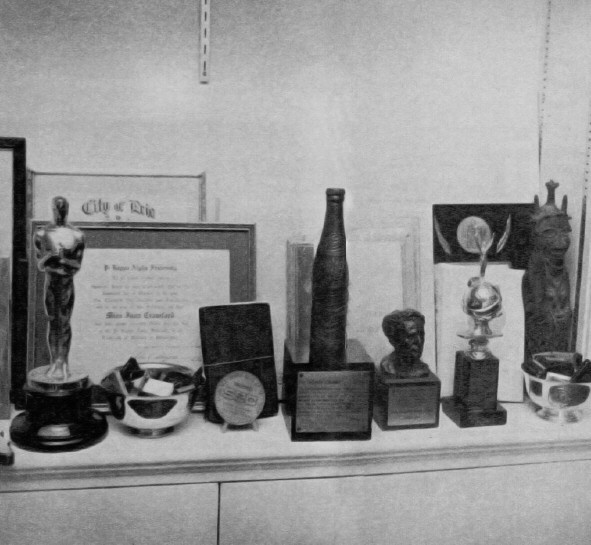 ---
Below are photos of the apartment as it looked when put on the market in 2007 for $5.5 million. Visit the Stribling Brokers site for more info on the listing.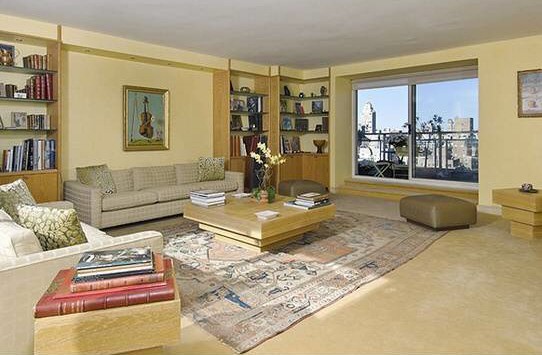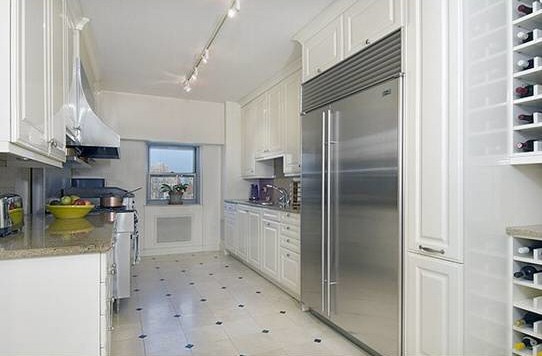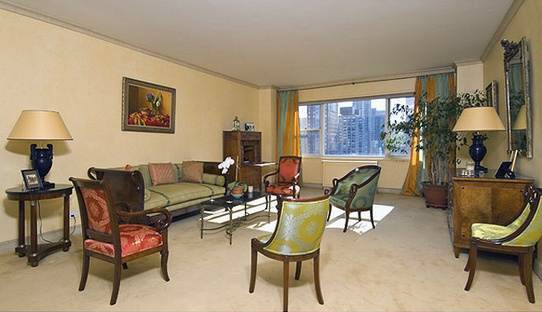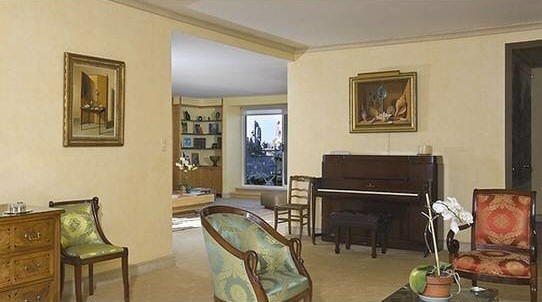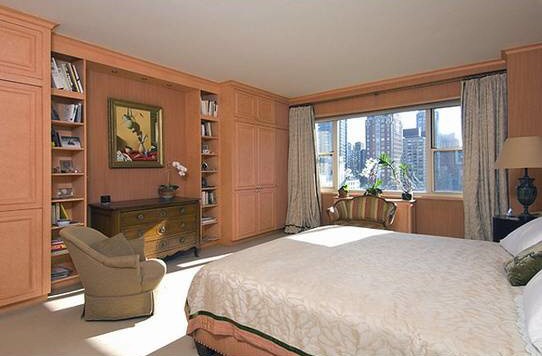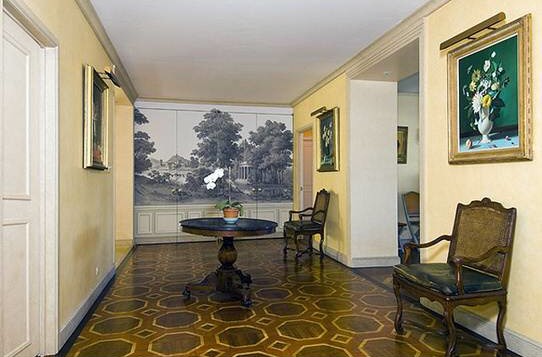 ---
The Best of Everything