The Best of Everything
Joan Crawford's Kansas City
(1916 - 1923)
The City Union Station
When Joan and family arrived at Kansas City's Union Station from Lawton, Oklahoma, in early 1916, they were first long-term renters at The New Midland Hotel at 407 E. 9th (at Oak), which the parents ultimately managed before stepfather Cassin left the family around 1917. In 1918, mother Anna Bell began to manage, and live at, the City Gate Laundry, a few doors down at 403 E. 9th (location pictured below).

Below the map are general street scenes from Kansas City during the time Joan lived there, all within a few blocks of 9th and Oak, where Joan initially lived. The addresses of all scenes can be located on the map shown. (At the very bottom of this page are period shots from KC's Union Station.)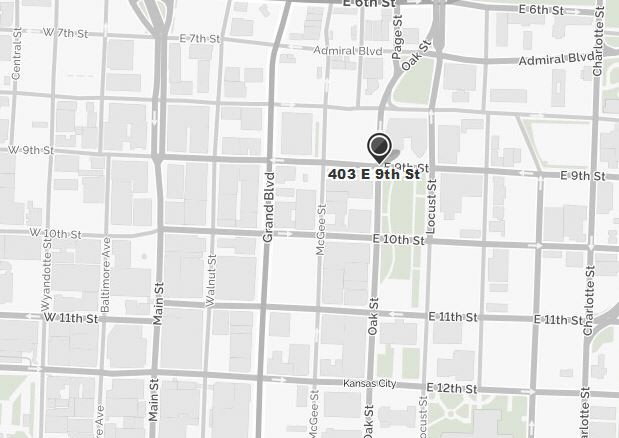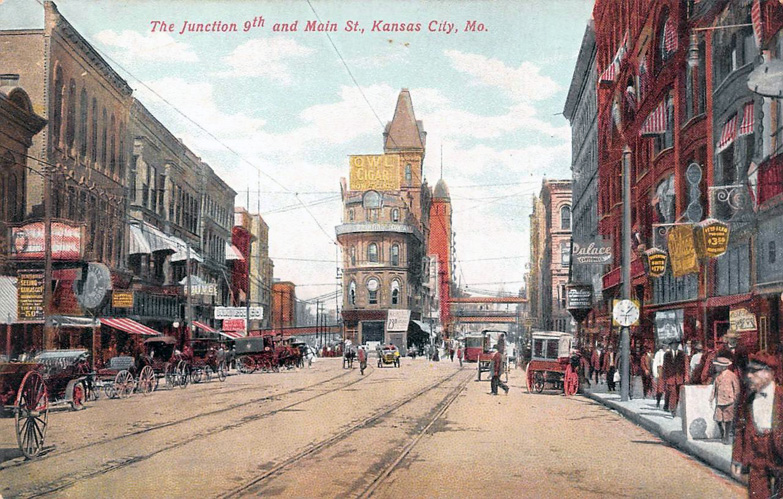 Above: 1910s Kansas City, 9th and Main.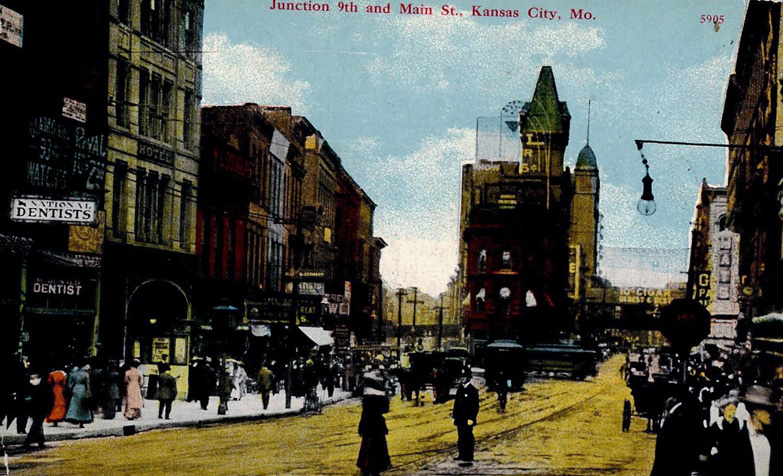 Above: 1910s Kansas City, 9th and Main.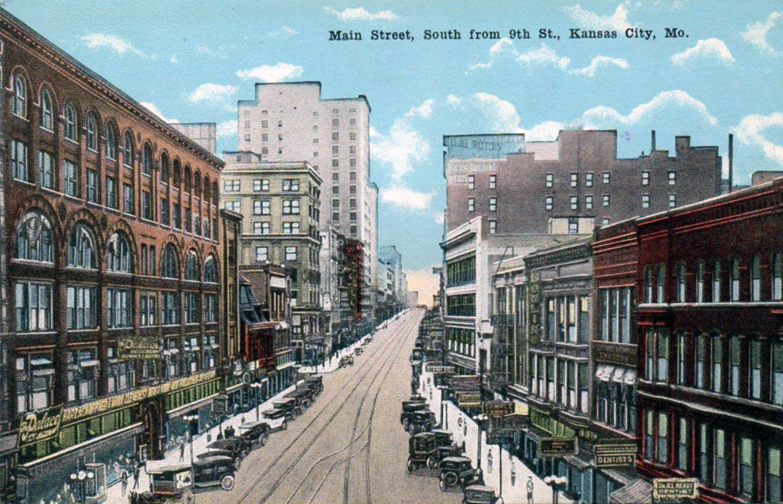 Above: 1915 Kansas City, Main looking south from 9th.
Above: 1910s Kansas City. Main looking north from 9th.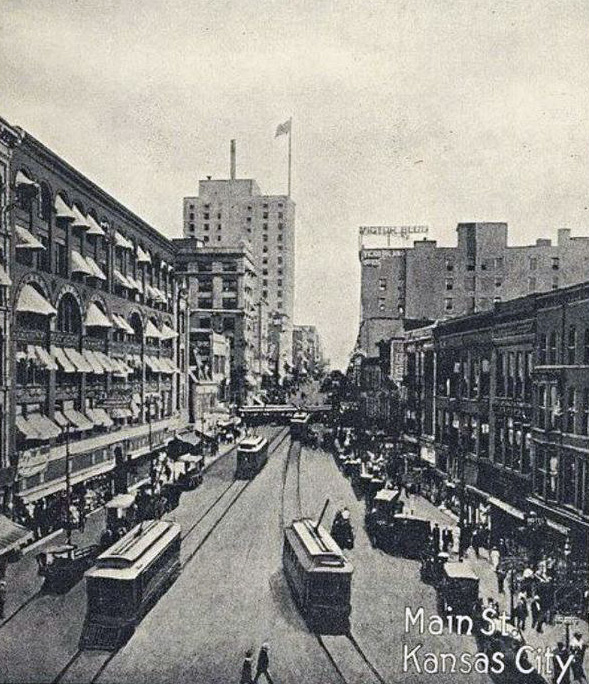 Above: 1917 Kansas City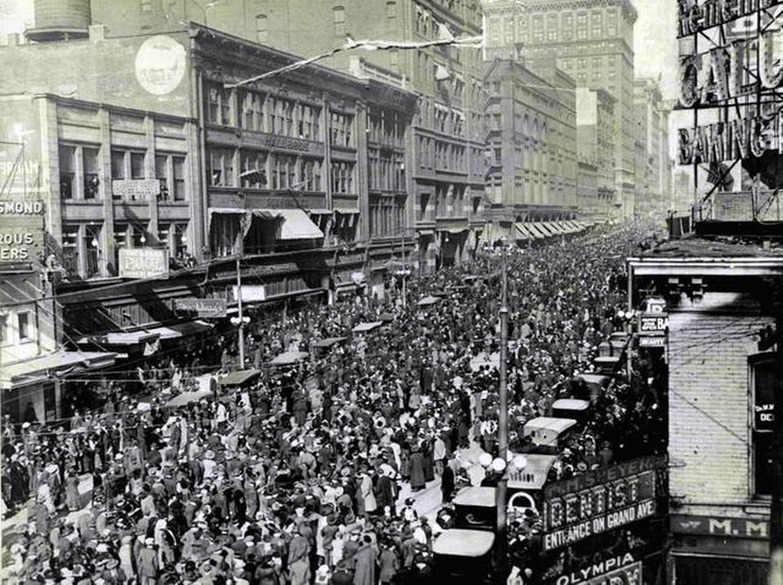 Above: Armistice Day (end of World War I) celebrated in Kansas City, November 11, 1918.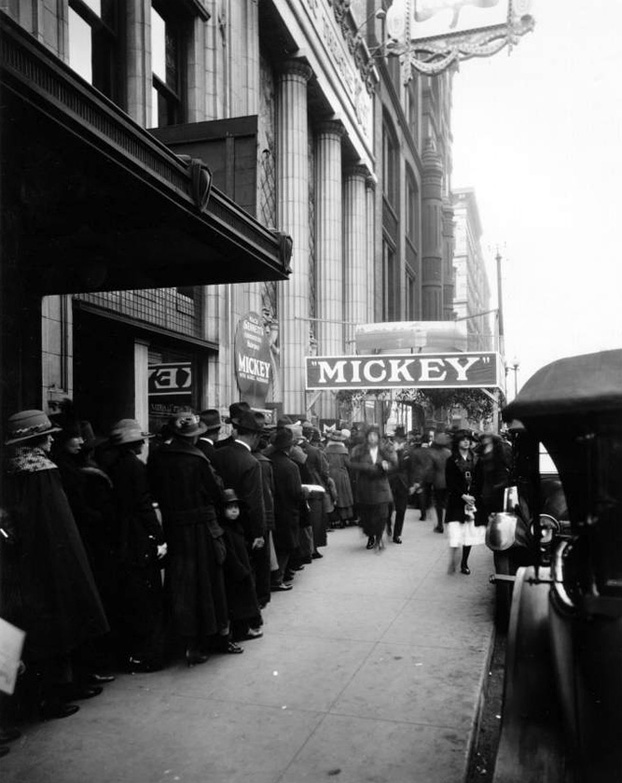 Above: A line of Kansas City moviegoers to see 1918's "Mickey" by Mack Sennett.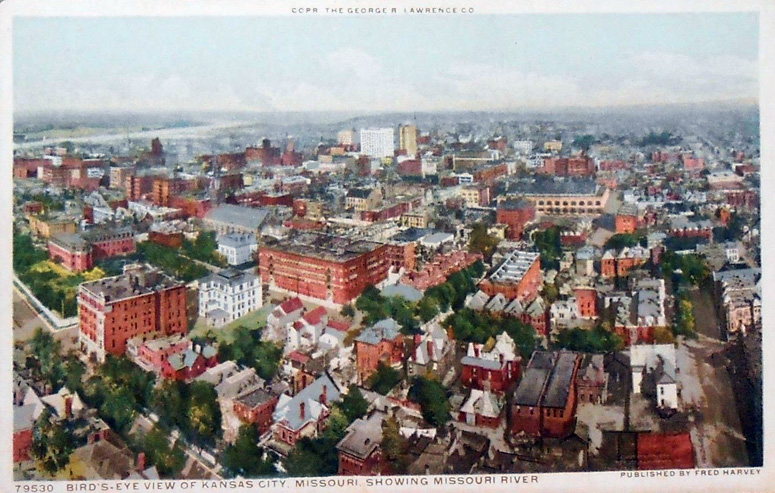 Above: Bird's-eye view of Kansas City, 1910s.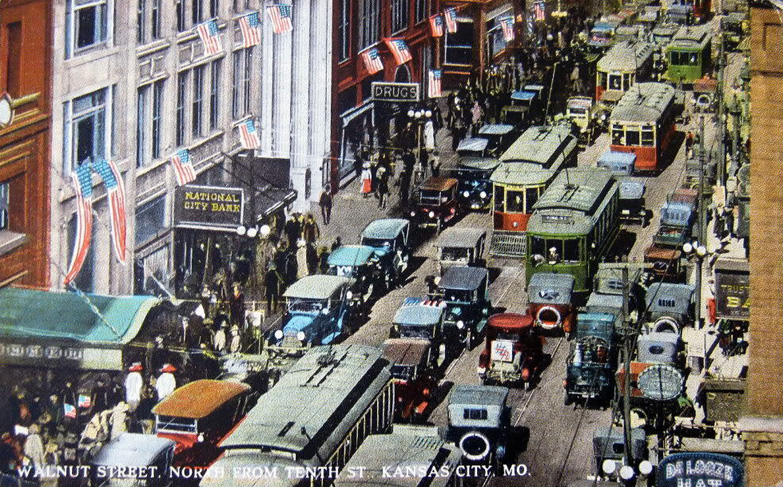 Above: 1920s: Walnut Street north from 10th.
Below: 9th and Oak (location of New Midland Hotel and City Gate Laundry) today.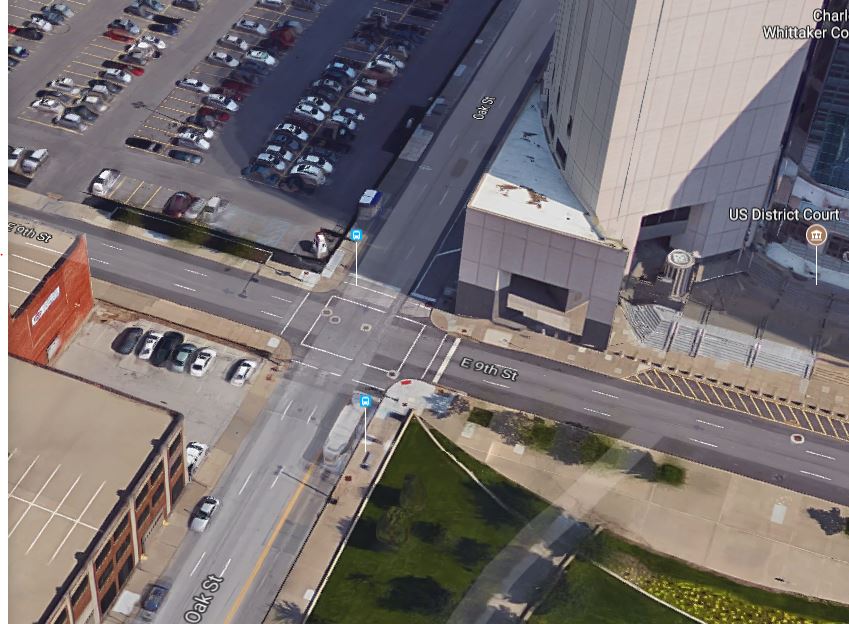 ---
Joan's first experience with KC's Union Station was in 1916, when she arrived there after being forced to move from Lawton, Oklahoma, with her family after stepfather Henry Cassin was accused of embezzling.
Boldfaced text below from Jazz Baby:
Completed just two years previously [1914], the towering marble hall...was the largest railroad station in America outside of New York's. Built by a coalition of thirteen railroads for a total cost of $50 million, it was a cathedral of commerce, a cavern of columns, arches, marble, and pieces of art. From the day it opened,, it was the hub of transportation for middle America. It serviced 350 trains in a good day, 140,000 cars of livestock in a profitable year, and at peak, 8 million passengers per year. Around its perimeter were stalls, booths, and shops; merchants hawked everything from bonbons to automobiles. Ragtime piano, often from the newest Scott Joplin sheet music, jingled gaily into the reverberant hall from a both that sold music for a nationally prominent Kansas City publisher.
Joan's next encounter with the station was when beau Ray Sterling saw her to the station for her journey to Columbia, Missouri, to attend Stephens College.
In early September 1922, Ray drove Billie to Union Station and put her on the St. Louis local that would drop her off, alone, 125 miles away, in the middle of nowhere, at the college town of Columbia -- home of sedate Christian College, prim Stephens College for girls, and the sprawling coeducational University of MIssouri.

In December 1922, Joan would escape from Columbia and arrive back at KC's Union Station.
In Spring 1923, Joan would escape from KC via Union Station en route to Springfield, Missouri, to join Katherine Emerine's chorus line. Emerine's show would soon fail, sending Joan back home to Kansas City.
In Fall 1923, Joan left Kansas City via Union Station for the last time as a resident, en route to Chicago, where Emerine had told all of the girls at her closed show to look her up.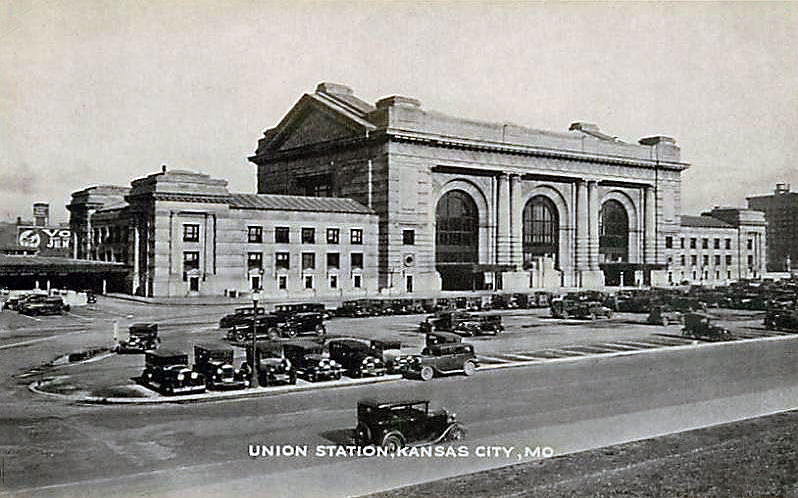 Above: 1920s.
Above: Grand Hall, 1915.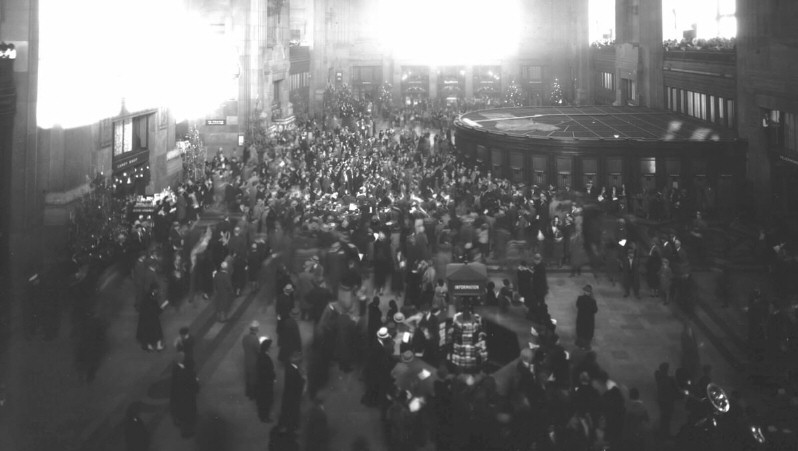 Above: Grand Hall, 1920s.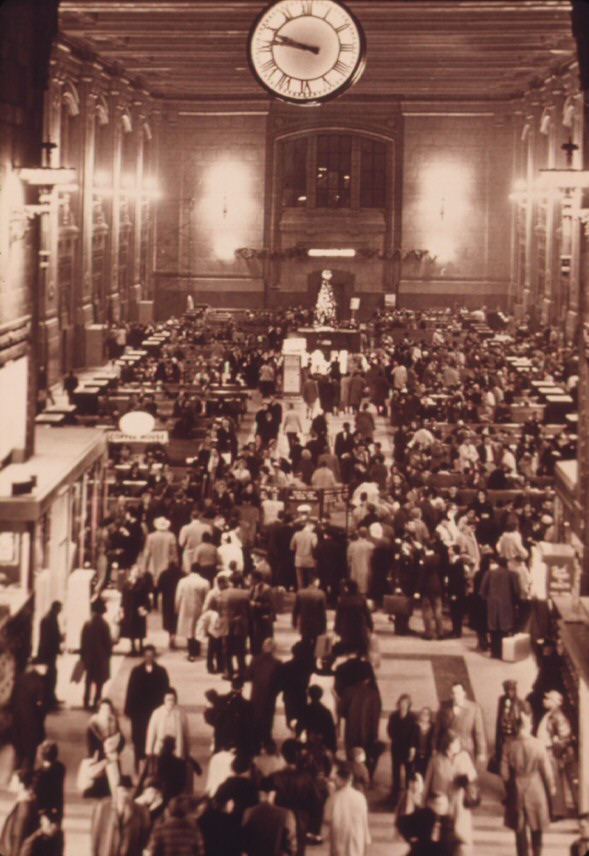 Above: Grand Hall, 1920s.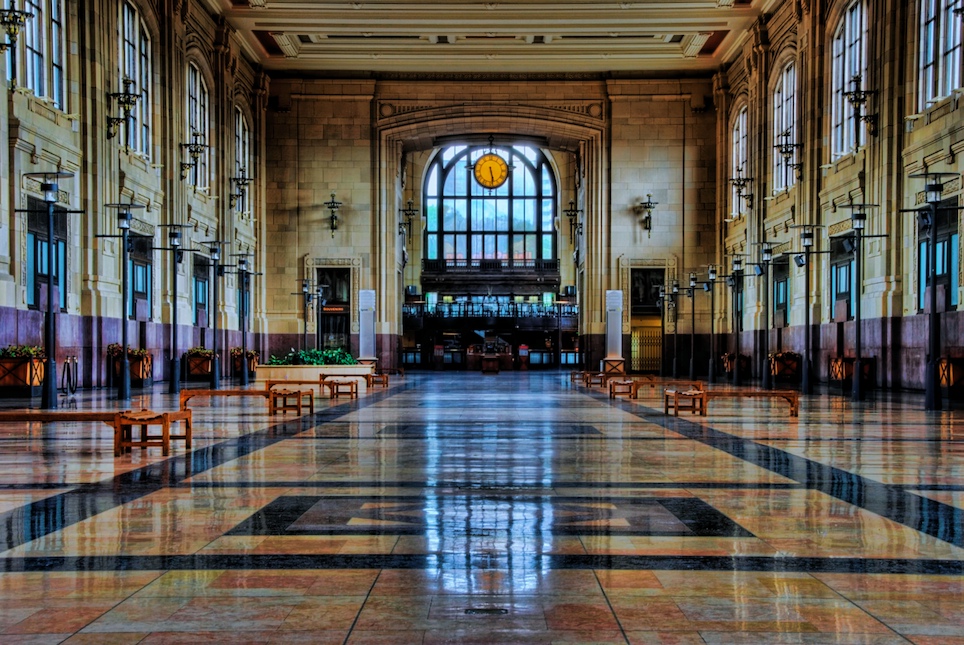 Above: Grand Hall after 1999 renovation. Photo by Jim Nix.
---
The Best of Everything