The Best of Everything
Joan's Stuff:
Joan Crawford Jewelry
Precious/Semi-Precious Costume
Click here to see 12 photos plus descriptions of Joan's jewelry from Hollywood Jewels. (Thanks, Vincent!)
---
Designer: Adrian Cartier Ruser Verger Freres Raymond Yard Misc.
(a 3rd anniversary gift from husband Phillip Terry)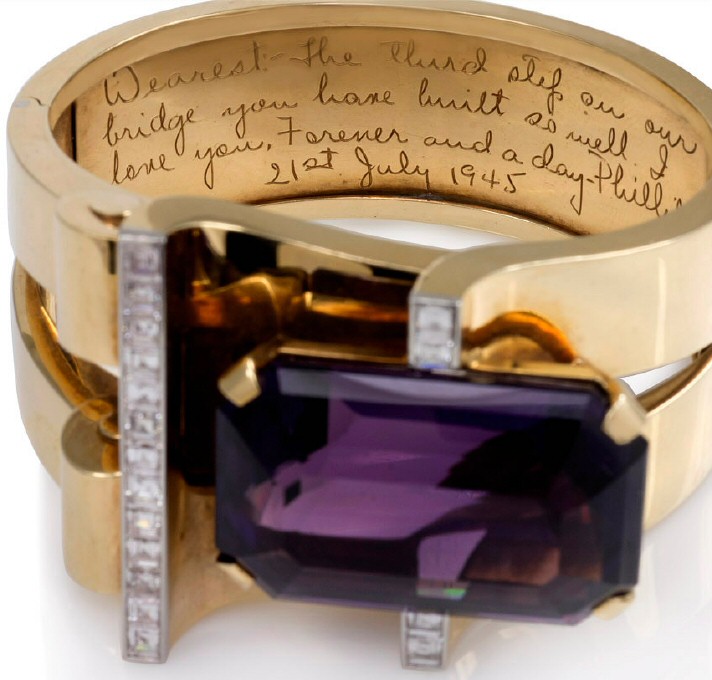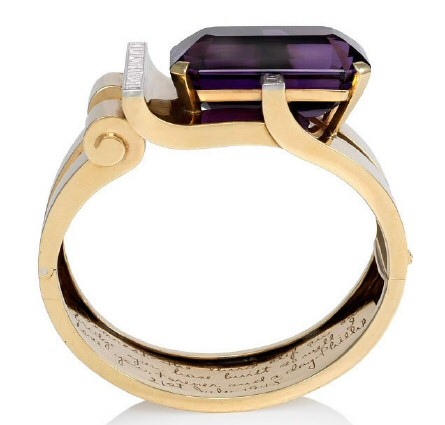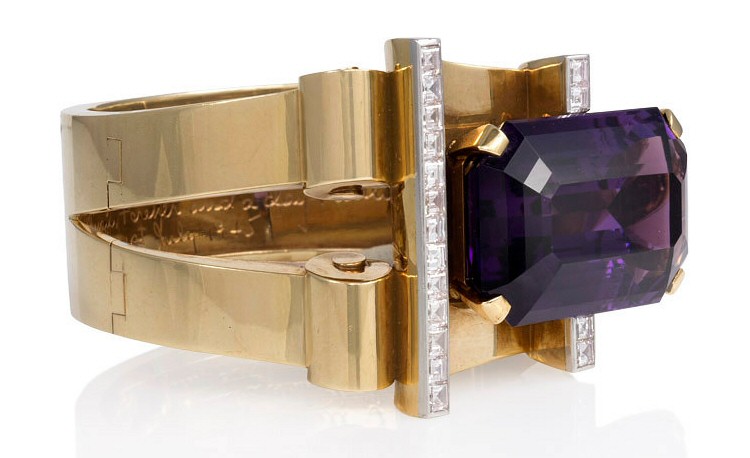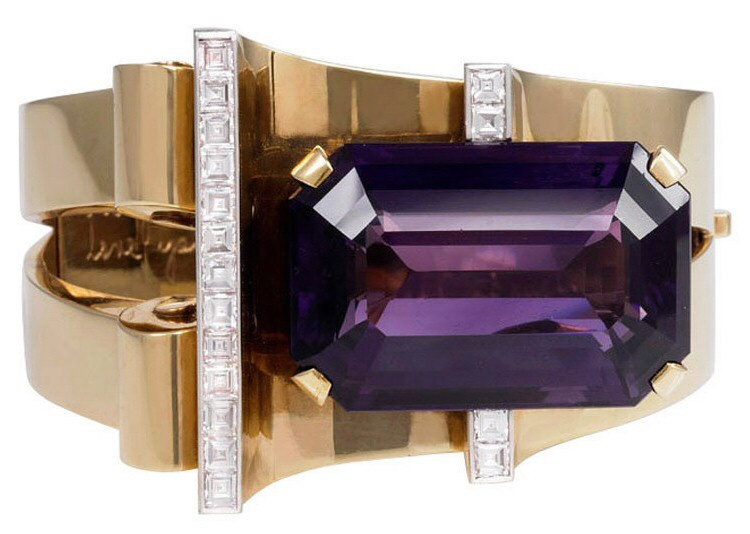 Above: 2015
Kentshire Galler
ies
description (via 1stdibs website): A Retro gold, amethyst, and diamond bangle bracelet, the open tapered front featuring curved and scroll motifs set with a large rectangular amethyst and square-cut diamond accents, in 14k. Designed by MGM's Gilbert Adrian for Joan Crawford. Inscribed, "Dearest, the third step on our bridge you have built so well. I love you forever and a day - Phillip. 21 July 1945." Amethyst measures approx. 33 x 20mm; atw 17 diamonds 2.55 cts. Interior circumference approx. 6.5".
---

From the 2013 Sotheby's Australia catalogue: 18ct gold bracelet from 1971 (lot 164 estimate $35,000-40,000) featuring seven hammered-gold oval plaques alternating between Cartier's signature 'X' shape links.
---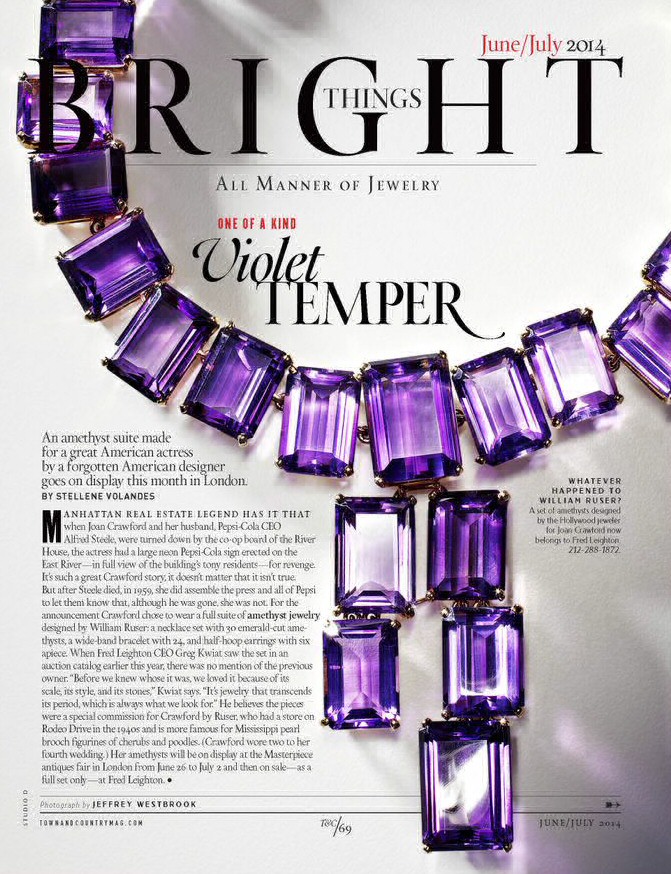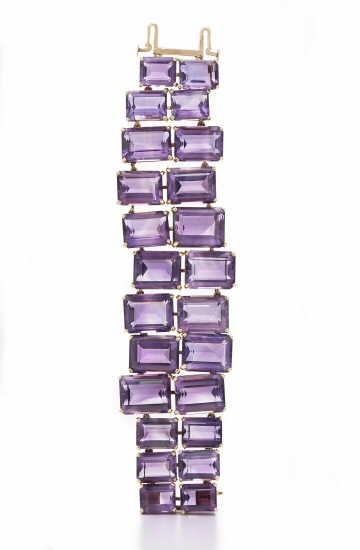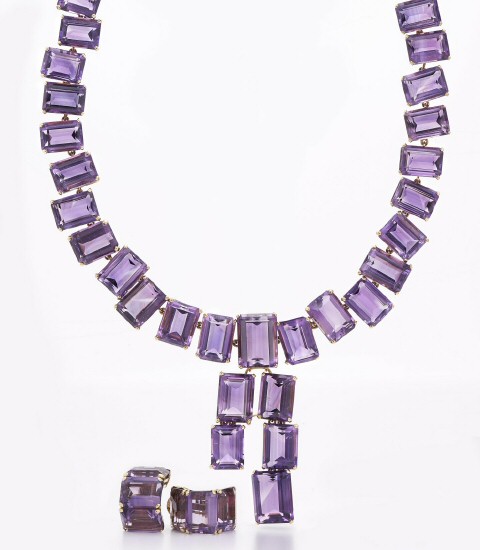 Above: Amethyst suite appearing at the Masterpiece London 2014 antiques show. Designed by William Ruser, now owned by Fred Leighton jewelers. (Above article from "Town and Country" magazine, June/July 2014.)
---
Verger Freres for Boucheron Parure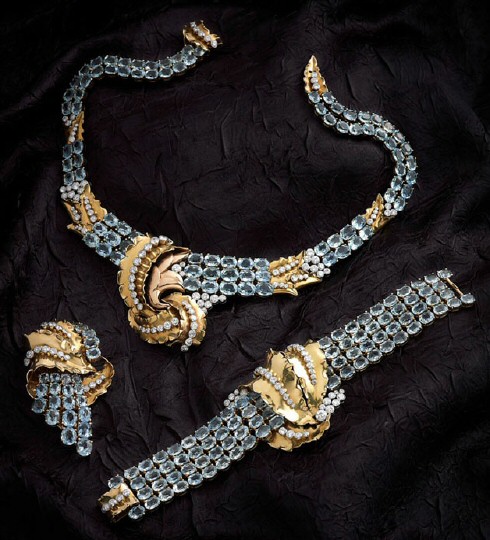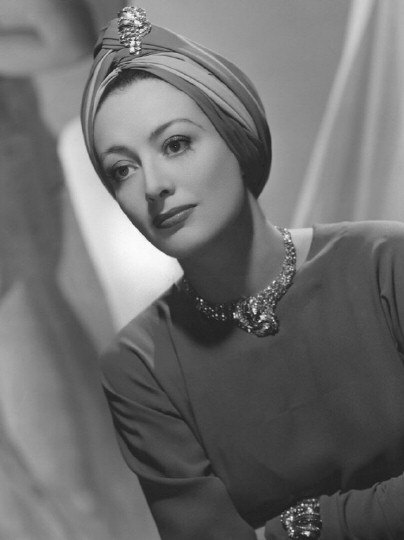 Above: From jckonline.com in 2011:

"This brooch, bracelet, and necklace—created by Parisian jewelry house Verger Frères for Boucheron circa 1935 and acquired by the future Oscar winner soon thereafter—feature 131 cts. of oval-cut aquamarines and 11.5 cts. of round brilliant-cut platinum-set diamonds in 18k yellow gold with rose gold accents. 'If you look at photos of Joan Crawford,' says Stephen Burton, ­managing director of Hancocks, the London ­jeweler that now owns the shining trio, 'you'll see that she wore this suite, or part of it, throughout her whole life.' (That includes in her most famous film, 1939's The Women, in which she played a husband-stealing perfume-counter girl.) But Crawford wasn't the set's only celebrity owner: A year after her death in 1977, Andy Warhol purchased the parure during a sale of her estate."
The suite was sold at a Sotheby's NY auction of Warhol's jewelry and watches in 1988. Hancock's of London first auctioned it in 2009. As of 2014, it is owned by Neil Lane Jewelry and featured in a 2014-2015 display at Boston's Museum of Fine Arts.
Below: The Boucheron parure as displayed at the Boston MFA in 2014-2015. (Thanks to Roland Hui for these photos.)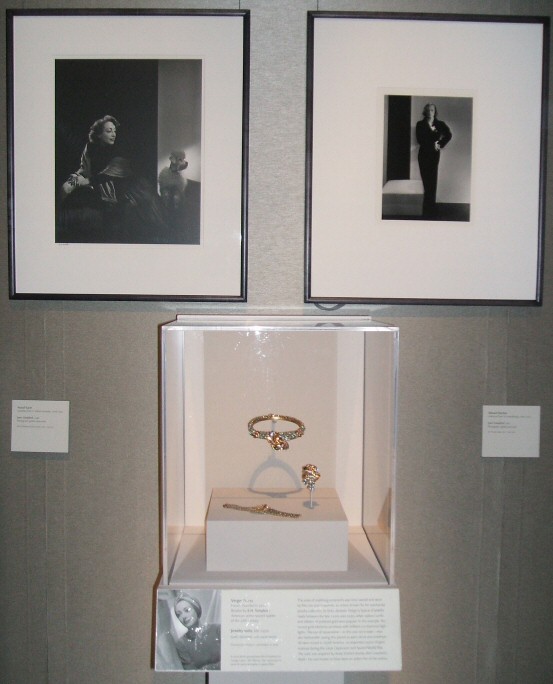 ---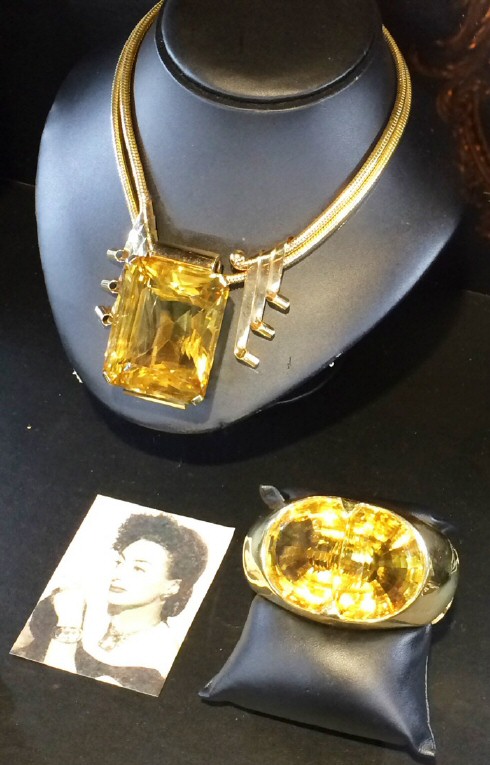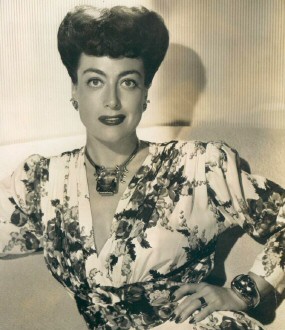 Above: This citrine set from M.S. Rau Antiques was displayed at NYC's Park Ave. Armory in October 2014. From a description of the show on jewelsdujour.com: "A citrine necklace and bracelet set formerly in the collection of Joan Crawford garnered attention for its important provenance but also for the sheer size of the citrine stones in the suite. Crafted by renowned American jeweler Raymond Yard in 1940, the necklace features a citrine weighing a whopping 350 carats and its matching bracelet boasts a pair of citrines whose combined carat weight totals 130 carats." M.S. Rau's asking price is $285,000.
Below: In December 1995, the set was auctioned by Sotheby's, as part of its "Important Jewelry" collection. Valued at between $10,000 and $15,000 at that time.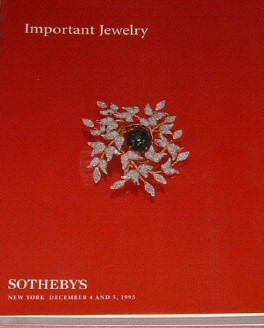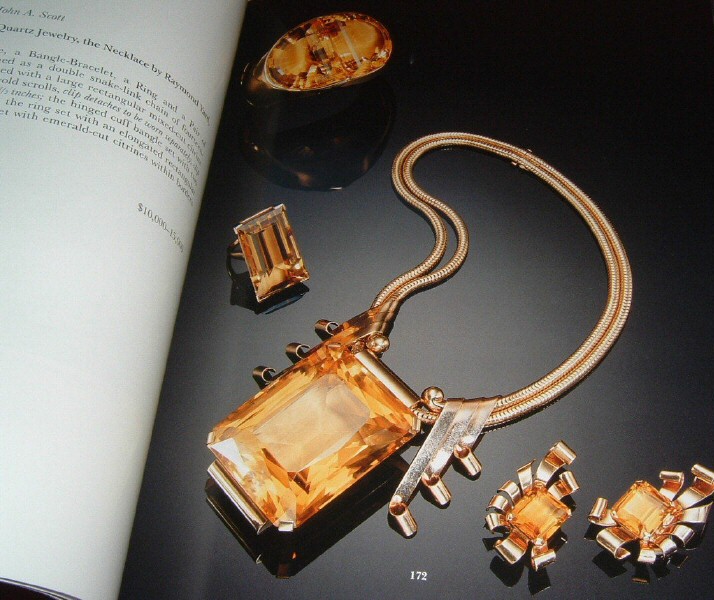 Raymond Yard Platinum and Diamond Bracelet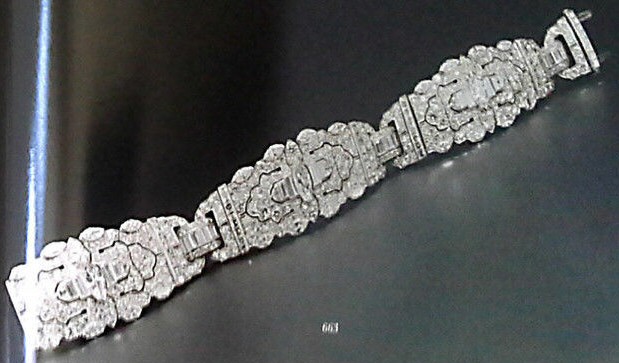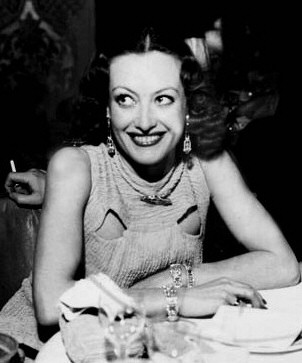 Below: Original drawing for the bracelet by Raymond Yard.

---

Joan's Pepsi brooch. 2-1/8 in. 14k gold, ruby cap, with emeralds and diamonds.
Offered at auction at Doyle New York on 12/7/11.
Above: c. 1935 platinum art deco necklace, with 172 diamonds, by Stephen Russell. Valued in 2009 at $195,000.
Presented at the Golden Globes' red carpet show in '09 by Platinum Guild International.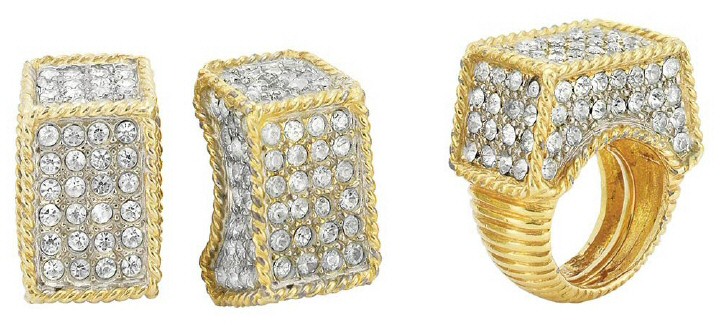 Above: 6.5 carat gold and rhinestone ring by Geoffrey Beene.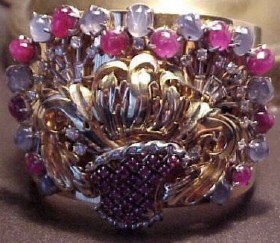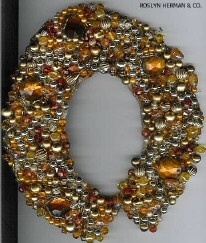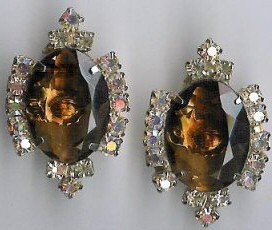 ---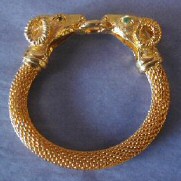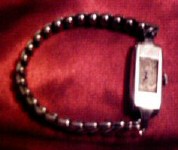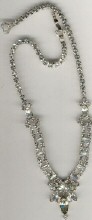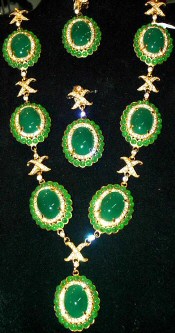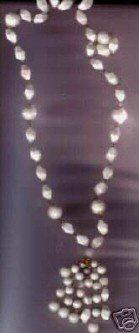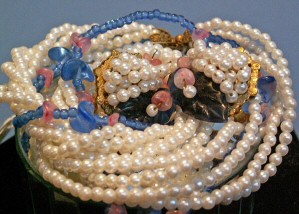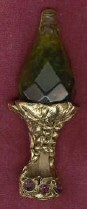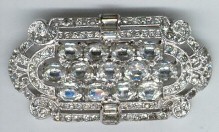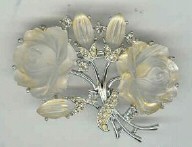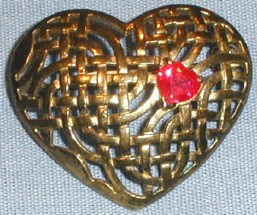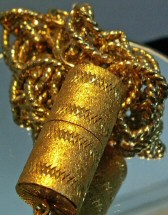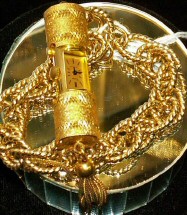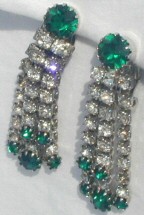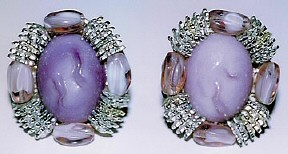 ---
The Best of Everything