Joan Crawford at Home in New York
originally appeared in The American Home, March 1946
One of the most envied theatrical personalities in New York this past winter was Joan Crawford, the Warner Brothers star. She had an apartment! While many of her confreres from the West Coast movie lots were being bodily tossed out, bag and baggage, on their beautiful ears at the expiration of their five-day-limit hotel stays, Miss Crawford drove serenely home each evening after dinner and the theater to the quiet and seclusion of her East End Avenue apartment.
In New York for the opening of her new picture Mildred Pierce, this handsome lady caused much neck-craning among New Yorkers whenever she appeared in public. Ripples of excitement reached even our editorial officies, so we went uptown one afternoon to have tea with her.
The apartment is spacious and handsomely furnished with a definite eye to comfort. From the great windows high up in the building there is a fine view of Manhattan's East River and the busy little tugboats puffing and honking their ways under the Triborough bridge. No fly-by-night affair, Miss Crawford has maintained the apartment for a number of years as a permanent resident in the East; hence, she was not caught short by the housing shortage. She also owns a beautiful white colonial home in a suburb of Los Angeles.
Comfortably curled on one of the deep, quilted-chintz love seats, knitting a bright green wool cap for her son who is just 3, Miss Crawford told us she had planned and supervised the decorating of the apartment with no aid from a decorator. It is a considerable success. Dark green walls with white mouldings in the living room temper the light from the large window stretching across one wall. The rose-patterned chintz is confined to the love seats flanking the fireplace; there is a large sofa slip-covered in the same white fabric which makes the draperies. A favorite breakfast and tea spot is the window grouping with its pair of comfortable chairs in green, and the mahogany table. Pupchen, the dachsund, who is an old hand at this movie business, always demands his share of the coffee rolls.
The study, besides serving as an escape room for the reading of a particularly interesting new script, can also double as a bedroom. The carpet is green, as are the draperies and two chairs, and a double-size box spring and mattress are upholstered Hawaiian-fashion as a hikiee. In all bedrooms there are individually controlled air-conditioning units for sleeping comfort.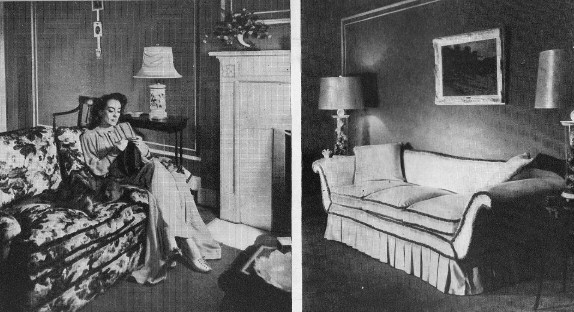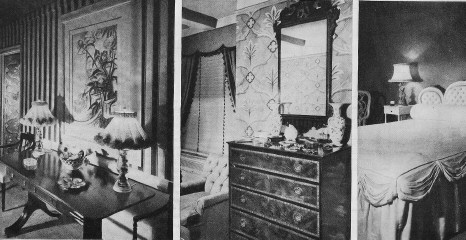 Above Left: Overscaled Reynolds water color and bold green stripes dramatize a foyer. Center: Handsome mahogany chest in the study has storage space galore, mirror for dressing. Right: Screen stars dote on luxurious beds. Joan's elegant white one was made from tufted back of an old sofa.