Celebrating 16 Years of BOE: 2004 – 2020
You can donate year-round to this site to help keep Joan's legacy
going strong online. Your support is always appreciated.
---

[in last month]
8/12/20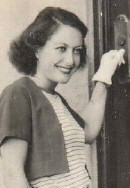 MAGAZINES: 1932 Film-Kurier (Germany) feature on Letty Lynton.
TOBACCO CARDS:
1931: UK --- Front and back of Wills Cinema Stars, 3rd series, No. 27.
1932: Germany --- Front and back of Jasmatzi Ramses Film-Fotos, No. 193.
1932 PHOTOS: Candid publicity on the MGM set.
---
8/10/20
1929:
Publicity for Our Modern Maidens shot by Ruth Harriet Louise.
On the set of Untamed with Robert Montgomery and director Jack Conway.
1930: On the set of Montana Moon with director Malcolm St. Clair.
1931: Publicity by Hurrell (bigger, better replacement).
---
8/08/20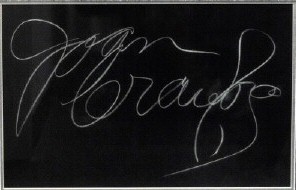 1967 PHOTOS: Two candids with Sheilah Graham at l'Etoile in NYC (release of Graham's College of One book).
TELEVISION: Joan's "Mystery Guest" signature on the What's My Line? chalkboard, from December 1964. (Currently for sale on eBay, starting at $8,900.)
TOWN HALL: Cover/autographed centerfold of Joan's April 8, 1973, Town Hall program. (Scroll to bottom of page.)
---
8/02/20
1952:
A film still from Sudden Fear.
Small color candid at the Masquers Revel with Tony Curtis and Janet Leigh (added to already existing page with two other candids).
1957: With Ingrid Bergman at the NY Film Critics Circle Awards.
---
7/30/20
1952: A film still from Sudden Fear with Jack Palance.
1954: Candid photos from same (unknown) event (if you have info on the event, please e-mail me):
Three candids with Judy Garland and Helen Hayes.
Three candids with Rock Hudson.
One candid with Clifton Webb and Vincent Price (added to already existing page with Alan Ladd and Van Heflin).
---
7/28/20
1945: Publicity at home (includes press caption describing outfit).
1947: Two candid snapshots with Joan Crawford Fan Club president Edith Clemens: on the set of Possessed, and on the set of Daisy Kenyon.
1949: A film still from Flamingo Road (includes press caption).
LETTERS: 1949 2-page handwritten to MGM exec Eddie Mannix. (Signed "Big Eyes.")
MAGAZINES: April 1940 cover of Hollywood.
---
7/23/20
1931: A film still from Possessed.
1936: Publicity shots on the set of Love on the Run with Clark Gable, one and two.
BOOKS: Here's a link to the complete text of the 1926 novel The Understanding Heart by Peter Kyne (basis for the '27 Joan movie of same name; you can read more about the book here). Thanks, Tom!
MAGAZINES:
July 1932 cover of Screenland.
March 1933 cover of Movie Mirror.
2017 cover of ReMIND: "Hollywood's Nastiest Feuds!"
---
7/17/20
1933: A film still from Dancing Lady with Clark Gable.
1934: Forsaking All Others --- A film still with Burke, Russell, Montgomery, and Gable. And a publicity shot by Hurrell.
1936: A film still from The Gorgeous Hussy with Taylor, Barrymore, and Bondi.
1937: A film still from The Last of Mrs. Cheyney.
---
7/15/20
1925: Early MGM publicity.
1926: Publicity by Ruth Harriet Louise (bigger, better replacement).
1928:
Across to Singapore: A film still with Ramon Novarro and Ernest Torrence.
Law of the Range: A film still with Tim McCoy and Rex Lease.
---
7/09/20
1947: Candid with Christina and Christopher.
1953: At the premiere of Torch Song with Nicholas Ray (new smaller photo added to already existing page).
1955: Hangin' out in her nightie on the set of Female on the Beach.
1957: On the set of Esther Costello with director Miller and co-star Brazzi.
1959: Publicity for The Best of Everything with Brian Aherne.