Celebrating 16 Years of BOE: 2004 – 2020
You can donate year-round to this site to help keep Joan's legacy
going strong online. Your support is always appreciated.
---

[in last month]
---
1/19/20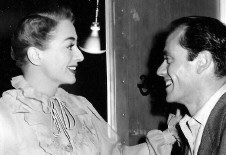 PHOTOS:
1950: On the set of Harriet Craig with Mel Ferrer (includes press caption).
1951: A film still from Goodbye, My Fancy with Ellen Corby and Eve Arden.
1956: On the set of Autumn Leaves with director Robert Aldrich.
LETTERS: 1958 -- To a fan with gratitude and travel/appearance news.
---
1/17/20
1940: Bigger, better replacement photo of Joan with newly adopted daughter Christina.
1941: Publicity by Eric Carpenter (includes press caption).
1946: Bigger, better replacement publicity shot by Eugene Robert Richee.
COLLECTIBLES: Three color views of the ceramic 1945 Mildred Pierce mug created by Don Barclay.
---
1/15/20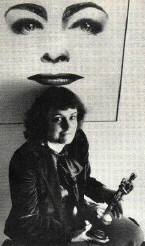 NEWS: Joan's adopted daughter Cathy Crawford LaLonde died Friday, January 10, at home in Pennsylvania after a 6-year battle with lung cancer. She was 72.
Updated entry on this website.
Lehigh Valley (Pa.) Morning Call notice of LaLonde's death. Legacy.com obituary.
PHOTOS:
1933: Publicity for Dancing Lady by Hurrell.
1938: A film still from The Shining Hour with Robert Young.
FILMS:
French publicity photo for The Gorgeous Hussy.
US lobby card for Ice Follies of 1939.
MAGAZINES: A 1938 cover of Portugal's Cine-Jornal.
---
1/13/20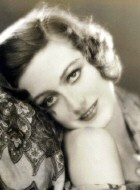 PHOTOS:
1928: On the set of Rose-Marie with director Lucien Hubbard (bigger autographed replacement photo, with new press caption).
1929: Publicity by Edwin Bower Hesser (both sepia and black/white versions).
ENCYCLOPEDIA: Added new entry, photo, and links for photographer Edwin Bower Hesser.
A color US poster for The Understanding Heart.
Also: I've now updated the general US release date for each film to correspond with the most-recent IMDb date. (Since this site debuted in 2004, over one-third of the release dates have been changed by the IMDb.)
---
1/07/20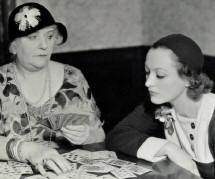 PHOTOS:
1928: Fashion publicity (including lengthy caption describing outfit).
1932:
Candid with "psychist" Minnie Flynn (includes press caption).
Candid with Gary Cooper and Mary Pickford.
---
1/05/20
On main page, added row of info for the 1926 film Bardelys the Magnificent, in which Joan appeared as uncredited Court Gossip. (Thanks to James-Paul Amato and, subsequently, the IMDb.)
Spring Fever -- A window card.
Paris -- A lobby card.
The Duke Steps Out -- A lobby card.
Stolen Jools (20-minute short from 1931) -- Cover and centerfold from a US herald.
MAGAZINES: A cover for 1928's El Cine (Spain).
COLLECTIBLES: Added two sets of Joan's plastic handbags/matching shoes (blue and purple) originally auctioned at Plaza in 1978, most recently auctioned November 2019 at Landmark on the Park (NYC). (Thanks to James-Paul.)
FOR SALE: A UK eBay seller currently has many rare Joan films for sale -- cheap! -- including Letty Lynton.
---
1/03/20
TIMELINE: Added a 1916 entry about a Cassin family gathering in Lawton, and three entries from 1916 and 1917 re Henry Cassin's embezzlement trial. (Innocent or guilty?!)
ENCYCLOPEDIA: Added findagrave.com links for Henry Cassin and Anna Bell Johnson.
---

1/01/20
Happy New Year!
May These Twenties Also Be Roaring!
TIMELINE: Many thanks to Giannis Daropoulous for his below research into Joan's early years, including info about the Anna/Henry Cassin union.
August 1908: Info from a Lawton, Oklahoma, paper about Anna LeSueur's visit with relatives in San Angelo, Texas.
July 1909: Two separate informative Lawton, Oklahoma, newspaper announcements of Henry Cassin's marriage to Anna Le Suer [sic] in Fort Worth.
June 1917: A Lawton paper announces the Cassins' departure for Kansas City, Missouri.
December 1923: Info from the Shelbyville Co. Herald society page about Lucile's visit to a friend. (Compare to what Jazz Baby, et al., said Joan was doing during this time frame.)
---
12/29/19
ENCYCLOPEDIA: Added new photos, info, and/or links for Rita Quigley, James R. Quirk, Lawrence J. Quirk, Mamie Van Doren, and Herbert J. Yates.
---
12/27/19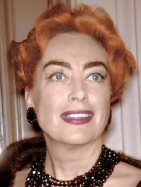 PHOTOS:
1961: A color candid.
1968: Candid at NYC's Hotel Delmonico.
LETTERS: 1972 to friends: Sorry for many missed connections and "...you look very glamorous at your organ."
ART: "Joan Crawfish" from Duane Michals' recent "Mischievous Eye" show at NYC's DC Moore Gallery.
---
12/25/19
Merry Christmas to all!

UPCOMING US TCM FILM SCHEDULE (times Eastern):
DECEMBER
Friday, Dec. 27: 11:00am -- Flamingo Road
JANUARY
Sunday, Jan. 12: 11:30am -- A Woman's Face*
Tuesday, Jan. 14: 2:30am -- It's a Great Feeling
Thursday, Jan. 16: 5:30pm -- The Women
Wednesday, Jan. 22:
7:30am -- A Woman's Face*
9:30am -- Above Suspicion
Wednesday, Jan. 29: 8:00pm -- Our Dancing Daughters
* If you're interested in comparing Joan's version of A Woman's Face (1941) with
Ingrid Bergman's 1938 version, the latter is showing Thurs., Jan. 30, at 2:45pm.
---
12/23/19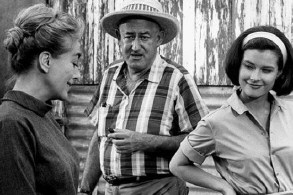 PHOTOS:
1962: Dying on the set of Baby Jane.
1964: Candids with William Castle and Diane Baker on the set of Strait-Jacket, one and two (thanks to Henrique, with apologies for the delay).
TELEVISION:
Thanks to Gregor for information about some of Joan's '60s and '70s TV appearances, including for Norway's Lykke og Krone and two separate American Cancer Society narrations ("A Very Special Child" and "He Wanted to Live").
Cleared up some confusion about the difference between 1970's Journey to the Unknown and 1971's Journey to Murder (separate 2-hr "bundled" episodes from a UK TV series that aired on ABC as made-for-TV movies; both are hosted by Joan).
Added specific episode info for the Carol Burnett Show's "Mildred Fierce" and "Torchy Song," plus IMDb links (see main TV page; see also the Carol Burnet Encyclopedia entry).
ENCYCLOPEDIA: J
Added new info and photo to the Carl Johnes entry. Added photo, dates, and links to the Ray Johnson entry. And added a new entry for Journey to the Unknown.
---
12/19/19
1939: Colorized publicity by Laszlo Willinger (added to page with original black/white shot).
1942: A colorized candid.
1943: On the set of Above Suspicion with pal "Duke" (includes press caption).
1955: A film still from Female on the Beach with Jeff Chandler (bigger, better replacement).
MAGAZINES: Covers for 1931's Le Samedi, 1944's La Revue Moderne, and 1955's Festival.