Celebrating 16 Years of BOE: 2004 – 2020
You can donate year-round to this site to help keep Joan's legacy
going strong online. Your support is always appreciated.
---

[in last month]
9/27/20
1959: At Pepsi headquarters in NYC.
1968:
With injured ankles in Los Angeles (includes press caption).
A still from The Lucy Show.
With Christina during the Jerry Lewis MDA Telethon (bigger, better replacement).
1971 (circa): Candid in Dallas.
FILMS: Three German lobby cards for I Saw What You Did.
---
9/25/20
1950: Publicity for Harriet Craig.
1953: Small candid with Doris Day and Jane Powell.
1955: On the set of Queen Bee with union members and 1931 painting by Haupt.
---
9/23/20
Candids on the set of They All Kissed the Bride: one and two.
Candids at same unknown event: one (solo) and two (with Humphrey Bogart and Sydney Greenstreet).
ENCYCLOPEDIA:
Donald Kendall-- Added photo, dates, links, and other info to entry for this former President and CEO of PepsiCo, referred to by Joan as "Fang," who forced Joan's retirement in 1973 (and just died on September 19, at the age of 99).
---
9/21/20
1933: On the set of Dancing Lady with chorus girls (includes press caption).
1939: MGM publicity shot by Willinger.
ART:
Eddie Vitch: Added bio links and film link, plus a 1932 photo of Joan and Doug with Vitch at the Brown Derby.
Joe Grant: Bio links.
Alex Gard: Bio link.
RECORDS: Labels for the 1939 UK 78 "It's All So New to Me" backed with "I'm in Love with the Honourable Mr. So and So."
TOBACCIANA: Front and back of two 1939 UK Wix cards from the "Film Favourites" series.
---
9/20/20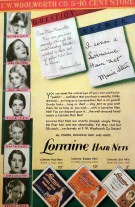 ADS: A color 1930 US ad for Lorraine Hair Nets.
TOBACCIANA: 1937 matchbook covers (in four colors) from NYC.
---
9/17/20
1931: Possessed -- Film stills with Clark Gable, one and two.
1932: Rain -- Publicity shot by John Miehle.
LETTERS: 1932 to a British fan after her visit to that country.
MAGAZINES: A 1930 cover for Portugal's Cronica.
---
9/15/20
1925: MGM publicity.
1930: Publicity by Hurrell (includes press caption).
FILMS: A 1970s French re-issue poster for 1926's Tramp, Tramp, Tramp.
---
9/10/20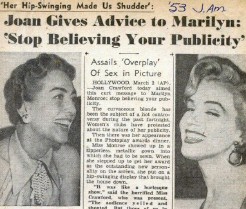 PUBLICATIONS: Original 1953 newspaper clippings featuring Joan's criticism of Marilyn Monroe at the Photoplay awards.
MEMORIES: Thanks to Baron H. for sharing his former teacher's memory of meeting Joan as a young caterer in the late '60s. (If you have your own Memories of Joan, or have a relative's or friend's story to share, please send it in!)
LETTERS:
1962: To a fan re his "Top Hat Service."
1974: To a friend re her recent move to a smaller apartment.
1967 PHOTOS: With Pamela Tiffin and Sheilah Graham at Graham's book-release party.
---
9/07/20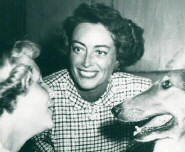 1949 PHOTOS: With Christina and Lassie; and with Cliquot and needlework.
MAGAZINES: Three new covers and one replacement cover for Belgium's Cine-Revue from 1945 through 1949.
TV SCHEDULE: Joan movies on US TCM from now through the end of October.
---
9/04/20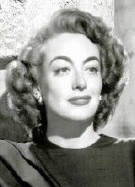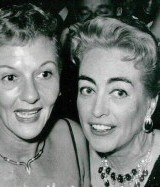 FILMS: Thanks to BOE reader Chris Leonard for his new review of 1952's This Woman Is Dangerous. (If you have your own review of any Joan film that you'd like to see on this site, please send it in!)
PHOTOS:
1947: Warners publicity for Possessed (includes press caption).
1957: With Mary Martin and Guy Madison at a Joan-hosted party for "Annie Get Your Gun" (includes press caption).
ART: A 1950 drawing of Joan by Lenny De Carlo currently displayed at San Francisco's Rincon Annex.
---
9/02/20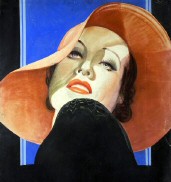 MAGAZINES: Two August 1933 Letty Lynton covers (with Nils Asther and Robert Montgomery) from France's Le Film Complet.
COLLECTIBLES:
A 1930s "school scribbler" blank notebook with a cover featuring Joan and Montgomery from Letty Lynton.
A 1943 St. Louis transit pass featuring Above Suspicion.
ART: Link to and excerpts from a 2012 Bonhams essay re Norton Gaston and his 1930s Joan art out of Long Beach.
---
8/31/20
1932: Publicity for Rain shot by John Miehle, one and two.
1939: Publicity with the cast of The Women.
ART: Added new info links to pages for 1930s Joan artists R. Wilson Hammell, Erik Guide Haupt, M. H. Herrin, John La Gatta, and Earl Steffa Moran.
COLLECTIBLES: 1930s bridge tally set featuring Joan's card.
TOBACCO CARDS: Back of 1935 UK Carreras "Famous Film Stars" card no. 88.
---
8/30/20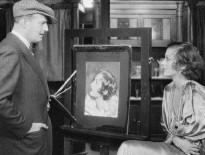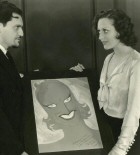 ART: I'm in the process of updating all Art pages, including adding info and links for these artists: Henry Clive (on the set of Montana Moon) and Jorge Delano (on the set of Paid).
---
8/27/20
1926: Added press caption to already existing page with MGM publicity shot by Don Gillum.
1927: Publicity for The Taxi Dancer.
1931: Possessed -- A film still with Clark Gable, and a hand-tinted publicity shot with Gable.