Links to Other Joan Sites
Films TV Images Fan Sites Related Info
Please e-mail me if you have a Joan link I should add or if a link here is outdated.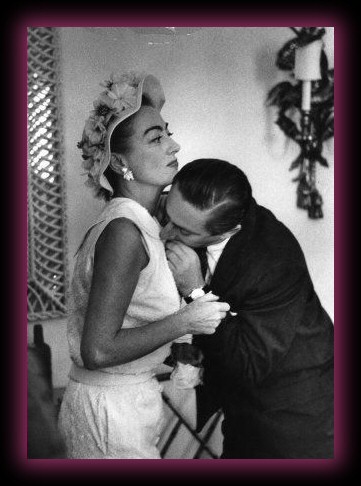 Info on all of Joan's films---credits, plot, some trivia. You can view her silent film info for free, but must join to view sound-era information.
Herman Cohen: The Man and His Movies
An extensive interview on the site where producer Cohen discusses his films with Joan, Berserk and Trog.
Internet Movie Database Joan listing; also includes her TV info.
A list of film roles that Joan missed out on.
In-depth comparison of shots from Sudden Fear with the same locations today.
Silents Are Golden: Our Dancing Daughters
---
Joan appeared on the pilot episode of this series.
Joan on the 1968 " Lucy Show," with links to audio and video clips.
---
Dr. Macro's High Quality Movie Scans
A nice ad-free site with many huge pictures of classic stars, film synopses, frequent updates. The above link is to Joan's page; aside from large photos, you can also access some Joan video and audio.
Joan page. View hundreds of Joan's movie posters and lobby cards in Bruce Hershenson's poster image archive.
Flickriver (Flickr)
Thousands of Joan photos.
Blog featuring 1000s of great Joan photos; initially updated frequently, but as of early 2013, slowing down.
Newly published archives on Google.
(main page; enter Joan's name in search box)
7 galleries of Joan pictures, excellent source of silent star photos.
---
The Concluding Chapter of Crawford
A comprehensive research guide to Joan Crawford's life after 1960.
Consists mainly of self-promotion and dozens of randomly organized photos taken from other sites; despite title, no film info.
One of the first sites devoted to Joan on the web.
Joan Crawford: Her Life and Career
One of the first Joan-sites on the web. Biographical info and pages for movies, TV, and books.
Nice photos, an outdated column by Joan grandson Casey; poor writing / research.
Lynn's Tribute to Joan Crawford
Professionally-done site, nice photo galleries and overall info.
Listing of and comments on many of Joan's films.
---
A digital collection of articles about Joan in Australian newspapers.
Brandeis University: Joan Crawford Award Collection
The university's website has 4 pages devoted to Joan and the collection of her awards that she donated to them in 1966, 1968, and 1973.
Joan article.
Check out the 6-minute Joan video re-mix: once at the site, click Enter, then Club Room, then select #1.
Famous Relationships (TopSynergy.com)
Read their astrological analysis of Joan's behavior in relationships!
Joan listing.
Bio plus some film info.
Campy and interesting stuff re Joan's last days, plus all sorts of other odd Joan info.
Bio and burial info, plus you can--sometimes--leave virtual flowers and a message.
This beautifully done vintage clothing site has several detailed photos of Joan film costumes.
Census info, plus in-depth background on the Tennessee side of Joan's family.
The Joans
Click here to see the Chicago band "The Joans" do "Mad at the Dirt."
Lypsinka's "My Favorite Things!"
Why drag artist Lyp finds Joan so interesting; with a Joan photo gallery.
Writes creator Doug Bonner in the site's Introduction: "This website
is dedicated to the study and analysis of film theory and history. Not all essays will deal with the figure of actress Joan Crawford, but in understanding the Crawford persona and its use in the creative process of filmmaking, much can be understood in the uses and responses to cinema."
This classic movie site has two pages of Joan info, with photos.
This classic-cult film magazine has published various articles on Joan films, as well as interviews with Joan-related people like director Vincent Sherman, actor John Ireland, etc.
Photographer, and Hurrell and Garbo biographer, Mark A. Vieira's site. His Hurrell page has interesting info re Joan shoots.
Recent Joan-related stories in the news.
---
Enter Joan's name in the Search box to find bargains.
Hundreds of Joan items for sale and viewing, including letters, photos, contracts. Enter Joan's name in the Search box.
Joan Music, Films, TV for Sale
Rare songs, films, TV appearances, interviews for sale from an independent seller.
4 pages of 8 x 10s for sale, as well as a few posters and lobbies.
The Joan Crawford Collection. 21 shows - 14 hours - 20 minutes, on one MP3 disc.
$5.00.
As of 4/04, there were 14 Joan covers of this vintage British magazine that you could order as posters; they also sell original issues, though no Joan issues were available as of the above date.
Click above to find vintage Joan photo and cig cards, games, magazines, etc., on Cliff Aliperti's eBay site.
Extensive selection of previously unreleased Joan DVDs.
---
Facebook page for this website.
Twitter feed for this website.
The Joan Crawford Deluxe Suite
Toby's blog-tribute to Joan, examining "What Would Joan Do?"
Main Joan page.