From: Baron H.
Contributed: September 2020
One teacher I had in high school told me about the time he met Joan Crawford in the late 1960s. In his lifetime he met many famous golden-aged movie stars (e.g., Van Johnson, Gene Kelly, Bette Davis, Cesar Romero, and even Judy Garland), but meeting Joan Crawford was one of the most amazing encounters he had with a movie star in his life (topped only by Judy Garland).
My art teacher was Mr. Brian Kook. His parents were Korean immigrants and he was first-generation born in America. Growing up in New York, his mother and he often watched the classic films on TV or would go to the movies to help them improve their English. Joan Crawford was a favorite to both him and his mother.
My art teacher was in his late teens/early 20s in the late 1960s, and he put himself through college by working various odd jobs. At this time he was employed as a server for a catering company. Joan Crawford was attending an event that he was catering (it was a celebration for some rich businessman's company). There were a few other celebrity character actors there, but Joan was the most famous and possibly the only leading actress at the event.
With a tray in his hand, he mustered up the courage to go over to the bar where Joan was casually standing. He told her how much he was a fan of her and her films. He remembers that she smiled back at him with the utmost gratitude and humility. Furthermore he said that Joan was engaging, vivacious, and surprisingly easy to talk to.
After about 10 mins of talking, one of his bosses came up and interrupted his conversation with Joan, telling him that he better get his "yellow hiney" back to work. Joan Crawford was put off by his boss's racial remarks and pretty much put him in his place. Joan even said to his boss that my teacher was doing his job marvelously in making sure that she was being served. His boss later walked away from him and Joan "with his tail between his legs" and Joan laughed with such a "youthful glee."
After getting back to work he didn't see much of Joan at the party; as he later found out, she left early due to a headache or something. But my teacher got a surprise the next day when the owner of the catering company called him at home to tell him that Joan Crawford had just called him to specifically report Brian's outstanding performance of duty at last night's event. Joan even remembered his name, and demanded to the owner that Brian get recognized for his outstanding work. So the owner gave Brian a bonus check.
My teacher never saw Joan Crawford again, but he has that wonderful memory of meeting her that night and how she got him a work bonus. He was devastated when she died and when Christina came out with her book. But he remembers Joan fondly and feels lucky to have met her and had such a wonderful encounter with her. Next to once having dinner with Judy Garland, meeting Joan Crawford was one of the greatest celebrity encounters he had.
---
From: Russell Trunzo (aka John Russell in his reporting years)
Contributed: November 2014
I was a reporter/anchor/editor for all-news 1010 WINS Radio in New York City for 20 years. The cop told me this story sometime around 1980, when he was working as a driver/bodyguard for an oil executive from the Middle East. I would encounter him frequently when he was waiting outside the Park Avenue building where the oil company had its offices.
This story was told to me by a retired New York City motorcycle patrolman. I don't remember him saying the year that he had his initial contact with Al Steele, but I think it must have been in mid-1956. The cop was sitting on his motorcycle at the side of the road along one of the back roads to Idlewild Airport (later to be called Kennedy Airport). It was a road used by truckers, limousine drivers, and a handful of cabbies when they wanted to get to the airport and avoid rush hour backups on the expressway. It was late afternoon, and a car came past him at extremely high speed, so he took off after it. The driver pulled over and the cop asked for his license and registration. As the driver got the cards out of his wallet he said something to the effect of "I'm sorry officer, I know I was going very fast, but I'm on my way to the airport to pick up my wife. She's Joan Crawford the actress, I'm already a little late…she doesn't like to be kept waiting, and I don't like to keep her waiting because it can get difficult for her with fans who recognize her, you know. So I'd really appreciate it if you could do what you have to do quickly, get me back on my way, and I'll stay to the speed limit."
Like a lot of cops who'd been on the job for a long time, he'd heard all kinds of stories, wasn't impressed by names, and was generally immune to entreaties of any kind. But in this case, he said, the guy seemed so nice and so sincere that he told him, "Usually I'd write you up no matter where you were going or who you were meeting. But I'm off duty in a few minutes, I've already got my quota, so this is your lucky day. I'm gonna let you go, but take it easy the rest of the way."
At that, he said Steele took a business card out of his wallet, handed it to the cop, and said, "Here's my card, it has my private number of it. If you ever need anything, no matter what it is, you call me. I know a lot of people, and if you ever have a problem I'll help you out, no matter when or what it is. I mean that." With that they went their separate ways.
When the cop got home he put the business card in a box he kept on his bedroom dresser. In it were all the business cards that people had given him over the years because they appreciated something he'd done for them. On the back of each card he made a quick notation about the circumstances. He seldom dug into the box, but once in a while it came in handy.
A few days later he saw Al Steele on television or in the paper. Sure enough, he was with Joan Crawford, and they were with the mayor or the governor or someone like that.
At the time New York City had a residency requirement for cops. That is to say, they were required to live within the 5 boros of New York City. But the rule was enforced unevenly and sporadically. It was more like a "don't ask, don't tell" policy than a hard and fast rule. This cop, like many others, lived on Long Island, outside of the city. It had never been a problem. But roughly a year after the encounter with Al Steele, the cop's house was burglarized and among the things stolen was his "service revolver": his police department-issued gun.
The day after the burglary he had to write up a report explaining what happened to the gun, where it was, and why it was at that location. The report was presented to his Captain, who then had to forward it to Police Headquarters, where the top brass would look it over. When the captain saw that the report indicated the address on Long Island was his home, he shook his head. "This is a very bad time," he said, "They're really cracking down on the residency crap these days. This'll get you fired. Tell you what I'm going to do," the Captain said, "I'm going to let this sit on my desk for a couple days before I pass it on. That way you'll have some time to see if you can come up with some way to help yourself out. You might think about putting the house on the market, so you can plead to them that you'll be moving into the City as soon as it sells."
Selling the house and moving was out of the question, so when the cop got home he sat down with his box of business cards, to see if anyone in it might be able to help. He didn't think it was very likely that anyone could. This was such a clear-cut situation, he had accepted the idea that he would be fired. Looking through the collection of business cards he came across Al Steele's, and remembered seeing Al and Joan Crawford on TV with the governor or the mayor, and he remembered the statement, "I know all kinds of people."
It was a long shot, but the next day the cop called the number. I believe he said Al himself answered the phone, and the cop identified himself. Al said he remembered him very well, and had a very clear memory of their encounter. "What can I do for you?" Al asked.
"I'm in a huge jam," he said, "And I doubt that you can help me…I don't really think anyone can help me, but I figured I'd give you a call just in case. You did say you know a lot of people." The cop explained the residency law, the stolen gun, the report that had to go to headquarters , and what was likely to happen. Al listened, then asked him to repeat many of the details, along with his name, badge number, where he was stationed, his home address, and details about the burglary. Then he said, "Don't worry about it. You sleep soundly tonight, I'll take care of it. Just don't worry."
A week or two later his captain called him into the office. Shaking his head in disbelief the captain said, "I don't know who you know, or what kind of favor you called in, but that matter involving your gun and you living outside the city has gone away like it never happened. I got a call from downtown (headquarters) and they said somebody at the highest level interceded for you, and there won't be any action of any kind. It's all over. It never happened. Like I say, I don't know who you know, but he's a miracle worker."
The cop later called Al to thank him. The conversation was brief, Al said he only had a minute or two, and that thanks were not required, the officer had been so gracious that Al would have done just about anything for him. Then Al had to end the conversation, but they agreed to get together sometime soon for lunch or dinner.
The cop who told me the story remained on the job for another 15 years or so, until he was hurt when his motorcycle went down during a rainstorm. He never again saw or spoke with Al Steele, who died not very long after he worked that "miracle" for the cop who'd given him a break.
---
From: Jordan Mohr
Contributed: April 2013
My aunt saw Joan Crawford in a Newberry's store on Wilshire Blvd. in the part of Santa Monica near Brentwood, where Joan lived. My aunt asked for her autograph. Everyone always says that Crawford was immaculately made-up when she left home, but my aunt noticed her freckles and that was what she remembered about her. I heard about this encounter many years later (it predated my birth). I would have loved to know what Joan Crawford was buying in Newberry's that day.
---
From: Barbara Higgins
Contributed: October 2010
When I was 10 back in 1965, my mother worked at Frito-Lay. Ms. Crawford came to the Christmas party when they merged with Pepsi. I remember being so awed by her, and she had such a powerful presence. I shook her hand and she autographed a picture for me. I still have that. It was a great Moment in my life.
---
From: Russ Elliott
Contributed: November 2009
The last 3 or more years of Joan's life were spent with me. We met through Carleton Varney, the decorator that did her apartment. She had seen a layout of my apartment and my gallery, which I shared in an issue from House Beautiful with Barbra Streisand. She had seen my 3-panelled painting of yellow flowers and had to have it, and she wanted to meet me.
Our meetings were odd, funny, and great fun. I arrived in Levis and boots and a T-shirt. She took great exception to the boots, and it ended up as a great joke. I think what made her like me: When the dog came in, I sat down on the floor and let the dog romp all over me; she said only one person had ever done that before -- Noel Coward. That was the beginning of a great friendship.
Later, she purchased 6 or more paintings. We saw or talked to each other nearly every week. She insisted on my having a one-man show. A charity for the United States Olympic Ski Team. She got Dina Merrill and Cliff Robertson to co-host with her, along with other well-known sponsors. She hand-wrote my entire guest list, planned the show, and in many months picked out the paintings for me to exhibit.
We used to send each other fun gifts. Once she sent me 3 bushel baskets of peaches, each a different color. As I told her, I liked our luncheon peaches.
When we were having the show, a woman in her building had just come back from Hong Kong, I think it was, carrying a gift for Joan, as well as a huge case of Asian flu. Joan caught it, and I did also. It was about the time of the opening of my one-man show. I had a temperature of about 104 or so, and Joan had it much worse. Dina Merrill agreed to host the show. Joan tried to come but collapsed. The show was a great success on Madison Ave. (A few Joan lookalikes showed up. Glad she didn't get to see them.)
The show closed about 2 weeks later, as I was too ill to show up. I left for St. Thomas as a guest of the DuPonts to recover, which took 2 months or so. Joan wasn't as lucky. She became very ill and started to fail. I returned to NYC, but Joan didn't want me to see her, as she said she looked so bad. So we talked on the phone. She gave away the dog, as she couldn't contend with caring for her and knew she was dying. She was a Christian Scientist, so there was no question whatsoever of her harming herself.
I have great memories of her. After telling me the story about making "Grand Hotel" and Garbo being rude to her, Joan told me to say "good morning" to Garbo. Garbo lived 2 blocks away from me, and we said "hello" now and again. As I was standing on a huge ice-box doing a mural on 1st Avenue and 51st Street, she'd knock on the window and nod. Joan got a kick out of hearing that. Loved her stories. Like the one about the letter to Streisand and her outfit for the Oscars. A real winner. Joan was wonderful to be with. I met some of the kids: the twins and, of course, Christina at the funeral.
I've missed Joan very much. She actually put me on the map with the show she singlehandedly arranged for me. I'll never forget how marvelous she was to me. So many stories and so many great times. And the huge cooler of Pepsi in the kitchen. She would tap the bottle and the edge to pop off the cap. I really laughed at that. She was so funny about it.
At any rate, I hope this fills you in on the last days of her life. She was a winner to the very end. She left with class and a great amount of love following her.
---
Contributed: August 2009
My own interest in the life and work of Joan Crawford dates back to the summer of 1952, when, as an eleven-year-old schoolboy in the suburbs of New York, I saw SUDDEN FEAR and was moved (not to say frankly scared). I was a bold kid, and in those days I thought nothing of writing to Walt Disney, Loretta Young and Joan Crawford. So I posted a letter to Miss Crawford and received a handwritten reply--I don't think she had too many letters from moviegoers my age. That was the start.
[My note: Author Spoto's biography of Joan, Possessed, was released on November 2, 2010.]
---
From: Ed Guinea
Contributed: January 2009
Meeting Joan Crawford
While I was going to college I wrote, and was a reporter for, the college paper. It was a rewarding experience.
Whenever a person of celebrity visited the area, I tried to interview them. Pierre Salinger (fascinating), Warren Beatty (stoned), Marlo Thomas (had nothing of interest to say), Jerry Lewis (a miserable man), Sylvia Sidney (a real bitch!) were among the many rich and famous persons to lecture at the college or appear in the area. But the most memorable and the most gracious and accommodating was....Joan Crawford!
We had received a press release that Crawford would be in Boston for a book signing at the Jordan Marsh department store. She was to be there for two hours. The book was titled, "My Way Of Life".
The whole experience is memorable for several reasons (like having to hitch to Boston) but I'll keep it focused on Joan. The street in front of the Jordan Marsh store was roped off because it was a mob scene. Cops were everywhere. The line for the book signing zig-zagged across the first floor of the store into the street and around the block. Already you know this was an extraordinary person....thousands of people wanting to look at an old time movie star? Yes!
I was unable to get near Joan's or the store's "people" so I bought the book and cut into the line in front of a Joan fan who allowed me to do so. When I got to JC, looking radiant and not at all near her age, I told her who I was and asked if I might have 15 minutes with her for a college newspaper interview. She said she would love that but that I had to arrange it with her secretary, who she called over. Mary Jane Raphael, of Pepsi-Cola, was cordial but denied me the time because of the long line and the expected longer time since Joan insisted on signing all of the books in person. Joan was listening and intervened.. ."We can make time if you can wait". I agreed to stay and wait it out.
Four hours later, this tireless lady was ushered out a side entrance of the store with me in tow. The interview was to take place in her limo while driving across town to the Ritz-Carlton. I was VERY happy since the streets were clogged with 5PM traffic. I was rewarded with a 35 minute chat with one of the world's most famous movie stars. Most of the interview centered on her philosophy, young people and then her films. Joan Crawford spoke well and laughed heartily. She told good stories.
When we arrived at the hotel, curiously there was no one to bring her luggage upstairs. I volunteered. So I went with her and her entourage into the elevator and up to the suite where she thanked me, shook my hand and she kissed me goodbye. Raphael gave me her card and extended an invitation for copies of the article.
Crawford was a very professional lady; it had been a great day and an unforgettable experience.
I am so glad I got to meet her because it gave me a chance to form my opinion of the woman. I felt a tenderness from her and saw a quiet gentleness during all of the chaos and book proceedings. Quite unlike what has been written about her by a bitter daughter.
Within a year and a half, this very public celebrity quietly vanished from public life and eventually died a recluse.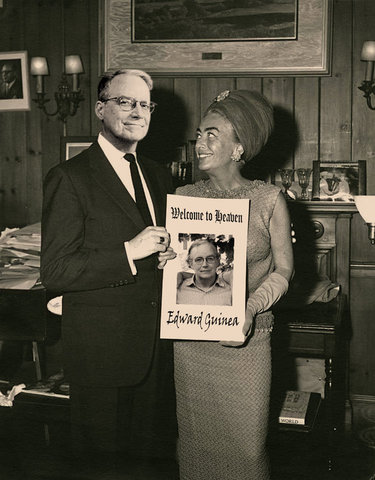 In memoriam:
Edward D. Guinea ( 9/24/51 - 6/27/10)
Visit Ed's "In Memoriam" page and leave your condolences.
On this site, you can also read Ed's reviews of Above Suspicion, Esther Costello, Strait-Jacket, and Trog.
Thanks to Ed Brownstein-Miller for the Photoshopped tribute photo above.
---
From: Ed
Contributed: September 2008
Attending the 1993 Christie's Auction
...Being the Joan fan I am for so many years, I went to the auction house to see the display. It was indeed public. People off the street went.
There were a few cameras, I believe, monitoring. And ONE security guard and that was it. I saw Joan's boas, wigs, make-up, clothes, shoes etc... and in the middle of the room while TORCH SONG played on a TV on a stand, was Joan's Oscar on a pedestal with no glass--no barriers blocking. The people ahead of me picked it up and security had no problem with it. So Judy (the girl I was with) and I did the same. It was amazing to be able to hold Joan's Oscar in my hands knowing how much it meant to her and it was HEAVY! I was thrilled beyond words.
Due to work I did not attend the actual auction but followed it. Joan's Oscar did indeed sell for $60,000.00 [sic] by private bidder by PHONE. I live on Long Island and have the actual little Newsday article about Joan's Oscar which reads word for word as follows:
Joan Crawford
Star's Oscar Fetches Top Dollar at Auction
"Oscar Dearest" came to mind as Joan Crawford's 1945 Best Actress Oscar sold for an unexpectedly high $60,000.00 [sic] at Christie's East auction house yesterday.
"We had it listed for $8,000.00 to $12,000.00", said Joshua Arfer, director of collectibles for Christie's East. "I didn't expect it to go that high."
The Oscar for Crawford's performance in "Mildred Pierce" was bought by telephone bid from an unnamed private collector after a bidding war that drew oohs and ahhs from the crowd of Crawford fans. The Oscar was the centerpiece of a Joan Crawford collection being sold be the late film star's estate.
"A lot of the Joan stuff did incredibly well. I've never seen an entertainment auction this crowded. She has a lot of fans out there," Arfer said of the movie diva who has attained cult status. - Matthew Josefowicz.
There you have it, Stephanie, indeed a very public event. I felt I needed to do what I can for Joan and everything that's being said about the Oscar. It is no shock that a collector could have bought it and I believe the claims that it belongs to the landlord as noted.
---
From: Gilda Golden
Contributed: March 2007
My fascination with Joan Crawford started when I was in eighth grade. My parents were divorced, and I spent a lot of time alone. I would go to libraries often, in search of the books that could take me away from the world that I lived in, and show me wonderful new places. On one visit, I walked into the biography section and started looking. Eventually I ran across a book titled "A Portrait Of Joan", by an actress named Joan Crawford. I loved the cover on it, and decided to check it out. Once I got home, I opened it, started reading it, and my fascination with all things Joan began. I couldn't put it down! After reading it, I decided that I had to know more! I also decided that since she had included her address in the book, that I was going to sit down and write her.
Oh, what a letter! I cringe now when I look back and recall some of the things that I wrote that woman! One part that particularly embarrasses me, is where I told her that I considered her THE QUEEN OF HOLLYWOOD, a GODDESS sitting on a golden throne, with all of the other Stars sitting at her feet! LOL Can you imagine? Well, I sent it. I didn't ever expect an answer from her. Here she was, a Big Star, and what was I? Just some lonely kid with no friends at the time. As time went on, I forgot about writing that letter. Then one day, I came home, and there on my desk was a pale blue envelope waiting on me. I walked over, picked it up, and there on the back of it was the name in dark blue, capital letters: JOAN CRAWFORD! I screamed! I wanted to tear it open and gobble up every word! But, this was something from "The Star", so I delicately started opening that envelope. Inside was a letter telling me how sweet I was to have written her, and that she had enjoyed my letter so much. Basically just the standard response I would imagine that she sent out to all of her fans. But to me, it was the biggest thing that had ever happened to me! I read that single sheet of paper over and over. To think that this great Star had actually written ME! A nobody. I decided that I just had to write her back, and tell her how much that letter had meant to me. Someone out there had paid attention to me, and I was elated!
Well, I carried on and on, once again, in that letter. LOL I also begged her for an autographed photo,that I promised would be prominently displayed for all to see. Two weeks later, I walked into my bedroom after school, and there was a manila envelope sitting on my desk. This time I knew what it had to be, and I ran to that desk! I tore it open. Nothing delicate this time. And there she was! Looking beautiful! And she had written my name and then hers. What a day that was! I know this will sound ridiculous to anyone reading, but after that day, I felt better about myself. When the kids started teasing me at school,as usual, I now would just hold my head up, ignore them and walk on. Needless to say, I wrote her back, thanking her so much for sending me her photo, and I carried on about how perfect she was. Well, about two weeks later, there was another pale blue envelope waiting for me. Another one! If I could have fainted, I surely would have then. This time, it wasn't typed, but in longhand. She thanked me once again for my sweet words, and told me that they had meant so much to her. Then she went on to ask me how old I was, if I liked school, did I have many friends, etc...
Poor Joan Crawford. She had no idea what she had started. I poured out all of my pent up feelings! I wrote and wrote! I know that this post to this group is getting long, so I will wrap it up. Joan wrote me back. AND we wound up writing each other till I graduated from High School. I was the one to break off the correspondence. What a fool I was! But, I went away to college, made great friends, and just got all caught up in my new life. Many, many times in my life I have regretted that decision. I still have every single letter that that wonderful and caring woman ever wrote me. What a major difference she made as I was growing up. I never got to meet her, but those letters in the pale blue envelopes, got me through a very difficult time in my life. I will forever be thankful.
Let me end this by writing, that if people could have known what that woman did for me, when I SO needed someone to care, then maybe they wouldn't be so ready to believe all the crap spewing from that accursed daughter of hers' mouth.
---
From: Jack
Contributed: October 2006
One of my first memories of Joan Crawford was at the State Fair in Dallas when I was a kid. It had to be in the late 1950's or early 1960's, but there was a wax museum with all the famous Texans depicted, and there was Joan, as she looked in the 30's and 40's dressed in a gold evening gown, reclining on a chaise lounge. A plaque gave all her accomplishments, and stated she was born in San Antonio.
Years later I had the privilege of meeting her in person at Neiman Marcus in Dallas, when she, Billie Marcus, who was the owner's wife, and Greer Garson, who lived in Dallas, walked into the beauty salon one day. She was the kindest, most gracious lady I have ever met in all the years I have been a hairstylist. As she was leaving, and was preparing to pay her bill, the salon manager said, "Oh Miss Crawford, there is no charge, but will you please sign our guest book." With a smile she replied, "Oh my dear, if I had known you weren't going to charge me, I would have given a little recitation."
---
From: Audrey
Contributed: July 2006
My friend was the late Charles Moore. Charles was an artist and at one time was employed by a needlepoint store. He did
original
designs for
their
business. Charles was very fond of Movie Stars. Once he designed a pillow with the face of Crawford on it. The shop was so charmed by the portrait-on-the-pillow, they featured the pillow in the store window. Charles told me a beautifully dressed woman came into the store one day wearing dark glasses. The lady insisted she had to buy the pillow in the window. It was none other than
JOAN
CRAWFORD
herself! Dear Charles was equally thrilled and honored.
••••••••••••
Back when I was in college, we had a big Democratic Dinner for our College Young Democrats club. It was spring 1971. The same weekend as our event was the re-dedication of my
hometown's
airport -- the Joplin (Missouri) Airport. Naturally, we wanted to pick up our keynote speaker -- US Rep. James Symington / former Chief of Protocol for the
LBJ
White House era -- at the airport in a fancy new
vehicle
. All the brand new cars (through local dealerships) were promised for the airport parade.
Soooooooo, my brother called a friend of his who had antique cars. He picked up Symington (whose Daddy was the famed Sen. Stuart Symington) in a vintage 1939 Rolls that had belonged to Joan Crawford. It was pristine! He even had a framed letter (affixed to the interior / backseat area) from Joan attesting to the fact the vehicle had once belonged to her.
After Symington had gone back to Washington, he wrote back a 'Thank You' note to us! He penned a single line about the dinner and wrote two paragraphs regarding how thrilled he was to ride in Joan's car!
---
From: Fred B. (Atlantic City, NJ)
Contributed: May 2006
My grandfather, during his career, was a waiter at some of the most exclusive restaurants in NYC during the 1930's thru the 1960's. One such restaurant was in the theatre district called Cavanaugh's. It was on 64th Street off Broadway I think. He waited on many stars, too many to list, and would tell us stories of them. One of his best stories is that he absolutely CRINGED when he would see Franchot Tone come in because Franchot always asked for my grandfather's service and NEVER NEVER tipped....of course papa, being the gentleman and professional he was, never let this interfere with his service and by this time was used to being "stiffed" by Mr. Tone as my Grandfather had waited on him many times for many years at different places and they were on a first-name basis. Papa recalled one evening in the 60's when Joan came into the restaurant with Mr. Tone and paid for dinner and tipped papa handsomely. My grandfather, who was a huge Loretta Young admirer (meeting her later on in his life during one of his daughter's graduations; Miss Young was the speaker for graduation at Georgian Court College), said that Joan was one of the most lovely and down-to-earth patrons he had ever waited on. In fact, when it came time for the bill, Joan rolled her eyes at Franchot Tone and then to my grandfather indicating that SHE would be paying for dinner and to bring her the check. He remembered Joan winking at him while leaving and he smiled back at her....a knowing smile. Apparently Joan knew that Franchot was one of those stars who were "above" such niceties as tipping the help.
---
From: Ernest J. Glover
Contributed: February 2006
I was the maitre'd at the Tavern on the Green in New York City and back in 1965 I handled a USO reception and had lunch with Sammy Davis Jr. and Joan Crawford. She was very gracious and sent me a thank you letter dated 1965 and signed it. I have the letter and the stamped envelope with the date July 30,1965. The back of the envelope has her name and address 2 East 70th St New York City. I am now 92 years old. But the memories live on.
---
From: Director Curtis Harrington (from "Curtis Harrington's Dangerous Companions," to be published in an upcoming edition of The Dark Side magazine)
Contributed: September 2005, by Harvey Chartrand
I met Joan Crawford when she was making The Best of Everything, because Jerry Wald produced that and I was his assistant at Fox at the time. I used to go to watch the dailies with Jerry and Joan Crawford. We were sitting in that huge projection room at Twentieth Century Fox, watching the dailies on the big Cinemascope screen.
The Best of Everything was a film about young career girls in New York working as secretaries and getting a start in the publishing business. Joan Crawford played a senior editor at a big publishing house and bossed around some young girl playing her secretary. The film introduced three new actresses in the leading roles: Hope Lange, Suzy Parker and Diane Baker. There was a shot of the three of them. We were sitting there viewing the dailies – Jerry Wald, Joan Crawford and me, when suddenly, Joan Crawford yells out: "My God, Jerry, they've all got mustaches!" Meaning that she could see the little fuzz on the upper lip that girls naturally have. In Joan Crawford's day, that fuzz was invariably removed by the hot wax treatment. By the time of The Best of Everything, some of those techniques had been forgotten. The studio system had broken down, there were not so many people being put under contract, and the makeup people sometimes didn't think of these little tricks. So the next day, all of those girls were in the makeup chair having their lips waxed.
Joan Crawford was the quintessential movie star. She lived movies, ate movies, and drank movies. Being a movie star was Joan Crawford's life, and that was it. Nothing else mattered.
I never worked with Joan Crawford, although I suggested her for the part of a madame who manages a call girl ring in The Pyx because she had a certain hardness about her and because I was trying to boost the marquee power for the picture. But James Mason, who would have played the detective investigating the call girl's murder, told me he could never work with Joan Crawford. So the project fell through and Harvey Hart ended up making The Pyx in Montreal with Karen Black.
I had lunch with Bette Davis once at Universal Studios. It was later in her career. She was very friendly with Robert Wagner. She had appeared with him in a TV-movie called Madame Sin, made in England. When Wagner was filming his series It Takes a Thief, she agreed to do a guest cameo in one episode. My producer George Edwards somehow contrived for us to have lunch with her one day at the commissary at Universal.
George said, not being serious at all, just making conversation: "Curtis and I have been talking about doing a sequel to Whatever Happened to Baby Jane?" So Bette Davis immediately said: "Yes! And I'll tell you the first scene in that picture." And we said: "What will that be?" "It'll be a scene of me putting flowers on Joan Crawford's grave!" (laughs)
---
From: Jim Pinkston (www.oscarworld.net)
Contributed: July 2005
I was at the sneak premiere of Strait-Jacket at the RKO 57th Street on Third Avenue, invited there by a friend of Miss Crawford's, Robert Schear. After the screening, we gathered in front of the theatre (Miss Crawford and her retinue were awaiting their limo) and as soon as she saw Robert, she called him over and as they exchanged cheek kisses, she whispered (in seriousness, apparently), "Bob, this is the best performance of my career." Bob said, as earnestly as he could: "Joan, darling, you were wonderful!"
---
From: Amanda Stevenson
Contributed: January 2005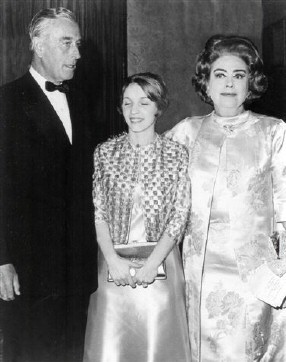 Freelance MGM publicist Amanda Stevenson is in good company at a fundraiser for Brandeis University in the summer of 1970. At left is Lord Mountbatten; at right, Joan.
---
Contributed: January 2005
Webmistress's note: The trip referred to is Joan's cruise to South America with her twins Cathy and Cindy on the SS Brasil in June 1960.
...I have many memories of Joan on that trip and after. The day we were leaving, my parents had a big Bon Voyage party in one of the public rooms upstairs. My parents' friends wanted to see our staterooms (we had two as my brother was with us) as did Joan and her daughters and their "nanny." I was sent to bring anyone who wanted to see the staterooms to see them. As we walked to them, a few friends of my mom's looked into the stateroom next to us and said "isn't that Joan Crawford"? (She had a few friends seeing her off in her stateroom.) What did I know at age 13. I said "I guess so."
The whole cruise was 5 weeks. Many people got on and off in different ports, but there were only about 30 of us on the whole cruise from NY to Buenos Aires and back. Everyone on the "whole" would host a cocktail party for the others. That's where my parent became friendly with Joan. It was a wonderful trip and I became friends with the twins. They weren't allowed out very much, but I was allowed to come into their stateroom to play a little. One day I knocked on the door and there was Joan sitting in a pink corduroy off the shoulder dressing gown. One of the girls was parting her hair and the other was applying hair color. I remember thinking this was rather strange as there was a beauty parlor on board. I sat there until they finished and she finally went into the bathroom to wash it out. She came out angry because the color was wrong. I left!!
Joan had a Pepsi cooler in her stateroom. The type that you would lift up to get a bottle. She always offered me one when I came in. The girls and I would sit on the floor and play Boggle (I thing that was the name of the game).
She wouldn't come to dinner in the dining room very often, but we'd see her and the girls peer through the curtains a few times from the deck. She'd take most of her meals in her stateroom.
One of the first stops on the cruise was Barbados. It was a very poor island and in 1960 it was really something to see a movie star like Joan there. In every port we would dock and a red carpet would be rolled out just for Joan. As I mentioned, she was on the cruise to introduce Pepsi. So there was a steel band playing and dignitaries waiting and off Joan would come wearing a big hat matching her outfit and she had on a 5" or so diamond pin. What those people must have thought!!! They could hardly afford food and here was Joan in all her array! It was quite something. This went on at every port we went to during the five weeks. I particularly remember her clear "plastic" peekaboo shoes with stripes of muted yellow and a matching bag which I saw her wearing maybe a year later at the academy awards.
When the cruise ended, she and my mother kept in touch and she invited us to her apartment on 68th (or 69th) Street. It's the one she had with Alfred Steele. Anyway, when we got there she said she'd just had her carpets cleaned and handed us paper booties instead of our shoes. Of course in those days we didn't know about her eccentricities. I wish I could remember more about that dinner at her house, but I don't. I do remember being impressed by her dressing room which was a long narrow room mirrored all over. She opened these floor to ceiling doors and she had one closet just for her bags, one just for her shoes, etc. Wow! I also remember the stairs leading upstairs in her duplex because it was the first time I saw stairs without backs to them! Unfortunately my parents are gone and I wish I could ask them more about the years with Joan.
So my father wanted to reciprocate and invited Joan out to dinner. We told her to pick the place and she picked the 21 Club. We sat downstairs where mere mortals never sat unless you were "someone." Don't remember what we ate, but we all had to have the Joan Crawford spinach salad. She was a chain smoker and every time she'd take a cigarette out all the waiters, and god knows who else, would surround her with lighted matches and lighters. We were having a nice lunch when I saw Peter Lawford walk in. Wow, I had such a crush on him (at 13)! He was with Joe Kennedy and some other people and sat at a banquet along the wall. Joan saw me "swoon" and told the twins to go introduce me to Peter. I was in heaven. Now I'd probably be more impressed meeting with Joe Kennedy. But Peter was awfully dreamy!!
I don't think I saw Joan after that, but my mother would have lunch with her now and then when she was in the city. Every once in a while Joan would call my mom without saying who she was. It's not like they were long time buddies and my mom was always surprised at her calls. The last time mom spoke to Joan was in about 1976. She was in Manhattan and asked Joan if she'd like to have lunch. Joan at that time was a recluse and hardly ever went out. She said she spent her time playing bat gammon.
I would write to her and the girls every once in a while and would get a letter back from them. When the girls and I turned 16 my mom sent them something (don't remember what) and Joan sent me some pretty slippers.
When I married in 1971 she sent me a present from Gumps, a store in San Francisco. It was a small cherub holding a glass bowl with a top on it. At that time I thought it was pretty ugly and put it in our bathroom with cotton balls in it. It finally broke one day, and that was that.
I have a few pictures of us on that cruise which are nice momentos. It's too bad I can't remember more, but if I do and you're interested I'll write again.
I do remember that besides her being a chain smoker she cursed a lot. But she had a really good sense of humor.
---
From: Michael M.
Contributed: January 2005
I have a very brief Joan story. My uncle worked for Pepsi-Cola in Philadelphia and my grandfather was a limo driver. So naturally when Joan came to town to open a bottle plant my grandfather was chosen to be the driver to pick her up and drive her around. The family story goes that she kept him out to "all hours." He got home very late and my grandmother was furious and jealous. Whenever any asked my grandfather about her his eyes would light up but all he would ever say was what an "elegant and refined Lady Miss Crawford" was.