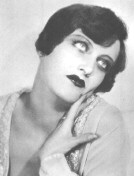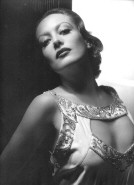 The Best of F
Doug Fairbanks Jr. • Doug Fairbanks Sr. • Family Tree • Fatal Confinement • William Faulkner • Frank Fay • Female on the Beach •
Ferncliff • F. Scott Fitzgerald • Flamingo Road • George Folsey • Henry Fonda • Joan Fontaine • Glenn Ford • Ford Startime •
Forsaking All Others • Four Walls • Fragrances • Brenda Frazier • Pauline Frederick • From Here to Eternity • David Frost
---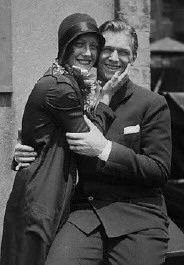 Fairbanks, Douglas, Jr. (12/9/09 - 5/7/00) Actor; son of silent star Douglas Fairbanks, Sr., and Beth Sully; Joan's first husband (1929 - 1933). The two met after Joan attended a 1927 Los Angeles performance of the play "Young Woodley" featuring Doug, then sent him a note afterwards. Said Joan in CWJC:
We were children. (I don't think women should be allowed to marry before they reach 25, men at 30...At that point the mind and lifestyle and sexuality should have developed to a degree that establishes their compatibility...) I think my biggest mistake with Doug was when I tried seriously to become the lady the Fairbanks tribe would have wanted for their prince. I started reading everything in sight, whether I understood it or not, as long as it was classical and recommended by Doug. (If it bored the pants off me I knew I should read it.)...All this could have been good--I certainly learned a lot--but I was so conceited, so self-absorbed, I overlooked one fact: Doug married Joan Crawford, the chorus girl, and maybe that's the woman he really wanted, not the pretender to the throne. I was re-creating the sort of life he'd had with his parents, and he didn't like either one of them very much, so it was the wrong full-circle. I don't know. I never really asked him what went wrong...
...I think I was more sexual than Doug. Besides, we both worked our asses off, and it's a little difficult to work in the proper amount of hanky-panky when you have to get up at four o'clock almost every goddam morning. And on weekends, when we had time, Doug sort of moved with the British colony, and I don't think they ever accepted me and I know damned well they bored me stiff. No, sex wasn't our strong point.
He co-starred with Joan in 1929's Our Modern Maidens. See also the Husbands of Joan entry. And the Dame Edna entry for a 1989 interview with Doug. IMDb info.
---
---
Mother's side: Joan's mother was Anna Bell Johnson (1884 - 1958), who was of Irish-Scandinavian descent. Anna Bell's parents were Sylvester Johnson (b. 1859) and Mary Ellen Searles (1863 - 1959). No info on Johnson's parents, but Searles' parents were Joseph Allen Searles (1836 - 1913) and Harriet Rhodes (1838 - 1911). Father's side: Joan's father was Thomas E. LeSueur (1868 - 1938), of French-Canadian descent. No info on Thomas's mother, but his father was Bert LeSueur (b. 1842). Bert's parents were Sarah Phlegar and Martell or Martin LeSueur (1821 - 1904). (Info from www.genealogy.com's Joan listing.)
Addendum, 8/21/05: F. D. Redding writes in to say that the above info on Joan's father's side of the family is incorrect. Here is his version of the patrilineal information, from the RootsWeb.com site:
Father's side: Joan's father was Thomas E. LeSueur (1868 - 1938), of French Huguenot descent. [Redding notes that this branch of the family emigrated from London in the early 1700s, settling in Manakin Town, Virginia, where they lived for several generations.] Thomas's parents were James Howell LeSueur (b. 1842 in Virginia) and Permelia D. "Amelia" James (b. 1845 in Tennessee). James LeSueur was the son of Samuel Wesley LeSueur and Mary Ann Jane LeSueur, who were first cousins as their fathers were brothers. Amelia was the daughter of John J. James and Rhoda Ball. (Info. from RootsWeb WorldConnect's Joan listing: RootsWeb's WorldConnect Project: Le Sueur.)
For information on Joan's stepfather Henry Cassin's family tree, see the Cassin entry.
Pictured is the maternal side of the family, before Joan's birth (courtesy of US): Top row: unknown, Joan's father Thomas LeSueur, Joan's aunt Betty Johnson. Bottom row: Joan's uncle (name unknown), her mother Anna Bell (holding Joan's brother Hal), her grandmother Mary Ellen Johnson (holding Joan's sister Daisy), her grandfather Sylvester Johnson. (NOTE: In POJ, Joan says the girl on her grandmother's lap is her aunt Betty and does not name the older girl standing behind her. Joan occasionally got a few facts wrong in POJ, so for now I'm leaving the US description of the picture.)


---
Fatal Confinement (aka Della). In this 1964 TV pilot for the never-materializing series Royal Bay, Joan plays "Della Chappell," a wealthy recluse. Available on VHS.
---
---
Fay, Frank. Silent-screen star who owned the property across the street from Joan's Brentwood home on North Bristol Avenue. Fay was once married to Barbara Stanwyck; after a marriage-ending violent fight with Fay, Stanwyck sought refuge with Joan. On Sundays Fay would often allow his estate to be used for Catholic fundraisers, which angered Joan because of the people and cars blocking the street. (MD)
---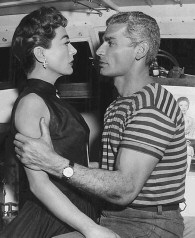 Female on the Beach. Universal-International, 1955. Directed by Joseph Pevney, 97 minutes. Joan stars in her first film for Universal as "Lynn Markham," a rich widow with a beach-house who's suspicious of the attractive beach-bum (Jeff Chandler) hanging around. Joan had specifically requested Chandler for her leading man. Says Joan in CWJC:
They couldn't title it Female on the Beach today, could they? Women's Lib would have a fit. (Actually, to them I should be some sort of heroine; I brought more men to their knees, or actually ruined them, than any other actress in Hollywood history. They should order their membership to see old Joan Crawford movies; if anyone could handle those mean male bastards, Joan could.)
Seriously, it wasn't a bad picture. I thought Jeff Chandler was excellent, a very bright and handsome actor, and I suppose the only thing wrong with it was the thing that hurts so many melodramas, a lack of credibility. The writers aren't too careful about the plot, they're more concerned with building up certain scenes, and the directors go along with that. Consequently, to use another critical phrase, the parts are better than the whole.
---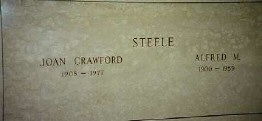 Ferncliff Cemetery and Mausoleum. Where Joan's ashes are interred, alongside those of husband Al Steele. Ferncliff is located in Hartsdale, Westchester County, New York. Exact location of Joan's remains: Main Mausoleum, Unit 8, Alcove E, Crypt 42.
Click here to see shots of Ferncliff that I took in March '06.
---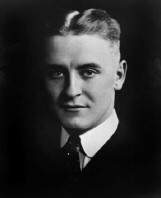 Fitzgerald, F. Scott. (9/24/1896 - 12/21/1940) At the height of the Jazz Age, Fitzgerald wrote of Joan: "[She] is doubtless the best example of the flapper, the girl you see in smart night clubs, gowned to the apex of sophistication, toying iced glasses with a remote, faintly bitter expression, dancing deliciously, laughing a great deal, with wide, hurt eyes. Young things with a talent for living."
Fitzgerald made a foray to Hollywood himself in 1931, where he was subsequently fired as writer for the film Red Headed Woman. In 1938 he tried writing for films again, in a 6-month stint for MGM, and this time had a hit--and his only film credit-- with Three Comrades, featuring Margaret Sullavan (co-starring that year with Joan in the less successful The Shining Hour) and Joan-husband Franchot Tone. Hearing the pre-release buzz on Comrades, Joan asked producer Hunt Stromberg to have Fitzgerald write something for her. The resulting project was Infidelity. (JCB)
According to an April '04 New York Times article, the film was initially conceived as a vehicle for Joan, Gable, Gary Cooper, and Tone. (At one point Fitzgerald suggested that it star Myrna Loy, Gable, Robert Taylor, and Tone.) During the project, Fitzgerald wrote to a friend:
...Writing for [Joan] is difficult. She can't change her emotions in the middle of a scene without going through a sort of Jekyll and Hyde contortion of the face, so that when one wants to indicate that she is going from joy to sorrow, one must cut away and then cut back. Also, you can never give her such a stage direction as 'telling a lie,' because if you did, she would practically give a representation of Benedict Arnold selling West Point to the British....
He also made of point of studying Crawford films before he began, and took notes during a screening of Chained:
Why do her lips have to be glistening wet?... Don't like her smiling to herself--or such hammy gestures that most actresses get away with....Cynical accepting smile has gotten a little tired....She cannot fake her bluff, or pretend to.... Her smile brighter in outdoor situation than in drawing rooms...Outdoor girl better....Hearty laughter rather good....A sad smile not bad, but the serious expression best....Absolutely necessary that she feel her lines. Must be serious from first. So much better when she is serious. Must have direct, consuming purpose in mind at all points of the story--never anything vague or blurred. Must be driven.
Fitzgerald labored on the film for months, but the adultery theme brought heat from the Hays Office; eventually Joan turned down the script and the project died. (JCB) (Fitzgerald also later worked on the script for The Women, which, like Red Headed Woman, ended up being finished by Anita Loos. While in Hollywood, he also worked on his last--unfinished--novel, The Last Tycoon, based roughly on the life of Irving Thalberg.)
Said Joan in CWJC: "Scott was one hell of a writer, but he was also a lush, and Metro was sort of killing him by ignoring his scripts. When I told him ["write good"] I also told him to write it as he saw it, not to take too much advice before he started." In her 1973 Town Hall interview, Joan said: "I only remember him coming to my house in California with Helen Hayes and Charlie MacArthur, and all he did was stand in my kitchen near where the liquor was and get very drunk."
Note re the "write good" quote above: In CWJC, interviewer Roy Newquist specifically asks "You are reputed to have told F. Scott Fitzgerald...to 'write good.'" Other sources, however, such as Matthew J. Bruccoli's Some Sort of Epic Grandeur Fitzgerald bio and Fitz girlfriend Sheilah Graham's autobiography, have Joan saying "write hard."
---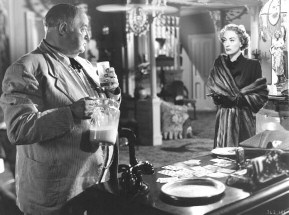 Flamingo Road. Warner Brothers, 1949. Directed by Michael Curtiz, 96 minutes. Joan stars as carny-gal "Lane Bellamy," who hooks up with the local sheriff (Zachary Scott) and incurs the wrath of town bigwig Titus Semple (Sydney Greenstreet).
Says Joan in CWJC: Another boner. The script missed, Curtiz missed, I missed. It just didn't jell, that's all, and it's another time when my judgment screwed up completely, because while we were shooting it I thought it would be good. I often wonder if that wasn't one of the films I made that was destroyed by bad editing.
---
---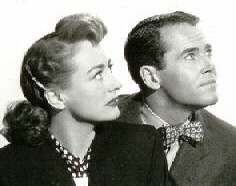 Fonda, Henry. (5/16/05 - 8/12/82) This Nebraska-born film legend made his acting debut at the Omaha Community Playhouse and subsequently appeared in plays in Cape Cod and on Broadway from 1926 to 1934 before making his film debut in 1935's "The Farmer Takes a Wife." He would go on to receive two Oscar nominations for "Grapes of Wrath" (1940) and "Twelve Angry Men" (1958), before winning an Oscar for his penultimate film "On Golden Pond" (1981).
Fonda appeared with Joan in one film, 1947's Daisy Kenyon, in which he played a troubled WWII vet vying with a cad lawyer (Dana Andrews) for commercial artist Daisy's affections.
In an interview with Charles Castle, published in Castle's 1977 book Joan Crawford: The Raging Star, Fonda speaks extensively about the movie and Joan:
I was a contract player, and had to do it. It wasn't bad, so I couldn't fight too much about it. And the audience reacted to it as I expected them to. If they went to see a Joan Crawford movie, that's fine, and there was no reason not to have liked her because she was good. It was just one of fifty or sixty movies I did that were just churned out. It was different, because it was Joan Crawford. Acting with her was such a consummate thing....
With her you never saw the wheels turning. She was very true. She was the part, the character, not an actress merely playing the part. She had charisma or personality. She would be somebody when she walked onto the stage before she even opened her mouth, whether she was known to be Joan Crawford or not. She would be somebody that you would think of and notice....
When I did this one film with her, and I don't want to say it in a put-down way, she was obviously the star, and she had demands. But they were not outrageous demands. She wanted the stage a certain temperature and I didn't object to that. It was colder than most people would have---it was important to her that the stage be cool....
I was told that she always gave her leading men and all the principals on the picture presents on opening day....My present from her was a crystal vase from Denmark. It was a beautiful thing. I wasn't used to being given a present by the leading lady or by anybody else when I started a film, so I was unprepared to give her anything. But I discovered that she chewed double-mint gum, and I bought her a carton-full and gave her that.... [My note: In Shaun Considine's 1989 book Bette and Joan: The Divine Feud, Fonda is quoted from his bio My Life as having received another gift from Joan: a sequined jockstrap---which she subsequently invited him to model. Said Fonda: "I was carrying her up the stairs for a scene we were filming. When she whispered the invitation, I nearly dropped her." No word on whether he accepted.]
I knew Bette [Davis] a long time, and I have worked with her twice or three times, and I was very aware of Bette's mannerisms, but I was never conscious of Joan having any. I found working with Joan very relaxed. Very warm.... Joan was a star in every sense of the word. She didn't remind you of it in any particular way. You just knew it. And you didn't think any less of her for it.
---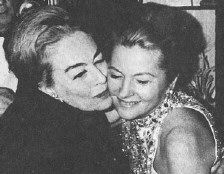 Fontaine, Joan. (10/22/17 - ) This Oscar winner (Hitchcock's Suspicion, '41) and sister of Olivia de Havilland made her film debut in Joan's 1935 film No More Ladies and also appeared in 1939's The Women. From Fontaine's autobiography No Bed of Roses (William Morrow and Co., 1978):
In the spring on 1939, MGM signed me to play in The Women, Clare Boothe Luce's succesful stage play, to be directed by George Cukor...

The differences in the stars made my mind boggle. Miss Shearer, not only because of her beauty and talent, but also because her husband, Irving Thalberg, was the most important producer at MGM, had long been the queen of the lot. Hers was a dignified, delightfully warm demeanor. A maid, dressed in black uniform, with frilly cap and apron, attended her before each take, handing the star a mirror and powder puff from a makeup tray. Joan Crawford, on the other hand, had the democratic touch, knowing every grip and electrician by name...My particular remembrance is of Joan in a gold lame halter top and slit evening skirt. Joan kept a ball of yarn tucked in her midfriff as she knitted away between setups.

I had known Joan Crawford since my small part in No More Ladies...Since Miss Shearer was the gracious lady of the lot, Miss Crawford decided to be the cultured one. I often heard Joan's operatic vocalizing emanating from her studio bungalow at lunch hour. She wore huge horn-rimmed spectacles between takes or in her sound-stage dressing room, where an immaculately uniformed chauffer, complete to puttees, placed a portable phonograph each morning. Strains of Manon or Tosca would seep onto the nearby set during rehearsals, much to the annoyance of our director.

One afternoon, Russian actor Ivan Lebedeff paid a call on Miss Crawford and was invited into her stage dressing room. In ten minutes Ivan came pelting out, white of face. As I happened to be close by and knew him, he rushed over to me. In shock, he blurted out, 'Poor Joan! She's just told me that after her tragic life with men, she can no longer find sexual satisfaction unless she is tied to a bedpost and whipped!' He staggered away, hands against his ashen face. I could only chuckle. I had read the same chapter in Psychopathia Sexualis, too! Joan's imagination was on the dramatic side...and she obviously was an inspired conversationalist.

---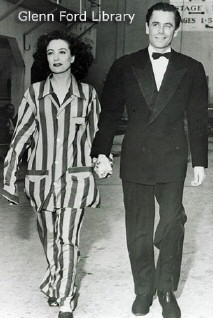 Ford, Glenn. (5/1/16 - 8/30/06) Ford made his debut in 20th Century-Fox's 1939 film "Heaven with a Barbed Wire Fence" and went on to star in such notable films as 1946's "Gilda," 1953's "The Big Heat," and 1955's "Blackboard Jungle." (Along with 1978's "Superman," a film that Joan was reportedly approached about doing just prior to her death in 1977.) His final appearance was in the 1991 TV movie "Final Verdict."
He and Joan had a brief fling around 1942. (See the picture to the right, taken in 1942 on the Columbia lot.) From a soon-to-be-released bio (Glenn Ford: A Life in Film):
The Ford-Crawford friendship was indeed a bit more intimate than either star admitted publicly at the time. "Joan and I had a brief affair," Glenn admits today. "It was never serious, but we did enjoy each other's company for a while. One evening up in her bedroom, we had a bottle of champagne, and she said 'You can make love to me if you can get my girdle off.' So I began struggling to remove this stubborn, rubber foundation garment. It was so tight, it took quite a while. She wouldn't move, wouldn't help me at all. Finally, it came off...almost threw me across the room!" The Crawford fling burned out quickly. "She was too powerful for me to be in love with," Glenn says. "She was very much sufficient unto herself."
Joan doesn't mention girdles and Ford in the same breath in her 1962 autobiography "Portrait of Joan," but she does say there: Glenn Ford and I had many mutual interests, paramount among which was the artisan side of our business. We'd run his pictures, we'd run mine, studying production techniques, giving each other constructive criticism. Both of us were a little solitary. Our relationship was in the nature of a good aperitif.
---
Ford Startime "Talent Scouts." Joan appeared as a scout on this TV show on 2/23/60, "discovering" Collen Dewhurst.
---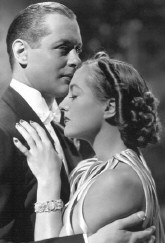 Forsaking All Others. MGM, 1934. Directed by W.S. Van Dyke, 82 minutes. Joan stars as "Mary," who's about to marry childhood friend/cad (Robert Montgomery) but is wooed by her other childhood friend/nice guy (Clark Gable, in their 6th film together). Says Joan in CWJC: Others wasn't a particularly strong picture, but there was Clark again, plus Bob Montgomery. Forgettable but pleasant.
---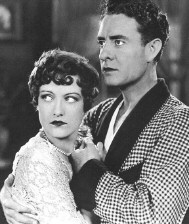 Four Walls. MGM silent, 1928. Directed by William Nigh, 60 minutes. Joan plays "Frieda," the moll of neighborhood gangsta John Gilbert, who's sent to prison and subsequently reforms. Says Joan in CWJC: ...I was back with John Gilbert again, and the chemistry worked all over again, even stronger.
---
Fragrances. In the 1930s, Joan's favorite perfume was Jungle Gardenia. Later, as she said in MWOL, the three scents she "would never want to live without" were: Youth Dew by Estee Lauder; Royall Lyme, a man's cologne; and Spanish Geranium by Lanvin.
---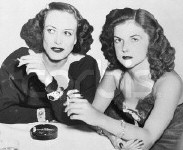 Frazier, Brenda. This ultimately troubled New York society girl made her debut in 1938 and was promptly embraced by the Hollywood community, including Joan.
---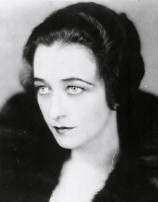 Frederick, Pauline. (8/12/1883 - 9/19/1938) Frederick began her career as a chorus girl, soon graduating to lead roles in Broadway musical comedies, then dramas. She signed with Adolph Zukor's Famous Players Company in 1914 and debuted on film a year later at the ripe old age of 32. Usually cast as variations of a "woman of the world" in many uneven films, her most famous role was probably 1920's Madame X. She appeared in 67 films and continued acting on the stage before her death from asthma in 1938.
Frederick co-starred with Joan in one film, 1931's This Modern Age, playing Joan's mother in a role originally intended for Marjorie Rambeau. (Trivia: Frederick and Rambeau had something else in common: Both were briefly married to the drug/booze-addled writer/actor Willard Mack; Rambeau from 1913 - 1917, Frederick from 1917 - 1919.)
Said Joan in POJ:
Acting with Pauline Frederick was a stirring experience for me. The celebrated actress I'd met backstage with Paul Bern when I was a novice in Hollywood, the first legitimate theater I'd ever seen--now we were working together every day and I had the opportunity of knowing her, savoring her quality. Her voice had the tone and range of a rare instrument, but that was just one adjunct of her charm, as were her physical beauty and dramatic ability. At the core of the woman was an exquisite maturity. She had utilized her intelligence, expanded it, she was living proof of what a woman and an actress could become. Imagine my reaction when she told everyone, "If they'll give this child a chance she'll do big things. Joan is an actress."
Excellent fan site. IMDb page. Internet Broadway Database.
---
---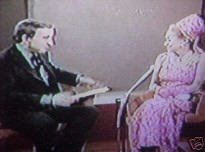 Frost, David. According to the IMDb, Joan appeared on Frost's interview program on 1/16/70, 4/21/70, and 10/7/71. See the '70s TV page for more info and another picture.