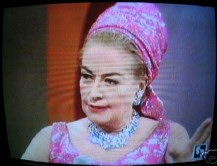 The David Frost Show
Broadcast Information: January 16, 1970.
This is the show where Joan was bleeped for saying "balls"---as in, "Gable had 'em." She also mentioned firing a hairdresser for being late, and knocked Hollywood for its "snobbish little cliques."
The Merv Griffin Show.
Broadcast info: January 16, 1970.

The Virginian: " Nightmare"
Broadcast Information: January 21, 1970, on NBC. 90 minutes.

Directed by Robert Gist. Joan plays "Stephanie White," a twice-widowed pioneer woman with extra-sensory perception. Her co-stars included James Drury, Doug McClure, Steve Sandor, John McIntire, Jeanette Nolan; Sara Lane, Ross Elliot, Tim Matheson, Walter Kemmerling, Michael Conrad, Rachel Rosenthal, Booth Coleman, Clark Gordon, William Mims and Peter Marko.
Click here to see photos from the episode.
The Tim Conway Show
Broadcast Information: January 30, 1970, on CBS. 30 mins.
This was the pilot episode. Joan played herself in a cameo. The producer was Burt Nodella. The director was Alan Rafkin. Also appearing were Joe Flynn, Anne Seymour, Johnnie Collins, Emily Banks, Fabian Dean and Dennis Robertson.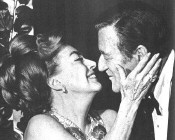 Golden Globes
Broadcast info: February 2, 1970. Joan is presented with the Cecil B. DeMille Award by John Wayne.
See the 1970 Images page for more photos from the event.
Hollywood Palace
Broadcast info: February 7, 1970.

The Merv Griffin Show
Broadcast info: March 21, 1970.
The David Frost Show
Broadcast info: April 21, 1970.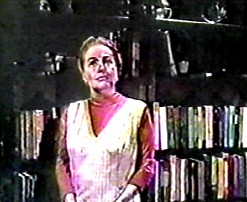 Journey to the Unknown
Broadcast Information: June 15, 1970. 100 mins
Joan acted as hostess for this program, which featured Don Chaff, Vera Miles, Patty Duke, Kay Walsh, Leon Lissek, Dermot Walsh, Gay Hamilton, Geoffrey Bayldon, Joan Newell, Blake Butler, Michael Craze and John Bailey. The director was Michael Lindsay.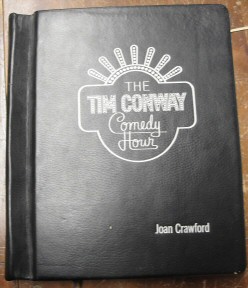 The Tim Conway Comedy Hour
Broadcast Information: October 4, 1970, on CBS. 60 mins.
Tim welcomes guests Joan and Dick Martin. The first sketch features Joan as legendary stage performer "Lillian Abbott - Superstar!" Conway plays a fan in awe of Miss Abbott who won't take the hint to leave her dressing room. When she finally uses a framed photo of herself to get him out, she's surprised when he gives her his own framed photo. The next sketch takes place on "The Last Choo Choo to China" and involves the desperate search for stolen microfilm. No one seems to have it; no one seems to know who wants it; no one seems to know what's going on. Finally, Conway closes the show and relates the story of how Joan sent to him and his wife a congratulatory card for the birth of their sixth child. As the credits roll, audience members rush the stage for Joan's autograph.
The producers were Bill Hobin (who also directed), Sam Bobrick and Ron Clark; and it was written by Fred S. Fox, Seaman Jacobs, William Raynor, Buddy Atkinson, Rudy De Luca, Barry Levinson, Craig Nelson, Doug Arango, Phil Doran, Ron Wullner, Myles Wilder and Tim Conway.
This was the third of five efforts to provide a vehicle for Conway after he left the "The Carol Burnett Show." Also appearing in this program: Sally Struthers, MacLean Stevenson, The Hansen Dancers and The Jimmy Joyce Singers. Pepsi-Cola is mentioned (of course) during the closing monologue by Conway.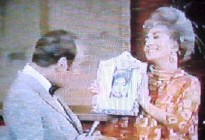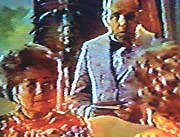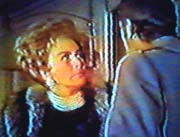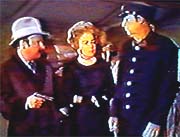 ---
[disputed] The Name of the Game
Broadcast info: January 15, 1971. The IMDb lists Joan as appearing as "Board Member" in the "Los Angeles 2017" episode, directed by Steven Spielberg. However, Joan historian John Epperson (aka "Lypsinka") writes in an e-mail of July 2010: "I watched the whole episode at the Library of Congress recently, on 16 mm film, and her name is not in the credits at the beginning and end, and she's not in the episode. As I slogged through the dull thing, I kept wondering if she might make an unbilled cameo...as a favor to Spielberg, her former director, but she is nowhere to be seen."
Journey to Murder
Broadcast Information: January 30, 1971. 100 mins.
Joan acted as hostess for this TV movie, which featured John Gibson, Joseph Cotten, Roddy McDowal, Ingrid Brett, Judy Parfitt, Kenneth Haigh, Joyce Blair, Barry Evans, William Marlowe, Douglas Wilmer, David Warbeck, David Baxter, Hugh Futcher, Carol Cleveland, Tom Gill, Eddie Byrne and John Rudledge. The director was Gerry O'Hara.
The David Frost Show
Broadcast info: October 7, 1971.
The Merv Griffin Show
Broadcast info: October 28, 1971.
---
The Merv Griffin Show
Broadcast info: September 26, 1972.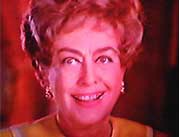 The Sixth Sense: "Dear Joan: We're Going to Scare You to Death"
Broadcast Information: September 30, 1972. on ABC.
Description of Program:
Joan plays "Joan Fairchild" in her last TV performance. Joan Fairchild is driving her car on a deserted road when a dog appears, causing her to drive off the road. She finds her way to a nearby house where several young people welcome her to spend the night until she can call for help the next day. As Joan prepares for bed, the hosts begin a strange ritual which their leader says will literally scare Joan to death!
"The Sixth Sense" was a short-lived series that debuted on October 2, 1971, and ran through December 23, 1972, on ABC. This show centered on a professor (Gary Collins) who explored cases of the mind, e.g. ESP and telekinesis. The unedited episode "Dear Joan: We're Going to Scare You to Death" aired on September 30, 1972. Eventually, the series was re-edited into the syndication package of "Night Gallery." Rod Serling was paid to perform a prologue for each episode and paintings were made to accent these episodes.
Joan was paid $2,500 for her appearance. She was visited on the set by Alfred Hitchcock, Lew Wasserman, and Rock Hudson. Joan insisted on having cameraman Enzo Martinelli, someone she'd worked with before because she felt he knew how to light her properly. Joan's performances during taping drew applause from the set.
---Joan Crawford: A Biography by Bob Thomas
Click here to read the transcript of host Gary Collins' interview with Joan from the unedited version of the show and to see more screen shots. Below is an ABC press release.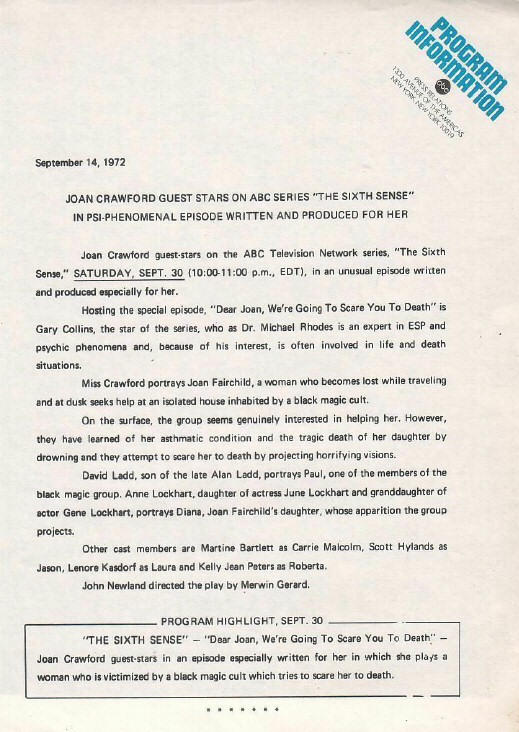 ---
Mildred Pierce
Broadcast Information: 1974 or 1975
Joan appeared in a videotaped introduction for Mildred Pierce for Channel 5 in New York City.