The Best of Everything
Joan Crawford TV Commercials
Commercials are listed below chronologically, earliest to latest.
If you know of any other Joan commercials that should be added here, please e-mail me.
NOTE: Some of the below can be seen on YouTube, but because of the channel's mutability,
I have not included the actual videos on this page.
(Thanks to JC historian Tom Clark for info on Joan's Pan Am and UNESCO ads.)
Easter Seals
Broadcast Information: 1960
Text: "These Easter Seals recently arrived at my home. Perhaps you have received some too. I wonder if you realize the many ways in which Easter Seals served those of our children who need our special help. The crippled children. These Seals symbolize an amazing record of human service. They help provide care and treatment so that these children may learn to walk and talk, play and laugh, like other boys and girls. As parents of healthy children, as many of us are -- I have four -- we feel...that we have even more reason to respond to the need of these other youngsters. They offer a road back from more than one hundred different crippling conditions. I'm sure you are as concerned as I am about these little boys and girls. They need our special help so that they can have rich, happy, useful lives. We can all help by giving to Easter Seals. Please give generously. Thank you."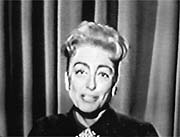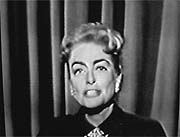 Mountain Dew
Broadcast Information: 1968
Joan is featured briefly in this commercial for Mountain Dew as part of their "Get that Barefoot Feeling Drinking Mountain Dew" campaign. Joan is shown in a dressing room having her hair done. She picks up the bottle of Mountain Dew, takes a sip, wriggles her toes, and then gives a knowing smile to the viewer. Dorothy Arzner (director of Joan's '37 The Bride Wore Red) directed.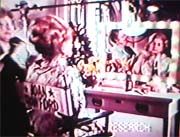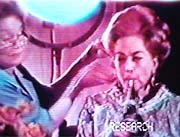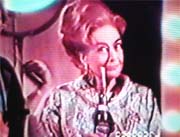 UNESCO
Broadcast Information: late '60s or early '70s
Joan narrates this 30-minute documentary on Easter Island.
Pan Am
Broadcast Information: 1971 or 1972
Muscular Dystrophy Association
Broadcast Information: 1972
Joan narrates this commercial. A young man runs in a field with the song "Born Free" playing in the background. Joan's voiceover: "In dreams he runs...but only in dreams." Cut to shot of youth sleeping in wheelchair as Joan asks viewers to contribute.
American Cancer Society
Broadcast Information: 1973
Text: "I'm here with a very brief reminder for you women. We're all aware of the importance of the pap test in guarding our lives when it comes to cancer of the uterus. What I'd like to mention is we should have the pap test done as part of a regular health checkup. So, if it's been a year or more since you've had this simple examination, see your doctor. It's important to you...and to the people who love you."