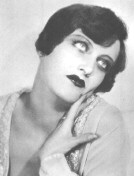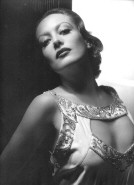 The Best ofY
Herbert J. Yates • "Yes" Face • Philip Yordan • Vincent Youmans • Elizabeth Young • Ernie Young •
Gig Young • Loretta Young • Robert Young • Victor Young • Waldemar Young • Young Woodley • Youth Dew
---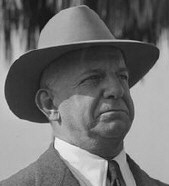 Yates, Herbert J. (8/24/1880 - 2/3/1966). Founder and chief of Republic Studios at the time of Republic's Joan-vehicle Johnny Guitar (1954). An active supporter of the film, he was often called in to moderate on-set problems, including feuds between Joan and co-star Mercedes McCambridge, as well as approving the cost ($220,000) of adding additional scenes for Joan's Vienna character. One complaint he had was about director Nicholas Ray's initial stylistic use of black-and-white in the otherwise color film: "I'm paying for color, and I don't see any flowers." (JC) Director Ray also claimed that Yates was a cheapskate, refusing to pay for a big-name co-star such as Barbara Stanwyck or Bette Davis (whom he says both he and Joan wanted) for the Emma Small role eventually played by McCambridge. (Divine Feud)
---
"Yes" Face. It's essential to have one to avoid looking like a "prune-faced schoolmarm," according to Joan's '71 book My Way of Life. Here's how to get yours in two easy steps: (1) Open your mouth as wide as you can and at the same time purse your lips as if you're trying to whistle. Hold it for 10 seconds. (2) Put your thumb and forefinger inside your mouth and try to push your fingers out--at the same time forcing your cheeks in. Hold for another count of ten.
---
Yordan, Philip. Broadway playwright who wrote the screenplay for Joan's Johnny Guitar (1954).
---
Youmans, Vincent. Author of the Broadway musical "Great Day," acquired by MGM as a film vehicle for Joan. The film began shooting around September 1930, but after 8 weeks or so was shelved due to Joan's dissatisfaction with her Southern dialect after viewing the rushes. (US)
---
Young, Elizabeth. Actress and socialite married at one time to producer Joseph Mankiewicz, with whom Joan was "madly in love" around the time that he was producing Joan's '36 film The Gorgeous Hussy. Young reportedly became hysterical when, at a dinner party at the couple's home, her husband and Joan disappeared for a length of time. Apparently the two had gone to look at Mankiewicz's and Young's new baby; Joan was overheard telling him that the baby should have been hers. (EB)
---
Young, Ernie. Chicago agent-producer mentioned to Joan by Katharine Emerine, in whose operetta show Joan was dancing in Springfield, Missouri, in 1923. When the show folded, Joan attempted to look up Emerine in Chicago. Told that she was on tour, Joan remembered Ernie Young's name and desperately crashed his office in the fall of 1923. After she "jumped on his [casting] couch" (EB), he hired her to dance in strip joints, bars, and salesmen's conventions, then sent her in 1924 to dance in the floor show at the Oriole Terrace in Detroit, one of 32 other chorus girls. In April of '24, doing a gypsy number, she knocked over a drink onto Broadway producer J.J. Shubert, who came backstage and offered her a job in the production of "Innocent Eyes" in New York City. She dumped Young and Detroit and left for NYC the next night. (CM)
---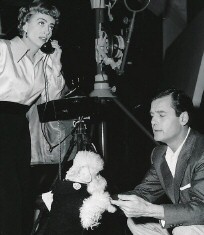 Young, Gig (11/4/13 - 10/19/78)
Actor portraying Joan-character Jenny Stewart's sybaritic lover in 1953's Torch Song. According to EB, she often invited him for drinks in her dressing room at the end of each day. After running in to him in Palm Springs during the time of filming, she apparently made a pass at him, which he said he refused. He later claimed Joan had his scenes in Torch Song cut drastically because of his rebuff. (Editor's note: Young's part was of extremely minor importance to the plot to begin with.)
Young was married to actress Elizabeth Montgomery (his third wife) from 1956 to 1963. He killed his fifth wife and then himself in 1978.
Wikipedia page The Last Days of Gig Young
---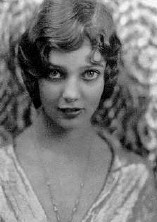 Young, Loretta. (1/6/13 - 8/12/00) U.S. actress with a long career in both movies and TV ("The Loretta Young Show"), and one of Joan's earliest Hollywood rivals. The enmity apparently started in 1926 when a teenaged Loretta tagged along with sisters Polly Ann and Betty Jane to one of Joan's weekly "girlfriend luncheons" at Montmartre. Loretta charmed everyone, to Joan's annoyance, and was thereafter banned from further lunches. (As a result of being forced to stay at home, Loretta took a call meant for sister Polly Ann and accepted her first movie role.)
Loretta further invoked Joan's displeasure by having an affair with Joan's oft-time lover Clark Gable during the filming of 1935's Call of the Wild and later bearing his at-the-time-unacknowledged child. Young also had affairs with onetime Joan-paramours Spencer Tracy, during the filming of A Man's Castle, and producer Joseph Mankiewicz. And, to add insult to injury, she also beat out Joan for the Best Actress Oscar for 1947, winning for The Farmer's Daughter over Joan's Possessed. Young later rejected an offer to replace Joan in Hush, Hush, Sweet Charlotte.
Joan often joked about Young's devotion to Catholicism: At a party once, a guest was about to sit down and Joan grabbed him, saying "Can't sit there. Loretta Young just got up, and it has the mark of the cross on the seat." (CM, EB)
---
Young, Robert (2/22/1907 - 7/21/1998)
Joan's co-star in Today We Live (1933), The Bride Wore Red (1937), The Shining Hour (1938), and Goodbye My Fancy (1951). Young went on to greater fame in the 1950s US TV series Father Knows Best and the '70s series Marcus Welby, M.D. (which Joan at the time said was one of her favorite shows).
---
Young, Victor. Wrote the score for Joan's 1954 Johnny Guitar, including the title song sung by Peggy Lee.
---
Young, Waldemar. Writer of the scenario for Joan's 1927 Tod Browning-directed-and-written silent film The Unknown.
---
Young Woodley. Play at which Joan first met husband-to-be Doug Fairbanks, Jr. It opened October 27, 1927, at the Vine Street Playhouse in Los Angeles. Joan, attending the play with mentor Paul Bern, was first introduced to Doug backstage that evening, then later that night sent him a congratulatory telegram on his performance. Mary Pickford and husband Fairbanks, Sr., also attended opening night. Sr. proclaimed Jr. "a pretty good actor." (CM)
---
Youth Dew. See Fragrances.