The Best of Everything
Sylvester Stallone
"Woman (Joan Crawford)"
1990
40 x 40, oil and acrylic on canvas
September 1990 exhibition at Hanson Art Gallery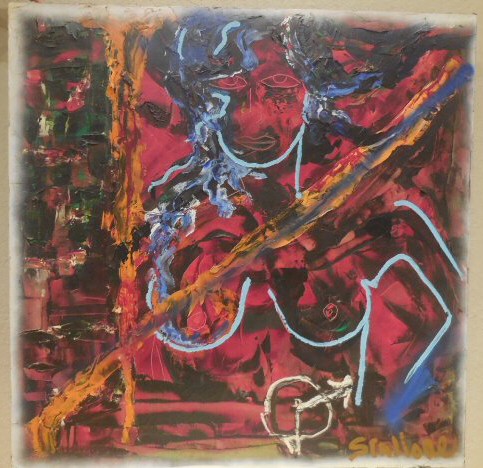 Artist description accompanying this painting on the Art Brokerage site:
Sylvester (Sly) Stallone American Artist: b. 1946. Sylvester Stallone is an artist. In fact, many of his paintings have sold for hundreds of thousands of dollars. It's hard to imagine that a man who appears so tough and brave on screen, enjoys painting with watercolors, and has gained a liking for painting flowers. This is the softer side of Sylvester Stallone. A side that not many people can imagine him having. Stallone prefers to produce works of art with watercolors. Stallone has been doing this for years prior to him finding fame when he wrote, produced, directed, and starred in his ground breaking film Rocky. Collectors are doing their best to obtain Sylvester Stallone autographed art. The rarity of the art along with the driving force behind it will assure that the artwork will grow in value in the years to come. There is also the fact that Sylvester Stallone's artwork is actually very pleasant to look upon. His use of color, shapes, and designs is truly something to behold. Many collectors are eager to obtain paintings from Sylvester Stallone. We have buyers for his original paintings now. Art Brokerage has several fabulous paintings available by American artist and actor Sylvestor Stallone. Listings wanted.
---
The Best of Everything