The Best of Everything
Main Menu Encyclopedia: Ann Blyth
Ann Blyth at San Francisco's Castro Theatre
July 21, 2006
Click here and here to see 2 YouTube clips of Blyth being interviewed at the Castro.
On Friday, July 21, 2006, promoter Marc Huestis presented an evening with actress Ann Blyth, who played the Evil Daughter Veda in the film Mildred Pierce, for which Joan won an Oscar. A few of us Joan fans flew in from all over the country to watch "Mildred" at San Francisco's renowned Castro Theatre in good company, to shake hands with Ms. Blyth after the show, and to hang out before and after. Below are photos of some of us who attended the show, along with photos of Blyth and a few of the Castro area in general.
Above: Before the 7pm event, we Joan fans met up at "Catch," a restaurant in the Castro district.
Clockwise from left: Des (in from NYC), David Cerda (in from Chicago), John (SF resident, friend of Jon M), Jon M (in from the East Coast), Donna (in from NYC), and Danny (SF resident). As it turned out, Joan's grandson Casey LaLonde was at the same restaurant with friends while we were there, and some of us got to shake hands and say hello. The Casey entourage ended up sitting in the row in front of us at the theater, as well.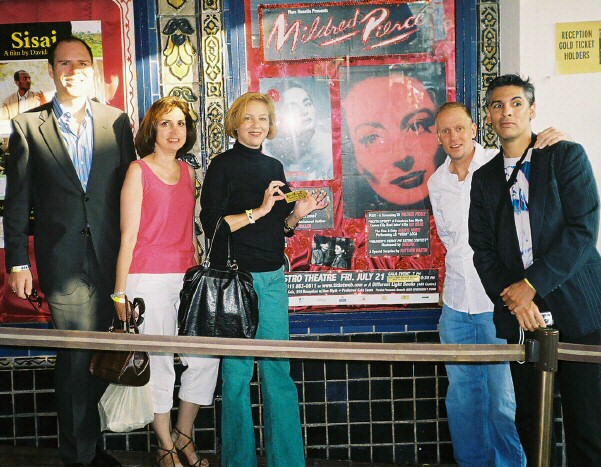 Above: Outside the Castro Theatre before the show, posing in the "VIP line." From left: Des, Donna, me, Jon M, David.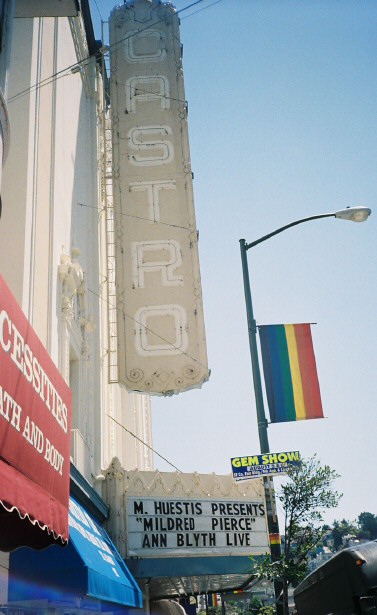 The Castro Theatre by day.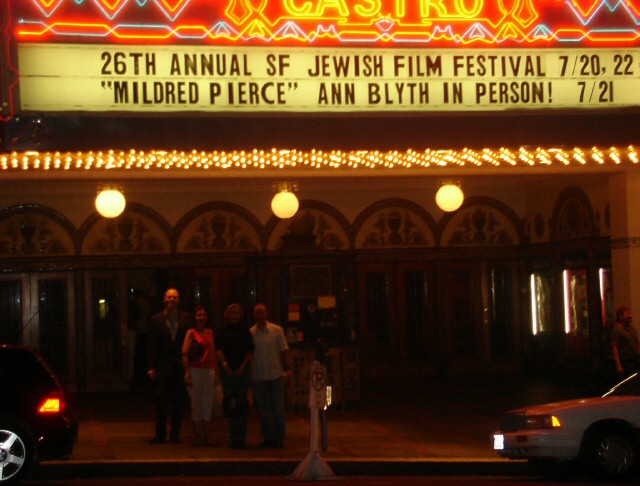 The Castro Theatre by night. Those shadowy figures below the sign are Des, Donna, me, and Jon M.
(Thanks to David for the photo.)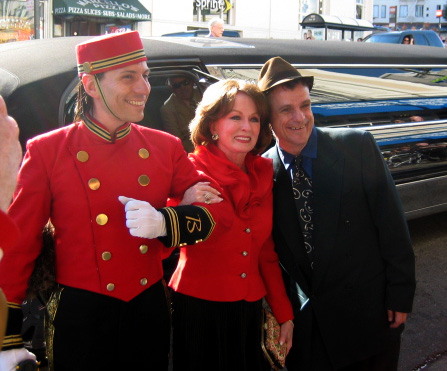 Ann Blyth arriving for the event. At right is Marc Huestis, the promoter of the show.
(In his on-stage introduction to Blyth's appearance, Huestis gave a public shout-out to this website!)
This photo was taken and sent to me by Scott Brogan, webmaster of The Judy Room website.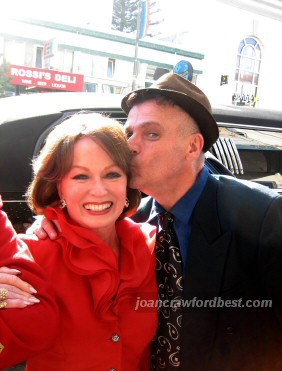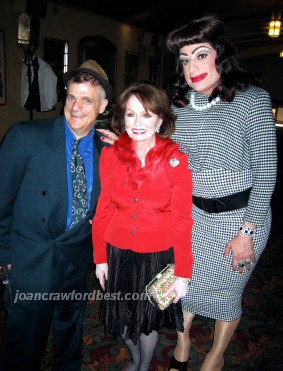 Thanks to Marc Huestis for the above two shots.
At left is Huestis with Blyth; at right is Huestis with Blyth and Heklina.
Ann Blyth being interviewed by Eddie Muller. (Photo courtesy of David Cerda.)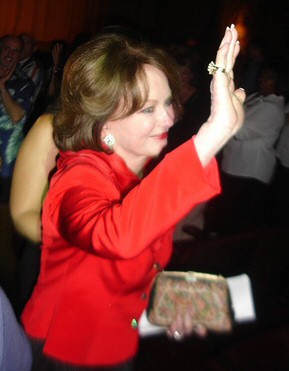 Thanks to Darwin Bell for the above photos of Blyth.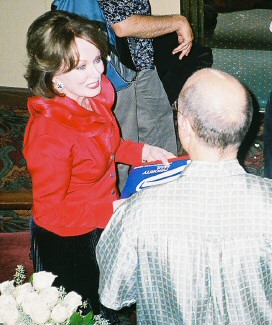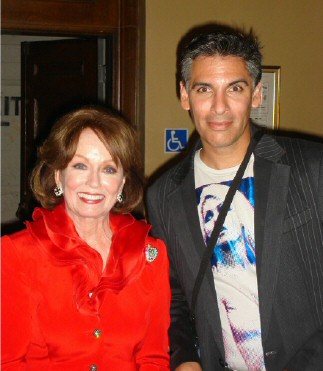 At left is a shot I took of Blyth from the stairs as I waited to greet her. At right is a photo of David Cerda with Blyth.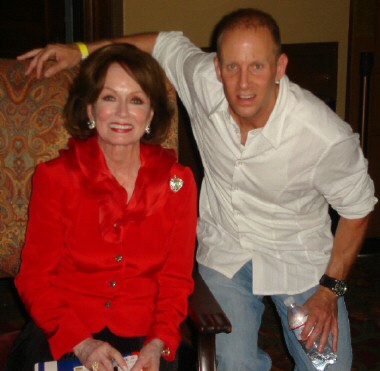 Blyth with Des, left, and Jon, right. (Thanks to David for these photos, and the two below.)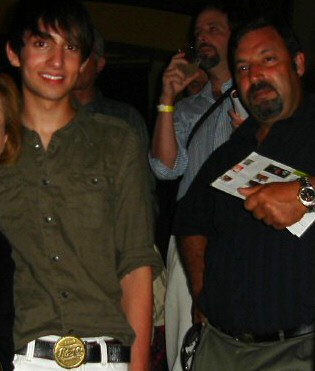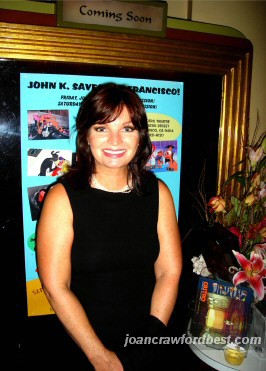 At left: A big hello to Nolan and dad, who flew in from Oklahoma! Nolan was behind me in the line to meet Ms. Blyth and tapped me on the shoulder: "What's your name?" Suspicious me looked startled: "Um...Stephanie. Why??" Turned out he was a regular reader of this site and knew me from my pictures! Check out that Pepsi-Cola belt buckle, which I didn't notice at the time!

At right is a shot of Blyth's daughter after the show.
---
Addenda: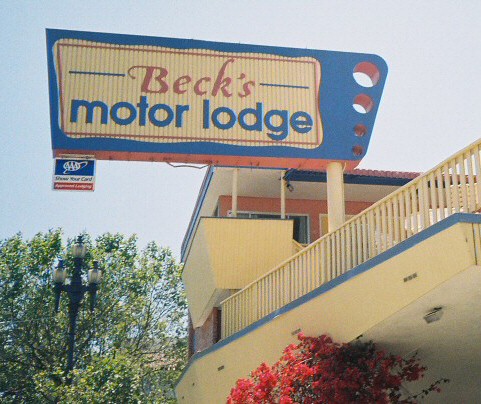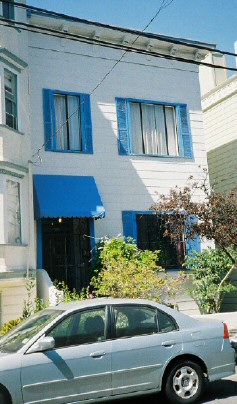 To the left is the mighty "Beck's Motor Lodge" on Market Street, temporary home to at least one visitor to SF for this event. To the right is my more humble "24 Henry" B&B abode during my stay there. (Both the owner and manager of 24 Henry attended the Blyth event, and I had fun chatting with each of them about Joan!)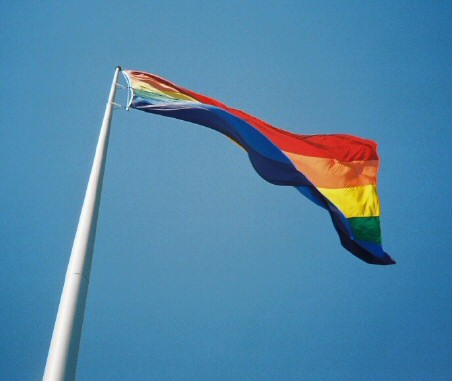 A shot of the Pride flag flying from the Harvey Milk plaza in the Castro district.
Vive le Castro!
---
The Best of Everything