---
Fabulous! A Loving, Luscious, and Lighthearted Look at Film from the Gay Perspective (2004, Dell) Donald F. Reuter
Description: PB, 192 pages. 4 Joan films reviewed: The Best of Everything, Mildred Pierce, What Ever Happened to Baby Jane?, and The Women.
---
The Fairbanks Album (1975) Introduction and Narrative by Richard Schickel
Description: A collection of photographs, clippings, film stills and letters from the collection of Douglas Fairbanks Jr. and Mary Pickford which tells the story of Douglas Fairbanks Sr. and Jr.'s lives. Includes some photos of Joan and Doug both privately and in "Our Modern Maidens."
Sample Text:
The marriage lasted only four years, but Fairbanks still regards her as a shaping influence, saving him from being "overwhelmed" by various parental pressures, encouraging him to "strike out on my own in a large way, to grow up and be my own man, independent and challenging."

---
Film-Lovers' Annual (1932, Dean & Son Ltd., London)
Description: Hardback with full-color cover. 156 pages inside are black and white, some are sepia tone. Photos, blurbs and stories about: Janet Gaynor, Richard Arlen, Maurice Chevalier, Lilian Bond, Buster Keaton, Clive Brook, Clark Gable, Sylvia Sidney, Kay Francis, Myrna Loy, Anita Page, Wallace Ford, Jean Harlow, Ricardo Cortez, Dolores Del Rio, Douglas Fairbanks, Jr., George Arliss, Miriam Hopkins, William Powell, Irene Dunne, Barbara Stanwyck, Leslie Howard, Marlene Dietrich, Laurence Olivier, Edward Robinson, Claudette Colbert, etc. Some films covered in this annual are: Arsene Lupin, Good-Night Vienna, The Miracle Man, Destry Rides Again, Tarzan the Ape-Man, Sunshine Susie, Hell Divers, Emma, Delicious, Arrowsmith, It's Tough to be Famous, Around the World in 80 Minutes, Sidewalks of New York, Men Like These, The Champ, the Melody of Life, Mati Hari, Daddy Long Legs, Dirigible, Shanghai Express, The Viking, Tabu, Forbidden, The Faithful Heart, Grand Hotel and others.

---
The Films of Clark Gable (1970) Gabe Essoe
Description: Similar to The Films of Joan Crawford - an overview of every film Gable made. Each film is given a detailed synopsis and a reprint of the press reviews given at the time each film was released. The book also includes publicity photos from each film and several chapters devoted to Gable's friends and co-stars' memories of Gable. There is also chapter called Joan Crawford Remembers Gable.

---
Four Fabulous Faces (1970, Galahad) Larry Carr
Description: 492 pages, 84 on Joan. The other three "fab faces" are Garbo, Dietrich, and Swanson.

---
The Genius of the System (1988) Thomas Schatz
Description: From the dust jacket: ...the first complete portrait of moviemaking in Hollywood's classic studio era. Incisive, entertaining, and based on actual industry documents -- memoes, production reports, story conference notes, personal correspondence -- this book cuts through the hype and half-truths, the anecdotes and legends, to get at how the studio system actually worked. The book describes the background of two of Joan's films, Grand Hotel and Mildred Pierce.

---
Get Happy (2000) Gerald Clarke
Description: A biography of actress Judy Garland. Includes some anecdotes about Joan and mentions briefly how Joan was present at Judy's 19th birthday/engagement party.

---
Gone But Not Forgotten (1981) Patricia Fox-Sheinwold
Description: From the dust jacket: "...effectively details the triumphs and tragedies of the famous. These celebrated individuals have constantly dazzles the public with the drama and glamour of their everyday lives...is a loving tribute to those whose stars have burned brightest and who have attained immortality through fame."
Includes chapters about W.C. Fields, Charles Chaplin, Groucho Marx, Jack Benny, Buster Keaton, Spencer Tracy, Clark Gable, John Wayne, Mae West, Rosalind Russell, Betty Grable, Bing Crosby, Alfred Hitchcock, Walt Disney, etc. There are several pages devoted to Joan, filled with lots of pictures and interesting pieces of information such as the following (and I believe this is the only book I've ever read that claims this):
Sample Text:
But the big event at that time, one that has been kept locked up in the Hall of Records, was her first marriage. When she arrived in Hollywood after a successful screen test to accept MGM's offer, the marriage was verboten: "Because starlets in those days testified that they were unmarried, which was the rule. Since she [ Joan ] didn't drive in those days, Jimmy had to drive her daily to the studio at the crack of dawn and then pick her up while trying to keep out of sight. The marriage wore thin and they divorced in the middle or late 20's in California."

The groom in question was James Barratt Welton, now deceased, and the marriage was performed while Joan was working in New York City. source: Mrs. James Welton

---
The Great Movie Stars: The Golden Years (1970) David Shipman
Description: An alphabetical overview of "Golden Years" celebrities. The book concentrates on the film career of each celebrity and offers basic info and the author's opinions of the role. Photos are included within the text. A few pages are devoted to Joan.

---
The Great Romantic Films (1974) Lawrence J. Quirk
Description: From the dust jacket: A lavishly illustrated retrospective of the best-loved motion pictures in the romantic tradition, from the infancy of the sound era until the present day. The book ranges through fifty landmark films which, in the author's opinion, best exemplify the romantic mystique...Every film is documented with a synopsis, cast list, credits, and an evalution of the work's critical and audience reception at the time of its release -- and how its popularity has continued throughout the years. Joan's films A Woman's Face and Humoresque are detailed.

---
Hollywood and the Supernatural (1990) Sherry Hansen-Steiger and Brad Steiger
Description: An account of the occult and paranormal events that have occurred in Hollywood. Joan's daughter Christina is interviewed for the book and claims surprise that the authors are aware of the haunting manifestations that took place in Joan's Brentwood home. "Not many people know that the house I grew up in may be haunted...it is not in print anywhere," says Christina. She then goes on to describe "cold spots" in the home and ghostly child apparitions. The authors claim the current (as of 1990) owner of the home had called in the Reverend Rosalyn Bruyere of the Healing Light Center to work on the house. Bruyere is interviewed and says that all the owners of the home, beginning with Joan have had "terrible things happen...illnesses, alcoholism, addictions, relationship problems...and the walls breaking out in flames...in particular it's the wall that was behind Crawford's bed." Furthermore, Christina says she is willing to believe that Joan's spirit currently haunts the house and that "She was capable of real evil." Finally, Bruyere says that the house had been poisoned in some way before Joan even moved in, saying that the evil only added to her neuroses. Bruyere performed an exorcism on the home and found the haunting existed on several levels, calling the home "...a place of conspicuous negativity...an 'Astral Central'...people have been tied up and tortured in that house...there is an area of the house where a child [not Christina] had been tortured and molested." Bruyere says that spirits have been trying to burn down the home (hence the burning walls) but that since her exorcism, there has been only one recurrence.

---
Hollywood at Your Feet (1992) Stacey Endres and Robert Cushman
Description: The story of the world-famous Chinese theatre from the silents to Star Trek, this book details the 154 hand and footprint ceremonies from 1927 to 1991. Joan's ceremony on September 14, 1929 (placed in connection with Our Modern Maidens) is recounted by both Joan and Douglas Fairbanks Jr. via their memoirs. Joan's square is tinted gray and contains the inscription "May This Cement Our Friendship.", the date, her two footprints (made with high heels), two handprints, and her signature.
Sample Text:
Crawford was accompanied by her husband Douglas Fairbanks, Jr. and recalled the following anecdote in her memoirs: "As soon as the picture [Our Modern Maidens] was finished, we put our footprints in the courtyard at Grauman's Chinese Theatre and slipped away to New York [to be married]." She was mistaken on two counts. She and Fairbanks had already married in June 1929, and he was not asked to place his prints alongside hers.

---
Hollywood Babylon (1975) Kenneth Anger
Description: Devoted to Hollywood scandals and mysteries, this book features a photo of Joan from "Possessed."
---
Hollywood Babylon II (1984) Kenneth Anger
Description: A sequel to the first book and similar in its pursuit of revealing the sordid Hollywood scandals and mysteries, this book features a chapter on Joan's life-long friend Billy Haines and the scandal that surrounded his exile from Hollywood over his refusal to not disclose his homosexuality. The book also includes several photos of Haines with Joan and a chapter devoted to Joan called "Witch Joan" and features some early publicity photos and the legendary "nude" pictures. There is also a picture of Joan with her mother, Joan with her adopted children, Joan in an advertisement for "RC Cola", Joan asleep with her Oscar and Joan at her last public appearance in 1974.

---
Hollywood Candid: A Photographer Remembers (2000) Text and Photographs by Murray Garrett
Description: A collection of candid photographs and remembrances by Murray Garrett. These photos originally appeared in LIFE, Time, Look, and other national magazines shortly after they were taken. There are four photos of Joan included: on a sound stage at NBC radio recording Saturday Afternoon with Robert Young, with Ethel Barrymore, at a premiere with her children and dancing with Cesar Romero.

---
Hollywood Color Portraits (1981) John Kobal
Description: A collection of color portraits of Hollywood greats including Bette Davis, Ann Sheridan, Veronica Lake, James Cagney, Clark Gable, etc. A photo of Joan reclining in her bed on the set of Queen Bee is included.

---
Hollywood Dogs (1993) Edited by J.C. Suares
Description: A collection of photos taken of Hollywood celebrities and their dogs. Includes two photos of Joan, one from 1929 and the forties.

---
Hollywood's Great Love Teams (1974) James Robert Parish
Description: From the dust jacket: Great love teams won the fans right from the start as Francis X. Bushman and Beverly Bayne, Harold Lockwood and May Allison pitched passionate if mute woo. These were the ancestors, but the best was yet to come. Mr. Parish focuses on them -- the 28 most popular teams ever to sigh sweet nothings to each other.
The book lists each film Joan and Clark Gable starred together in and includes two pages of black-and-white photos of them together. A brief synopsis, background information and review is given for each of the films in which they starred together.

---
The Hollywood Greats (1979) Barry Norman
Description: From the dust jacket: "In his probing appraisal...based on the highly successful BBC TV series...Barry Norman portrays the lives and personalities of these ten stars (Clark Gable, Errol Flynn, Spencer Tracy, Gary Cooper, Humphrey Bogart, Joan Crawford, Ronald Coleman, Jean Harlow, Judy Garland and Charles Laughton). His interviews with their friends, lovers, wives, husbands and children, and also with those who made and directed their films, reveal some fascinating and surprising facts..."
After giving the basic condensed facts, this book seems to be very interested in surprising its reader with shocking revelations such as Charles Walters (Joan's director on Torch Song) saying that Mary Pickford once told her if Joan gave her grandchildren she'd kill her, or Natalie Schafer (Joan's co-star in Reunion in France and Female on the Beach) revealing the fact that Joan had studio policemen guard her dressing room for fear Schafer would glance into her mirror (she also recounts the infamous story of how Joan punished son Christopher for having one too many pieces of chocolate). Greg Bautzer (Joan's on-and-off boyfriend in the forties) relates the story of Joan's abuse of Christopher because the boy was left-handed.
Sample Text:
Today, again with hindsight and admittedly without the benefit of ever having known her, it appears to me that Joan Crawford was totally unreal. Joan Crawford was a film star and that's all she was. That was all she ever wanted to be. She was the very epitome of a film star, the most durable of all the female stars in Hollywood and she played the part with relentless dedication for twenty-four hours a day, every day of her life.

---
Hollywood Heavies (1994) Edited by J.C. Suares
Description: A collection of portraits of past and contemporary Hollywood "heavies" such as Edward G. Robinson, Bette Davis, Humphrey Bogart, Barbara Stanwyck, Arnold Schwarzenegger, etc. Includes three photos of Joan taken from Queen Bee, The Women, and Harriet Craig.

---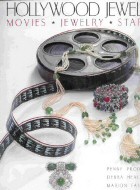 Hollywood Jewels (Abrams, 1992) Penny Proddow, Debra Healy, and Marion Fasel
Description: From the dust jacket: "Hollywood means make believe. But, believe it or not, much of the jewelry worn on the screen by the great Hollywood stars of the past - and many of the present - is the real thing...Photographs from these films and dozens more, along with exquisite color photographs of the jewels themselves, fill these pages."
The book includes several publicity photos of Joan, an inventory from Raymond C. Yard's ledger of gems for her star sapphire bracelet dated February 11, 1938 and pictures of her jewelry including her feather brooch by Ruser (which was worn by Mildred Pierce in the film of the same name -- the scenes were cut), her marquise-cut diamond earrings, her baguette-cut diamond riviere by Ruser (both mounted in platinum), her poodle brooches and three charm bracelets.
Sample Text:
When shopping for her cabochons in the 1930's, Joan Crawford went to an exclusive East Coast jeweler. Known for dramatic roles projecting inner strength, self-sacrifice, or sophisticated villainy, offscreen the actress projected a hard, knowing look. In a 1932 Photoplay article entitled "Spend!" she made it clear that she regarding spending as an almost sacred duty. In the depths of the Depression, she expressed a unique type of patriotism: "I, Joan Crawford, I believe in the Dollar. Everything I earn, I spend." In this pursuit she worked her way to the top, making her way by 1938 into the very select clientele of New York jeweler Raymond C. Yard, a firm that never advertised. From them, among other things, she picked out a wide fancy-cut diamond bracelet punctuated with star sapphires. The center stone weighed 73.15 carats and the two side stones 63.61 and 57.65 carats. The bracelet became the prime attraction of her suite of cabochon sapphires that the press dubbed Joan Blue in her honor.

Click here to see 12 photos and excerpts from the book. (Thanks, Vincent!)
---
Hollywood Poolside (1997) Frans Evenhuis and Robert Landau
Description: A collection of photographs of celebrities taken at or in the pool. The photos, originally intended for fan magazines, comprise this "family album" and explore the realities behind the images to create a nostalgic and telling study of Hollywood myth-making. Includes a photo of Joan circa 1933 signing autographs poolside, Joan and Douglas Fairbanks Jr. sitting on a diving board circa 1931, Joan in the back yard by the pool of her Brentwood home circa the forties and publicity photos from Chained and Dancing Lady.

---

Hollywood Portraits (2000, Amphoto Books) Roger Hicks and Christopher Nisperos
---
Holly-Would! (1974) John Milton Hagen. Illustrated by Feg Murray.
Description: A collection of silver-screen non-sequiturs that ran in movie columns in the early days of filmdom. John Milton Hagen, a fixture of the period and the man responsible for perpetrating most of the zinging one-liners that were once viewed as gospel truth by avid readers, has collected over 2,500 of his best capsule commentaries. Also includes illustrations by Feg Murray, a syndicated cartoonist. Joan is mentioned several times throughout the book which provides us with a peek into how stars were portrayed to their audiences (sometimes incorrectly) by the huge Hollywood publicity machine.
Sample Text:
JOAN CRAWFORD, 'tis whispered, has two heads of hair. One is her own - as lovely a thatched roof as ever the sun shone upon. The other cranial covering was sent to her by a woman admirer, who learning that Joan was to wear false hair in a certain picture cut off all of her hirsute adornment and sent it to the star!



---
Horst: Salute to the Thirties (1971)
Description: Published in the UK, 192 pp. Horst P. Horst photographs from Vogue and Vanity Fair.
---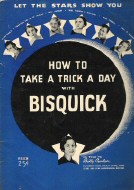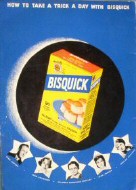 How to Take a Trick a Day with Bisquick (1935, General Mills) As told to Betty Crocker
Description: A cookbook featuring film stars and famous people of the era and how they use Bisquick recipes with meal planning. The book is 9 x 6-1/2 inches, 40 pages, and includes several full color photos of the prepared food and blue-toned photos of stars and celebrities. Includes photos of Joan, Dick Powell, Bing Crosby, Beulah Gillespie, William Gargan, Bette Davis, May Robson, Clark Gable, Warren William, Jean Parker, and others.

Click here to see the page with Joan's menu. (Thanks to Nolan for sending this scan.)
---

Hurrell's Hollywood Portraits (1997, Harry N. Abrams) Mark A. Vieira
Description: 223 pages. From the dust jacket: "This book presents in depth the work of George Hurrell, the photographer who more than anyone else was responsible for inventing the Hollywood "glamour" portrait - the essential publicity tool for the major studios during the Golden Age of the movies. The book traces his immense impact on the portrayal of the leading stars year by year, from his arrival in California in 1925 until his departure in 1943. During that time he photographed all of the greatest personalities at Metro-Goldwyn-Mayer, Warner Brothers, and Columbia as well as independently."
Joan and husband Franchot Tone appear on the cover; there are numerous photos of Joan and large sections of the text are devoted to Hurrell's work with and admiration for her. Includes a before-and-after photo of Joan showing how after six hours of retouching, her freckles were nonexistent.
Sample Text:
If her face was Hurrell's favorite, it was because it photographed the same from every angle. It was camera-proof. Its only problem angles involved her right rear jaw, which was a little heavier, and the bridge of her nose, which was so slender that it could make her nostrils look too large.

---
The Hurrell Style (1976) Photographs by George Hurrell; text by Whitney Stine
Description: From the back cover: "The photographs of George Hurrell epitomize the glamour and style of Hollywood. A leading photographer there since 1925, Hurrell has photographed them all: Garbo, Dietrich, Harlow, Cagney, Gable, Rita Hayworth, Robert Taylor, and many more...Here are Hurrell's most breathtaking photographs - and text in which he discusses his methods for evoking the charismatic images that came to define the stars."
There are numerous photographs of Joan and also Hurrell's anecdotes about working with her.
Sample Text:
Crawford never grew irritated or bored with posing. She was Hurrell's most enthusiastic subject. They made something of a record when he exposed five hundred plates in one setting. After that session, St. Hillaire collapsed from fatigue after loading so many holders, and Hurrell, completely spent, took of the next day, a Friday, and spent the entire weekend in Carmel painting landscapes.

---
"I'd Love to Kiss You..." (1968) Whitney Stine
Description: From the dust jacket: Illustrated with exclusive photographs, many from the author's collection, "I'd Love to Kiss You..." is the ultimate Bette Davis book, as fascinating and vivid as a tete-a-tete with Miss D. herself. Joan is mentioned briefly throughout the book and several pages are devoted to Davis' thoughts on Joan.
Sample Text (Various comments about Joan by Bette):
"Joan's peculiar. You know, on Jane she wouldn't even shake hands with anyone. She always carried disinfectants with her and she'd scrub the john on her hands and knees. I think it was because she had a venereal disease when she was a kid, and as she got older it preyed on her mind. Her apartment in New York has plastic sprayed on the walls and the furniture is covered with the stuff."
"I would have liked to have some of the roles Crawford got at Metro in the 1930s. I was given little secretaries and gun molls, while she was doing some really interesting parts."
"She is such the great star. Little Miss Perfection. But yes, I suppose have the same drive. She's a survivor, and so am I. And, I suppose I do infuriate people the same way she does."
"For some reason I'm thinking of Joan Crawford in Mildred Pierce. She had a hell of a time looking like a waitress -- apparently, she has done everything in her life but wait tables!"

---
I Still Talk To... (2000) Kenny Kingston as told to Valerie Porter
Description: The book has twelve pages of an interview conducted with Joan from beyond the grave. In her latest interview Ms. Crawford states that The Damned Don't Cry was the film title that fit her life best. She also claims to have cursed or haunted her Brentwood Home but now it is time for "...the curse to be lifted." She admonishes us not to "...believe everything that Christina says. Her major problem was that she wished she'd been born Joan Crawford. When she wasn't, she tried to be even more popular. I feel sorry for her. I tried to give her love in my way. I gave too much to my children - a home, servants - they didn't appreciate it." She goes on to say lots of things such as "I was a little weird, but I was not a lesbian. I'll never ever divulge the truth of when I found out what I really was, but let's say, I discovered my own sexuality. I'm talking about what I really was."

She supposedly gossips about Jackie Cooper, Rock Hudson, and makes a veiled reference to Loretta Young. She allegedly discusses being drunk on talk shows and her love of animals in the next plane of existence. Kingston claims she sees friends like Gable and Spencer Tracy who's "...waiting patiently for his true love," also Barbara Hutton, Natalie Wood, and of course Bette Davis. She goes on to say "...don't ask if we've made up. I have nothing to reconcile with Bette Davis. All the fights were done as a publicity campaign as far as I'm concerned. everything was premeditated. She may have thought I was only a personality. Well, it's true, I was a personality but I think winning an Oscar should have been sufficient proof I was also an actress. But she fought hard to be a star - even harder than I did. If she had to kill, she killed." Joan refuses to elaborate on or explain this last remark. Joan claims she enjoys watching performances by Meryl Streep and Glenn Close. Madonna should "...pay to have her picture in the paper! No class; no dignity. Cher - she won an Oscar for that cute little thing she did, but she doesn't even dress like a star. She dresses like a burlesque queen! I'd like to have had her on my freezing sets!" Then she discusses her passing over: "I had a struggle when I passed. Not because of illness or physical pain. I don't care how they listed my passing - cancer, heart - I simply couldn't fight anymore. I lost my desire at an important moment. The struggle came because, just near the end, I wanted the desire back again, but it was too late. I'd slipped too far and I couldn't recharge the old battery. One woman could have saved my life if I'd let her - Doris Lillie. She wanted to help me, But vanity and pride took over and I refused everyone. I wanted loved ones with me, but I wanted it all too late." Kingsley claims that Joan is working in the beyond "...teaching people here how to avoid being victims of the bottle so that when they're reborn, they won't have problems. But let me tell you something else I've learned. Closeness- the human touch - that's what I lacked, perhaps, and what I'm learning to develop now."

Her final word of advise to fans are "Practice your penmanship! Write to your loved ones - say things on paper you might not say otherwise. Sends compliments - write thank you's. Write..."

---
The Illustrated Encyclopedia of The World's Great Movie Stars (1979) Ken Wlaschin
Description: The title pretty much says it all: The giant figures of the Silent, Classic, and Modern film eras are highlighted with over 400 photographs, posters and memorabilia. Each section is preceded by an introduction that sets the scene for each era, capturing the glamor, beauty and behind-the-scenes intrigue. The biographies of the stars that follow include a listing of best films for each actor, giving the date of release, and the name of the director and studio.

---
Jeff Chandler: Film, Record, Radio, Television, and Theater Performances (2005, McFarland) Jeff Wells
Description: Includes section on Joan's and Chandler's "Female on the Beach."
---
Lamparski's Hidden Hollywood (1981) Richard Lamparski
Description: A collection of photos and addresses of the former homes, haunts, graves, studios, murder and suicide scenes of Hollywood's Golden Age. Includes a photo of the Hotel Washington (where Joan first lived when she arrived in Hollywood in 1925), St. Augestine's Roman Catholic Church (where Joan prayed that her career would continue to grow), Joan's home at 426 North Bristol, Joan's handprints at Grauman's Chinese Theatre, Joan's star near Hollywood Blvd., her 1933 Cadillac V-16 Town Car and photos of the What Ever Happened to Baby Jane? home.

---
The Leading Ladies (1977) James Robert Parish and Don E. Stanke
Description: From the dust jacket: "Each had her own very special blend of glamour, persistence, and magnetism. One was a flippant, saucer-eyed, wisecracking blonde. Another was a sharp-edged, rugged individualist. A third was delicate-looking, demure, a pretty heroine with great reserves of strength. All were uniquely themselves. But they had one thing in common: the perseverance and adaptability to survive in Hollywood for four decades. They were the six great, indestructible Leading Ladies."
Focuses on the lives and films of the following: Joan Crawford, Bette Davis, Olivia de Havilland, Rosalind Russell, Joan Blondell and Barbara Stanwyck. 184 pages are devoted to Joan and include some great photos, personal information and a long list of films that Joan was to appear in but never did.
Sample Text:
Perhaps the best accolade came from the enthusiastic fans themselves over the decades. Some years ago as she left the 21 Club in Manhattan, Crawford was confronted by a gang of construction workers. One yelled, "Hey, Joanie!" Ever the gracious movie star in public, she shook hands cordially with many of them. One of their number studied her carefully and then remarked, "They don't make them like you anymore, baby." They certainly do not...


---
Looking for Gatsby (1995) Faye Dunaway with Betsy Sharkey
Description: Faye Dunaway's autobiography. Includes some of Dunaway's thoughts on Joan and Christina Crawford and the making of Mommie Dearest.
Sample Text:
...The danger in finding your way deep inside a character is that you can get lost in there. Some get so close that they come and live with you a while. Years later when I was doing Mommie Dearest there were nights I could feel Joan Crawford's presence in the room, sitting in the window.

---
Looking for Jackie: American Fashion Icons (1999) Kathleen Craughwell-Varda
Description: From the dust jacket: "This engaging illustrated book celebrates the flair and independent spirit of thirteen women whose distinctive styles captures the imagination of the American public and shaped popular fashion. From Dolley Madison and others who resided in the White House, to Elizabeth Patterson Bonaparte and Grace Kelly, both of whom entered the realm of European nobility; from Hollywood legends like Gloria Swanson and Katharine Hepburn, to current fashion icons like Madonna - all of these powerful and glamorous women were embraced by the general public, and gave average Americans the confidence to adopt and wear a new look."

A chapter consisting of twelve pages is devoted to Joan and includes several publicity photos from films such as Our Dancing Daughters, Letty Lynton and Rain.. Also included are the posters for Rain and Letty Lynton; an ad for "Joan Crawford Hats," and fashion designer Adrian's sketches from Letty Lynton.
Sample Text:
Somewhere along the line, pudgy Lucille Le Sueur from Kansas City was permanently subsumed by the larger-than-life persona created at MGM - and Joan Crawford seemed perfectly happy with the transformation. She always played to her fans, was kind and supportive to photographers, and never left home without the perfect makeup, coiffure, and clothes. "I never go out on the street unless I expect and anticipate and hope and pray that I'll be recognized. That someone will ask for my autograph. When they do, Im prepared and ready and as well dressed as I possibly can be. And when somebody says, 'There's Joan Crawford,' I say 'It sure is!' "

---
Description: 204 pp. Diane Publishing Company.
A look at the 16 greatest love teams in American cinema, featuring a lengthy section on Joan and Clark Gable.
Click here to read the full Joan/Clark chapter. (Thanks to Kristy for the scans.)
---
Lucy in the Afternoon (1990) Jim Brochu
Description: Similar in style to Crawford: The Last Years, Brochu describes his experiences with Lucille Ball in the last nine months of her life. He also relates his experiences with Joan and says that Lucy was eager to hear all about it. He describes how in the summer of 1960, he was traveling to South America on the S S Brasil with his widower father, who learned that Joan was also on board. Eager to meet her, Brochu's father Peter inquired as to when Joan would be around. It was Jim, however, who met Cindy and Cathy, Joan's adopted daughters. They brought Jim back to their room where he met Joan. Later at dinner, Jim introduced his father to Joan (strangely, in a book devoted to Lucy, there is a photo of Jim, the twins, Joan and his father in the center of the book). Peter and Joan then began a short-lived romance. Jim continued his friendship with Joan and describes an evening in her apartment on Fifth Avenue that he feels gives insight into Joan: she greets him in an old bathrobe, turban and wearing no make-up, relates to him how the whole world has expectations of who Joan Crawford should be - a star. Finally, he asks Lucy about her experiences when Joan appeared on her show (see below):
Sample Text:
I asked Lucy how the experience of working with Crawford had been. She told me she fired her after the first rehearsal. "She was drunk. She showed up at ten o'clock in the morning for the first read-throughs, and she was bombed. She was drinking straight vodka from this silver flask, and she was drinking it in front of the kids. She was saying all the words, but it was like she was a robot. About lunchtime, Joan passed out cold, and that did it. As soon as she woke up, I fired her."

Herb Kenwith, the show's director and an old friend of Crawford's, begged Lucy to give her another chance. Crawford, after her revival, said the heat had gotten to her. Lucy gave her another chance, and Crawford did finish the show. Lucy admitted it was one of the worst.

---
The MGM Girls (1983) Peter Harry Brown & Pamela Ann Brown
Description: The authors Brown relate the stories of numerous movie queens that audiences associated with the MGM studios and Louis B. Mayer. The life and career of such notable actresses such as Judy Garland, Lana Turner, Jean Harlow, Norma Shearer, Greta Garbo, Marion Davies, Barbara LaMarr and Joan Crawford are covered in various chapters. The authors claim that Louis B. Mayer's "control" over these women either ruined or damaged their personal and professional lives.
The book contains numerous pages and photos of Joan.
Sample Text:
A stylish, romantic script, Letty Lynton, had been fashioned for Joan with Clark Gable in mind as the co-star. "Get over to this office, and get over here right now," ordered Mayer, finding Joan undergoing fittings in the costume department.

In a white, ruffled, trailing chiffon, she ran the half mile to the throne room. "I'm not going to tell you what I think about 'your problem with Clark,' " he said. "But you and Gable wil not be together on this picture. The romance will stop. Or you know what will happen."

Joan Crawford walked onto the set of Letty Lynton in her billowing white dress five days later and worked with the Clark Gable substitute as is he was her ideal leading man. But ten minutes after shooting ended on the first day, Clarence Brown saw her crying, her head on the dressing table.

---
MGM Posters: The Golden Years (1998) Text by Frank Miller
Description: From the dust jacket: "A decade-by-decade visual history of MGM, featuring arresting examples of every film genre and virtually every major star of Hollywood's Golden Age. Like the movies they represent, these posters demonstrate a stylistic evolution in response to changing trends and audience exceptions. Here, in the exciting medium of poster art, are MGM's legendary stars and one-hit wonders, the classics and the time-wasters, brought together for the first time in a beautiful volume." Includes posters from numerous Joan films.

---
The MGM Story (1975) John Doulas Eame
Description:From the dust jacket: "This book is the first to detail, discuss and illustrate the entire output of one of the great movie companies. A total of 1,714 films are covered individually in text and pictures." Includes publicity photos and brief information from each of Joan's films with MGM.

---
The Million Dollar Mermaid (1999) Esther Williams with Digby Diehl
Description: From the dust jacket: With a sharp mind and a rapier wit, Esther Williams brings to life those times and those bigger-than-life people, telling her stories with respect, yet with clear-eyed candor. Filled with behind-the-scenes gossip and tales of real life in a fantasy world.
Williams describes her experiences with Joan during the filming of Torch Song.
Sample Text:
Once she'd made her grand departure, I got myself together to go home, but as I was leaving I heard some noises coming from Stage 4. It sounded like yelling, so I walked over to take a look. Stage 4 was where they did all the show business pictures, because it was set up like a theater. The house was dark; no one was in the audience. There was nothing on but the work light in the center of the stage; in the far corner a janitor was sweeping up. Downstage under the middle of the proscenium arch was Joan, still in her bird outfit, talking to the empty seats.
I stood there and listened in the darkness as she cried out, "Why have you left me? Why don't you come to my movies? What did I do? What did I say? Don't turn your back on me!" Joan had been star since the 1920s, with an Oscar and a fine body of work behind her, but here she was, almost fifty, reduced to begging an imaginary audience not to forget her. Tears were streaming down her face, streaking her copper makeup. Suddenly she looked old and pathetic. I slipped away without her noticing.

---
More Than a Woman (1993) James Spada
Description: Biography of Bette Davis. Joan is mentioned briefly throughout the book: Bette attended a screening of Our Modern Maidens; Bette was having an affair with Joan's husband Franchot Tone during the filming of I Live My Life; Joan sent gifts to Bette in 1944 which Bette interpreted as being of sexual intent; Joan attempted to seduce Bette's husband Sherry; Joan and Bette feuded on the sets of both their films.
Sample Text (Bette's comments about Joan's appearance on What's My Line?):
In response to hearing that Joan had performed with a Southern accent: "Well, my deah. She did the whole Suth-in bit eith us, you know. She was all Suth-in. Was her hair white? Or did she have a turban? Did she say, 'Bless you'? Did she say, 'Bless you, John,' 'Bless you, Arlene'? I'm sure she did. She says 'Bless you' to everybody! She's such a doll! She's just as sweet as..."

---
The Movies [Revised Edition] (1970) Richard Griffith and Arthur Mayer
Description: Packed with numerous movie stills, this book chronicles the birth of the movies through the revolutionary sixties. Numerous photos and anecdotes about Joan and her films are scattered throughout the book.

---
My Life in Three Acts (1990) Helen Hayes with Katherine Hatch
Description: An autobiography of the acclaimed "First Lady of the American Theatre," the book details Hayes' personal and professional life. A small part of chapter seven is about Hayes' experiences with Joan. She recounts taking a friend to meet Joan and Joan showing them her collection of dresses, coats and shoes; she also states that Joan "adopted" her as a best friend and that she never quite understood why this happened. She goes on to detail some experiences with Joan and her adopted children, relating her displeasure with the way Joan treated them.
Sample Text:
I got to know her children, Christina and Christopher, who wound up in an institution. One day Joan brought them to a matinee of What Every Woman Knows. I always tried to give Joan's youngsters a lift, and it happened to be Christopher's birthday, so I'd had my dressing room festooned with balloons and a big sign saying HAPPY BIRTHDAY, CHRISTOPHER.
Christopher got very excited when they came in, but Joan was furious. She resented my turning his birthday into a celebration. She always resented anything anyone did for those kids.
When my young son Jim came to stay with me, we would go out to lunch with them. Joan would snap, "Christopher!" whenever he tried to speak. He would bow his little head, completely cowed, and then he'd say, "Mommie dearest, may I speak?" Joan's children had to say "Mommie dearest, may I speak?" before she allowed them to utter another word. It would have been futile for me or anyone else to protest. Joan would only get angry and probably vent her rage on the kids.

---
Natural Blonde (2000, Hyperion) Liz Smith
Description: Gossip columnist Smith's recollections of growing up in Texas and making it in the Big Apple. Includes 9 or so pages of memories of encountering Joan and Joan stories.
Click here to read an excerpt.
---
Off-guard (1983) Ron Galella
Description: A collection of photographs of celebrities caught "off-guard." Includes two photos of Joan taken in the seventies.

---
Once Around the Bloch (1993, Tor Books) Robert Bloch
Description: Autobiography by Bloch, the screenwriter for Hitchcock's Psycho and Joan's Strait-Jacket.
---
Oscar Dearest (1987) Peter H. Brown and Jim Pinkston
Description: Reprint of The Real Oscar (1981) with no new information about Joan provided.

---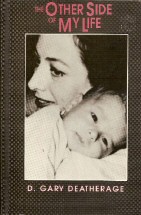 The Other Side of My Life (1991, Winston-Derek) D. Gary Deatherage
Description: Deatherage was adopted by Joan in 1941, her second child after Christina. Named "Christopher Crawford," he was taken back by his disturbed natural mother after only five months with Joan. This is the story of his search for his roots, which includes his meetings with Christina and Joan's secretary Betty Barker, as well as phone conversations with twins Cathy and Cindy.
Sample Text: Still, my interest lies in the highly hypothetical and intriguing question, would life have been different at the Brentwood home, if I had remained a Crawford? I had asked Christina the same question and she gave me an emphatic, "No!" I had asked Betty Barker, and she told me, "I think you would have loved being Joan's son! Just as Cindy and Cathy adored her....All you had to do was be a good human being, and I know you are, so I know you would have gotten along with her beautifully." She said Christopher had a bad streak in him, including a vicious temper. Betty Barker commented, "He didn't bring Joan much happiness." God only knows what might have been.
Click here for a reader review.
---
Parade: The Best of Walter Scott's Personality Parade (1995) Walter Scott
Description: From the back of the book: "For nearly 40 years, millions have turned to Walter Scott's Personality Parade for the inside story on the people who entertain, govern and shape our world. Now the highlights of four decades are compiled in The Best of Walter Scott's Personality Parade."
Includes several questions about Joan with some publicity photos.
Sample Text:
"November 26, 1978
Q: Whatever happened to Christopher Crawford, Joan Crawford's adopted son? Does he agree with his sister Christina that Joan Crawford was "hateful, cruel, demented and pathological"? - D.B., Detroit, Mich.

A: Christopher Crawford, 35, is an electrical and construction worker who lives on Long Island, New York. "I know it's a terrible thing to say," he concedes, "but I hated J.C. (which is how he refers to Joan Crawford). She was evil and mad, and I don't think she ever cared about me. All she ever cared about was her career. She adopted me and the three other kids because it was good publicity, good for image." When Christopher was five, Christina dressed him in her clothes, made him up with lipstick and rouge - a harmless, childish prank. "When J.C. saw me," he recalls, "she went wild and whipped me with a three-inch army belt." Christopher and Christina were disinherited by their mother. Christopher is a divorced Vietnam war veteran."

---
The Real Oscar (1981) Peter H. Brown
Description: From the dust jacket: Brown, with an investigative reporter's zeal, has ferreted out the inside stories from over half a century of Oscar history. In addition to chronicling the nominees and winners and their contributions to film art, he tells you why many of them really won...and why others, often more deserving, did not. Anecdotes about the Academy Award selection and presentation process are attributed to Joan along with a brief mention of Bette Davis losing the Oscar to Anne Bancroft in 1963. A small section of the book details Joan's rise and "fall" and subsequent "rise" when she won an Oscar for Best Actress in 1946 (and the campaigning done on her behalf to win the award).
Sample Text:
The claim has often been made that MGM naturally made better and more pictures during this era and deserved its lion's share. But records show that Warners released 441 pictures during the same decade -- almost as many as MGM, which launched 464. MGM's iron grip on the Oscar race was blatant enough for Joan Crawford to show friends internal studio memos which frankly discussed who should win in each race. "They just passed the best actress around from studio to studio like a dole," Crawford told her daughter Christina. "It's just another form of power to them."

---
Scare Tactic (2000) John W. Law
Description: From the back of the book: "In Scare Tactic, John W. Law artfully resurrects the intriguing life and outrageously splendid work of legendary horror film director, William Castle. Clearly written and thoroughly researches, Scare Tactic is the only book of its kind, delivering a complete biography of Castle - surveying not only the multiple influences on Castle's career but also the importance of the man himself." Includes detailed information about the making and promotion of Straight-Jacket and I Saw What You Did.
Sample Text:
During the weeks of pre-production Castle wondered if he had bit off more than he could chew. Would Joan Crawford be more than he could handle, he wondered? He recalled that her demands were excessive and she was somewhat of a perfectionist. But because he admired her and usually agreed that her ideas on the film were right, he bowed to her requests and production moved right along.

---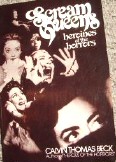 Scream Queens: Heroines of the Horrors (1978, Macmillan) Calvin Thomas Beck

---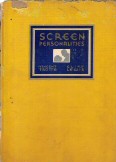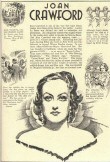 Screen Personalities (1933, Grosset & Dunlap) Vincent Trotta and Cliff Lewis
---
A Song in the Dark (1995) Richard Barrios
Description: From the back of the book: Chronicling the early musical film years from 1926 to 1934, A Song in the Dark offers a fascinating look at a uniquely American form of entertainment...Illuminating the entire evolution of the sound medium, Richard Barrios shows how Hollywood, in seeking to outdo Broadway and vaudeville, recruited both the famous and the unknown, the newest stars and the has-beens, the geniuses and the hustlers. The results were unlike anything the world had seen or heard: backstage yarns, all-star revues, grandiose operettas, outlandish hybrids -- some wonderful, many innovative, a few ghastly.
The book contains background information about Hollywood Revue of 1929 and Wir schalten um auf Hollywood and Joan's role in these films.
Sample Text:
Joan Crawford, hailed as "the personification of youth and beauty and joy and happiness," sings and dances "Gotta Feelin' for You," assisted by the Biltmore Quartet and pianist Dave Snell. The sight is not soon forgotten: a painfully self-conscious Crawford gamely sings a "hot" song, then flails her way through an ungainly Charleston, arms flapping and feet stomping in movements redolent more of pest-control than Terpsichore. There is disturbing and unavoidable overlay here. All the later qualities connoting this ultimate driven movie star -- the extremes of dress and makeup, the frightened and frightening determination to survive every trend, the mass approval achieved at untold personal price, the rigidity calling itself discipline -- can be glimpsed in embryonic form lurking within the young girl seen in The Hollywood Revue.

---
Stardom: The Hollywood Phenomenon (1970) Alexander Walker
Description: 392 pp., illustrated.

---

Star Gazing: Hollywood Cinema and Female Spectatorship (1994, Routledge) Jackie Stacey
Description: 282 pgs. From the back of the book: "...puts female spectators back into theories of spectatorship. Combining film theory with a rich body of ethnographic research, Jackie Stacey investigates the place of movie stars -- Joan Crawford, Rita Hayworth, Bette Davis, Lauren Bacall, Doris Day, Deanna Durbin -- in women's memories of wartime and postwar Britain, where cinema-going was at an all-time high.
Demonstrating the important of cultural and national location, Stacey focuses on three key processes of spectatorship -- escapism, identification and consumption. Her study challenges the universalism of the psychoanalytic approach which has dominated the feminist agenda within film studies for over two decades, and gives a new direction to questions of popular culture, cinematic pleasure and female desire." With 29 photos, including 4 of Joan.

---
Star Profiles (1984) The Hollywood Reporter / Marc Wanamaker
Description: From the dust jacket: STAR PROFILES contains 91 candid biographies of the all-time greats, providing an extraordinary insight into an industry whose private and public worlds often alarmingly coincide. The book briefly describes Joan's four marriages (and romantic relationships) and film career.

---
Star Shots (1978) John Engstead
Description: A combination of photographs and stories about the legendary stars from past and present. Engstead reveals the techniques used by the stars to achieve their particular "looks" -- how they did their hair and makeup, how they dressed, etc. The book contains a small selection of photographs of Joan taken by Engstead circa 1945, 1955 and her final portrait in 1976.
Complete text of the section devoted to Joan:
The late Joan Crawford was a meticulous professional. I first heard about her regimented life from Allan Vincent, a New York actor under contract to Paramount in the early 1930s. For his first few weeks in Hollywood, Allan stayed at the Brentwood home of Joan and her first husband, Douglas Fairbanks, Jr., and he told me their routine. Joan and Doug would be up every morning at 5:50 to go through a series of physical exercises. At breakfast they would read the news sections of the morning paper for at least half an hour. There was a full days' work at the studio, and when they returned home an instructor would be waiting to give them a French lesson. After dinner they learned their lines for the next day's shooting. At 11:30 they would be in bed.

In 1943 I photographed Crawford for Harper's Bazaar. The sitting was done at her home in Brentwood and when I arrived she came from the region of the garage, her face flushed and with very little makeup.

"Excuse my appearance," she said. "I've been ironing. It's impossible to get help. So I do my own work."

Since then I've done four or five sittings of Joan. One summer a publicity representative called to say Miss Crawford wanted to make a sitting of her and asked if we had air conditioning. Miss Crawford wanted the room kept at sixty-five degrees. The appointment was made for ten o'clock in the morning -- a very early hour for an actress if she is not working on a film.

Joan has never done a portrait sitting with me that has lasted more than an hour or an hour and a half. We both work fast. One unusual session occurred during the 1960s when she called to ask if she could stop by my studio late one afternoon and make a quick sitting on her way to dinner. She came in at five o'clock in an extravagant aquamarine evening dress and cape and loaded with emeralds -- necklace, earrings, and bracelets -- big rocks, too. In an hour were through.

In recent years Joan grew to loathe Hollywood, preferring to live in New York. Notes and messages from mutual friends would come from her to please call her when I was in New York: she wanted to make photographs.

In was late summer 1976 before I was able to oblige. I arrived at her apartment at 12:30 for a one o'clock appointment. Not only was Joan ready but so was the apartment. She had covered all the carpets where we would work with heavy white canvas, and the chairs with plastic. Joan answered the door (there was no maid), barefoot. Her hair had turned gray since I had seen her last, but her strong black eyebrows were a little at war with the new gray hair. The apartment was in lively colors of green, yellow and white. The place was immaculate -- not a thing, even, on the counters of the all-white kitchen. At 2:30 I left, since she had other appointments.

This year I'll miss Joan's Christmas greeting -- always the first to arrive, and written by Joan herself.

---
Stars! (1983) Daphne Davis
Description: From the back of the book: "From the most enduring legends of the twenties to the most glittering phenomena of the eighties, Stars! sparkles and beguiles as it captures Hollywood's brightest superstars in hundred of candids, movie stills, publicity photographs - many in full color - and revealing biographical essays that include filmographies and Academy Awards."
Sample Text:
The star died on the anniversary of her marriage to last husband, Alfred Steele, an executive of Pepsi-Cola, the company she serves as a board member and publicity spokeswoman during her second career. Although the cause of Crawford's death was listed as cardiac arrest, friends attribute it to heartbreak.

---
Step Right Up! I'm Gonna Scare the Pants Off America (1976) William Castle
Description: The memoirs of a B-Movie Mogul, this book details Castle's life and career. Background stories behind several of his films are laid out, including his experiences making Straight-Jacket.
Sample Text:
Crawford was one of the most dynamic women I'd ever met. A mind like a steel trap. She knew what she wanted and always got it.

"Gentlemen, I like the script of Straight-Jacket," Joan announced as she was serving our luncheon. The quiche lorraine was delicious, and I was ready for a second helping. She continued, "Straight-Jacket will have to be completely rewritten as a vehicle for me, or I will not accept the role."

Suddenly, I lost my appetite. Bob Bloch and I looked at each other. Leo's face was impassive. No one was eating. Crawford, all business, continued. "Now, here's what I want done to the script..."

Two hours later, completely baffled, we agreed we'd do the rewrite. It meant starting practically from scratch, but getting Joan Crawford was worth it. She had complete approval of cast and cameraman, and -- thank goodness -- Joan approved me to produce and direct.

---
Steven Spielberg: A Biography (1997) Joseph McBride
Description: From the dust jacket: "The most successful director in movie history, Steven Spielberg...author Joseph McBride reveals hidden dimensions of the filmmaker's personality and shows how deeply personal even his most commercial work has been." Includes a photo of Spielberg directing Joan in the Night Gallery episode "Eyes" and information about the actual filming of that episode, much of which is pulled from Bob Thomas's biography of Joan.

---
The Story of Hollywood (1987) Barry Norman
Description: From the back of the book: This companion book to the 10-part BBC-TNT television documentary is the word-and-photo chronicle of the "talkies" in Hollywood -- from their dramatic debut in 1927 to the triumphs and turmoil of today. It is the story, too, of stars like John Gilbert and Clara Bow, crushed by the changeover to sound, and of such screen gods and goddesses as Clark Gable, Jean Harlow, Gary Cooper, Marlene Dietrich, Cary Grant, and, of course, Marilyn Monroe -- who put their individual stamps on sex appeal. Joan is mentioned briefly throughout the book and story of how in 1938, Joan's name was on a list of supposed contributors to Communist causes.

---
Studio Affairs (1996) Vincent Sherman
Description: Includes a chapter about Joan which details Sherman's experiences with her both professionally and personally (there is a somewhat graphic description of their sexual relations). He recounts their activities while filming The Damned Don't Cry, Harriet Craig, Goodbye My Fancy and offers other anecdotes about their times together. He also recounts discussing a potential NBC TV movie about Joan's life with Christina shortly after Joan's death but that Christina asked him to wait until she finished her book, Mommie Dearest. The book also includes two photos of Sherman with Joan on the set of Harriet Craig.
Sample Text:
A few nights later I was awakened by a phone call at 2:00 A.M. It was Joan. Her voice was barely audible.
"Good-bye, Vincent," she said, and I heard the phone drop. I became alarmed and pleased with her to pick up the phone and talk to me, but there was no answer. I told Hedda I was worried and had to find out what was wrong. I got dressed quickly and raced madly from the Valley to Brentwood, rang the front doorbell frantically, got no answer, and went to the kitchen, where the cook finally opened the door for me. I rushed up the back stairs to Joan's bedroom. She was lying on the bed in her nightgown, the phone still dangling near the floor, and there was an open bottle of sleeping pills on the night table. I had no way of knowing how many she had taken or whether she was faking the whole thing, but I thought it best to get her up and walk her about. She was groggy, and it took me some time to get her out of bed and on her feet. I had the cook make some hot coffee. After I had worked with her for an hour, she seemed all right. I begged her to be sensible and try to understand that I cared about her but could never leave Hedda or my children. I also reminded her again that I had told her this when we first met. She calmed down. It was almost 5:00 A.M. when I got back home.

---
Survivor (1988) Christina Crawford
Description: A follow up (of sorts) to Mommie Dearest and deals in part with Joan's adopted daughter Christina's experiences with the public and media following the release of that book. Christina defends herself against those who claim the book was merely meant as a type of revenge against Joan -- she insists it was meant to help "the children" and takes credit for the child protection laws that followed years afterwards. She also details the events that led to the eventual production of a Mommie Dearest film for Paramount, starring Faye Dunaway (Anne Bancroft was Christina's preferred choice). The rest of the book deals with the stroke Christina suffered in 1981 (she deduces that Joan's abuse decades before is the reason for her stroke), her divorce from husband David and then her eventual spiritual awakening.
Sample Text:
Apparently I was not being criticized for what I said about my mother because others had said it either before or were in the process of saying it simultaneously. What I was being criticized for was telling the truth, in public, about what happened between the two of us, mother and me. That was a story that had not been told in modern times. A child had never risen up against the parent to expose the violence, shame, guilt, and struggle for absolute power between them, over the course of a lifetime.
Many times I would be reminded that what I had written was actually a mirror in which every reader would see some part of themselves. Precisely because I had written through the eyes of a child and because every reader had once been a child, it was impossible for people not to relate emotionally. The "book-mirror" I had created was the reader's own childhood and the emotional reaction was a reflection of unfinished issues the reader had with her or her own parents.

---
Things I Did and Things I Think I Did (1984) Jean Negulesco
Description: From the dust jacket: Here is the delightful memoir in words and pictures of artist, writer, director, and now raconteur par excellenceI Jean Negulesco. The author has been -- through luck, enterprise, and an overwhelming romanticism -- a part of our century's most vibrant cultural history, and now presents an uncensored peek into the private lives of the personalities he has known. Negulesco recounts his experiences with Joan during the filming of Humoresque and The Best of Everything.
Sample Text:
One evening at Jerry's home in Beverly Hills, Joan had a real diamond pasted on her forehead above the left eye. The whispers had it that Joan was launching a new fad in wearing jewelry.
I had to find out. I pointed at her pasted diamod: "Why, Joan?"
"Johnny, don't you see? Nobody has noticed the bags under my eyes."

---
This Fabulous Century: 1930 - 1940 (1969) Time-Life Books, Inc.
Description: Part of a larger series devoted to exploring life in America. This volume looks at 1930 to 1940 and includes a photo of Joan dancing with Alfred G. Vanderbilt at the 1937 Screen Actor's Guild Ball in Los Angeles.

---
This 'n That (1987) Bette Davis with Michael Herskowitz
Description: Autobiography by Bette Davis. She devotes a chapter to What Ever Happened to Baby Jane? and her experiences with Joan during the making of that film.
Sample Text (Bette's comments about Joan):
"Feud is a Hollywood word, a wildly overused Hollywood word. Did Bette Davis and Joan Crawford ever feud during the filming of Baby Jane? No!"
"Joan was a pro. She was always punctual, always knew her lines. I will always thank her for giving me the opportunity to play the part of "Baby Jane" Hudson."
"In her vanity she was consistent. As part of her wardrobe, Miss Crawford owned three sizes of bosoms. In the famous scene in which she lay on the beach, Joan wore the largest ones. Let's face it, when a woman lies on her back, I don't care how well endowed she is, her bosoms do not stand straight up. And Blanche had supposedly wasted away for twenty years. The scene called for me to fall on top of her. I had the breath almost knocked out of me. It was like falling on two footballs!"
"It was in Joan's contract that the stage had to be kept at a certain temperature. Members of the crew wore lumberman's jackets. In southern California. In August. On a soundstage."

---
The 20th Century (1999) JG Press
Description: An illustrated history of our lives and times. Includes a few mentions of Joan and a page devoted to Mommie Dearest.

---
Twinkle, Twinkle, Little Star (1995) Dick Moore
Description: Former child star Dickie Moore relates the true story of what it was like to be a child star in Hollywood based on his own experiences and via contributions from Jackie Coogan, Natalie Wood, Shirley Temple, Mickey Rooney and other famous child stars. Coogan tells the story of how during the filming of Old Clothes, in order to get Joan to cry during a big scene in the film, his father and producer of the film, Jack Coogan, had detectives follow her for two weeks and learn everything about her. The scene in question called for her to enter alone and come down the stairs and start to cry. Coogan ordered everyone off the set and then told Joan everything he'd found out about her. Horrified, she began to cry.
Moore relates how when he played a small role in The Bride Wore Red and that he spent a lot of time with Joan's husband, Franchot Tone, who taught him the rudiments of chess. Moore indicates that the couple spoke very little to one another and that Franchot would receive phone calls from other women and have to take the calls in Joan's dressing room which was equipped with a phone; his was not. Next, Moore recounts this story:
Sample Text:
One day, Miss Crawford and I were working alone in a scene when suddenly an electrician -- a gaffer -- fell from the catwalk above the set and landed not more than two feet from her. A light fell on top of him, also narrowly missing her. I was whisked away. Production, of course, was halted. The studio ambulance arrived and he was taken immediately to the studio hospital. Eventually, the scene resumed. I was impressed by Miss Crawford's concern for the man, for his family, for the medical attention he received. She wanted absolute assurances that he was cared for properly, that he remained on salary, and that his family was provided for. She would not resume shooting until those assurances were given, and she called the hospital each day for reports on his condition.

Click here to read more excerpts from the book. (Thanks to Mike H. for this contribution!)
---
Vanity Fair's Hollywood (2000) Edited by Graydon Carter and David Friend with text by Christopher Hitchens
Description: From the Dust Jacket: "The definitive book of its kind, Vanity Fair's Hollywood is an incomparable collection of classic photographs, essays, and caricatures depicting a century of Hollywood power, glamour, myth and mystery - directly from the pages of Vanity Fair; from 1914 to today." Includes a photo of Joan and Douglas Fairbanks Jr. on the beach circa 1929. Also, there is a chapter devoted to a reprint of an article that appeared in the February 1936 issue of Vanity Fair (and an accompanying color photo of Joan).

---
The Variety History of Show Business (1993) The Editors of Variety
Description: From the Dust Jacket: "Each of forty chapters focuses on a pivotal event, introduces its key players, and explores its long-term impact on show business." Includes a chapter devoted to Grand Hotel and the long-term effect it had in Hollywood (making films with an all-star cast). Includes some photos of Joan taken on the set.

---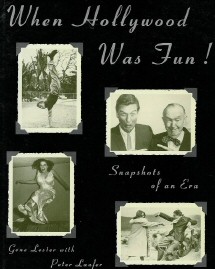 When Hollywood Was Fun! (1993) Gene Lester with Peter Laufer
Description: A behind-the-scenes account of Hollywood photographer Gene Lester's experiences with the stars. Lester, who worked for the Saturday Evening Post, Silver Screen and other important magazines of the era (thirties through the early sixties), recounts his sessions with such stars as Lana Turner, Spencer Tracy, Clark Gable, Norma Shearer, etc. Chapter Eight is called "Swimming with Joan Crawford and Her Freckles" and details Lester's day with Joan to do a home layout for Silver Screen.
Sample Text:
I shot with a 35mm camera and I never made prints bigger than five-by-seven. In a five-by-seven print, nothing would be as blatant as it would be in an eight-by-ten or an eleven-by-fourteen. I printed the entire roll of her, with her freckles, on soft paper. I showed the whole batch to Joan and to Howard Strickling and Joan said, "These are the first pictures I've ever seen where my freckles show and I don't mind. People know I've got freckles. But I don't like them when they're black splotches all over me. I don't mind if they're visible, but not if they're coming at you like the gorilla that ate Brooklyn"

---
Who's Had Who (1987) Simon Bell, Richard Curtis and Helen Fielding
Description: A somewhat humorous look at the love lives of famous personalities, including celebrities, world-leaders, etc. There are a few pages devoted to Joan and her romantic liaisons. They are not, however, very well researched (mention of her final husband Albert Steele is made) and the authors seem the favor the Mommie Dearest storyline, claiming it's much more fun than the potential truth.
Sample Text:
Truth is, Joan doesn't sound a real cutey. Her career was the only thing that mattered to her, and she was obsessed by it. She loved her fans and is said to have written over 70,000 letters a year to them. Whenever she divorced, she saw it not as a private sorrow, but as an occasion to get a press scoop to benefit her career. When she wasn't divorcing or marrying she was "very predatory with men", and liked to offer them small roles in return for sex. "She passed from one to another with...ease."

---
Wisecracker (1998) William J. Mann
Description: From the Dust Jacket: Here is William Haines virtually unknown story -- rich in detail, revelations and scandal. As the political climate in Hollywood changed, Billy refused to go along. He bucked studio pressure to stop carousing and get married, leading to skirmishes with Louis B. Mayer and the police; there was even a violent encounter with gay-bashing white supremacists in 1936. Here, for the first time, the stories of Hollywood's gay stars are seen in context with their time and with one another, revealing a pattern of intimidation by the studios and, ultimately, the establishment of the Hollywood closet...Billy gained Hollywood's abiding respect, and his union with Jimmie Shields lasted nearly fifty years. Joan Crawford, their best friend, called them "the happiest married couple in Hollywood."
Sample Text:
...the three old friends managed to have at least one night out on the town together. They'd taken adjacent rooms at the Dorchester and made reservations at a posh London eatery, Les Ambassadeurs. Although the restaurant was not far from the hotel, none of them knew quite where it was, so they hired a chauffeur. Billy told friends how Joan affected a British accent and told the chauffeur the name of the restaurant. They got horribly lost and missed their reservations, but the three of them, laughing in the backseat of that Rolls-Royce, were as gay and giddy as they had been nearly fifty years before.They had no way of knowing it would be the last time.

---
A Woman's View (1993) Jeanine Basinger
Description: From the Dust Jacket: Basinger examines dozens of films, exploring the seemingly intractable contradictions at the convoluted heart of the woman's genre -- among them, the dilemma of the strong and glamorous woman who cedes her power when she feels it threatening her personal happiness, and the self-abnegating woman whose selflessness is not always as "noble" as it appears. Basinger looks at the stars who played these women (Kay Francis, Barbara Stanwyck, Joan Crawford, Bette Davis, Rosalind Russell, Susan Hayward, Myrna Loy, and a host of others) and helps us understand the qualities -- the right off-screen personae, the right on-screen attitudes, the right faces, the right figures for carrying the right clothes -- that made them personify the woman's film and equipped them to make believable drama or comedy out of the crackpot plots, the conflicting ideas, and the exaggerations of real behavior that characterize these movies.
Sample Text:
Many people think that in the 1930s Crawford played the shop girl who rises to wealth, and that is her image for that decade. Yet in the twenty-six movies starring Joan Crawford released between 1930 and 1940, she played a shop girl exactly twice, in Our Blushing Brides and The Women...This means that Crawford played an heiress or socialite eight times, or four times as often as she played a shop girl. She was an entertainer of some kind six times, a prostitute once, and a thief twice. She was a working girl three times -- once a housemaid, once a reporter, and once a stenographer. Twice she was a factory worker (which is not a shop girl), and in both cases she quickly rose from the factory to become either a successful model or the mistress of a wealthy man. (Once she was an ambiguous character who worked for a steamship line, but who seemed to be independently wealthy.) During the entire decade, Joan Crawford played only one totally unsympathetic role, that of Crystal in The Women.