Descriptions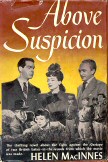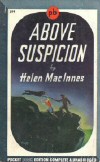 Above Suspicion (movie tie-in ed. 1943, Triangle Books; 1945 paperback) Helen MacInnes
Movie Tie-In Description: 333 pages. Movie tie-in edition has photos from the film on the front cover.
---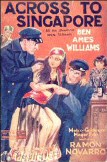 All the Brothers Were Valiant (originally published 1919. US movie tie-in edition with new movie title, 1928, shown at left) Ben Ames Williams
---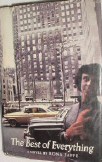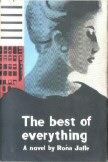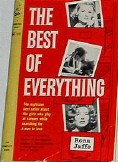 The Best of Everything (US HC 1958, Simon & Schuster; UK HC 1959, The Book Club; 1959 US PB, Pocket Books ) Rona Jaffe
Description: US HC 437 pages. (That's author Jaffe herself on the cover in front of NYC's Rockefeller Center.) UK HC 372 pages. The book was completed in 5 months and 5 days and 20th-Century Fox bought it before it was even edited. It made the NY Times best-seller list on 9/21/58, two weeks after publication.
---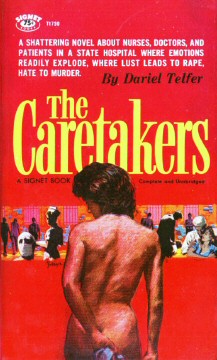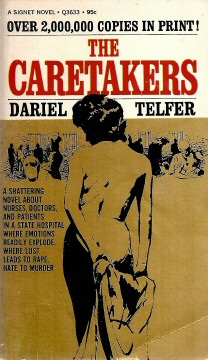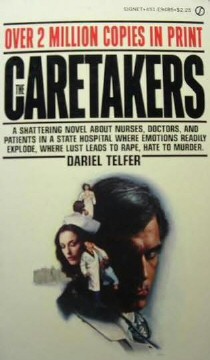 The Caretakers (1959) Dariel Telfer (Pictured above are 3 Signet paperback covers. Years unknown, but cover prices are 75 cents, 95 cents, and $2.25.)
---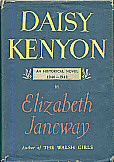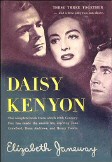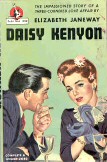 Daisy Kenyon: An Historical Novel 1940 - 1942
(HC: 1945, Doubleday, Doran & Co. PB: 1947, Pocket Books) Elizabeth Janeway
Description: 277 pages. From the jacket: "Three people, Daisy Kenyon, Dan O'Mara, and Peter Lapham, are trying to find happiness and a way of life in the confused world of this decade...Their story is told against a political and economic background where people and events that have become familiar pass in review while Daisy struggles to rationalize problems brought about by her attachment to the two men."
---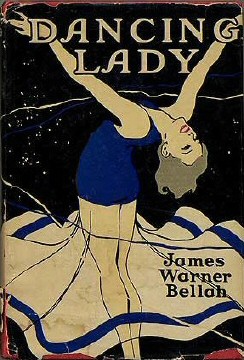 Dancing Lady (1932, NY: Farrar & Rinehart) James Warner Bellah
Also serialized in the Saturday Evening Post (v. 204, nos. 44-49) over 6 weeks, from 4/30/32 thru 6/4/32.
---
Dream of Love
---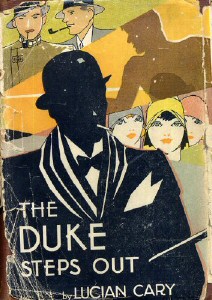 The Duke Steps Out (1929. Garden City, NY; Doubleday, Doran, & Co., 288 pp.) Lucian Cary
---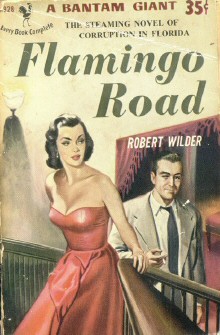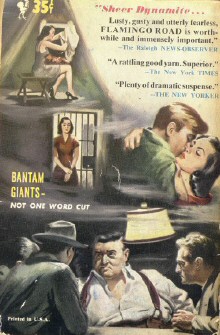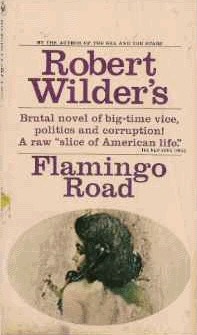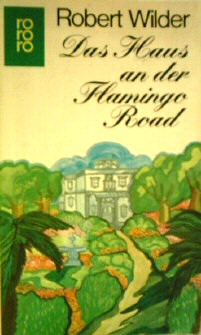 Flamingo Road (1942, Putnam's) Robert Wilder
---
The Gorgeous Hussy (1934, Houghton Mifflin) Samuel Hopkins Adams
(Pictured: Left: 1934 Houghton Mifflin title page. Right: 1936 Grosset & Dunlap novelization cover.)
---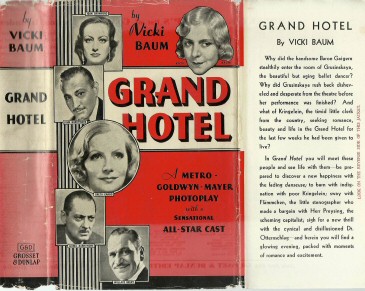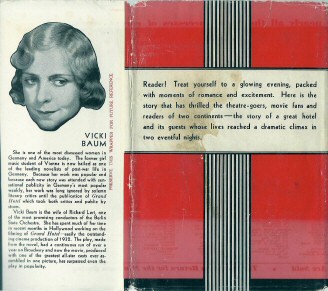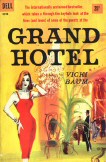 Grand Hotel (1929 German novel "Menschen Im Hotel"; published in U.S. as Grand Hotel in 1931 by Doubleday, Doran; US novelization 1932 by Grosset & Dunlap; US PB 1958, Dell) Vicki Baum
Description: The 1929 novel was the basis for the 1931 play and the 1932 movie.
---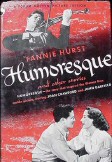 Humoresque and Other Stories (originally published 1919; US movie tie-in edition, 1947) Fannie Hurst
---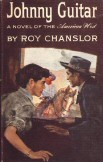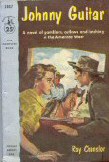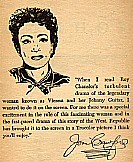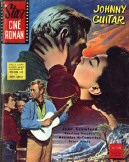 Johnny Guitar (HC 1953 Simon & Schuster; PB 1954 Pocket Books; French film tie-in 1960) Roy Chanslor
Description: US PB: 198 pages with brief intro by Joan accompanied by a line drawing of her (see photo above).
---
The Last of Mrs. Cheyney (1937 movie tie-in novelization)
---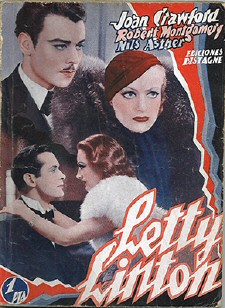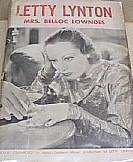 Letty Lynton (1931, Heinemann, NY)
Marie Belloc Lowndes
(Pictured: Movie tie-in novelizations from Spain, Denmark, US.)
---
Mildred Pierce (orig. pub. date 1941) James M. Cain
Links: The Complete Review MP page.
---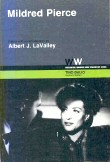 Mildred Pierce screenplay (1980, Univ. of Wisconsin Press) Edited with an Introduction by Albert J. LaValley

Description: "A product of the Warner Brothers Film Library of the University of Wisconsin-Madison, this book offers students, researchers, and aficionados insights into individual films that have never before been possible. This screenplay is the final shooting version including revisions made during production."

---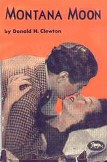 Montana Moon (movie tie-in edition, 1930) Donald H. Clewton
---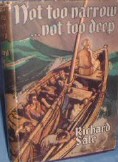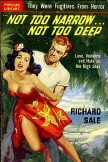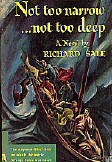 Not Too Narrow, Not Too Deep (US HC 1936, Simon; UK HC, Cassell; US PB 1950, Popular Library) Richard Sale
Description: This is the novel that was the basis for the '40 film Strange Cargo. 1st PB edition is Popular Library #247.
---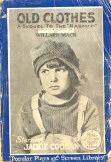 Old Clothes (1925, Jacobsen-Hodgkinson) Willard Mack
Description: Movie tie-in. Photos from the film on the front and back covers, with 3 b/w photos inside.
---
---
Our Blushing Brides (1933, Jules Tallandier--France) Simone Albinet
Description: 96-page movie tie-in, with 30 photos inside.
---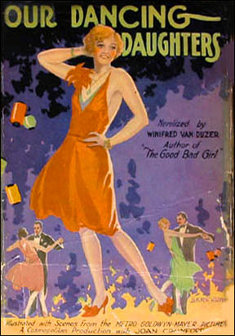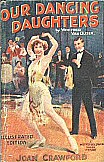 Our Dancing Daughters (1928 movie tie-in novelization, Grosset & Dunlap) Winifred Van Duzer

Description: 211 pages. Based on the photoplay by Josephine Lovett and illustrated with scenes from the MGM Picture.
Sample Text:
She stood close to the window, black-fringed gray eyes through which laughter often shimmered as light flutters in deep water now wide with delighted awe, gay lips parted, flattening her nose against the pane as a very little girl might have done.
Not that Diana Rand was not little. The distance from the sharp edges of the highest heels ever worn on Main street to the topmost curl at the crown of her arrogant young head measured exactly five feet. But when anyone ventured to address her as "Half Pint", "Small Change", or "Demi Tasse" she was likely to toss back "Be yourself! I'm nineteen, I guess!" Then she would flash her gamin grin and rush out to have another lift put on the high heels.

---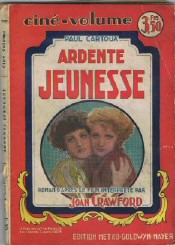 Our Modern Maidens (French movie tie-in)
---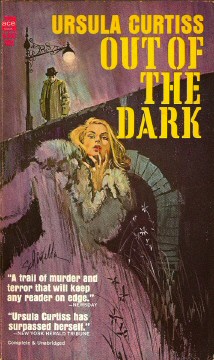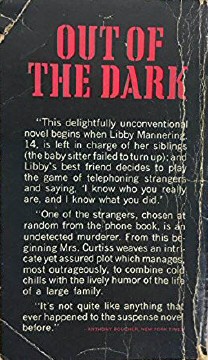 Out of the Dark (Basis for film I Saw What You Did. HC 1964, NY: Dodd, Mead & Co; PB 1964, Ace) Ursula Curtiss
---
Paid (movie tie-in novelization, 1930) Photoplay title of "Within the Law" by Bayard Veiller. Grosset & Dunlap. (Novelization by Marvin Dana and Veiller.)
---
220 pgs. Originally serialized in 3 parts in Woman's Home Companion magazine, May - July 1949.
---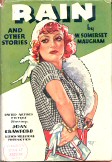 Rain and Other Stories (1932, Grosset & Dunlap) W. Somerset Maugham

Description: (Photoplay edition) 302 pages. Originally published under the title "The Trembling of a Leaf" in 1921. 5.75" x 8" hardcover (orange cloth on boards) with dust jacket. The photoplay edition has a photo of Crawford on the back of the jacket and end-paper montages of b&w stills from the film.

---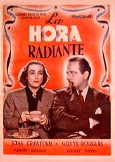 The Shining Hour (Spanish movie tie-in novelization)
---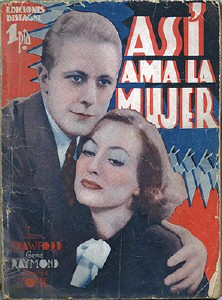 Sadie McKee (Spanish movie tie-in novelization)
---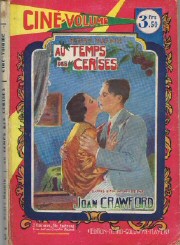 Spring Fever (French movie tie-in novelization)
---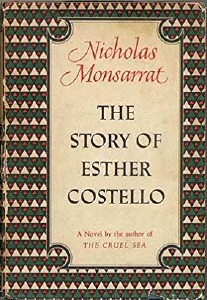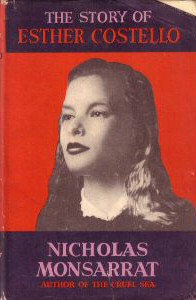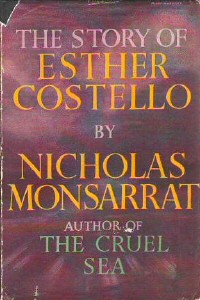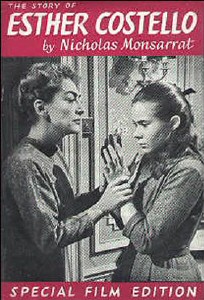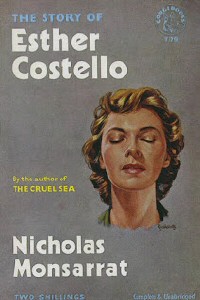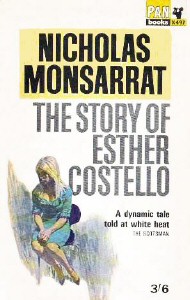 The Story of Esther Costello
(1953, Knopf in US. 1953, Cassell in UK.) Nicholas Monsarrat
bearalley.blogspot.com Monsarrat book covers and info
---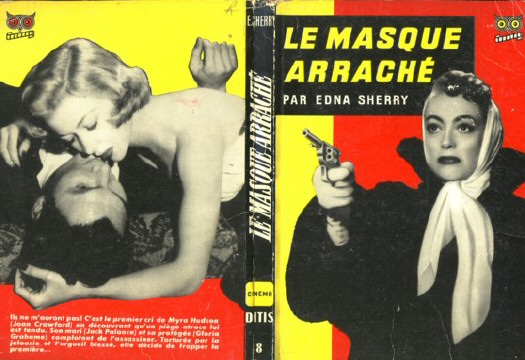 Sudden Fear (1948) Edna Sherry. Top row: US paperback 1952. 2nd row: France, Ditis, 1952, movie tie-in. And an Italian novelization.
---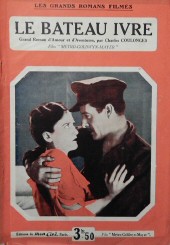 Twelve Miles Out (French movie tie-in novelization)
---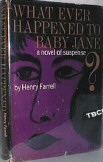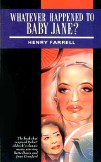 What Ever Happened to Baby Jane?
(Rinehart and Co. HC, 1960; Avon PB movie tie-in 1962) Henry Farrell

Description: HC has 245 pages.
Sample Text:
Blanche sat perfectly still, hunched slightly forward, staring after her. A wash of silence seemed to break over the house, causing the shadows to stir and pulse around her. Slowly, she reached out a hand to the wheel of her chair, thinking that if she went to the window and pulled back the drapes she would be able to see the night and the stars. And then, suddenly, she stopped, her body gripped with shock as the silence was shattered by the thunderous slam of Jane's door at the end of the hall. The whole house seemed to shout back in anger.
For a long moment Blanche was perfectly motionless, listening tensely for the silence to come back into the house, waiting for the thunderous slam of the door to stop reverberating against her strained and frightened nerves.
---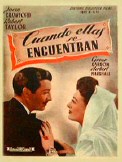 When Ladies Meet (Spanish movie tie-in novelization)
---
The Women: Mujeres (1939)
Description: Softcover novella based on the film of the same name. This is from the Mexican release of the film and in Spanish. There are grainy black and white images on the pulp pages inside.