Photoplay (1928):
Don't try to follow the intricacies of this plot--just keep in mind that the turmoil of villainy and the sea will not overcome either Ramon Novarro or Joan Crawford. Ernest Torrence, as a horny-fisted old salt, dismisses formality and announces his engagement to the girl without consulting her. Crafty Chinese complicate matters with mutiny, dope dens and attempted seduction. Recommended as a stimulant.
Film Daily (1928):
Ramon Novarro miscast as tough sea dog. Should have played him up on the Romeo stuff. Joan Crawford petite and always an alluring picture. Ernest Torrence dominates in strong characterization.
Mordaunt Hall in the New York Times (April 30, 1928):
Although "Across to Singapore," the present film offering at the Capitol Theatre, has some expertly composed scenes and genuinely clever acting, the story as a whole is frequently artificial and forced and therefore unconvincing. It is a yarn of a mariner's unrequited love and valiant efforts have been made to give it a sea-worthy quality. The title-writer diligently puts into the mouths of the male element his conception of the lingo of the sea, which smacks more often than not of musical comedy. The shallow attempts at fun are often quite feeble and hardly the sort of thing one hopes for in a serious dramatic subject.
It is an in-and-out tale, with good points mixed with poor ones in many of its episodes. Priscilla Crowninshield, the heroine, appears on the long voyage to the Far East looking as if she were ready at any moment for a tea party; but, at the same time, during these episodes there is an excellent conception of sailors fighting a storm at sea. Added to this, one of the brothers Shore, from Paradise Cove, Mass., shouts into the gale:
"There's a mad sea and a crazy gale challenging us Shores to fight."
When a man is washed overboard and Joel Shore, the youngest of the brothers, is about to leap to the rescue, Mark Shore, played by Ernest Torrence, bellows out:
"The sea's hungry, she'd rather have two than one."
On the other hand there is a scene in a barroom during which both Mr. Torrence and Ramon on Novarro are decidedly competent. But even here the idea of Joel (Mr. Novarro) flipping stones with unerring aim at Mark and a foreign sailor is rather silly. It is also quite stupid when Joel picks up an unconscious man and proceeds to pretend to fight and lay out his victim.
Joel is supposed to be lacking in nerve and strength required for the sea, but this youngster endeavors to prove to his older brothers that he is as good as they are. He is superior to them when it comes to winning the affection of the beautiful Priscilla. It is in Singapore that Mark goes to the bad and his ship has to sail without him. Eventually after the return to Paradise Cove, Priscilla decides to go to Singapore to prevail upon Mark to sober up and return home. The Nathan Ross, as the good ship is named, seems to be ready to go out to the Far East at an hour's notice.
William Nigh directed this picture from an adaptation of a story by Ben Ames Williams. He does not always give his characters credit for sufficient intelligence and in the announcing of a betrothal one would think that the man in the case would have mentioned something about it to the girl he hoped to marry. At the end of the church service at which this announcement is made, one perceives Joel standing in the aisle, but apparently he does not attract the attention of a soul.
Ernest Torrence is splendid as Mark. Mr. Novarro's performance is also quite good. Joan Crawford, who plays Priscilla, is best in those moments when she is natural and is not thinking about turning her eyes for effect.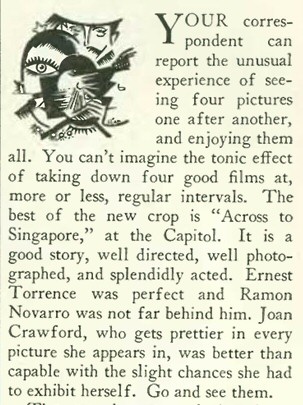 Jeff Rapsis, Silent Film Music (2013)
It was among the first feature films to star a very young Joan Crawford, and it was almost lost in the period when Hollywood made the transition from silent films to soundtracks in the late 1920s.

But a single 35mm print of 'Across to Singapore' (1928) survived, allowing this timeless and ambitious tale of the sea to be rescued and enjoyed by today's moviegoers.

Set in the 1800s during the era when wind-powered sailing ships still ruled the seas, 'Across to Singapore' tells the story of two sea-faring brothers whose long-standing love and respect for each other unravels over a woman.

Burly older brother Mark (played by Ernest Torrence), a tough sea captain, is unexpectedly betrothed to Priscilla Crowninshield (Crawford) during a brief visit to home port. But since childhood, Priscilla has had feelings for Mark's younger brother Joel (Ramon Novarro), now preparing to ship out with Mark on his first adventure.

Can Priscilla's love for Joel survive her forced marriage to his domineering older brother?

When the brothers set sail for Singapore, a gale stirs up the situation into a full-blown crisis that leads to mutiny, kidnapping, and a murder plot. Can the brothers overcome their bitter mistrust of each other, survive the storm, save the family shipping business, and do the right thing for the one woman that haunts both of their lives?

'Across to Singapore' (1928), directed by William Nigh, was among the last silent dramas produced by MGM, then the most prestigious studio in Hollywood. In addition to up-and-coming female star Joan Crawford, the film starred A-list actor Ramon Novarro, a heartthrob at the peak of his popularity, as well as gruff character actor Ernest Torrence.

However, like many late silent film releases, 'Across to Singapore' was not carefully preserved following its initial release as MGM rushed to convert to making talking pictures. The film's original negative was lost, and other materials fell victim to neglect and decomposition.

In later years, only a single 35mm print of 'Across to Singapore' was known to survive, and had begun to partially decompose before it was copied. Although some sequences remain marred by decomposition, the film is largely intact. It stands as an excellent example of silent film story-telling at its peak, just before the form was abandoned.