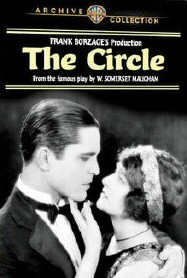 MGM silent. 60 minutes.
US release: 9/22/25.
DVD release: 11/12.
Cast: Eleanor Boardman, Malcolm McGregor, Alec B. Francis, Eugenie Besserer, George Fawcett, Creighton Hale, Otto Hoffman, Eulalie Jensen, Buddy Smith, Joan Crawford ("Young Lady Catherine"), Frank Braidwood, Derek Glynne.
Credits: Based on the 1921 play The Circle by W. Somerset Maugham. Screenplay: Kenneth B. Clarke. Director: Frank Borzage. Camera: Chester Lyons. Editor: Aubrey Scotto. Costumes: Ethel P. Chaffin. Art Direction: Cedric Gibbon, James Basevi.
Plot Summary: In the waning years of the last century, Hugh Porteous, who was to have been the best man at the wedding of Lady Catherine to Lord Cheney, persuades Catherine to elope with him instead. Thirty years pass. Elizabeth, the wife of Lady Catherine's son, Arnold, invites Hugh and Catherine to the country for a visit. Elizabeth is thinking of running off with Edward Lutton and wants to see how well the marriage of her husband's parents has survived the years; what she sees drives her to elope with Lutton. Her husband impersonates the chauffeur, drives the couple to a secluded spot, and thrashes Lutton. He and Elizabeth then return home, resuming married life with a new understanding. ~AFI