The Best of Everything
Encyclopedia Entry • Films Main
It's a Great Feeling
1949
Critics' Reviews • Our Reviews • Movie Posters • Lobby Cards • Sheet Music
Click here to see photos from the film.
---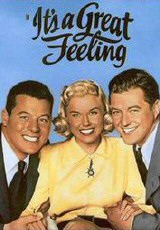 Warner Brothers. 85 minutes.
US release: 8/1/49.
VHS release: 7/24/91. DVD release: 4/7/2009, as part of the TCM Doris Day Collection.
Cast: Dennis Morgan, Doris Day, Jack Carson, Bill Goodwin, Irving Bacon, Claire Carleton, Harlan Warde, Jacqueline de Wit. Guest appearances by Gary Cooper, Edward G. Robinson, Joan Crawford, Danny Kaye, Errol Flynn, Ronald Reagan, Jane Wyman, Eleanor Parker, Patricia Neal.
Credits: From a story by I.A.L. Diamond. Screenplay: Jack Rose and Mel Shavelson. Producer: Alex Gottlieb. Director: David Butler. Camera: Wilfrid M. Cline. Art Director: Stanley Fleischer. Music: Ray Heindorf. Editor: Irene Morra.
Plot Summary: Billy Wilder's future partner I.A.L. Diamond concocted the storyline for this Dennis Morgan/Jack Carson/Doris Day tunefest. Morgan and Carson, Warner Bros.' answer to Bing Crosby and Bob Hope, appear as themselves. Attempting to line up a director for their next picture, the boys find themselves unable to do so due to Carson's gigantic ego. Carson decides to direct their next vehicle himself; the next problem is locating a leading lady who'll be willing to put up with Carson. The boys discover Doris Day, a waitress in the Warner Bros. commissary. Carson and Morgan spend their entire shooting schedule vying over Day's affections; she gets fed up with this, and heads back to her home town in Wisconsin, there to marry her childhood sweetheart Jeffrey Bushdinkel--who is revealed in the final shot to be none other than Errol Flynn! Other guest stars popping in and out of It's a Great Feeling include Gary Cooper, Joan Crawford, Sidney Greenstreet, Danny Kaye, Patricia Neal, Eleanor Parker, Ronald Reagan, Edward G. Robinson and Jane Wyman. Also appearing as themselves are such Warner Bros. directors as David Butler (the real director of It's a Great Feeling), Michael Curtiz, King Vidor and Raoul Walsh. ~ Hal Erickson, All Movie Guide
Awards: 1950 Oscar nomination for Best Music, Original Song. ("It's a Great Feeling": music by Jule Styne, lyrics by Sammy Cahn. Sung by Doris Day.)
---
A. W. in the New York Times
August 13, 1949
Gay Story Lampoons Studio
Credit the Warner Brothers with being able to take a joke. For in "It's a Great Feeling," which came to the Strand yesterday, that division of the motion picture industry ruled by the Brothers Warner, is lightly lampooning its stars, directors, producers and publicity men and having a genuinely nice time doing it. And, what is more important, it is a gay and impudent lark which transmits its broad humor to the viewer with a helping of surprises. True, this yarn about the efforts of Jack Carson to direct himself, Dennis Morgan and a movie-struck waitress, Doris Day, in a picture at the Warner Studio, is intentionally pure hokum. But the play in this antic is not the thing. The players and gags are and they are used to full advantage.
In fact, the company's varsity has been trotted out for this Techni-colored frolic. Directors Michael Curtiz, King Vidor, Raoul Walsh and David Butler (who actually directed) appear briefly in scenes in which they are depicted heatedly refusing to direct a hammy Carson in a picture. And the studio's star roster—nine of them including Gary Cooper, Edward G. Robinson, Joan Crawford, Danny Kaye, Jane Wyman, Sydney Greenstreet, Patricia Neal, Eleanor Parker and another top luminary for the climax—are worked into the proceedings neatly and naturally.
Edward G. Robinson contributes a travesty on his hard-boiled gangster characterization; Joan Crawford spoofs her own woman-of-the-world roles; Danny Kaye pitches in with a comic turn in a railway station, and Gary Cooper, Ronald Reagan and the Misses Neal, Parker and Wyman casually turn up before the cameras. Irving Bacon does the film's most chuck-lesome bit as a beleaguered rail-road information clerk and Bill Goodwin's portrayal of a producer being driven into a psychotic state by Carson's blundering is a fairly funny business too.
As the actual stars of this romp, Jack Carson, Dennis Morgan and Miss Day are busy performers relishing their assignments. Beside cavorting all over the Warner lot, the trio collaborate on a sprightly tune, "There's Nothing Rougher Than Love;" Carson and Miss Day give out with "That Was a Big Fat Lie," and Morgan and Miss Day render "Blame it on My Absent-Minded Heart," airs which may or may not hit the hit parade, but are easy on the ears. And that applies to "It's a Great Feeling." The feeling it leaves may not be great precisely but it is pleasant.
Variety:
Joan Crawford does a pip of a bit in a swank gown shop with the three principals, rating plenty of howls....The guests are brought into the story naturally and this lack of forced use is an aid in spinning the pace along and spotting unexpected comedy.
Doug Pratt on dvdlaser.com:
Diamond's script is wonderful. The cameos are cleverly integrated with the story and never feel padded or contrived. The heroine is played by a youthful Doris Day, whose eager, confident performance holds its own very well against the intrusions of the established stars....The film has a bright, intimate presence, with a steady turnover of songs, gags, and surprises.
---
If you've seen It's a Great Feeling and would like to share your review here, please e-mail me. Feel free to include a star-rating (with 5 stars the best), as well as any of your favorite lines from the film.
---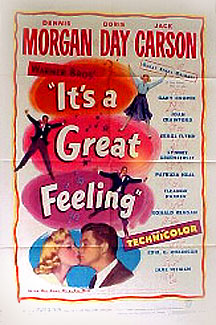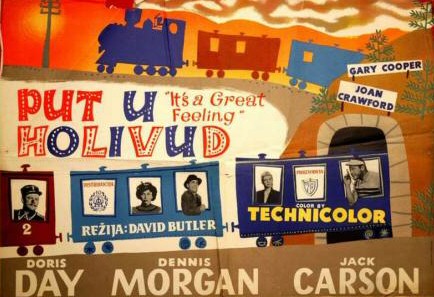 ---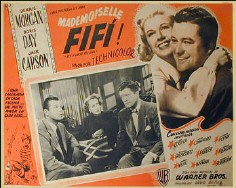 ---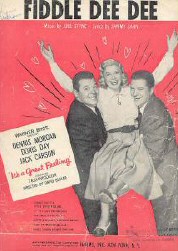 ---
The Best of Everything