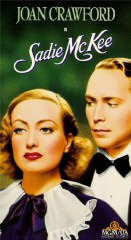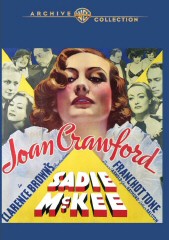 MGM. 88 minutes. US release: 5/9/34.
VHS release: 12/5/90.
DVD release:
2/12/08 as part of the Joan Crawford Collection, Vol. 2
3/3/17 on demand from Warner Archive Collection
Cast: Joan Crawford (as "Sadie McKee"), Gene Raymond, Franchot Tone, Edward Arnold, Esther Ralston, Earl Oxford, Jean Dixon, Leo Carrillo, Akim Tamiroff, Zelda Sears, Helen Ware, Helen Freeman, Leo G. Carroll. Cafe entertainers: Gene Austin, Candy, and Coco.
Credits: Based on the 1933 story "Pretty Sadie McKee" by Vina Delmar, which originally appeared in "Liberty" magazine. Screenplay: John Meehan. Producer: Lawrence Weingarten. Director: Clarence Brown. Camera: Oliver T. Marsh. Costumes: Adrian. Editor: Hugh Wynn. Sound: Douglas Shearer.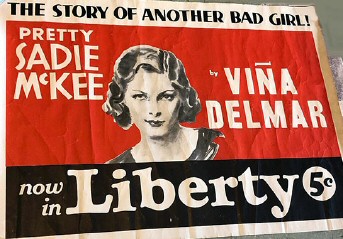 Plot Summary: MGM's Sadie McKee is a superb example of how the "committee" system of moviemaking in the 1930s could sometimes yield unexpected delights. It all begins when Sadie McKee (Joan Crawford) is brought to big bad old New York by glib vaudevillian Tommy (Gene Raymond), only to be unceremoniously dumped in favor of actress Dolly (Esther Ralston). Cast adrift, our Sadie lands a nightclub job, where she meets genially intoxicated millionaire Brennan (Edward Arnold). Accepting his drunken marriage proposal, Sadie must endure the slings and arrows of Brennan's friends and family, who consider her a gold-digger. Meanwhile, Sadie's former boss Michael (Franchot Tone), the one true love of her life, waits and waits and waits to see what's really on the girl's mind! And as a bonus, this is the film that introduced the peppy ditty "All I Do Is Dream of You". The labyrinth plotline of Sadie McKee is proof enough that more than one screenwriter had a hand in its creation: but instead of chaos, the film is irresistibly watchable, full of unexpected plot twists and marvelous little surprises. ~ Hal Erickson, All Movie Guide