Joan Crawford:
The Best Actress for Mildred Pierce
in Her Polished Brentwood Residence
by Anne Edwards

originally appeared in Architectural Digest, April 1990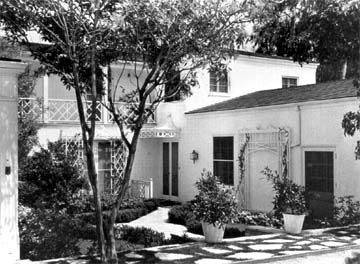 ABOVE AND BELOW LEFT: Joan Crawford's Georgian-style house on Bristol Avenue in Brentwood, which she owned for three decades. She had been living on Roxbury Drive in Beverly Hills, but when stardom demanded a grander lifestyle, Louis B. Mayer -- in a transaction not uncommon for studio chiefs eager to perpetuate the myth of stardom -- loaned her $40,000 to buy the house.
"
EVERYTHING I EARN, I spend!
" Joan Crawford once told a reporter visiting her fashionable Brentwood house in the mid-1930's. The previous decade, after starring in such films as
Sally, Irene and Mary
and
Our Dancing Daughters
, she had become the personification of the Charleston-dancing flaming youth. But during the Depression years, Joan Crawford's appearance in
Grand Hotel
,
The Gorgeous Hussy
and
Mannequin
made her the incarnation of the hard-knocks working girl greedy to join the privileged class. And her film life mirrored her own experience.
Born Lucille Fay LeSueur in San Antonio, Texas, she had worked as a laundress, waitress and shopgirl to help finance her dream of a stage career. After winning a Charleston contest, she joined the chorus line of a Broadway show, where she was spotted by an MGM talent scout and signed to a film contract. The name Joan Crawford was the result of a studio publicity contest. The newly christened Crawford felt the name had class and adapted quickly to her new self image.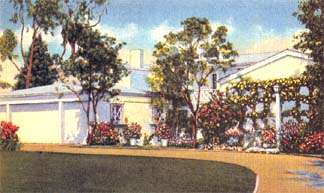 The rapid growth of the motion picture industry in Hollywood had produced an expanding group of performers who were staying in one place. Movie actors instantly ceased to be transients -- troupers traveling from theater to theater and city to city. For the first time, actors could acquire land and live in permanent homes. The stars among them earned enormous salaries, and the studios -- believing that the public wanted their movie royalty to live in palaces -- loaned their top names huge sums for a suitable abode, an act of generosity that gave moguls like Louis B. Mayer a convenient hold on their stars.
Crawford bought the Brentwood house in 1929, and she was as fiercely competitive with her neighbors as she was with Metro's other female stars -- Jeanette MacDonald, Jean Harlow and Norma Shearer. Pickfair, the estate belonging to Mary Pickford and Douglas Fairbanks, Sr., was just "up the road." Barbara Stanwyck and her first husband, Frank Fay, lived in a walled mansion across the street, and in the 1930s and 1940s Shirley Temple, Cole Porter and Laurence Olivier were neighbors.
When she bought the house in 1929, she furnished it in "green and gold, silks and brocades," hoping to achieve the sophistication she lacked, wrote one biographer, but she later called her efforts a "hodgepodge". Crawford, posing beside her ornate gilt grand piano, had taken voice training so that she would be considered for singing roles.
Many of the movie star homes of this era were costly, gaudy and bizarre -- English manors with French drawing rooms, Spanish patios, Italian gardens, Greek sunrooms, Swiss kitchens, the de riguer Mexican-tiled swimming pool, Palm Beach cabanas -- and were staffed by English and Japanese servants. Crawford decorated her new house in what she called "
the apotheosis of taste,
" which gave her ten-room Georgian-style structure an international mix of appalling kitsch, including a collection of two thousand dolls, and toys that featured a life-size hen that cackled and laid eggs and a life-size baby pig that walked and grunted. A pair of "twittering mechanical birds" in a gilded cage hung in her breakfast room window, and a gilded grand piano in the living room (which Crawford insisted on calling the drawing room) was painted with classical scenes and covered with a richly patterned Burmese throw. Her marriage to Douglas Fairbanks, Jr., on June 3, 1929, giving her access to Pickfair and Hollywood's society leaders, was to drastically change her personal and decorating styles.
Pickfair had recently been remodeled with a conservative hand; white inside and out, antiques and cabinets filled with white jade and the occupants' other authentic and valuable treasures. Within a short time, following her in-laws' lead, Crawford combined her name with her husband's and christened their house El Jodo. She hired William Haines, a former screen actor turned society decorator, to transform El Jodo into a "home of distinction".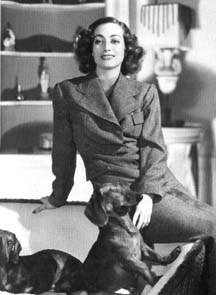 Crawford with her dachshunds. In 1945, two years after leaving MGM -- where her career was in decline -- and joining Warner Bros., the actress won an Oscar for Mildred Pierce. Director Michael Curtiz cast her against type. "The role of Mildred was a delight to me, " Crawford said, "because it rescued me from what was known at MGM as the Joan Crawford formula. I had become so hidden in clothes and sets that nobody could tell whether I had talent or not."
His first act at El Jodo was to insist that Crawford get rid of her doll collection. Then he had the drawing room painted white and refurnished it with large, modern white sofas (replacing gold brocade reproduction French pieces) and English antiques, and used Wedgwood blue as a discreet color accent. The gilded piano was replaced by a white Steinway grand that stood in a corner of the former dining room, which had become a music room where Joan occasionally played records of herself singing opera to tensely smiling guests. A wing containing a new dining room and a kitchen was added.
By the time the redecoration was completed, Crawford's marriage to Doug, Jr., was over, a parting she was able to bear far more easily than the disposal of her doll collection. She eventually adopted Christina, the first of four children to whom she would become Mommie Dearest (the sadistic, manipulative figure in Christina Crawford's best-selling biography of her mother).
Essentially, the house -- no longer called El Jodo after her divorce from Fairbanks -- remained the same throughout her long occupancy (until 1956), two more failed marriages (to actors Franchot Tone and Phillip Terry), a period as "box-office poison," and her climb to enduring stardom and an Academy Award for her role as the sacrificing mother in Mildred Pierce. To Crawford it represented a personal achievement; to the husbands and children who shared it with her, it was a citadel of unhappiness. Joan Crawford was a possessed neurotic woman. Yet no one could question her position as one of Hollywood's celluloid queens, her durability (after the death of her fourth husband, Pepsi-Cola board chairman Alfred Steele, in 1959, she made a triumphant film comeback in What Ever Happened to Baby Jane?), or her striking individuality.