The Way They Were -- Joan Crawford
Each month, Rona Barrett's Hollywood delves into the stars' private scrapbook
for a look at their yesterdays, todays, and maybe even their tomorrows. This month we pay
special tribute to one of the legends of the Silver Screen, the late JOAN CRAWFORD!
Originally appeared in Rona Barrett's Hollywood, October 1977
---
Someone once asked producer Jack Warner to define the word "star." He replied: "I can give it to you in just two words -- Joan Crawford."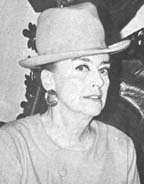 For over five decades, Joan remained a living legend in the movie-making world of Hollywood. Her abrupt death on May 10, 1977 from apparent heart failure has shocked and saddened her many loyal fans and friends around the world. As the reigning actress of the 1930's and 1940's, Joan was the epitome of talent, glamor, and charisma on screen. With four marriages, four children, plus starring roles in over 80 films behind her, Joan's life was certainly a productive one to the very end.
The events surrounding Joan's sudden death have caused much speculation and concern to the people who knew her intimately. The New York coroner's office revealed she died of heart failure, but Joan had never before suffered from heart ailments of any kind. In fact, she hadn't been ill or sick for years prior to the day she died. And her death, strangely enough, occurred on the 22nd anniversary of her marriage to her fourth and last husband, the late Pepsi-Cola board chairman, Alfred Steele -- the only man she said she "really loved."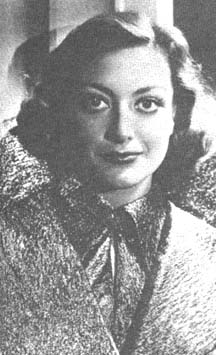 Dir. George Cukor said: "Joan had a face like a Greek mask, perfect from any angle." Even in tin foil togs!
Weeks before her death, Joan began cleaning out her Manhattan apartment, sending friends and acquaintances household items she said she would "no longer need." And on the very day before her death, Joan sent her beloved pet Shih Tzu, Princess, away to be taken care of by friends in the country. Prior to that, her dog had not been outside Joan's New York apartment building for over a year, much less separated from her. It was almost as though Joan anticipated -- and expected -- her death and was somehow preparing for it.
During her last years, the former movie queen lived a sterile, almost "Howard Hughes-like" existence. Joan's 22nd floor, five-room apartment was under guard 24 hours a day as she had installed a variety of locks, latches, and chains on the door. For the last 18 months, she refused to set foot outside her apartment. When friends called on the telephone, they'd be instructed to leave a message and wait for her to call back. Joan obviously wanted to guard her privacy in the best way possible.
Joan's household "idiosyncrasies" were also most unusual. Calling herself a "meticulous" housecleaner, she washed and waxed her floors daily, treated her furniture with a vinylizing process that could not be penetrated by dirt, and filled her apartment with only wax flowers and plastic plants -- those which could be cleaned every day with soap and water. Just three weeks before her death, Joan strained her back scrubbing the floor. And she never, ever wore the same dress twice -- without having it cleaned first.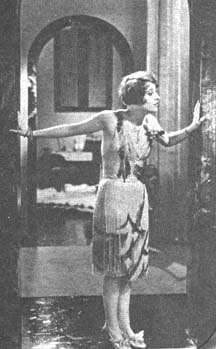 When Joan arrives in 20's Hollywood, she said she was "hungry for excitement; my vitality was at the explosion point."
Official records said Joan was 69 when she died, but many believe she was actually well into her 70's. The mother of four adopted children now in their 30's, Joan was only on speaking terms with her twin daughters, Cathy and Cindy. She remembered them in her will, but totally cut off her son, Christopher and her daughter, Christina.
Joan has been estranged from Christopher for more then 20 years, despite repeated efforts at a reconciliation. When Christopher brought his young wife to meet Joan a few years ago, Crawford retaliated, Doris Lilly revealed recently, by not letting either inside her apartment. But despite family problems, all Joan's four children attended her Unitarian funeral service in New York City. Oddly enough, no show business people attended and no mention of Joan being an actress was heard in the eulogy...
As an actress, Joan's career began in silent movies and encompassed almost 50 years. Born Lucille le Sueur in San Antonio, Texas, her parents were divorced when she was only a few weeks old. She and her mother later moved to Oklahoma and Kansas City.
Ms. Crawford said "the King had more sheer magnetism than anyone" then. Clark and Joan were lovers but never married.
"We had our ups and downs -- more downs that ups," Joan recalled in an interview not too long ago. "My mother ran a laundry and I worked for her. Later, I worked my way through two private schools -- washing dishes, cooking, making beds, waiting on tables -- and trying to get some study in on the side."
Joan dropped out of school at the end of sixth grade, a course of action she came to regret. After going to work in a department store, she began to dream of being an actress. She took dancing lessons, packed her clothes, and left Kansas City. Moving to Chicago at the age of 17, Joan's luck was phenomenal. She landed in the chorus of a Chicago vaudeville show and was immediately discovered by the famous New York entrepreneur, J.J. Shubert.
Shubert liked Joan's talent and enthusiasm and immediately gave her a part in the chorus of his Broadway show, Innocent Eyes. Two days later, MGM producer Harry Rapf came in to catch the play. They subsequently offered her a Hollywood movie contact.
"I was hungry -- for excitement, for fun, for people, for work," Joan recalled of those early days. "I simply hadn't enough work -- my vitality was at the explosive point. And I loved to dance." Within weeks, Joan was seen dancing at all the popular Hollywood nightclubs of that era, including the famed "Montmartre." After that came several silent movie roles in which she always played an "innocent," young ingenue.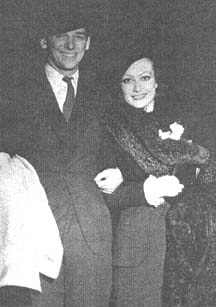 Douglas Fairbanks Jr., her first spouse, only lasted four years. Studied arts, classics to fit his social circle.
At the young age of 22 and after having starred in several films, Joan's hands and footprints were implanted in cement at Grauman's Chinese Theater in Hollywood. When "talkies" became the new rage in motion picture entertainment, she made the transition beautifully.
Off the Big Screen, Joan married Douglas Fairbanks, Jr., a star in his own right, but the marriage lasted only four years. Joan said during that first marriage, she strived to improve her knowledge and vocabulary as she read a great quantity of books and newspapers. She took French lessons, dictation lessons, studied classical music, and started collecting antiques.
But that marriage was doomed almost from the start, mainly because of their conflicting careers.
After her second marriage and divorce -- this time to actor Franchot Tone -- Joan became romantically involved with sexy Clark Gable...a leading man who was always "popular" with the ladies. During their love affair, Clark was married. "We talked about marriage, of course," Joan said. "But I dared not ruin the dreams. I'd rather live with them unfulfilled than have them broken. But I loved Clark very much. This magnetic man had more sheer male magic than anyone in the world -- and every woman knew it. Every woman looked at him with desire. He knew it, too. It was as much a part of him as his own breathing."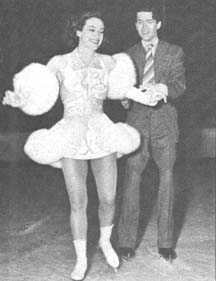 In 1939, Joan teamed with James Stewart in Ice Follies, one of the many films that showed off famous legs or "gams." That same year saw the end of her four years with Franchot Tone.
After 17 years at MGM Studios, Joan decided to take a break. It was 1943 and war time, so she took a two-year hiatus from the screen and used the time to do volunteer relief work. She also took opera lessons to improve her voice. Her comeback in the part of a mature, ambitious woman, Ms. Mildred Pierce, won her the 1945 Oscar as Best Actress. Soon afterwards, Joan wed again -- this time to actor Philip Terry. She also adopted four children -- one boy and three girls -- and learning it would be difficult for her to have any of her own.
"I've never really known why I married Philip," said Joan in discussing her third marriage. "We met in early 1942 through my press agent. The two years of our marriage were very difficult, so we split up. At least I had my babies to come home to."
Joan also became involved with many handsome actors, including Cesar Romero and Glenn Ford. She continued her fine acting roles into the 1950's as she still only accepted good roles that would enhance rather than hinder her career.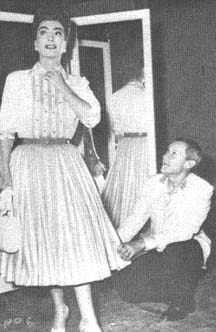 Designer Jean Louis knew better than anyone that Miss C never wore same dress twice, unless cleaned.
George Cukor, who directed Joan in the classic The Women, had only admiration for her as an actress and as a person. "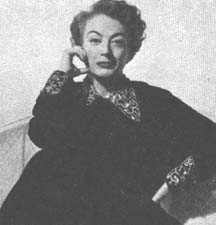 Joan started out as a beauty, a personality," he said. "She made herself into an actress. She had a face like a Greek mask, perfect from any angle."
Joan continued acting throughout the 1950's, but slowed down somewhat after her 1955 marriage to Pepsi-Cola board chairman, Alfred Steele. This marriage was Joan's happiest -- most likely because it was the first time out of her four that she married someone who wasn't in show business. After Steele's death in 1959, Joan took a seat on Pepsi's Board of Directors and served as the company's "goodwill ambassador" until only a few years ago. She even filmed several television commercials for the soft drink company.
In 1962, Joan made "noise" at the nation's box-offices again by starring in the horror-thriller, What Ever Happened to Baby Jane, with her old comrade and supposed "arch-rival," Bette Davis. Portraying the victimized sister of a psychopathic former child star, Joan's performance was applauded as frightening and sensational by all critics who saw the film. But through her own choosing, Joan became less and less a part of the movie industry as she settled into semi-retirement. She busied herself by writing her autobiography, My Way of Life.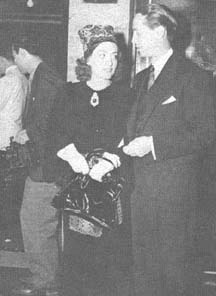 Franchot Tone was Joan's second husband, but they couldn't make a go of it because of career conflict. Each had "short" fuses.
Joan's last film, a horror opus called Trog, was made in 1970. That same year, she sold her Beverly Hills mansion and moved to a penthouse apartment in New York City. Becoming almost a recluse, Joan spent her days writing letters to friends and fans and watching her old movies on "the late, late show" on television. "A friend dropped by wanting to talk one evening," she recalled humorously. "I told her: 'Shut up! I'm watching myself in Flamingo Road -- and I find it enchanting!' "
Upon hearing of her death, Joan's lawyer and close friend, Edward Cohen, said: "It's the end of an era -- and a legend." George Cukor commented that "she believed in the Hollywood legend -- and was a creature of it."
Yes, Joan Crawford was indeed a legend in her own time. She worked her way up the ladder of success to become a superstar in the ultimate sense of the word, yet she never lost her dignity, self-respect, or popularity.
Jack Valenti, President of the Motion Picture Association of America, aptly summed up the brilliance of this beloved actress when he said:
"There will never be a bigger movie star than Joan Crawford and, in our business, that is probably the largest legacy one can leave!"
| | |
| --- | --- |
| | |
| Learning she'd probably never her own kids, Joan adopted Christopher, Christina & twins Cindy and Cathy. | In '43, Joan starred with Fred MacMurray & Conrad Veidt in Above Suspicion. As far as off-screen romances with Cesar Romero and Glenn Ford went, Joan denied nothing. |
| | |
| In Torch Song, Joan relived her salad days as a singing dancer. In fact, Crawford quit school in the sixth grade to work first in a laundry and then vaudeville. | Twins Cathy & Cindy were mum at Joan's funeral about disinherited brother Chris and sister Christina. All had attended. |
| | |
| Wags called Whatever Happened to Baby Jane? a grudge match with rival Bette Davis but both denied they had ever feuded. | Straight-Jacket with Howard St. John was one of later thrillers. Privately, she was a roving Pepsi V.I.P. |
| | |
| Joan was as warm to fans as she was here to Tina Sinatra. Sent hand-written notes to fans, friends. | Her last spouse, Alfred Steele, died in 1959 but she kept busy with films, penning fans, and writing autobiography. |