Joan Crawford refuses to play Miss Mushy Mouth
by Thomas Moore
Originally appeared in Life ("Parting Shots" column), October 15, 1971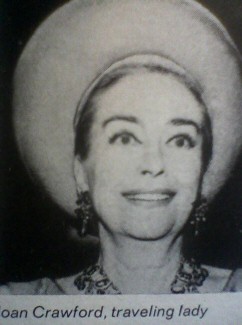 Surround yourself with happy colors like shocking pink. Avoid sarcasm. Be a giver not a taker, learn to camouflage the points you don't like about yourself and in planning a menu, never never put a red vegetable next to a yellow one. "It looks unappetizing."
This is Joan Crawford's formula for the complete femme, which she has tape-recorded into a breezy handbook of social savvy just published as Joan Crawford: My Way of Life.
Just before she embarked last week on a 16-city tour to publicize the book, I met Miss Crawford in her $500,000 Manhattan apartment. She was wearing not quite shocking-pink lounging pajamas and, because no photographers were around, very little makeup. She sipped a vodka and tonic and served hors d'oeuvres, green next to green, from the cocktail table.
She managed to dictate most of the book, she said, during her travels: three million miles to open new bottling plants for Pepsi Cola, of which she is also a director and the widow of a former board chairman.
In case you missed her autobiography nine years ago, which old friend Hedda Hopper dismissed as less than forthright, this is your chance to hear her speak from experience on making friends with one's husband, influencing the business associates, and still remaining the perfect lady.
There are some contradictions in the book. She tells us that "a rigid schedule makes me suspect insecurity of some kind." Six pages later she's explaining, "I like everything to be scheduled down to the second."
But such inconsistency becomes a star, and Joan Crawford (63 years, 86 movies) is one of the last of that fiercely loyal and nearly extinct tribe who spend their golden years tuning in each other on the late show and occasionally attending their own film festivals.
Another who survives is Bette Davis, with whom Miss Crawford is often compared, though not by Miss Crawford. "I'm the quiet one," she told me, "and Bette's explosive. I have discipline. She doesn't. I don't know who suffers the most. Holding it in is an awful thing. Believe me, I know."
Is that why she wrote the book? A momentary frown, as she decided to camouflage the point. Then candor won out.
"I was asked to write it," she said. "Here have some okra. (Husky laughter.) Certain men like the book, you know. One man called me up one morning to tell me he took me to bed with him and I said, 'That's the second man, and damn it, I haven't felt a thing yet.' (More husky laughter.) Look, I tell women how to treat their fellas in there too, you know, and how to be romantic about it and never mind the kids crawling over daddy the minute he gets home from work."
Pausing, Miss Crawford fed cheese puffs to Princess Lotus Blossom, her Shih Tzu lap puppy. Then she spoke of Joan Crawford, star eternal, white-collar lady, sometime stranger: "I often have to handle me with kid gloves. I always treat me as another person. I don't like all the things I do. Sometimes I lose my temper, and I don't like that. But if I'm a Miss Mushy Mouth all the time, I wouldn't like that either."
(Thanks to James Paul Amato for contributing this article.)