There is Still Time to Enter
the $1,000 Name Contest
What Name Do You Think Suits This Girl?
Originally appeared in Movie Weekly, April 11, 1925
---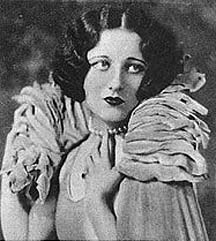 Photograph by Clarence S. Bull
Have you accepted the assignment of being godfather or godmother to a beautiful new motion picture player? And, as such, have you taken your responsibility to heart and chosen a name suitable to her?
If not, you should get busy and submit an application which will be good for screen use and at the same time harmonious with the appearance and personality of this beauty.
Lucille Le Sueur is the present name of this newest film luminary. The name is not suitable for the screen because it is difficult to pronounce and hard to remember and spell. The Metro-Goldwyn-Mayer studios, to which she is under contract, have chosen the Movie Weekly as a medium through which to find a name perfectly suited to this charming and attractive young lady.
The contest has been under way for only two weeks and during that time the mails have brought to Movie Weekly names which is believed will help Miss Le Sueur to carve her place in the cinema niche of fame.
Some of the names seem ideally suited to this vivacious and beautiful young American girl who is soon to be seen on the screen. However, no selections can be made until after the contest closes on May 2, 1925. Then, the mass of names will be thouroughly considered by a jury consisting of Harry Rapf, production executive of the Metro-Goldwyn-Mayer studios, Florence Lawrence, dramatic editor of the Los Angeles Examiner, Edwin Schallert, dramatic editor of the Los Angeles Times, and Adele Whitely Fletcher, editor of Movie Weekly. Then the eleven winners will be picked.
Of those, the one chosen as best will receive $500. Ten prizes of $50 each will be given to the 10 readers of Movie Weekly who suggested the next best names.
What name do you think is best suited for her? She has dark brown hair, large deep-sea blue eyes, a fair complexion, weighs 125 pounds, and is five feet five inches tall. She is eighteen years of age, is a girl of culture, and deliberately deserted the debutante ranks of society to enter theater life because she is energetic and ambitious.
Previous to this time, she started on her theatrical career as a member of the cast of "The Passing Show" and "Innocent Eyes" at the Winter Garden in New York, she attended school at St. Agnes' Academy, Kansas City, Mo., and at St. Stephen's College in Columbia, Mo. She was born in Texas, but lived most of her life in Kansas City.
She is a "find" of Harry Rapf, who is credited with discovering and developing more motion picture talent than any other executive in the motion picture industry. Seeing the great possibility Miss Le Sueur presented in photographing perfectly, and the real talent she displayed, Mr. Rapf, acting for Metro-Goldwyn-Mayer, signed her to a long-term contract, under which she appeared in casts with such experienced and famous players as Mrs. Murray, Norma Shearer, etc.
Remember, when selecting a name for Miss Le Sueur, that it must be one that does not infringe upon the name used by any recognized artist. It must be euphonious, easy to remember and impressive.
It must be suitable to her type, and indicate strength of character.
Mail in your suggestion to the Metro-Goldwyn-Mayer Contest Editor, Movie Weekly. Mail as many names as you like, but each name must be on a separate piece of paper, and accompanied by your name and address.
RULES
The duration of this contest will be six weeks, during which time the issues of Movie Weekly will carry photographs and text matter on Lucille Le Sueur which will aid the readers in their choice of a screen name for her.

All suggested names must be postmarked by midnight of May 2, 1925, and addressed to "Metro-Goldwyn-Mayer Contest Editor," care Movie Weekly. 1926 Broadway, New York City, N.Y.

There is no limit to the number of names which can be suggested but each suggested name must be submitted on a separate coupon, even if they are mailed in the same envelope.

The judges have been chosen because of their ability to judge the name best adapted for this purpose and their decision is final.

Eleven prizes, totaling one thousand dollars, will be awarded. The first prize will be $500. And there will be ten other prizes of $50 each for the sponsors of the next ten best names.

In the event of two persons suggesting the name finally selected, both will receive the designated award.