Daughter Dearest

Christina Crawford has new things to say about "Mommie" (Joan Crawford)
by Stephen M. Silverman
Originally appeared in People, May 6, 1998
---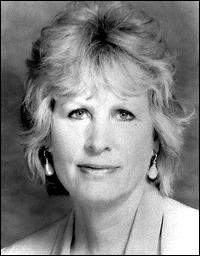 The person who gave new meaning to the word "dearest" is back. Christina Crawford published her book "Mommie Dearest" in 1978, and the world never looked at her adoptive mother, movie legend Joan Crawford, the same way again. Crawford in her day may have had no trouble commanding movie-audience attention, but her real power-hold was on her four adopted children, two of whom (Christina and Christopher) she brutalized. In incident after incident, Joan Crawford exposed herself as a control freak and ultimate bitch who vented her frustrations on children she adopted merely for the publicity value they added to her image.
But the shocking effect of Christina's expose didn't stop there. Because of the revelations presented in the hair-raising tome, there were some positive results: People were encouraged to stop stigmatizing adopted children just because of their variant bloodlines, and personal tell-all memoirs by the offspring of the rich and famous were suddenly catapulted into the mainstream, instead of being confined to niche publishing.
Now Christina Crawford, 58, has returned to the limelight. She has updated -- and expanded -- her notorious "Mommie" manuscript (by nearly half, complete with footnotes from observers who didn't step forward for the first edition) and is offering it for sale exclusively on the Internet, at www.mommiedearest.com. So far she's made personal appearances in Los Angeles, Seattle and San Francisco to discuss the book and has a presentation in Chicago slated for May 10.
Before stepping foot on the stage at New York's Town Hall (where her mother was saluted at her own event exactly 25 years ago), Christina spoke to PEOPLE Online, rehashing a bit of the past -- such as 1978, when "Mommie Dearest" was an international best-seller, and 1981, when the campy movie version, which Christina disdains, gained cult status -- and talking of her life today.
PEOPLE Online:
"Mommie Dearest," both your book and the movie, generated a lot of publicity, both for you and your mother. Obviously, therapists must have approached you with their take on why your mother behaved the way she did.
CHRISTINA CRAWFORD:
They have. In the years since, psychiatrists have said to me she was narcissistic, a manic-depressive, a sociopath and borderline.
PEOPLE Online:
It's been 21 years since her death. How do you view her today?
CRAWFORD:
Except for when I'm involved in this sort of program, I don't think of her at all. I'm neutral on the subject, with no ups and downs anymore. That wasn't the case when I was younger. I was an angry young woman, because I'd been so badly treated. Contrary to the fantasy of being a movie star's daughter, I was always two or three days away from being homeless, only no one would believe it. Not only was my mother Joan Crawford, but she was married to the CEO of a major corporation [Alfred Steele, of Pepsi-Cola]. People thought I was joking when I told them I was looking for a job.
PEOPLE Online:
Certainly this was asked when your book first came out, but Hollywood is a town filled with gossips. Helen Hayes did confide to some journalists (when "Mommie Dearest" first came out) that everybody knew about your mother's behavior. Why wasn't Joan exposed?
CRAWFORD:
Everybody did know, but people in the movie industry separated what they knew from how they would keep their job. In the mid-'50s, the old Confidential magazine got stories of the child abuse in the house from employees who had worked there and was going to write a huge expose. At the time it would have ruined my mother's career and gotten her arrested. She had tried to kill me. I'd heard about this years later from friends at [the private school] Chadwick. I don't know what really happened, but the full article never appeared. A watered-down version did -- and was denied.
PEOPLE Online:
John Springer, the publicist who represented your mother [and Marilyn Monroe, Henry Fonda and Judy Garland, among others] still says that all Christina Crawford ever needed was a good spanking.
CRAWFORD:
John Springer earned a living promoting Hollywood stars. I think we can leave it at that.
PEOPLE Online:
Whereas, when the movie "Mommie Dearest," with Faye Dunaway, was released, Douglas Fairbanks Jr., who had been married to Joan Crawford in the '30s, was asked about the film. He said it bore no resemblance to anyone he ever knew.
CRAWFORD:
That's probably true. I didn't write the script. I realized when the studio started sending me the scripts it wasn't the story I'd told. When they lost Anne Bancroft [who was considered for the title role] I tried to buy back the rights, but Paramount wouldn't sell them to me.
PEOPLE Online:
And yet, you're showing "Mommie Dearest" after you speak at Town Hall.
CRAWFORD:
I'm not showing it. The producer is. I'll be in the lobby, autographing books.
PEOPLE Online:
Both you and your brother Christopher, who clearly was a problem child, were excluded from your mother's will. Let's talk about the twins in a moment. Meanwhile, are you in touch with Christopher?
CRAWFORD:
I am. Chris is a very private person. He's a Vietnam veteran, married, has a family and a steady job. He's back east, but we talk often. He's been to my home in Idaho, where I have a farm and a country inn. He comes for a vacation -- and I put him to work!
PEOPLE Online:
And the twins?
CRAWFORD:
For one thing, they were never twins. They were raised as twins, she called them twins. Her career needed a boost, and one child alone wasn't going to get her the publicity she wanted, so she got two girls who both had brown hair and brown eyes. That was the extent of their "twin-ness."
PEOPLE Online:
Are you in contact with them? [The "twins," Cathy and Cynthia, were the major beneficiaries of Joan's last will and testament, and they criticized Christina's book when it was originally published.]
CRAWFORD:
No. Probably since the book [came out]. But we grew up as different families. I'm eight years older than they, and they never really lived at home. They were in boarding schools.
PEOPLE Online:
Didn't you go through a bad period after the book's publication?
CRAWFORD:
Yes. I had a stroke in 1981. I wasn't expected to live. It took four years in a rehabilitation hospital to begin recovery, then another four years at home. When I recovered at the age of 46, I found I had neither a husband nor money. So I had to start again.
PEOPLE Online:
Is that why you live in Idaho?
CRAWFORD:
I decided I wanted to move to the Northwest. It was the only place I hadn't lived. I looked for two years and found this small farm, which was exactly what I wanted. It's called Seven Springs Farm -- there are really more than seven springs, but the writer in me stopped when I heard the sound "seven springs." I opened it as a bed and breakfast in 1994, and I started the restaurant in '96. The closest airport is Spokane, Washington. The farm itself is remote, and I have my own vegetable garden. There are five rooms, which can accommodate 12 people, 24 in the dining room. I do a lot of private parties.
PEOPLE Online:
Any more books?
CRAWFORD:
I'm working on a history book, and friends have suggested I do something humorous about coming to Idaho with my two geriatric dogs and starting a farm.
PEOPLE Online:
All that sounds like it's a long way from Hollywood.
CRAWFORD (smiling):
It certainly is.