"At Last, I'm Finally Living the Life I Want!"
by Barbara Ribakove
Originally appeared in Photoplay, July 1975
---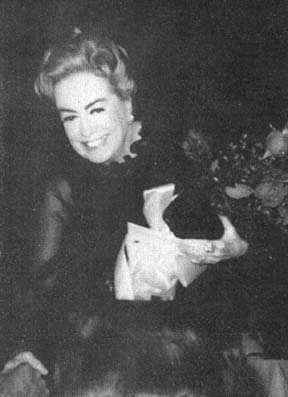 Today's Joan is a very with-it gal but she enjoys the privacy never before possible in her life -- and she's using her time in many new ways.
"I have become very greedy," Joan Crawford says, "about my privacy. I've been pulled and tugged all my life. I'm not complaining, it has been a wonderful life. But now, finally, I feel I have earned the right to make my life what I want it to be. I don't expect people to understand. I spent all the holidays alone this past year -- Thanksgiving, Christmas, New Year. Everybody said, 'Why?' I said, 'Because that is the way I want it.' Those are three days when the phone doesn't ring so much and I can escape the pressure. I used those days to take inventory of myself, and to decide to make changes. As a result, I feel glorious. Just glorious." She smiled as she speaks, and she does look glorious. She is wearing no makeup, her graying hair is brushed back casually from her forehead, and she is dressed in a simple striped robe -- a modified caftan, perhaps -- and the kind of thonged flip-flops you might buy in any drugstore. And yet it is possible to see in her the legendary Joan Crawford of so many memorable movies -- the tall, erect beauty whose carriage and clothes and makeup set the style for two decades. Without giving it a thought or calculating a gesture. Joan still radiates stardom in the way an empress radiates royalty. She is Hollywood.
We are in Joan's Manhattan apartment. She recently moved from a palatial 11 rooms to four rooms that are merely magnificent. "I simply couldn't afford that vast a place anymore," she tells me simply, and when I ask her if I can print that, she looks surprised. "Of course you can. The economy affects me the way it affects everyone else -- why not?"
Joan's new apartment -- like its predecessor -- glows like a summer garden. Green. White. Gold. Flowers -- real and china -- are everywhere. Masses of living bamboo plants. A great yellow dining tabel in one room, a smaller yellow table that serves as a desk in another. Paintings that seem to burst off the walls in explosions of color and light. Despite the profusion of objects and furniture, there is a sense of orderliness and neatness.
Joan is a scrubber of kitchen counters, a picker-up or microscopic bits of lint. Everything is immaculate. To Joan, a clean home is the outward and visible form of an inner and spiritual discipline. Her daily chores around the house are things Joan has done since her childhood, things that give her satisfaction.
But her childhood consisted largely of struggling through endless chores. Coming from a repeatedly broken home, she was sent at the age of nine to work her way through boarding school by "helping out" in return for lessons. However, her cooking, cleaning and child-caring chores left no time for classes, and when, in her teens, she escaped, she was totally without education, social graces or childhood experience. In fact, she had nothing but talent, beauty and a soaring desire to make something of herself. The elegant gentlewoman she has become is the product of that inner discipline she has never ceased to apply. The new life she is beginning to fashion for herself does not involve slacking off or taking things easy. I asked her to describe an average day.
"Yesterday," she said promptly. "Let's see. I got up at quarter to seven. Early? That's not early. I've been trained in early rising -- quarter to five to make a movie in a Hollywood studio, quarter to four when you have to drive out to a location and be on the set with your hair done and your makeup on.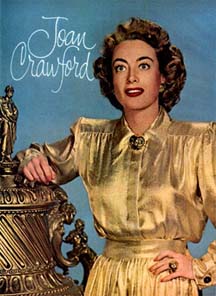 A Queen of the Movies in the Golden Age of Hollywood.
"So. It is quarter to seven. I put the tea kettle on a low flame, jump into the shower, brush my teeth, feed myself -- cream of wheat and a cup of tea -- clean the sink and the kitchen counters, go to my desk and get to work. I have personal correspondence, charity work and, most of all, my work for Pepsi Cola.
"Yesterday, friends dropped by before dinner on their way to a cocktail party. We talked, laughed, they left. By the time they were down the elevator, I had their ash trays and drink glasses washed and put away. Then I wrote longhand letters from seven to eight, cooked my dinner, ate, washed the dishes while watching television, went back to my desk and worked till 10:15 and got into bed in time to see the end of 'Marcus Welby.' Then to sleep."
Living her new life in New York City, Joan goes out less than she used to, but she sees the films that interest her (anything with animals -- and nothing with pornography) and is a passionate TV watcher. Not long ago, when I complained to Joan that there was nothing worth seeing on TV this year, she delivered a paean of praise for "Kojak" and glowed with pleasure over Angie Dickenson's increasing skill at developing the character of Pepper on "Police Woman."
She gets blazingly angry at professionals who do not take their work as seriously as she feels they should. "When you stop being grateful, forget it. You might just as well leave the screen, because that camera picks up everything inside you. You cannot hide your attitude towards work." Another pause. Then, all the way up from the gut: "And when you consider those of us who cannot get a job because nobody writes for women anymore . . . and we are dying to work! Dying!"
The last film Joan did was "Sixth Sense," and that was three years ago. Three years. What a waste. She was recently asked to guest star in an hour episode of a TV series. But the script didn't arrive on her agent's desk until Friday, and they expected her to be in California to begin shooting on Monday, and at that she balked. To work without sleep is one thing -- acceptable and reasonable -- but being hustled is another. One of the shiniest stars of Hollywood's days of brilliance, she was always careful not to abuse her privileges. (She was known, for example, for her eagerness to cut lines from her own roles on the grounds that they were repetitious or unneccessary -- that a look or a gesture would serve better -- but she was also known to broach these suggestions to her directors during pauses in the action so as not to hold up the day's work, to be willing to rehearse the scene his way and her way, and to accept the decision gracefully and graciously if it went against her.) She expects, in turn, not to be professionally abused. It is not that her ego is on the line -- she knows how good she is and how much admired. It is not that needs the money. It is simply that she loves to work, she has always worked, and that it is absurd to let her talents go to waste.
However, that is out of her hands. Others have to write the scripts, produce the films, offer the parts. To sit around moping would be even more wasteful. For the past 20 years, she has had her business career and served as public relations superstar for Pepsi. She has had her home, her friends. She has also had the best of her several marriages -- to Pepsi executive Alfred Steele -- and has seen her four children off into the world. She has become a grandmother several times over, and has written books about life in general and hers in particular. She has travelled enough to have circumnavigated the globe a dozen times. She has been immensely busy, reasonably happy, a little lonely, rather frequently hassled.
And then, this winter, she took that personal inventory. It was both physical and emotional. "It's the physical things that give you the clue that you should look into your mental state. I felt tired, so I asked myself why. The answer was pressure. That seemed to be the answer to a great many questions. I've lived under pressure all my life. I can take it; I always have. But I realize now that I don't have to take it anymore. It is within my power to decide which things I am going to do, and when, and which I am not going to do. I can make room for the things I've always wanted to do and have never had time for.
"One of those things is to get the education I never finished. I am going to study English literature. I want to read. Look at all these books waiting for me, and new ones coming in constantly.
"And I want to write. I have so much inside me that I am bursting with it. When I made inquiries about teachers I was asked if I wanted to study creative writing. I said no, creativity is the thing I have. I am hoping that the literature I am going to study will cure me of over-writing. I need structure, foundation.
"And, above everything else, I want to be alone much of the time. I have lived my entire life publicly. I have so rarely had privacy, real privacy. Now I treasure it. I find that everything I do, I do better in serenity. I love my family, my children and their children, but I raised them to lead their own lives, and I must lead mine. These moments alone are very precious to me, and I want more and more of them."
She speaks with absolute sincerity. But I know that if a good script, a Joan Crawford script about a woman of strength and passion, came along at last, the precious moments alone, the books and the writing-in-progress would all be abandoned without a backward glance. I know that Joan Crawford would paint that famous slash of a mouth on once more, fly anywhere on the face of the earth, live in a tent and get up at a quarter to three in the morning. She would have a ball and we would have another Joan Crawford performance in which to rejoice. But I think that when it was over, she would come home again, refreshed and happy, to the things she left behind. She loves them very much. It's no wonder she's frankly greedy for her new life. It is a good, rich life she has fashioned for herself -- and she has, indeed, earned the right to live it.