A Crown for Miss Crawford
Originally appeared in Photoplay, February 1937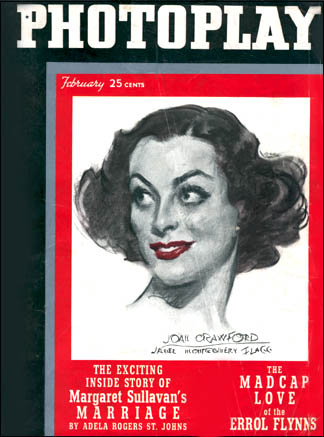 Joan Crawford's new hair style is news! Note the individual treatment of the little curls, the halo effect about the shapely head and the three feathers in the hat so reminiscent of the headdress worn by ladies presented at the English court. A fitting coiffure for a Coronation.

PHOTOGRAPHS TAKEN EXCLUSIVELY FOR PHOTOPLAY BY HYMAN FINK
---
On the Air in Hollywood
by Muriel Babcock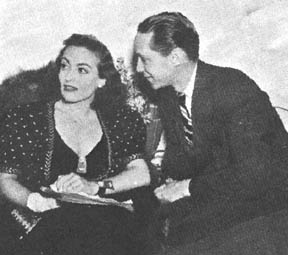 The Franchot Tones at the broadcast of "Elizabeth the Queen." Joan no longer has microphone fright, but someone else has it very badly!
[Editor's Note: Only the text pertaining to Joan is included here.]
Joan Crawford is getting over some of that microphone fright which used to make life miserable for her. At the broadcast of "Elizabeth the Queen" with Franchot Tone, she was much more at ease than we have ever seen her. True, as a precautionary measure, they pushed a chair up against her knees so they wouldn't wobble too much, but although we watched closely we didn't see a single quiver.
Joan was all done up for the broadcast in a black evening dress with a gold lace trim and she looked pretty darn elegant. She had a couple of gardenias to carry, which had come not from Franchot, but from a clerk at the Western Union telegraph office to whom Joan had sent two tickets but who at the last minute couldn't get off for the show.