I'm an Adopted Mother
Here is the Answer to those who ask Joan "Did you take your children to fill your life?"

by Joan Crawford
Originally appeared in Photoplay, February 1948
---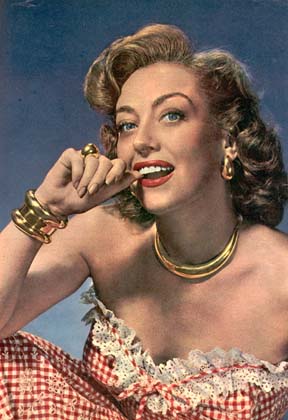 I do not believe there is such a thing as an illegitimate child. But I do believe there are many illegitimate parents.
Simply because you have given physical birth to a baby you are not necessarily a "real" mother. Neither does the fact that you have adopted a baby means that you are, perforce, a "foster" mother. It is the other way around, I think. On the basis of eight years' experience I declare that children adopt you.
I am an adopted mother.
My four are Christina -- eight, Christopher -- four, and Cynthia and Cathy, who are babies. Before my life is through I hope there are six more at our house.
Two factors keep that from becoming true immediately. One is that kids demand room for growing. Cynthia and Cathy pushed Christina and Christopher out of the nursery. They alternate now, these older two, between my only spare bedroom and sharing my sleeping porch. So the other six must wait a bit until we can add wings to the house, or something. I am now experiencing that familiar maternal pinch. Children are a costly investment, but an investment that pays the highest returns in the world.
There is the answer to those people who ask me, "Did you take your children to fill up your life?"
At first that question used to make me angry. But my children have given me patience and tolerance. With the right things, that is. They have given me an increased hatred of the wrong things, too.
I did not need my children to fill my life. I had a rich, full life before I knew about Christina some eight and a half years ago. I didn't know, then, of course, that she was going to be a girl, and as blue-eyed and yellow-curly-haired as an angel. For reasons that I will never in my life pry into, her physical mother didn't want to keep her. But I, the adopted mother, asked for her for the pure and simple reason that I just literally love kids.
I saw her almost immediately after her birth and I fell in love that instant. She was a long, slender baby and she is going to be a long, slender woman -- and I think a sensitive, intelligent one, too. At least I know she is that kind of a little girl today. She's head of her class in school and captain of her "Brownie" team. But I'll give you more on this subject later.
With her first child, every mother goes through the experience of loving it and watching it grow -- and yet hating to lose her baby. When Tina was three I knew I had to have another "baby." I made my application to a quite different source from that which had given me Christina. Several months before Christopher was born I knew about him, but I say in all humility that I felt he was a direct gift from God when he turned out to be a boy -- and to have blue eyes and blond hair. Except for coloring, he isn't a bit like Christina. She is dreamy and ambitious; he is all laughter. Sometimes I honestly worry about his charm, it is so devastating. A girl with charm learns how to control it, but men with charm are too easily captivating.
This is an example of how bland my son is already. He started school this autumn, at the Urban Military Academy, which is about a mile from our house. He is proud as a peacock of himself in his uniform and it takes every scrap of acting ability I possess to conceal how proud I feel too.
Therefore, it was easy enough for him to make a patsy of me -- and how smoothly he did it! He came to me one morning, his eyes big with admiration and said, "Mother, may I have an autographed picture of you to take to my best pal at school? You see, Mother, they won't believe I am the son of the star, Joan Crawford, otherwise."
I fell for it. How I fell! I got out one of my largest photographs and I autographed it in a big way. Two days later, when Christopher asked for a second, with that same line of flattery, I grandly supplied the second photograph, and I did likewise the third and fourth times. But the fifth request roused my suspicions. My practical sense made me wonder why four-year-old boys were so fascinated with me.
Do you know what I found out? My son was peddling me! I was worth twenty-five cents a shot to him -- and he had already piled up a neat $1.25 towards a much-desired B.B. gun!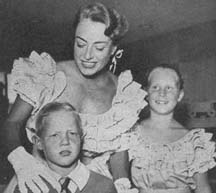 Christopher's bland -- 'Tina's dreamy!
However, even with Christopher, exactly as with Christina, after three years my baby hunger reasserted itself. I was a youngster from Kansas City, I was forever borrowing my pals' baby brothers and sisters, begging to bathe them, begging to push their carriages. In fact, the tragedy of my days, at the time, was that my brother was older than I and I couldn't, therefore, mother him. Years later, when he himself had a daughter, I tried to assuage my maternal longing by being an aunt. She called me "baby." I called her Joanie. I loved her then and I still do. Now she is a dark-eyed, lovely figured girl of thirteen, who still calls me "baby." But I did learn through her that being an aunt wasn't enough. I simply had to be a mother.
I reemphasize this because I don't want to give the false impression that I was an Alice-sit-by-the-fire then, or that I have ever been since then, or expect to be.
I am a career woman who loves her work -- and who has learned this as regards the other closer love: When it comes to romance, a career woman has earned the right to be called an idealist. No consideration of "good matches" or "security" or "social position" come to influence her heart. We make mistakes, of course. Because I am a movie star, I know that mine will always be proclaimed in the headlines. But that price will never stop me from dreaming or from trying to realize what seems to me perfect.
I presume the physical mothers of my four sought for an ideal, too. I wish I could tell those girls, personally, the sense of responsibility I feel about these babies, but naturally, for the children's sake my identity as the adopted mother of my particular four has been concealed. But my sense of responsibility is my answer to the accusation I know has been leveled at me that I bring up my children over-severely.
I do not think this accusation is true, but I say bluntly that I do believe that sparing the rod does mean spoiling the child. We are living in an era of juvenile deliquency -- and we are also living in an era when parents are more lenient than ever before. There must be a connection.
I think it is very important that children learn obedience, good manners and truth. If they have these three basic reactions plus good health, it will be easy for them to learn the secondary things of happy living -- like playing games and making friends. I also bring up my children religiously. I never make any sort of a Sunday date until after their bedtime -- and very seldom even then. But Sunday is ours together. We go together to church and Sunday School and afterward we go on a picnic. Every Sunday we hunt some new, lovely spot out in the woods and on the rare occasions when it rains, we have our picnic at home using the barbeque and the toy cook stove to make hamburgers.
Christina is an individualist. This means she is basically stubborn. This also means she is basically like me. We've had many a run-in with a spanking at the end of it but she knows that when she tells the truth, that's the end of it. Imagine then how I felt recently when she asked if she might walk to school. I said yes but not to walk around the traffic circle at the end of our road. So off Christina strode. Having to leave home shortly afterwards, imagine my surprise at overtaking her right at the traffic circle where I had told her not to go.
I pulled up beside her. "Get in," I ordered, "and tell me why you disobeyed."
Her small head went up and her blue eyes met mine. "I won't do it again," she said. "But the truth is that I've always wanted to walk around this circle." Well, I wanted to throttle her but she had me. She had told me the truth. I couldn't punish her. But I do believe that she will not walk that way again.
On thing that makes me particularly happy about Christina is that she loves to baby Cynthia and Cathy so much. They are sisters. When my baby urge hit me again last spring, I didn't mean to get two of them but I couldn't bear the thought of their being brought up apart. But the blessing of heaven must have been on me again for while they look alike they are as distinctive as Christina and Christopher are from each other. Cynthia has a classically broad face, big brown eyes and straight brown hair. Cathy has a little, heart-shaped face, dark eyes and curly dark hair. Christopher feels just fine since the babies came, for now he is the man of the household. Tina feels superior because she is the eldest and is allowed to help bathe the babies. And I am exalted because I have learned that even when life has been as generous as it has been to me, what you attain through giving surpasses everything.
If you tell me that sounds very Sunday Schoolish, you're right. It is. The Bible expresses that very sentiment. Only when you start practicing it do you discover you have attained the innermost core of happiness.
I tell this to every mother who is considering opening her heart to a baby. I warn you that from the day you let your baby take over you will be so enriched in spirit you will never know yourself -- or fear anything.
In my case, I have to be both mother and father -- but don't think that is too heavy a burden. Christina makes me happy when she brings home those terrific report cards and when, at eight years, she swims the length of our pool so much better and faster than I. She is a wonderful hostess, too, and entertains her school chums with grace. Christopher makes me happy with his manliness, with his charm, and his wonderful driving at the age of four, I remind you, and with his horseback riding. And all Cynthia and Cathy have to do is to coo to make me melt down into an absolute jug of corn syrup.
I'll conclude this by telling you my favorite Christina story. this summer she went to a camp for six weeks. It was our first separation and mighty hard on both of us. I promised I would phone her every night after she had finished her prayers, since at home the children all say prayers with me every evening.
But the first night when I called through, the head mistress told me mothers were not allowed to talk to the children. That it disturbed them too much. I begged that I might be able to explain this to Christina, so that she wouldn't think I would give her my word -- and violate it.
They finally granted her permission to come to the phone. I said, "Darling, I am not allowed to call you every night."
An absolute silence reigned at her end of the line.
I said, "Tina darling, do you understand me? I am not allowed to call you."
Then I heard her voice. Never have I heard a tone of such disbelief. If I can only get in a scene some time, I'll get another Academy Award.
She whispered, "Not allowed? You?"
I know that it was that moment that she discovered that I, too, although adult, had to obey rules. And I knew, though I didn't tell her, that at that moment she struck out on her own path. It was a moment of both triumph and sadness, the moment all mothers go know, when children begin to grow up.
But I would never have known that moment if Christina and Christopher or the baby girls hadn't adopted me. So I thank them humbly and gratefully.
Here, in Hollywood, we are too likely to get out of the normal stream of things. But my children bring me back to the simple truths. Through them I know about PTA and Superman, about Brownies and Scouts and about the eternal miracle of daily living.