The Best of Everything
Joan's Stuff:
Joan Crawford Clothing, Furs, Accessories
Movie Costumes Personal Attire
Above: A dress from The Gorgeous Hussy.
Displayed at Australia's Museum of Brisbane 11/22/14 - 5/24/15 during their "Costumes from the Golden Age of Hollywood" exhibit.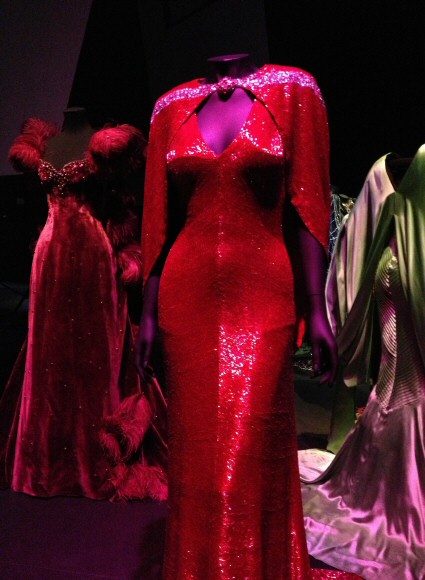 Above: A dress from The Bride Wore Red.
Displayed at London's Victoria and Albert Museum "Hollywood Costume" exhibit, 10/20/12 - 1/27/13.
(Thanks to Norman for the photo.)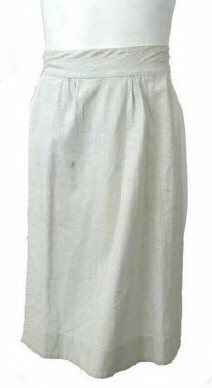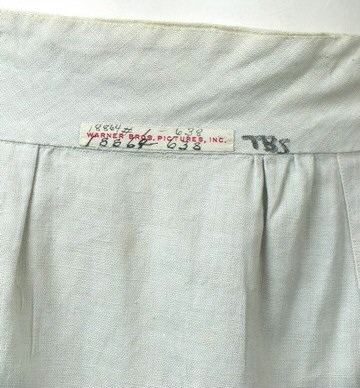 Above: Mildred's waitress apron from Mildred Pierce.
Auctioned June 15, 2013, by Premiere Props of California, with a starting bid of $1000.
These two dresses are from the personal collection of a San Diego collector. The dress on the left was worn by Joan in Mildred Pierce (the opening night of Mildred's restaurant). The dress on the right is the wedding gown from 1935's I Live My Life. Thanks to Mr. T for contributing these photos to this site.
Click on either picture to see enlarged photos accompanied by shots of Joan wearing the dresses.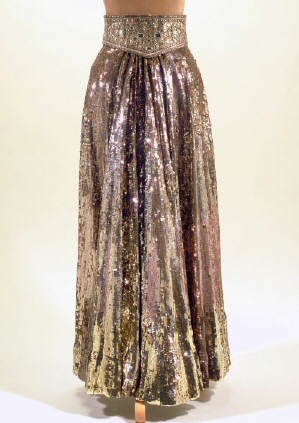 From the June 22, 2006, Christie's Auction
Lot 235: The Women, 1939/Joan Crawford A dazzling full-length skirt designed by Adrian for Joan Crawford as Crystal Allen in the 1939 M.G.M. film "The Women," accompanied by a silver v-shaped waistband encrusted with various shaped rhinestones. (Thanks to Samantha Kaylor of Christie's for the photo and information.)
See this site's photos from "The Women" for shots of Joan wearing this skirt.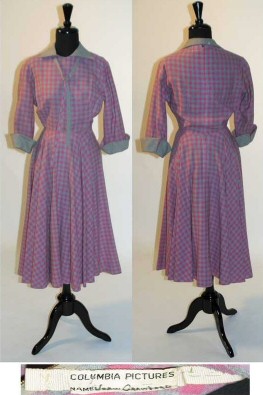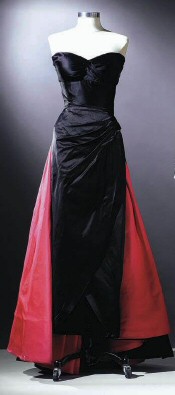 Above are two dresses recently auctioned off by Live Auction. At left, a costume from Harriet Craig; at right, the iconic Queen Bee dress.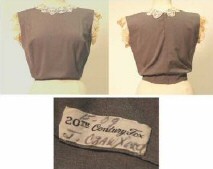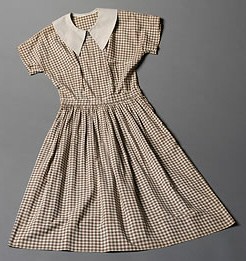 Above left is a Joan-costume from The Best of Everything, auctioned 12/6/03 from Debbie Reynolds' collection
and bringing in between $1,000 and $2,000. Above right is Joan's waitress dress from Mildred Pierce, which is housed at the University of Texas's Humanities Research Center.
---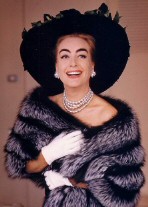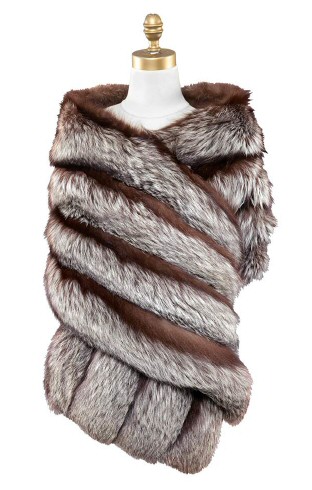 Joan's silver fox stole. Label inside: "Furs Alixandre New York Paris." 6 ft 10 in long, 17 in wide. This is the stole worn by Joan during her 1959 photo shoot with Eve Arnold (photo at left). Offered for auction at Doyle New York on 12/7/11.

Click HERE to see 13 other furs owned by Joan and auctioned by Doyle.
---
Below: Items from the 2/16/78 Plaza Art Galleries auction. Last row: Up for auction again 11/13/19 at Landmark on the Park (NYC).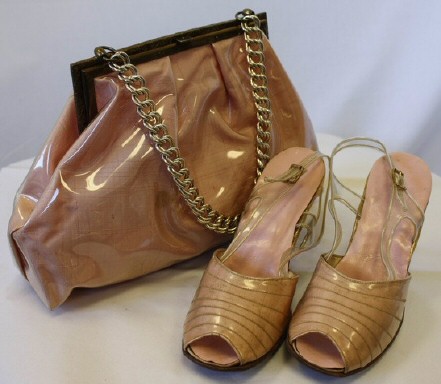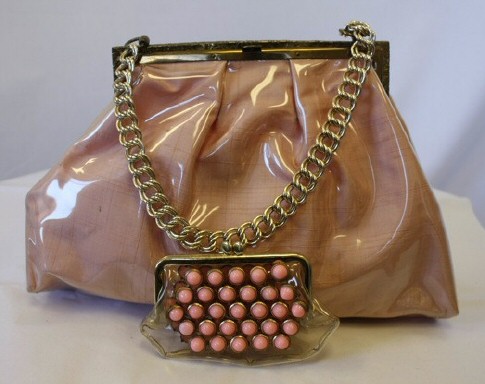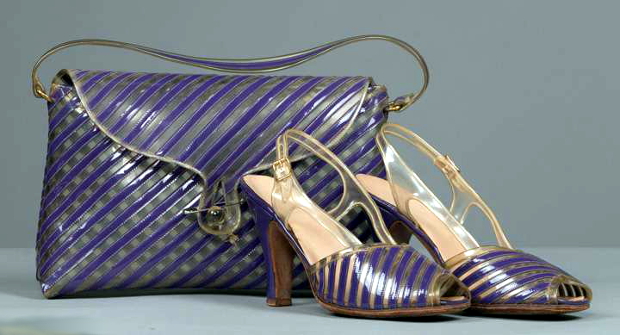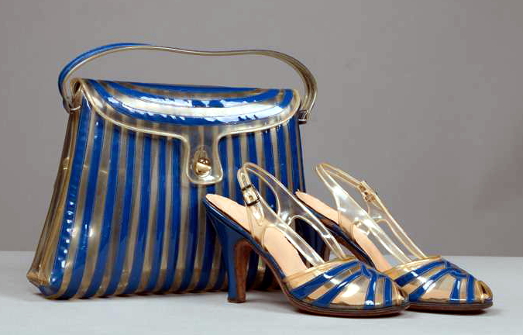 ---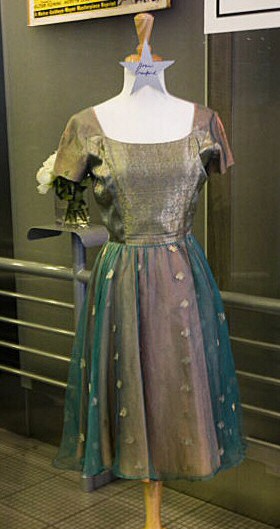 Displayed at San Francisco's Metreon theater, April/May 2010, as part of "Hollywood Legends: The Barry Borsamian Collection."
---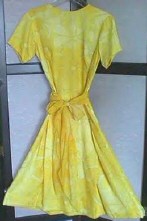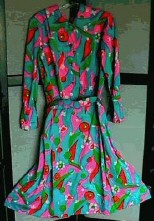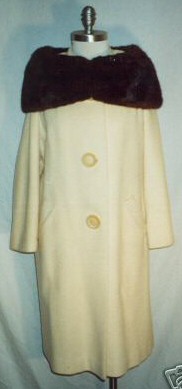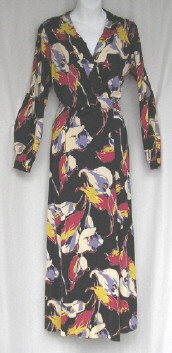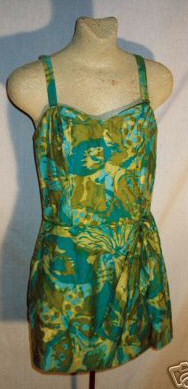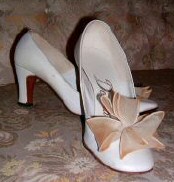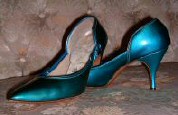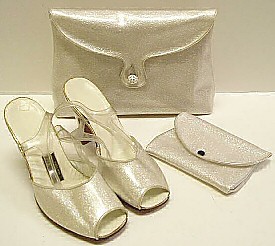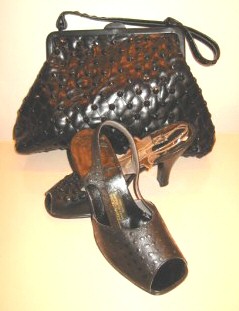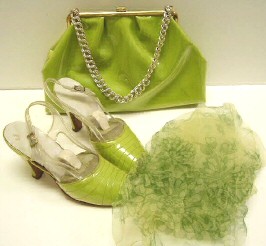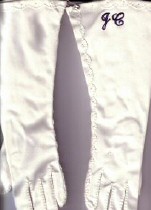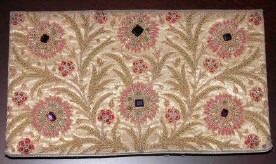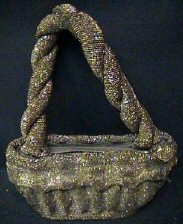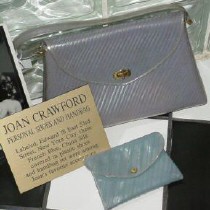 ---
The Best of Everything