The Best of Everything
Encyclopedia Entry • Films Main
Hollywood Canteen
1944
Critics' Reviews • Our Reviews • Movie Posters • Lobby Cards • Sheet Music • Soundtrack
Click here to see photos from the film.
---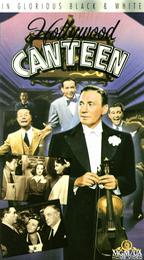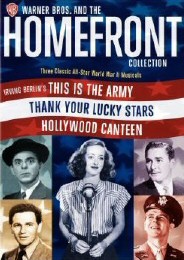 Warner Brothers. 123 minutes.
US release: 12/15/44.
VHS release: 7/24/91. DVD release: 11/11/2008.
Cast: Joan Leslie, Robert Hutton, Dane Clark, Janis Paige. Guest stars include: the Andrews Sisters, Jack Benny, Joe E. Brown, Eddie Cantor, Kitty Carlisle, Jack Carson, Joan Crawford, Bette Davis, John Garfield, Sydney Greenstreet, Paul Henreid, Peter Lorre, Ida Lupino, Irene Manning, Joan McCracken, Dennis Morgan, Eleanor Parker, Roy Rogers and Trigger, Barbara Stanwyck, Jane Wyman.
Credits: Original Screenplay: Delmer Daves. Producer: Alex Gottlieb. Director: Delmer Daves. Camera: Bert Glennon. Art Director: Leo Kuter. Musical Director: Leo F. Forbstein. Musical Numbers: LeRoy Prinz. Music Adaptation: Ray Heindorf. Editor: Christian Nyby.
Plot Summary: The West Coast's answer to Broadway's Stage Door Canteen, the Hollywood Canteen was created as a GI morale-booster by film stars Bette Davis and John Garfield. The Canteen was established so that Our Boys on leave in Tinseltown could have a good time with good food and good dancing -- and, as a bonus, rub shoulders with their favorite movie personalities, who functioned as waiters, chefs, busboys and dancing partners. Since the 1944 all-star flick Hollywood Canteen was produced by Warner Bros., it was only to be expected that the celebrities seen herein would consist mostly of Warner Bros. contract players. The frail plot concerns a soldier on medical leave (played by Robert Hutton) who falls in love with lovely leading lady Joan Leslie (played by Joan Leslie) while visiting the Canteen. Bette Davis and John Garfield are on hand to emcee the Canteen's variety acts, and to act as cupids for the Hutton/Leslie romance. The "supporting cast" includes the likes of The Andrews Sisters, Jack Benny, Joe E. Brown, Eddie Cantor, Sidney Greenstreet, Paul Henreid, Peter Lorre, Ida Lupino, Dennis Morgan, Roy Rogers, S.Z. Sakall, Barbara Stanwyck, and the Jimmy Dorsey and Carmen Cavallaro musical aggregations. Virtually everyone involved donated their salaries to the Canteen fund--even Jack Benny. As with most of these patriotic wartime star rallies, the results are a mixed bag: the best sequences include Benny's violin "duel" with Joseph Szigeti and Roy Rogers and the Sons of the Pioneers introducing Cole Porter's "Don't Fence Me In." Hollywood Canteen won three Oscar nominations, more for its good intentions than its inherent excellence. Still, don't pass up the opportunity when this "movie star salad" shows up on cable TV. ~ Hal Erickson, All Movie Guide
Awards: 1945 Oscar nominations: Best Music, Original Song: "Sweet Dreams, Sweetheart" (music, M.K. Jerome; lyrics, Ted Koehler); Best Music, Scoring of a Musical Picture: Ray Heindorf. Best Sound, Recording: Nathan Levinson.
---
Bosley Crowther in the New York Times
December 16, 1944
If it's quantity you want in entertainment — entertainment, that is, of the sort that is generally thrown together in an "all-star benefit show"—then the Warners' grotesquely laden "Hollywood Canteen" is for you. As a matter of fact, you'll probably love it if you're frankly susceptible to "names." For this two-hour-and-four-minute catch-all, which came to the Strand yesterday, gives out with short snatches of diversion (and some not so short) by virtually every player on the Warner lot.
It has every sort of thing, from Eddie Cantor and Nora Martin singing the so-called "Baby Song" to Joseph Szigeti and Jack Benny doing a violin travesty of "Souvenir." It also has Roy Rogers, borrowed from Republic, singing "Don't Fence Me In," and the Andrews Sisters, borrowed from Universal, singing "Gettin' Corns for My Country," a fitting song.
But if it's quality you want in your entertainment and just a slight touch of dramatic grace, beware the elaborate hocus-pocus of "Hollywood Canteen." There is not a fairly distinguished song or turn of dialogue in the show, and the story which binds the "acts" together is an embarrassingly affected affair. It is the story of a South Pacific veteran who goes to the Hollywood Canteen, that famous caravansari for service men, and meets his dream girl, Joan Leslie. It's a recount of his speechless admiration every time he sees a famous movie star and of his almost unbearable exuberance when Miss Leslie actually bends to his romance.
To be perfectly blunt about it, this film seems a most distasteful show of Hollywood's sense of its importance and what its people are doing for "the boys." Throughout it plainly points benignly to the wonder of "big shots" entertaining little ones and it stretches propriety to the limit in demonstrating how human the stars are. There is no question that the Hollywood Canteen has been a most welcome haven to service men and that it has done a lot to help them. But this advertisement seems a most ungracious boast.
Comparison of this film with "Stage Door Canteen," a previous star show, is inevitable, since both of them follow the same pattern—and were, in fact, both written by the same man. It is notable that the former was much more modest in its account of show folk devoting themselves to service men and much more realistic in its development of a romance. It is also much more distinguished in the quality of the entertainment put out.
In the present film, Miss Leslie plays herself with elaborate sweetness and Robert Hutton plays her soldier-courtier in the manner of a musical comedy juvenile. Dane Clark is broad and obvious as an ungrammatical sergeant from — yes, Brooklyn—and thirty or forty other people play themselves (see cast above).
In a more or less introductory comment, Joe E. Brown describes Hollywood Canteen: "This place is just a great big juke box." So is the film. It is that full of stuff.
---
Kate Cameron in the New York Daily News:
It is an elaborate show, but it is presented by author-director Delmer Daves in such a patronizing manner as to make one blush for its complete lack of reserve in singing the praises of Hollywood. It boasts screen personages unashamedly and without a flicker of humor. The players in the picture seem constantly awed by their own gracious and hospitable entertainment of the servicemen.
Doug Pratt on dvdlaser.com:
One of the best of the 'Canteen' movies, the film's surreal parade of stars, portraying touchy-feely versions of themselves, never ceases to be fascinating, and the movie's pace, musical numbers, and contrived dramatic framing device are breezier than most. Our favorite moment is a well-written interlude featuring Sydney Greenstreet and Peter Lorre ("He didn't trust us, Peter." "Oh, and we are such gentle people." Greenstreet raises his eyebrows, "Are we?"), but others will find giddier pleasures in the specter of Joan Crawford, Bette Davis and John Garfield happily, and indeed enthusiastically, rubbing elbows with the ordinary, hardworking, uniformed common folk.
---
If you've seen Hollywood Canteen and would like to share your review here, please e-mail me. Feel free to include a star-rating (with 5 stars the best) as well as your favorite lines from the film.
---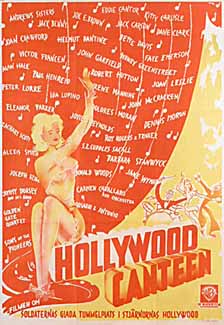 ---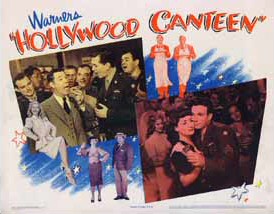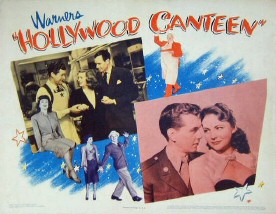 ---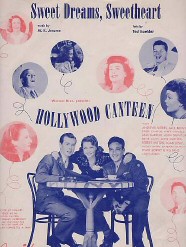 ---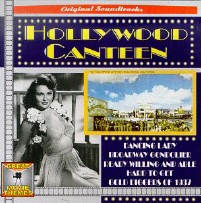 See the Audio page for complete track listings and description.
---
The Best of Everything