The Best of Everything
Encyclopedia Entry • Films Main
Paid
1930
Critics' Reviews • Our Reviews • Movie Posters • Lobby Cards • Misc. Images
Click here to see photos from the film.
---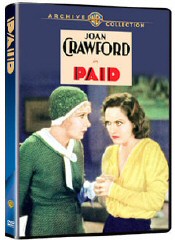 MGM. 80 minutes. US release: 12/30/30.
DVD release: 4/6/10.
Cast: Joan Crawford (as "Mary Turner"), Robert Armstrong, Marie Prevost, Kent Douglass, Hale Hamilton, John Miljan, Purnell B. Pratt, Polly Moran, Robert Emmett O'Connor, Tyrell Davis, William Bakewell, George Cooper, Gwen Lee, Isabel Withers.
Credits: From the play "Within the Law" by Bayard Veiller (which opened in NYC on 9/11/1912). Adaptation: Lucien Hubbard and Charles MacArthur. Dialogue: Charles MacArthur. Director: Sam Wood. Camera: Charles Rosher. Editor: Hugh Wynn. Art Direction: Cedric Gibbons. Costume Design: Adrian. Sound: Douglas Shearer.
Notes:
• The film was shot in 31 days at a cost of $529,000 and made MGM a profit of $415,000. (US)
• For her services in Paid, MGM head Louis B. Mayer gave Joan a bonus of $10,000 and wrote: "In appreciation of the co-operation and excellent services rendered by you, we take great pleasure in handing you your check made payable to your order in the amount of $10,000...this does not affect the terms of your contract dated 2 November, 1928." (US)
• Four other versions of Paid were released, all titled Within the Law: In 1916 (silent, with Muriel Starr in the lead role), 1917 (silent, with Alice Joyce), 1923 (silent, with Norma Talmadge), and 1939 (with Ruth Hussey).
• The film was originally slated for Norma Shearer. When she became pregnant, Joan stepped in.
• Former silent star Marie Prevost co-starred with Joan and apparently the two became friends--after Marie was found dead in 1937, among her belongings was an uncashed check made out to her and signed by Joan Crawford.
• Kent Douglass, who debuted in this film as "Bob Gilder," changed his name to Douglass Montgomery for later films.
Thanks to Jon M. for most of the information in the last 4 Notes.
---
Mordaunt Hall in the New York Times
January 3, 1931
Out of Bayard Veiller's highly successful play, "Within the Law," which was played in this city in 1912 and which enjoyed the distinction of being made twice in silent film form, Sam Wood has produced a vigorous talking picture, with unusually competent performances by all its players.
The events in this melodrama, now called "Paid," are not infrequently strained, but they nevertheless achieve their purpose, chiefly because of the fine work of the cast. There are sequences that have been freshened up and others that call to mind the psychological third-degree ideas of the late Inspector Byrnes. All the incidents, including the police trap laid to gather in several criminals and an innocent girl, are worked in with a certain effectiveness, even though there are moments when it looks as though the individuals on both sides of the fence are hoodwinked too easily.
To Joan Crawford falls the lot of impersonating the unfortunate and vengeful Mary Turner, who is sent to prison for three years for a crime of which she is innocent. When she is released she is introduced by another girl, also an ex-convict, to Joe Garson, who revels in ill-gotten gains. It is Mary's idea, however, that Garson and the other crooks can do better by keeping within the law. She explains that blackmailing is punished by a long prison term, but that if she and Agnes Lynch (played by Marie Prevost) can inveigle elderly philanderers into writing affectionate epistles to them and through lawyers obtain "heart balm," it is far more remunerative and without the risk of the criminal method.
Mary's aim is not to get money, but to even up counts with Edward Gilder (Purnell B. Pratt) and District Attorney Demarest (Hale Hamilton), who were responsible for putting her behind the bars. She succeeds beyond her fondest hopes, for she sets her cap at Gilder's son, Bob, and eventually marries him.
One of the lurid moments of this yarn is where the police use a stool-pigeon to spread the news that the real Mona Lisa painting is not in the Louvre, but in Gilder's home and that the old master has been smuggled into the country. Garson is further informed by the stool-pigeon that a dealer is willing to pay more than $200,000 for the painting. How the criminals go about entering the house with the police watching and how the police themselves are deceived is one of the more or less exciting parts of this story.
Subsequent scenes with third-degree flashes and the clever ideas of an inspector (John Miljan) are wrought imaginatively. At one moment the scratching of a pen on paper—which is heard from the screen—is employed to break down a suspect. And one may take it for granted that Mary Turner leads an unblemished life throughout the whole proceedings.
Robert Armstrong does splendidly as Garson. Miss Crawford and Miss Prevost are very good in their rôles. John Miljan and Mr. Hamilton are also convincing.
Photoplay (1930):
Just wait until you see Joan Crawford in this powerful dramatic role! The story is absorbing and Joan is simply grand!
TV Guide online:
Filmed as a silent in 1917 with Alice Joyce, then again with Norma Talmadge in 1923 (both with the original title of
Within the Law
), this talkie version was an improvement due mainly to Crawford's dynamic presence....Some good suspense during the robbery and a crackerjack job by Crawford as she goes from a soft woman to a tough cookie then back to sweet as sugar again.
---
If you've seen Paid and would like to share your review here, please e-mail me. Include, if you like, a picture of yourself to accompany your review, as well as a star-rating (with 5 stars the best) and any of your favorite lines from the film.
Mike O'Hanlon (October 2007)
Rating:
- 1/2 of 5
If Greta Garbo and Norma Shearer deserved Oscar nominations for Romance (1930) and Their Own Desire (1929), Joan Crawford deserved four nominations alone for her work in Paid (1930). She's excellent; natural in her approach to the character, and keeping the underlying emotions always visible to viewers. The story, based on the play Within the Law by Bayard Veiller, gives her an ample amount of room to prove herself the dramatic equivalent of her MGM rivals.
What's ironic about her greatness is that it is smack in the middle of her immature mannerisms, which destroyed her early talking films. Her habit of sucking on her cheeks, bulging her eyes, and nodding her head would have chewed up every reel of The Trial of Mary Dugan (1929) –a film she wanted to desperately to make. In Paid, however, those obnoxious mannerisms disappear. Maybe the maturity of sound also might have matured Joan's acting ability? But it makes one question how she managed to give lousy performances after this achievement. Maybe she was determined to prove herself?
One thing I have always liked about MGM's early talking films is there is this grittiness to them that just makes sitting through all the static enjoyable. Before the studio glossed over every one of its stars with a watered down-waxed-publicity gimmick, we had the chance to see them in a much more raw portrayal. It's a moment worth wallowing in nearly eight decades later.
In the opening scenes, we see Joan in costume make up to give the appearance of a young girl who has been emotionally drained by the rough times. This was the Great Depression, and when Joan describes how she works hours and hours for meager pay and all the other set backs that go with poverty, one's heart goes out for her.
Considering this was originally purchased for Norma Shearer, I'm still glad Joan got the chance to make it. Joan was far more suited for the role than Norma ever would have been, especially after Norma's sexual triumphs in The Divorcee and Let Us Be Gay (both 1930). While both Joan and Norma get over criticized and dismissed by film historians, when one watches a movie like Paid, it's refreshing for fans to see how far writers will go to undermine to accomplishments of both ladies.
In retrospect, Joan undoubtedly should have received an Oscar nomination for her excellent work in this film. It's a great example of her determination, and reinvention from immature flapper, to excellent dramatic Actress.
---
Jon M. (January 2005)
Rating:
of 5
Paid is an early talking film (her 5th) for star Joan Crawford. The film is an important one for her since it's a straight drama and signals an end of her "Dancing Daughter" days. Up until that point Joan appeared in much lighter fare singing or dancing and maybe falling in love. This particular film changed all of that -- just in time, too, since the depression was just beginning and audiences were tiring of musicals. In 1930 the number 1 box office star in the U.S. was Joan Crawford -- Paid is one reason why.
The story starts off strong with "Mary Turner" (Joan) being sentenced and sent to the pen for stealing from the department store where she works -- of course she is innocent. In jail she meets up with "Agnes" and agrees to look her up when she's out. Upon release she hooks up with "Aggie" and her gang and persuades them to "act within the law" in their future pursuits.
Mary becomes the new leader of the group and they find success doing things her way- -she is also carrying on a romance which leads to marriage with "Bob," who is the accuser's son. This makes the story very interesting. Later on the gang gets greedy and falls for a set up; the cops want to catch them all, especially Mary.
The quality of this film is quite good considering its age and the sound technology of the time. A few early scenes are a little creaky, but once the plot kicks in things pick up considerably. Joan for one proves herself a convincing dramatic actress and at times her performance still looks contemporary. Robert Armstrong is also very good as a bad guy that isn't that bad after all. One entertaining scene is when gang member "Aggie" (Marie Prevost) is called into the police station to give statements -- she poses as a society girl and tells the inspector to "call my father and then plan your vacation." She soon is discovered and reverts back to her ordinary "Brooklyn" accent and admits defeat. Marie Prevost could easily have had a more successful career judging from her work in this film.
Memorable lines:
"Don't worry, honey, it all goes down the drain." Louise Beavers to Joan in the shower.
"Then you'll join Aggie and see the world." Marie Prevost to Joan in jail.
"Four years ago you took my name and replaced it with a number; now I've taken that number and replaced it with your name." Joan to Purnell Platt.
"Call my father and then plan your vacation." Marie Prevost to the inspector.
---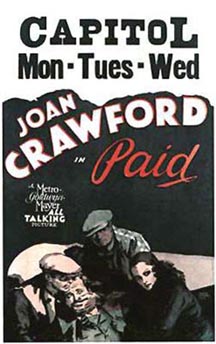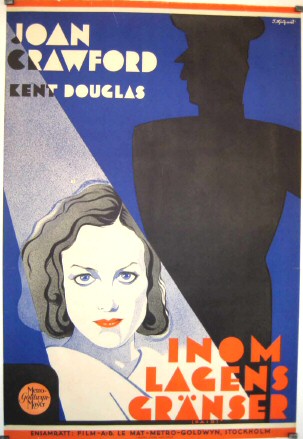 ---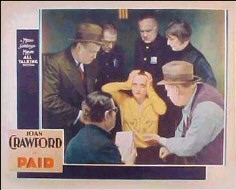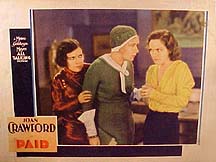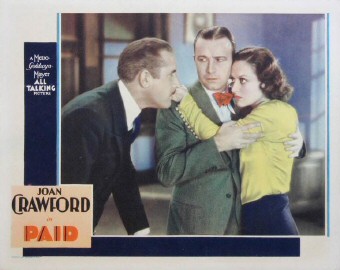 ---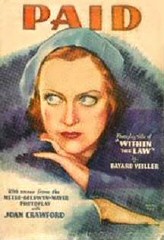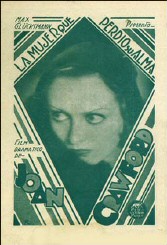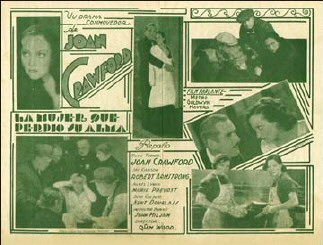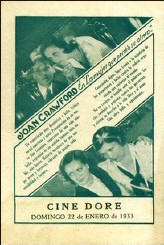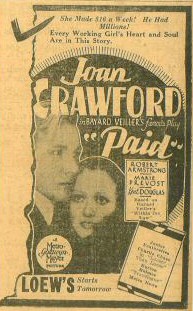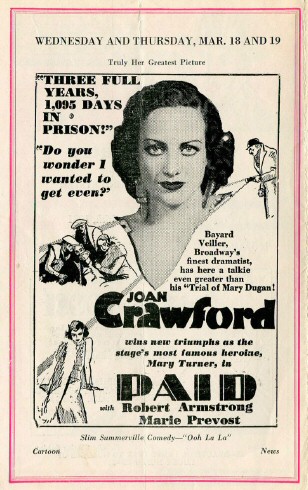 ---
The Best of Everything