Introduction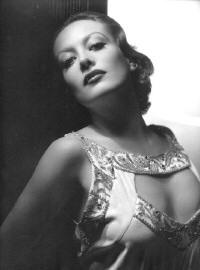 From silent star to camp queen, Joan Crawford and her astonishing 45-year film career are the stuff of a Gatsby-esque legend of survival and reinvention. Simultaneously glorious, tragic, tawdry, and hype-filled, her story is the very embodiment of the real version of the American Dream.
Logically, Joan Crawford shouldn't have made it to begin with. She was ignored and abused at home and at school. She began her "entertainment" career with cheap midwest dance-hall shows for traveling salesmen. Once she graduated to a chorus-girl position in a show in New York City, she still had to work after-hours in clubs to earn money. Her first film test was a flop.
When she finally got to Hollywood with a standard 6-month contract not guaranteed for renewal, she was still ignored, until she took matters into her own hands and began a campaign to force the powers-that-be to notice her. And when she finally achieved "official" stardom 3 years after her arrival, based on the irrefutable proof of box-office receipts and fan-mail, her battle with studio executives to be cast in quality pictures for which she was often not the first choice remained constant. The struggle for good parts would last throughout her lifetime, regardless of the stage of her career or the studio she worked for.
Despite the hardships, a perpetually self-reinventing Joan Crawford managed to create an astoundingly strong and varied body of work over 45 years, in a career that often mirrored both her times and the trends of the industry: In the '20s she was the epitome (according to an expert on the matter, F. Scott Fitzgerald) of the lively-yet-soulful flapper; in the '30s, she embodied a Depression-era nation's hopes with her portrayals of both spunky working girls and glamorous society girls; in the post-war '40s, her work was darker, as she ventured into both noir and domestic drama; in the '50s, amid a handful of serious dramas, her work often took a campy turn, a trend that accelerated with her Grand Guignol period of the '60s (and has perhaps reached its post-modern absurdist pinnacle with the continuing cult/camp-favorite status of Mommie Dearest).
Joan Crawford is the movies. And how she achieved and maintained her position in a notoriously tough and fickle business (and how she has managed to posthumously remain at the forefront of pop culture today) is as unlikely and compelling as her diverse and memorable onscreen personae.
Part 1: Youth and Early Hollywood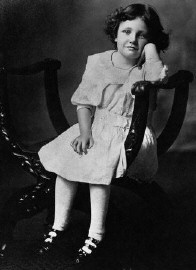 Joan Crawford was born Lucille Fay LeSueur on March 23, 1905 or '06, in San Antonio, Texas.
Lucille's parents were Thomas LeSueur, a laborer, and Anna Bell Johnson. LeSueur left the family either shortly before or after Lucille's birth and Anna Bell relocated to Lawton, Oklahoma, where she married Henry Cassin, operator of the local "Opera House," which showcased traveling vaudevillians. Joan, known as "Billie Cassin" during these years, later cited Cassin as a kindly influence on her early life: He encouraged her interest in dancing and let her hang around the show people; soon she was making her own costumes and organizing performances for herself and the neighbor kids.
Around 1916, the family left Lawton for Kansas City, Missouri. Depending on the biographer, either Cassin had been caught embezzling or Anna Bell had caught Cassin fooling around with 11-year-old Billie. Whichever the case, a new start was called for. In Kansas City, Anna and Cassin briefly ran a seedy hotel. Billie, after briefly attending a public elementary school, was packed off to a Catholic boarding school, St. Agnes. The Cassins soon split up and Anna, forced to work in a laundry and unable to afford tuition, arranged for Billie to work for her keep at the school.
After St. Agnes, Billie was sent to the Rockingham Academy, where she also lived and worked during the week, returning home on weekends. Life during the three years at Rockingham was harsh: the headmistress apparently went out of her way to physically and mentally abuse Billie; and mother Anna had taken up with a new man who alternated between making advances on and criticizing her daughter during Billie's time at home. In Billie's last year at Rockingham, though, the local boys started paying attention to her and there was respite in their attention and in the new flurry of dates and dances.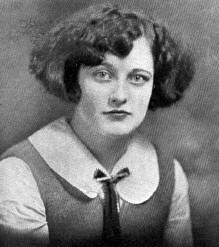 In the fall of 1922, Billie entered Stephens College, a girls' school in Columbia, Missouri, again as a working student. (Though academically unqualified, she had gained admission with the help of her old grade-school principal, who was now employed at the college.) After one semester, though, the hours spent working and partying rather than studying caught up to her and, unable to keep up with her lessons, she dropped out and returned to Kansas City.
After a few dreary months of department store jobs in 1923 (even training at one point to be a phone operator), Billie auditioned as a dancer for performer Katherine Emerine's travelling show. She got the job, but the show folded after only a few weeks and Billie found herself right back in Kansas City. Emerine had casually mentioned that Billie should look her up in Chicago sometime, though... That was enough for Billie to take a train there, only to discover that Emerine was out of town. In desperation Billie crashed agent/producer Ernie Young's office (Emerine had mentioned his name in passing); he hired her on the spot, then sent her off to do revues in Oklahoma City and at Detroit's Oriole Terrace. (Some of these shows apparently involved "entertaining" traveling businessmen after-hours. According to Jazz Baby, Joan was at one point arrested for prostitution during this time.) While in Detroit, bigtime New York producer J.J. Schubert caught her show and invited Billie to New York City to appear in his production of "Innocent Eyes," which opened in March of '24.
Billie, who by now had reclaimed her showier birth-name of "Lucille LeSueur," spent most of 1924 in New York, working in "Eyes" and then another Schubert production, "The Passing Show of 1924." After-hours, she danced for pay in the town it-spot, Club Richman, which was run by the "Passing Show" stage manager Nils Granlund and popular local personality Harry Richman. In December '24, Granlund called Lucille to tell her that a NYC-based talent scout from MGM (Al Altman) had caught her in "Passing Show" and wanted her to do a screen test. She took the test; the MGM powers weren't particularly impressed, but Granlund pulled some strings to get her another audition. While home in Kansas City for the Christmas holidays, Lucille received a telegram telling her the second audition was a success and that she should report to the MGM studio in California immediately. On New Year's Day 1925 she boarded the train for Culver City.
Early Years in Hollywood: 1925 - 1928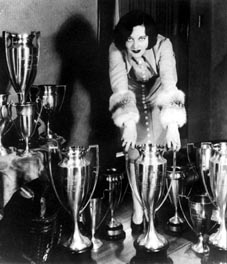 Immediately after her arrival in Hollywood, and despite her new film contract, Lucille found herself given little or nothing to do by the studio. She also discovered that, according to her contract, she could be sent packing after only 6 months. She quickly began a personal campaign both to learn more about acting (which, unlike dancing, had never been her ambition) and to get herself noticed: She constantly hung around various MGM sets to watch the established stars at work; she pestered her MGM mentors Harry Rapf and Paul Bern for parts and career advice; she avidly listened to film-crew members and publicity men, who gave her makeup and style tips and posed her in a variety of athletic on-the-beach and cheesecake shots; and she made the scene in various restaurants and nightclubs about town---"girlfriend lunches" at Montmartre by day, and dance contests at the Cocoanut Grove by night, where she won dozens of trophies both with casual escorts and more serious loves like the meat-packing heir Mike Cudahy. The frenzied activity succeeded in garnering Lucille frequent write-ups in the local show-biz press.
Her persistence and self-instigated press coverage finally revived the attention of the executives at MGM, who now began to find spots for her in their movies. Lucille LeSueur's inauspicious film debut had taken place in February 1925, as an uncredited double for eventual nemesis Norma Shearer in Lady of the Night. There was a second appearance by "Lucille LeSueur"--in Pretty Ladies--before MGM decided to take an active role in the ingenue's career, beginning with a March 1925 magazine contest to make her more suitable for public consumption by giving her a new name. In September 1925 a winning name was announced--"Joan Crawford"--and in November of that year "Joan Crawford" made her film debut, in child-star Jackie Coogan's vehicle Old Clothes.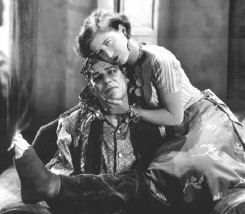 MGM continued the grooming process, placing her with more important directors and co-stars. 1925's showgirl tale Sally, Irene and Mary, which co-starred Constance Bennett and Sally O'Neil, was a hit. Joan was subsequently featured in films with popular comedians George K. Arthur and Harry Langdon, as well as heartthrob Charles Ray.
In 1927 she received her first top billing in The Taxi Dancer, another in the "showgirl-in-the-big-city" genre. The rest of 1927 saw her paired with various top MGM male leads such as action star Tim McCoy, romantic hero John Gilbert (then at the height of both his career and his affair with Garbo), and romantic comedian William Haines (also at his peak; the two became life-long friends and he was an important booster early in her career). But by far the most important of her appearances this year was her dramatic role as a carney girl in The Unknown, opposite the already legendary Lon Chaney. Joan later said that working with Chaney was a turning point for her professionally--his concentration and devotion to his craft made her realize for the first time that she wanted to be a "real actress."
1928 continued the trend of Joan-as-love interest for bigger male stars: she again was coupled with Haines and Gilbert and McCoy, as well as with Ramon Novarro and James Murray and Nils Asther.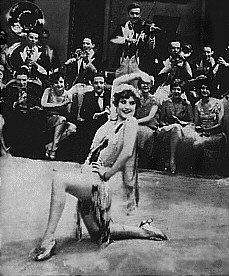 Joan's breakthrough came in September of 1928 with her role as "Diana" in Our Dancing Daughters. Joan co-starred with Anita Page and Dorothy Sebastian, and her spunky wild-but-moral flapper character struck a chord with the public and zeitgeist. The fan mail began pouring in and from that point on Joan was a bonafide star. (With only three or so exceptions at particularly low points in her 45-year film career, she would never again appear in a subsidiary role.)
The blessings of stardom, though, were mixed; Joan later said:
That fall of 1928 I went around with my little box camera taking pictures of every marquee that had my name in lights. From this period on, I was never again carefree. Before, I had been absolutely sure of myself in a brash and very young way. Now I began to study and observe myself....