The Best of Everything
Main Menu Films Photos Bio Chronology TV Books Mags Audio Ads Collectibles Geography Letters Memories Links
Joan Crawford Geography
This page featuring Joan's homes, schools, and haunts is divided into 3 main sections below:

San Antonio Lawton Kansas City / Columbia
See each section for links to interior photos and surrounding area, if available.

See also the separate Movie Sets page.
---
Youth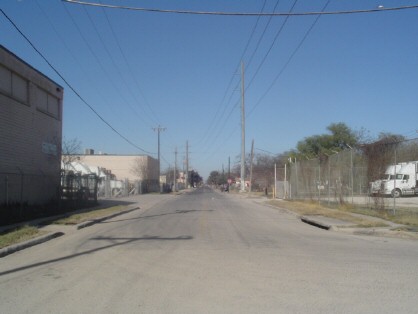 South Cherry Street
from Joan Crawford, by Bob Thomas:
The family lived, according to Joan, on South Cherry Street in "a drab little rented house on the wrong side of the tracks."
Click here or on photo above to see 9 more photos of South Cherry Street, shot by me, Christmas '07.
---
Lawton, Oklahoma (1910 - 1916)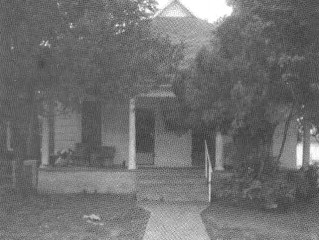 804 D Avenue
According to the Jazz Baby bio, Joan lived here with her mother, brother, and stepfather Henry Cassin at some point during the 1910 to 1916 time period. (Photo by John March, Jazz Baby.)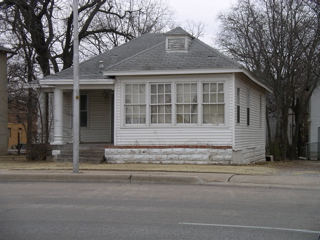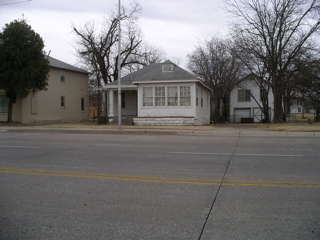 Above: Thanks to Gregg, a Lawton native, for sending in the above two photos of the 910 D Avenue house, shot around 2006.
Below: 910 D Avenue house circa 2016.
910 D Avenue
According to the 1910 Comanche County census, the Cassin family lived here in that year, at least.
Click here or on photo directly above to see larger shot of currently abandoned home, plus various shots of Lawton from the time period when Joan lived in the city.
---
Kansas City, Missouri (1916 - 1923)
Columbia, Missouri (Stephens College, fall 1922)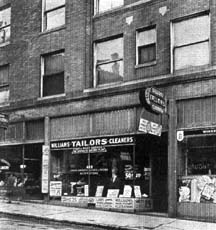 403 E. 9th Street
When Joan and family arrived in Kansas City from Lawton in early 1916, they were long-term renters at The New Midland Hotel at 407 E. 9th, which the parents ultimately managed before stepfather Cassin left the family around 1917. (I've been unable to find a photo of the hotel.)
from Jazz Baby
The New Midland was a dump on a dumpy street... a region of old hotels, greasy lunch counters, a number of saloons, and wooden signs that needed paint. A post office and imposing public library lent some dignity to the area. The street was declining, but it was fairly clean. There were wandering indigents. And there was music! It came from the New Midland lobby... The music -- more ragtime -- was being played by an energetic black ensemble. Henry [Cassin] quickly determined that the lobby was occasionally made available to local musicians as a free rehearsal hall, and that hotel management sold beer and pastries to those who would stroll in to listen. The "music lovers" there were of the sort that could not have afforded to attend dance emporiums or concert halls.
Pictured above is the location of the City Gate Laundry, at 403 E. 9th, which Joan's mother Anna Bell began to manage in 1918 (at the recommendation of Anna Bell's new boyfriend, Harry Hough, the chief delivery man for the laundry). Anna Bell moved her family onto the premises (although Joan was, during school terms, living away as a boarding student at St. Agnes Academy--see below info on that school). When the family initially moved in, the laundry was called the "Edmonds Georgia Laundry Agency," but the name was soon changed to "City Gate." (Date of above photo, where the laundry has yet another name, is unknown.)
See also this page of Joan's Kansas City: 15 photos from 1916 thru 1923, including photos of Union Station.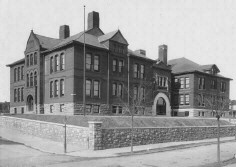 Scarritt Elementary School (Lexington and Askew streets)
Joan attended school here as a third-grader (placed back a couple of years because of poor test scores) for the spring term, 1916.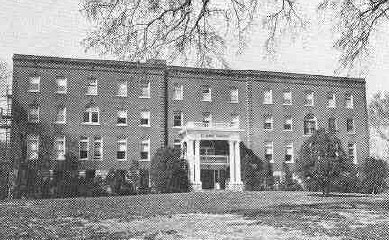 St. Agnes Academy (128 N. Hardesty at Scarritt)
Joan attended this Catholic school as a scholarship/working student for 3 years (fall 1916 to spring 1919). This building no longer stands. (Photo: Jazz Baby.)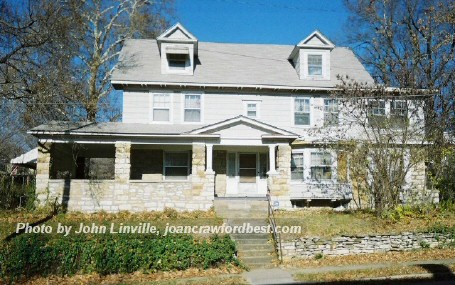 Rockingham Academy, 4343 Campbell
Joan attended this 14-room boarding school as a scholarship/working student for 3 years (fall 1919 to spring 1922).
Click here to see 14 more Rockingham photos by John Linville (shot 2006-07).
Click here to see 5 Rockingham shots after 2015 renovations by Eddie Tapper.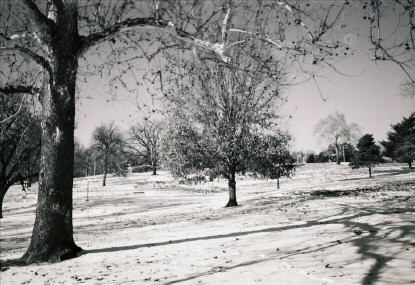 Budd Park, 199 N. Hardesty
Where Joan would hang out and meet boys (and where she first met friend Ray Sterling in 1918 as he played football).
Click here to see bigger shots of Budd Park, taken by KC resident and Joan researcher John Linville in November 2006.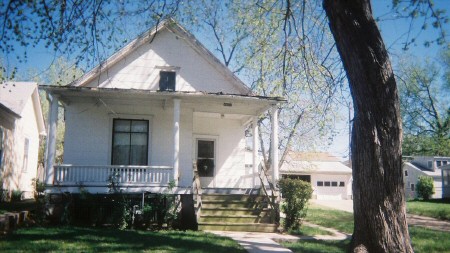 Joan's stepfather Harry Hough's home, 4407 Genessee St.
Joan's mother moved in with Hough in 1919. Joan would occasionally come home from the Rockingham Academy to stay here...when Hough wasn't putting the moves on her.
Click here to see more Hough-home shots, all by John Linville of KC (2006).
Click here to see 7 photos from the home's sale listing in 2012.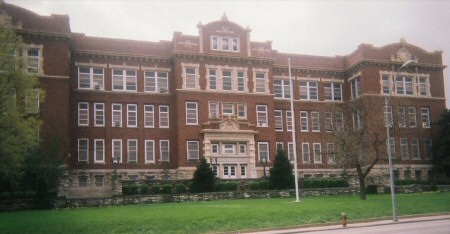 Westport High School and Northeast High School, Kansas City
Joan attended her first dance at Westport High in 1920 and first saw her future close friend Ray Sterling in a play at Northeast High in 1921. (Info: Jazz Baby; photos: John Linville)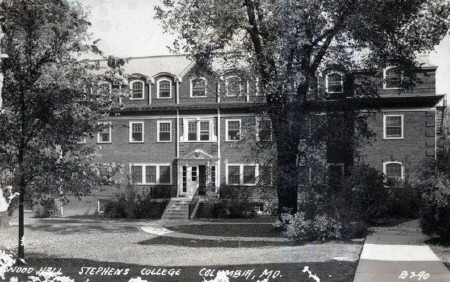 Stephens College, Columbia, Missouri
Joan lived at Main Hall, a building that no longer stands, during her one semester at Stephens College in the fall of 1922.
Click here for photos of Stephens College and the city of Columbia, Missouri, during Joan's time there in the fall of 1922.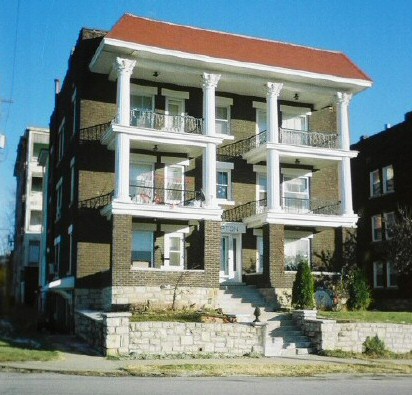 Hampton building, 303 Bellefontaine, Kansas City
This 6-unit building in northeast KC was home of the Cook Sisters, who briefly gave Joan a place to stay in the spring of 1923 after she was kicked out of her stepfather Hough's house.
(Photo courtesy of John Linville, November 2006.)
Where Joan Worked in KC (1922-23)
Click here to see 6 photos and 2 ads from department stores where Joan worked.
Page includes descriptions from Jazz Baby and a map of the area.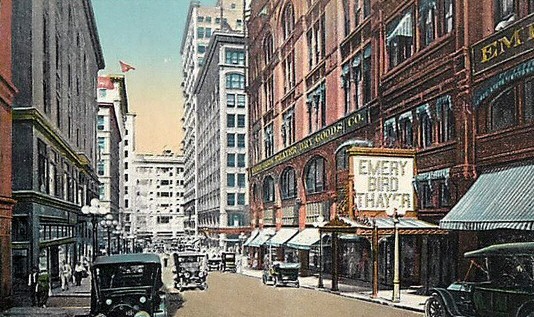 ---
Los Angeles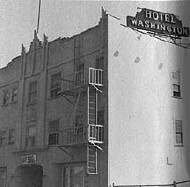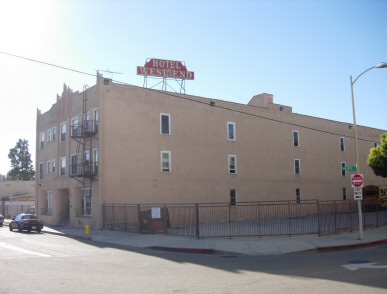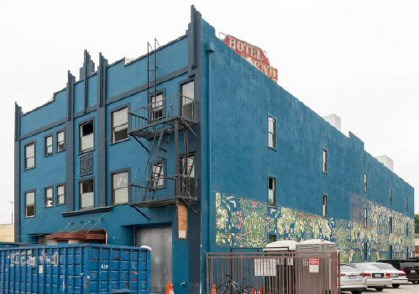 Hotel Washington, Culver City
3927 Van Buren Place
After arriving in Los Angeles in January 1925, Joan lived at this hotel for over 6 months, until her option was picked up and she could afford to rent a bungalow. Built in 1923 by R.P. Davidson, the hotel was located 4 blocks from the MGM studio on Washington Avenue.

The hotel still stands today. It was initially renamed the West End Hotel, remaining a low-budget residential hotel for decades (offering weekly rates of $225 as of 2010). The property was purchased in 2017 and renovated; as of 2019, it is now the conglomerate boutique Palihotel Culver City, with the cheapest rooms starting at $165 per night.
Click here to see 10 larger photos, plus Joan quotes re the hotel, 2010s blogger info and links, and 2020 info.
---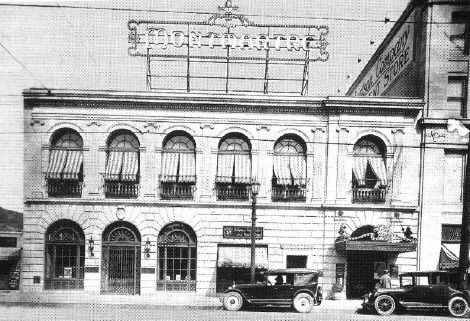 Cafe Montmartre
6757 Hollywood Blvd. (near Highland)
An early haunt of Joan's after her arrival in Hollywood. Site of tea dances and her weekly girlfriend lunches with her circle of starlet friends.
Click here to see 9 other photos: 2 exteriors, 2 interiors, an ad and menu, a matchbook, and 2 modern-day (2008).
---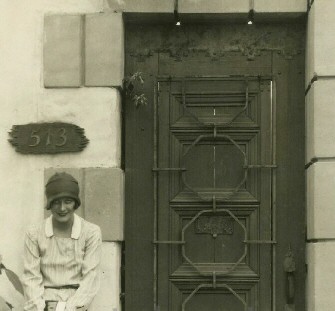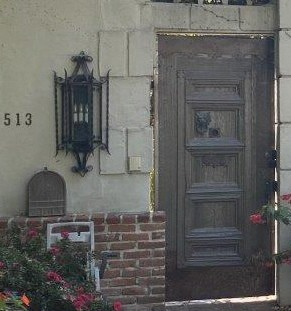 513 N. Roxbury Drive, Beverly Hills
Joan lived here from mid-1927 until September 1928. (MGM loaned her the $28,000 purchase price; Joan bought the house from Herbert Howe, a Photoplay columnist and former lover of silent star Ramon Novarro.) The house, designed by Frank Lloyd Wright, Jr., was built in 1925, was 3950 sq ft, and sat on a quarter-acre lot. It had 5 bedrooms and 5 baths.

Sales history of the house, post-Joan, according to the US Modernist architecture site: Sold in 2001 to Brad Hunter. Deeded in 2004 to Adele and Gordon Binder. Sold in 2005 to the Raymond Janan Living Trust.

Click here to see two 1928 shots outside of home by Ruth Harriet Louise; an exterior photo and six photos of the house when it was put on the market for $3.5 million in February 2005; and two more-recent photos from the US Modernist site.
---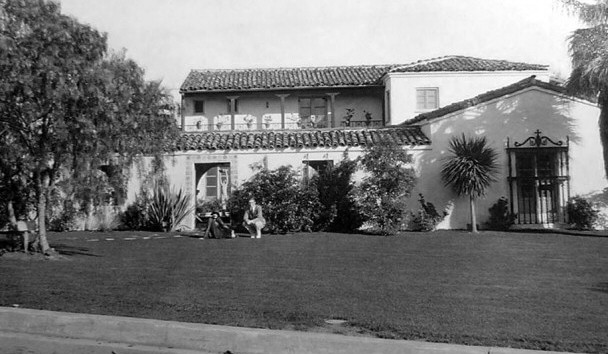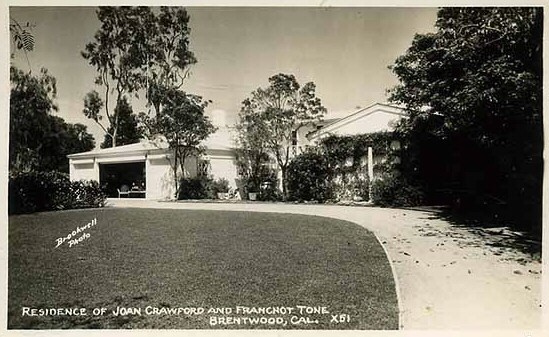 426 N. Bristol Avenue, Brentwood
Joan lived in this 8103-sq-ft house from September 1928 until her 1955 marriage to Pepsi executive Al Steele. She sold the property to Donald O'Connor in 1957.
Photos:
1931: New Movie article with architectural drawings of the house as well as many more interior shots.

1937: Aerial view, detailing each building on the estate. (Thanks to Matthew.)
1944: Motion Picture article with 10 color interior photos.
1948: Modern Screen article with 8 color interior photos.
1950: Screen Guide article with 13 interior photos.
Unknown year: 2 color interior shots (Courtesy of Bryan Johnson.)
Click here to see renovation and post-renovation photos (and to read an account by a fan who snuck onto the property during 2005 renovations):
2 exterior pictures of renovations from May '04 and February '05
5 interior renovation shots from 2006
2 exterior photos of the final results (shot by Joel W. Marsh in December '06)
1 great interior shot of the living room from 2004 or 2005 (thanks to Chris)
1 exterior shot from April 2012 (thanks to John)
2 exterior shots from February 2013 (thanks to Dan S.)
County tax receipts for the property from 1929 and 1931.
---
8008 West Norton Avenue
This apartment was used only as an office for Joan's secretary Betty Barker. Joan never lived here during her visits to Los Angeles after husband Steele's death, though she did use this return address on her stationery during this time.
Joan's actual Los Angeles address post-Steele through the early 1970s was in a building owned by Loretta Young: 8313 Fountain Avenue, Apt. D, which was only a few blocks away from Norton Ave. It was a two-bedroom, two-floor condo, for which Joan paid @ $400 per month.
If you have any photos of the Fountain Avenue address, please e-mail me.
---
New York City
From late April 1924 (when she left Detroit) until December 22, 1924 (when she went home to Kansas City for the holidays, then received a December 25 telegram to report to Culver City after a successful NYC screen test), Joan first lived in New York City while performing in J.J. Schubert's "Innocent Eyes" and "The Passing Show of 1924." According to her autobiography, Portrait of Joan, she at this time lived with five other showgirls:

Five of us shared one room in an old brownstone on Fiftieth Street just off Fifth Avenue. Our beds stood in a row like the dwarfs' in Snow White. You could tell which corner was mine---the window was plastered with my hankies, panties and stockings (I had two pair). When it was cold enough, they froze.

I have not been able to discover the name of the hotel where Joan and fellow showgirls stayed in 1924. It was NOT the Barbizon Hotel, as claimed by many sources. That hotel was (and is still, as a condo since 2006) located at 63rd and Lexington, not 50th and Fifth. And the Barbizon wasn't even built until 1926 (or 1927 or 1928---sources vary. At any rate, it wasn't there in 1924).
---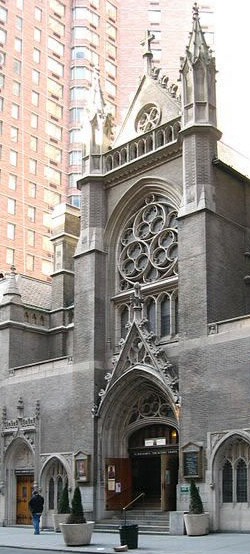 239 W. 49th Street (between Broadway and 8th Ave.)
Site of Joan's first marriage, to Douglas Fairbanks, Jr., on June 3, 1929.
Click here to see 6 other interior and exterior shots, plus the signed wedding registry.
36 Sutton Place (at 55th Street)
This was husband Al Steele's "bachelor pad," where he and Joan stayed while waiting
for their East 70th Street apartment (below) to be renovated. It's a 17-story red brick building, built in 1949 and converted to a co-op in 1962. There are 101 apartments in the building.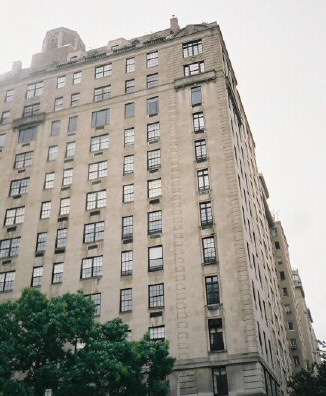 2 East 70th Street, at Fifth Avenue
Joan lived in this 8-room (renovated from 18-room) corner penthouse apartment overlooking Central Park from 1957 to 1967.
Click here to see interior shots and to read Joan's description of the apartment from My Way of Life, as well as designer Carleton Varney's description from 1965.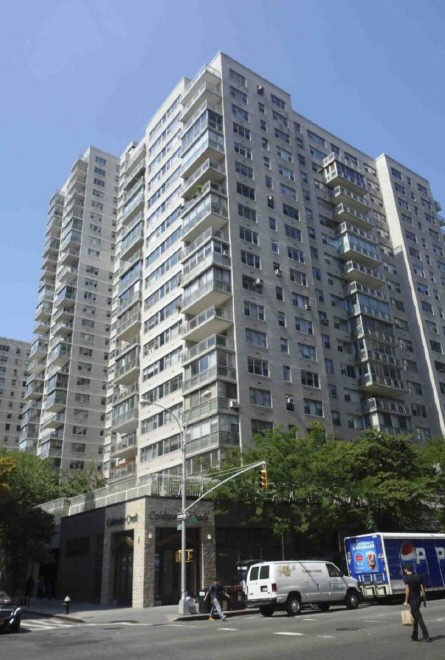 Imperial House, 2015. Note the Pepsi truck out front!
Imperial House. 150 East 69th Street (between Lexington Avenue and 3rd Avenue)
The Imperial House was built in 1960 on the former site of the New York Foundling Hospital. It has 30 floors and 378 apartments. It was converted to a co-op in 1971.
Joan lived in the 9-room apartment 22-G from 1967 to September 1973. The apartment cost @ $500,000.
Click here to see interior shots and to read Joan's description from My Way of Life and designer Carleton Varney's description.
Also included on this page is a floor plan of the apartment and color photos of how it looked when put on the market for $5.5 million in 2007.
From September 1973 until her death in May 1977, Joan lived in the 5-room apartment 22-H, which cost $85,000.
Click here to see interior shots and to read the accompanying Architectural Digest text, as well as Joan's reaction to the 1976 magazine article and designer Carleton Varney's description of the apartment and the magazine shoot.
NOTE: It's been incorrectly reported on the findadeath.com site that this building has been torn down. As of 2015, at least, it's still standing.
---
Addendum: Ferncliff Mausoleum
Joan's ashes are interred next to those of husband Alfred Steele at Ferncliff (Unit 8, Alcove E, Crypt 42), which is located in Hartsdale, New York, about 40 miles north of New York City.
Photos of the cemetery, Joan's crypt, and/or environs:
---
The Best of Everything