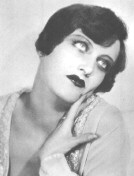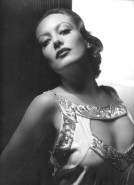 The Best of O
Sheila O'Brien • Tom O'Brien • Donald O'Connor • Scarlett O'Hara • Sally O'Neil • Michael Sean O'Shea •
Jack Oakie • Arch Oboler • Clifford Odets • Old Clothes • One, Two, Three • The Only Thing • Oriole Terrace • Mary Orr •
The Oscar • Our Blushing Brides • Our Dancing Daughters • Our Modern Maidens • Tony Owen
---
O'Brien, Sheila. (10/9/02 - 1/26/83) O'Brien started as a seamstress at Paramount, leaving in the mid-1930s to work in MGM's wardrobe department, where she met Joan and began creating dresses for Joan's personal use. She was the founder of the Costume Designers' Guild in 1953 and designer for Joan on 8 post-MGM films: Flamingo Road (1949), The Damned Don't Cry and Harriet Craig (1950), Goodbye My Fancy (1951), This Woman Is Dangerous and Sudden Fear (1952), Johnny Guitar (1954), and Female on the Beach (1955). According to the book by David Chierichetti on designer Edith Head, Joan and O'Brien had a big falling out during the Female on the Beach production, and barely spoke after that. O'Brien worked on 2 other films in the 1960s, but other than that seems to have disappeared professionally after Female.
(Trivia: After Joan was cast in From Here to Eternity, Joan objected to the wardrobe and insisted on O'Brien; studio head Harry Cohn subsequently fired Joan in favor of Deborah Kerr.) (JC)
---
O'Brien, Tom (7/25/1890 - 6/8/1947) Appeared with Joan in three films: Twelve Miles Out (1927), Winners of the Wilderness (1927), and Untamed (1929).
---
O'Connor, Donald. Actor, subsequent owner of Joan Crawford's Brentwood home after she moved to NYC with Al Steele in 1955.
---
O'Hara, Scarlett. Role that Joan was reportedly up for. Re the extensive search for the perfect Scarlett, Joan said: "Suddenly every dame in Hollywood was talking with a Southern accent." (CM)
---
O'Neil, Sally. Co-star, with Joan and Constance Bennett, of Sally, Irene, and Mary.
---
O'Shea, Michael Sean. Friend of Joan in her latter days, she left him $5,000 in her will.
---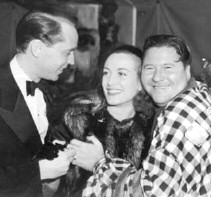 Oakie, Jack (11/12/03 - 1/23/78). Bombastic comedian known primarily for his second-banana roles, Oakie was born Lewis Offield and had a 40-year film and TV career, receiving an Oscar nomination for his supporting Mussolini-esque role in Chaplin's 1940 film The Great Dictator.
He and Joan met in 1924, while both were members of the chorus in J.J. Shubert's New York production of "Innocent Eyes." Said Joan, "...[Oakie] became a very good friend. He was from Missouri, too. There was nothing romantic between us, but we spent a lot of time together walking through Central Park and down Fifth Avenue..." (CM) They parted when Oakie went on the road with "Eyes," but met up again 4 years later at a movie premiere at Grauman's Chinese Theater. Oakie began to sing, "When hearts are young in organdy days...," a song from the show. (JC) (He and Joan also both made cameo appearances in the '31 short film Stolen Jools.)
In 1981, the Academy of Motion Picture Arts and Sciences established the Jack Oakie Lecture Series, to honor achievement in film comedy.
---
Oboler, Arch (12/7/1909 - 3/19/1987). Playwright and radio pioneer. Joan appeared on his 1939-40 NBC Radio show "Arch Oboler's Plays" on 3/2/40, in "Baby."

From the Lima, Ohio, city paper at the time of the broadcast:
Joan Crawford Will Play Lead Role In Radio Drama
Joan Crawford, movie star for whom Arch Oboler has just completed "Fall 0f a Woman," his first motion picture script, will appear at her own request in the leading role of "Baby," one of his most outstanding radio dramas, which will be repeated over WEAF Saturday at 8:00 p. It is an original score for this study of a woman who has just been told by her doctor that she is soon is to become a mother.
Wikipedia: Arch Oboler's Plays and Arch Oboler.
---
Odets, Clifford. New York playwright, member of the Group Theater, of which Joan-husband Franchot Tone was a part.
---
Old Clothes. MGM silent, 1925. Directed by Edward Cline, 65 minutes. Joan plays "Mary Riley," a destitute girl befriended by a clever young junk dealer. The film features child star Jackie Coogan, Jr. ("adorable" according to Joan, though his father--"a dirty pig!"-- insisted on a casting couch session before Joan was cast from 150 hopefuls). (EB) Said Joan in CWJC: Jackie Coogan stole "Old Clothes," but his father cast me in the film and insisted that I use the new name [Joan Crawford]. It wasn't really too bad of a picture.
---
One, Two, Three. Billy Wilder film, starring James Cagney as a promoter of Coca-Cola in Germany. Joan phoned Wilder to protest the Coke connection, and Wilder added a final scene in which Cagney emerges from an airplane to find a Pepsi cooler, then kicks it. (JCB)
---
Only Thing, The. MGM silent, 1925. Directed by Jack Conway, 62 minutes. An Eleanor Boardman costume-picture supervised by Elinor Glyn, with Joan as an extra in crowd scenes. Said Joan in CWJC: Forget about "The Only Thing." It was compounded stupidity, one of those phoney things Elinor Glyn turned out.

[Editor's Note: This film has often been confused with another 1925 film, The Circle, regarding Joan playing a character, "Young Lady Catherine." The Circle has a documented cast list and photos of Joan in the role, while available The Only Thing info does not even list a "Young Lady Catherine" as a character.]
---
---
---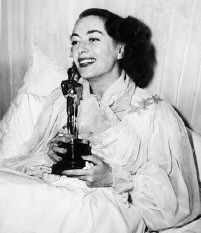 Oscar, The. Joan got one in 1946, for her role in Mildred Pierce. (Competition that year: Ingrid Bergman for The Bells of St. Mary's, Greer Garson for Valley of Decision, Jennifer Jones for Love Letters, and Gene Tierney for Leave Her to Heaven.) Joan thought she would lose and that Bergman would win: "I can compete with a servant girl [Garson's character], with a tramp [Tierney's], an amnesiac [Jones'], but not with a nun [Bergman's]." A post-victory telegram that night from Louis B. Mayer (head of MGM, Garson's current studio, and Joan's former boss) said: "I voted for you and not Greer Garson." (Click on the above "Mildred" link to read a lengthy excerpt of Joan's thoughts on this evening.)
Joan was nominated two more times for Best Actress: for 1947's Possessed and 1952's Sudden Fear. Her only film to win the Best Picture Oscar was 1932's Grand Hotel, although Mildred Pierce was also nominated.
In other Oscar news: Joan was a big presence at the April 8, 1963, Oscars (held at the Civic Auditorium in Santa Monica), the year her co-star Bette Davis was nominated for What Ever Happened to Baby Jane? Not only did Joan present the award for Best Director (David Lean for Lawrence of Arabia), but she had also made arrangements with Best Actress nominees Geraldine Page (for Sweet Bird of Youth, which Page says was based partially on Joan) and Anne Bancroft (The Miracle Worker) to accept their awards since they were unable to attend. Bancroft won, and Joan quite happily swept past Davis in the wings to accept the award, and the attention. (DF)
As for the statue itself that Joan received for Mildred Pierce: Daughter Cathy LaLonde sold it in a June 1993 Christie's auction for $68,500 to an anonymous bidder. The statue came up again for auction on September 25, 2012, at Nate D. Sanders, where it was sold (again, anonymously) for $426,732.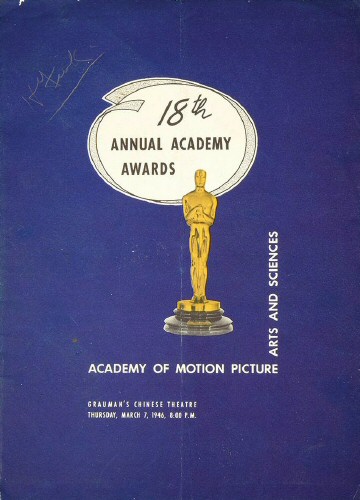 ---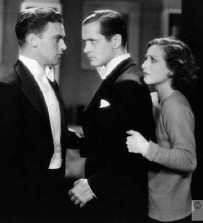 Our Blushing Brides. MGM, 1930. Directed by Harry Beaumont, 74 minutes. In the third and final part of the loosely linked "Our"-series, Joan plays "Gerry" and co-stars with Anita Page and Dorothy Sebastian. The trio are love-hunting sales clerks and "mannequins" for a large department store. Robert Montgomery co-stars as the son of the store owner. Says Joan in CWJC: ...another dud. Poor Bob Montgomery didn't stand a chance with the script; fortunately my part was okay.
---
Our Dancing Daughters. MGM silent film, 1928. Directed by Harry Beaumont, 86 minutes. Joan plays "Dangerous Diana," a free-spirited, partying, pure-of-heart socialite in love with an heir (Johnny Mack Brown) who's pursued and caught by the wily Anita Page. Dorothy Sebastian plays the nice, "slightly soiled" friend. This is the movie that made Joan a star, as well as the post-Clara Bow role model for flaming youth. Says Joan in CWJC: ...a field day for me--I think it was the first time the script department was told to write strictly for Crawford. Good dancing, good comedy lines, good support from Johnny Mack Brown and Nils Asther. Loved every minute of it.
On a side note, this film is also noted for being the first to feature the art deco style. From the book Art Deco Chrome by Jim Linz (Schiffer, 1999): Co-starring with Crawford were stunning art moderne sets by Cedric Gibbons. Public reaction to Gibbons' sets was so favorable that other studios immediately began to put art deco sets into their films. The movie palace, itself, was also transformed into an art deco showplace where the public could experience the latest in art deco design. Movie magazines promoted the lavish art deco lifestyles of the Hollywood stars. Many stars attempted to recreate the lavish art deco movie sets in their homes.
---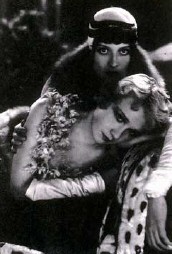 Our Modern Maidens. MGM, 1929. Directed by Jack Conway, 70 minutes. Joan stars as "Billie Brown," daughter of a rich businessman. She falls in love with a diplomat (real-life husband Douglas Fairbanks, Jr., in their first film together) and marries him, though he truly loves another (Anita Page), as does Billie. Says Joan in CWJC: "Our Modern Maidens" paired me with Douglas Fairbanks, Jr., and we all know what that led to. Good film, though, and the first one that gave the wardrobe department a chance to go all out to make Crawford a clotheshorse.
---