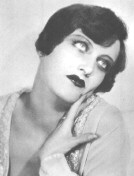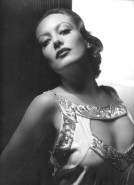 The Best of H
---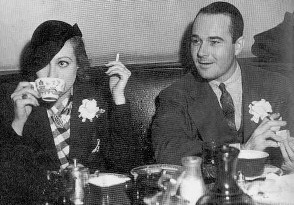 Haines, William. (1/2/1900 - 12/26/73) MGM silent star who befriended Joan upon her arrival in Hollywood and appeared in 5 films with her: Sally, Irene, and Mary ('25); Spring Fever ('27); West Point ('28); The Duke Steps Out ('29); and The Hollywood Revue of 1929. His acting career, which lasted from 1922 to 1934, was cut short when MGM head Louis B. Mayer, disturbed by possible public ramifications of Haines' homosexuality, demanded that Haines either give up his lover Jimmy Shields or his career. Haines bravely chose his lover, then went on to a successful interior design business, with clients like Joan and Carole Lombard backing him early on (and the Bloomingdales and Reagans backing him later on). AMC aired an Emmy-nominated Haines documentary in 2001--Out of the Closet, Off the Screen; also check out the biography Wisecracker (Viking, 1998) by William Mann.
---
Hair. Joan was quoted in the April '57 issue of Esquire: "I think that the most important thing a woman can have--next to talent, of course--is her hairdresser."
---
Haldane, Thecla. Free-lance photographer who worked for Pepsi, and with Joan, for over 10 years. (MWOL)
---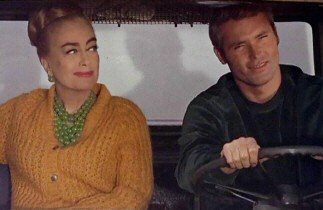 Hardin, Ty (1/1/1930 - 8/3/2017)
Hardin was born Orison Whipple Hungerford, Jr., in NYC and raised in Texas. After serving in Korea, he made his way to Hollywood in 1957, first signing with Paramount and then with Warners in 1958. He is perhaps best known for starring in the ABC TV series Bronco from 1958 to 1962. His later film career included co-starring with Joan in 1968's Berserk!
---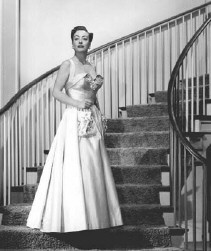 Harriet Craig. Columbia, 1950. Directed by Vincent Sherman, 94 minutes. Based on the play "Craig's Wife" by George Kelly, and a remake of 2 earlier movies titled Craig's Wife: the first in 1928, directed by Cecil B. DeMille; the second in 1936, directed by Dorothy Arzner and starring Rosalind Russell. Joan plays the title character, a manipulative wife who eventually alienates all those close to her. Says Joan in CWJC: Harriet Craig was all right. Formula but not too bad. At least I played a woman with which a portion of the audience could identify. Or is it "with whom"?
---
Harlow, Jean. Said Joan in CWJC: She was one of Metro's real biggies, but a more tragic person you can't imagine.
---
Harvard Lampoon. The university's satirical magazine offered up film awards from 1939 to 1983 (with brief reappearances in '90, '92, and '94). Joan was "honored" on several occasions:
1944: Hollywood Canteen nominated for one of Ten Worst Pictures of the year.
1945: Joan winner of "Oldest Actress of the Year."
1946: Joan winner of "Actress with the Most Toes in the Grave."
1953: Torch Song nominated for one of Ten Worst Pictures.
1959: The Best of Everything--WINNER of Worst Picture of the Year
---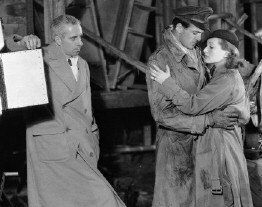 Hawks, Howard. (5/30/1896 - 12/26/1977) Legendary director (as well as writer and producer) who worked with Joan in 1933's WWI tale Today We Live, which co-starred Gary Cooper. He made his directorial debut in 1926 and went on to make a number of classics that spanned a variety of genres, from screwball comedies to gangster films and noirs to Westerns. Some of his best-known films: Scarface ('32), Bringing Up Baby ('38), His Girl Friday ('40), Sergeant York ('41--his only Oscar nomination), To Have and Have Not ('44), The Big Sleep ('46), Gentlemen Prefer Blondes ('53), Rio Bravo ('59). He was awarded an honorary Oscar in 1974. IMDb info.
---
---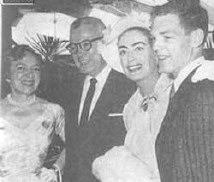 Hayes, Helen. (10/10/1900 - 3/17/1993) U.S. actress, occasional friend of Joan's. Click here for a catty excerpt re Joan from Hayes' 1990 autobiography. IMDb info.
---
Head, Edith. (10/28/1897 - 10/24/1981) Born Edith Claire Posener in San Bernardino, California, famed costume designer Head graduated from Berkeley and Stanford and went on to receive an unprecedented 35 Oscar nominations and 8 Oscars between 1949 and 1978, making her both the most honored costume designer and woman in Academy Award history.
She began her film career in 1923 at Paramount, where she worked until 1967 (becoming the head designer in 1937), and after '67 was in-house at Universal until her death in 1981. During those nearly 60 years, she designed costumes for almost every major female film star, including Mae West, Stanwyck, Davis, Taylor, Doris Day, Dietrich, Grace Kelly, and Audrey Hepburn.
Although Head never dressed Joan in a movie (well, except for the ringmistress outfit in 1968's Berserk), the two did have some professional, and apparently attempted non-professional, contact (although the latter seems a bit, oh, invented!). From David Chierichetti's book The Life and Times of Hollywood's Celebrated Costume Designer Edith Head:
Crawford next came to Paramount in 1955, for a film to be titled "Lisbon." Edith designed and fitted the dresses, which Crawford bought when the film was canceled. Edith agreed when Crawford asked her to design some more for her private wardrobe, but was dismayed when she went to Crawford's house to discuss the sketches and Crawford poured drink after drink. ... Edith was wary of what else Crawford might have in mind and wanted at the very least to get home for dinner without a traffic accident. She had Frank Richardson advise Crawford that having Edith design personal clothes was a privilege reserved for Paramount stars, and as Crawford never worked there again, Edith was off the hook. (She later did a couple of gowns for Crawford to wear to the Academy Awards.) [Webmistress' note: The gowns were for the 1963 and 1964 Oscars.] Jane Ardmore, who collaborated with Crawford on her autobiography, Portrait of Joan, suggested a few times that she, Edith, and Crawford get together for a "hen party," but Edith declined, pleading a busy schedule. Crawford never stopped trying, even mentioning the "Lisbon" clothes in Portrait of Joan. Despite persistent rumors that Crawford, Stanwyck, and Head met regularly for a Sapphic "sewing party," Jane Ardmore couldn't persuade Edith even to have lunch with Crawford once.
Some trivia: It was Head who declared that Joan's famous dress from Letty Lynton was the single most important influence on fashion in film history. In non-Joan-related trivia: The last film Head worked on, Dead Men Don't Wear Plaid, released in 1982, the year after her death, was dedicated to her. In 2003, she appeared on a US postage stamp, as part of the "Filmmaking" series. And 2004's animated film The Incredibles features a very Head-like character, Edna Mode. IMDb info.
Thank you to Arthur for providing the quote from the Chierichetti book.
---
---
Hemingway, Ernest. From an April 1975 Esquire magazine article by Robert Scheer:
Once upon a time at the Stork Club, Joan Crawford spied Ernest Hemingway across the room. Interested in meeting him, she dispatched her escort, a young Pepsi-Cola executive, to inform the writer that he ought to join her table. Don Kendall, playing the eager protege dutifully went over and said, 'Mr Hemingway, Miss Crawford would like to talk to you.' To which Hemingway roared out for the benefit of the attendant and gossipy patrons, 'Tell her to bring her ass over here if she wants to meet me.' Being untutored in the ways of New York Society, there wasn't much that Kendall could do but assume the abject role of the typical male in a Crawford flick and retreat humbly to his boss's wife.
---
Hepburn, Katharine. In CWJC, Joan says Hepburn (along with Bette Davis) is one of her most-admired actresses: Both on and off the screen Kate is one of the great women, great persons, of our time. (Funny; I never resented her for a moment at Metro; I never regretted not getting a part she got. I'd sneak on her sets when I could, and admire, just plain admire...)
---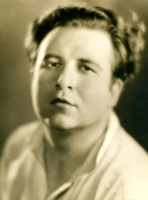 Hesser, Edwin Bower (4/23/1893 - 8/7/1962).

Inspired by Ziegfeld Follies photographer Alfred Cheney Johnston, former theater manager and actor Hesser became an "art photographer" (read: nudes) in 1919, publishing his Hesser Arts Monthly magazine (later Arts Monthly Pictorial) beginning in 1922. From 1921 through the end of the '20s, he was a frequent photographer of both stars and starlets (including Joan in 1929) for Hollywood fan magazines. According to the Broadway Photographs site: "Hesser's...nudes of showgirls in natural light became the academic standard for art photographers in the 1920s, while his portraits of movie actresses and stage stars were greatly influential images of glamour from 1925 to 1930." After LA troubles with the law, Hesser attempted to develop a color photographic system to rival Kodak's, worked as a photo technician for the New York Times, and continued to practice photography through the 1940s.
Broadway Photographs site bio / Feature: Hesser's Strange and Arty Journey. IMDb page.
---
Hints from Heloise. Joan contributed to this "helpful hints" newspaper column in 1962 with a published letter giving advice about packing and unpacking while travelling. Text:
Dear Heloise: Knowing that many people travel in the summertime, and after reading your column, I am writing to tell you how I pack so that it might help others. I pack all of my hair items in one makeup box and all of my makup items in another. Then I lay out each dress on a portable rack, on its hanger. (By the way, when I do pack the dress, I put it in the suitcase right on its own hanger! Hotel rooms so seldom have enough hangers or the correct type.) I never pack a dress in a suitcase until I have laid out the matching shoes, purse, gloves and hat that I will wear with it. Then I pack my gloves and kerchief inside the purse that I will be carrying. A bed is an excellent place to put out all the items.
When I have the entire outfit together, then I pack it. I always see that the belt is attached to the dress hanger for each dress. I have a special case for my hats. It is tall hatbox style. I always stuff my hats carefully with tissue paper, and I put a good deal of the tissue inside the hatbox so they will not rattle around in traveling. When I get to my destination, I unpack all of my clothing, including the hats so they can "stretch out and breathe." I never let my hats stay in their case. As I wear each dress, I put it in the bottom of the suitcase on its hanger so I don't have to unpack that one again. I always wash my underwear each night. One thing I cannot stand is to pack soiled clothing with clean clothing. If possible, I also wash out my dresses each night. They are then clean to repack. Even if I do not have time the next day to iron them--at least they are clean when I repack them.
---
---

Hollywood Babylon. Decadent Hollywood as told by underground filmmaker and former child actor Kenneth Anger. Babylon I came out in 1975 (Bell, NY) and featured Joan on two pages (nothing too exciting: a fully-clothed full-page photo and a brief bit about her Depression-era exhortation "I, Joan Crawford, I Believe in the Dollar. Everything I Earn, I Spend!").
Babylon II (1984, Dutton, NY) goes to town, though, with a couple of photos of her in a section on William Haines and a whole photo section (no text) called "Witch Joan," which features 4 nude shots allegedly of her...but THEY'RE NOT HER! (You be the judge: see sample photo at right.)
---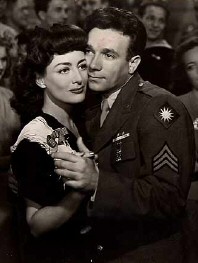 Hollywood Canteen. Warner Brothers, 1944. Directed by Delmer Daves, 123 minutes. Joan makes a brief cameo in her first film for her new studio. (The plotline of the film centers around the Canteen and involves a serviceman attempting to meet his favorite star, Joan Leslie.) This entertaining-the-troops picture also features cameos by Bette Davis, the Andrews Sisters, Jack Benny, Sydney Greenstreet, and many other Warners biggies. Says Joan in CWJC: A very pleasant pile of shit for the wartime audience, but forget that I even appeared in it. I don't think I did.
History of the actual Canteen.
---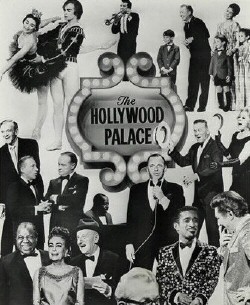 Hollywood Palace. Joan hosted this hour-long ABC variety show that ran from 1964 to 1970 twice: 10/9/65 and 4/22/67. See this site's TV page for more info.
---
Hollywood Revue of 1929. MGM's first talkie showcase for its stars. Directed by Charles Reisner, 82 minutes. Joan dances and sings "Gotta Feelin' for You" and appears in the closing "Singin' in the Rain" number with the rest of the all-star cast. Says Joan in CWJC: ...one of those Let's-throw-everyone-on-the-lot-into-a-musical things, but I did a good song-and-dance number.
---
Home movies. In 2006, Joan's grandson discovered some rare home-movie footage of Joan from the late-1930s to early-1940s among his mother's (Cathy LaLonde's) possessions. Around 4 hours of raw footage was edited to a half-hour and first displayed at a UCLA Joan retrospective in 2008. Some of the footage later appeared in the Investigation Discovery channel's program "The Will: Family Secrets Revealed" in November 2010. Click here to see some screen shots from the TV-show footage.
---
Hope, Bob. Joan appeared on Hope's NBC "Buick Show" on 10/14/58 and 10/3/60.
---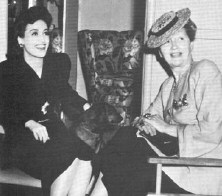 Hopper, Hedda. (5/2/1885 - 2/1/1966) Hopper held quite some sway in Hollywood via her influential gossip column that ran for 28 years, from 1938 to 1966. She started her career as an actress, appearing in over 100 films between 1916 and 1942 (after the latter date continuing to make cameo appearances as herself). She appeared with Joan four times: in the 20-minute short film The Stolen Jools (1931), Our Blushing Brides (1930), I Live My Life (1935), and The Women (1939). Click here to read an excerpt re Joan from 1962's Hedda Hopper's Hollywood. IMDb info.
---
Horoscope of Joan. Joan was an Aries, Pisces cusp (March 23). See this astrotheme.com page for an analysis of her astrological character (interesting, albeit the birth year is wrong, which most likely skewed the whole thing). Says Joan in Conversations with Joan Crawford re horoscopes:
I remember one really stupid period in my life; it lasted about six months. It was back in the fifties, when there was a big horoscope craze in Hollywood, and I got into the thing with a lot of other half-wits, and if I was told that Tuesday would be a bad day, sure enough, Tuesday was a bad day, a terrible day. But as time went along and I got weirder and weirder, it occurred to me that the horoscope idiots didn't know a damned thing, that I was making up my own bad days just by listening to their nonsense and believing in it. I got out of that bag in a hurry, one hell of a hurry, and I think I've been solely responsible for creating my good days and my bad days ever since. And believe me, I've stirred up some bad ones.
See also this separate page for a natal chart and 1931 horoscope for Joan by astrologer "Wynn." And this August 2016 horoscope by Joseph Addeo.
For an exploration of the disputed year Joan was born, see this Encyclopedia entry for Birthdate of Joan.
---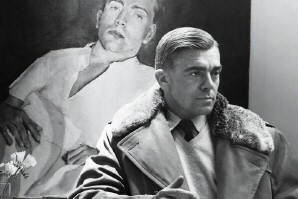 Horst P. Horst (8/14/1906 - 11/18/1999). Renowned fashion and society photographer, most famously for Vogue, whose aesthetic later influenced Avedon and Mapplethorpe, among others.
Horst shot Joan for the February 1, 1938, issue of Vogue. See this site's 1938 Photos page (top row of "Unknown or Other") for 3 of his Joan photos.
Born Horst Paul Albert Bohrmann in Germany, Horst emigrated to Paris in 1930 to study architecture with Le Corbusier. While in Paris, he met Vogue photographer Hoyningen-Huene and began his own association with Vogue in 1931, a collaboration that would last for the next 60 years. His first photography exhibition was held in Paris in 1932; after a review by Flanner in The New Yorker, Horst became internationally prominent. Artnet.com describes his work thus: "His unique aesthetic can be described as a mixture of Surrealism and Neoclassicism with its reverence for ancient Greek ideals and focus on form and mystery, creating a vibrant sensuality that set his work apart."
Horst joined the US Army in 1943 and became a US citizen the same year; he died at his home in Florida in 1999.
Official website Wikipedia page artnet.com page Victoria and Albert Museum timeline
---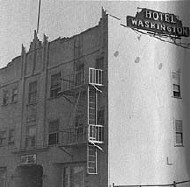 Hotel Washington. 3927 Van Buren Place, Culver City. Upon Joan's first arrival in LA on January 3, 1925, MGM arranged for her to stay here. It would be her home for over 6 months, before she could afford to rent her first bungalow.
Said Joan (from Not the Girl Next Door):
I was happy at the Hotel Washington. I didn't really want to go to sleep at night, and I was anxious to wake up early every morning because every new day held promise. It wasn't until months later that I noticed that Hotel Washington was, you might say, sort of a dump. It hadn't changed, so I guess I had.
See the Geography: Los Angeles page for 10 photos, and a history of the hotel from Hotel Washington to West End Hotel to today's Palihotel Culver City.
---
Howe, James Wong. MGM cameraman. Says Joan in CWJC: I remember Jimmy, probably the best cameraman ever, telling me how important it was to "put shit on a sundae and make it look like chocolate."
---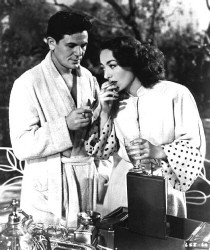 Humoresque. Warner Brothers, 1946. Directed by Jean Negulesco, 125 minutes. Joan's second Warners picture, she stars (though she doesn't appear for the first 30 or so minutes) as "Helen Wright," a jaded socialite who takes up with the ingenue violinist played by John Garfield. Based on the 1919 story by Fannie Hurst. Says Joan in CWJC:
I have mixed feelings... John Garfield, who really was a brilliant young actor, did a fine job. He was so much the young, struggling musician I think the audience felt he really played the violin himself. Negulesco directed it with feeling, the right sort of feeling. And most of the time I thought I was doing well. But when I finally saw it, not just the rushes or the unedited film, but the final print, it reminded me of "Rain" and I cringed. I overacted and overreacted in so many scenes. I don't know. I should have done better.
---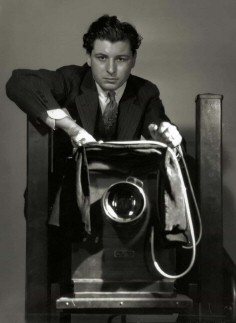 Hurrell, George. (6/1/1904 - 5/17/1992) Photographer Hurrell was born in Kentucky, raised in Cincinnati, and attended the Art Institute of Chicago. He came to Hollywood in 1925 and shot some pictures of socialite aviatrix Poncho Barnes, who introduced him to MGM silent star Ramon Novarro. Hurrell shot a series of portraits of Novarro that the pleased star showed around the MGM lot. Norma Shearer, tired of her regal-lady image and badly wanting the upcoming more-risque role in MGM's The Divorcee, liked Hurrell's style and in 1929 asked him to photograph her. The shots convinced her doubting husband, MGM production chief Irving Thalberg, of her sensuality and got her the role. Hurrell was hired as MGM's head of photography in 1930 and worked there until 1932, when he quit after MGM tried to prevent him from shooting non-MGM stars. He worked as an independent from then until 1943, when he retired from Hollywood portraiture.
From 1930 to 1937, and then again in 1941, Hurrell and Joan collaborated on 33 photographic sessions. The most famous, perhaps, are the sessions shot to promote her 1932 film Letty Lynton.
In John Kobal's 1969 book People Will Talk, Hurrell said about Joan:

I made more photographs of Crawford perhaps than any other. She liked to pose. She was very pliable. She gave so much to the stills camera. She would work at it. She'd spend a whole day, changing maybe into twenty different gowns, different hairdos, changing her makeup, changing everything. She'd spend maybe an hour between changes just getting herself ready for the next attire. In a sense she used this opportunity to try to present a new image that might possibly work for her whole screen personality. I would start out with some kind of different approach before she even arrived. Every time there was a different kind of lighting, to a certain extent, or different background or poses.

Crawford had the closest face to Garbo's, to perfect proportions. Crawford had strong jawbones, that's about all I'd say, because her cheekbones were good, and her forehead, and her eyes were good – maybe a little on the large side.

In Interview magazine (1981), Hurrell said:
Crawford was a natural at posing. She had an instinctive sense of design and of herself. I photographed her literally thousands of times, and each sitting was a new experience for both of us... she constantly altered her appearance, the color of her hair, eye makeup, eyebrows, mouth. Yet with all the changes there was a classic beauty, a weird kind of spirituality....Practically everything she did was a picture. She loved to be photographed. I think she'd rather do that than work in movies!...Sometimes I shot 100 to 150 negatives in one day, and different poses--and 100 more the next. I would work the whole day, until five or six. Sometimes by four o'clock I'd be tired and suggest that we finish up, but she never wanted to stop. She loved being looked at. 'Let's get one more, just for luck.'
And in International Photographer (1941):
Joan Crawford has always been the most decorative subject I have ever photographed. There is a strength and vitality about her that prevails even in the finished print. If I were a sculptor, I would be satisfied with just doing Joan Crawford all the time.
See this site's Photo Gallery (years 1930 - 1937 and 1941) for examples of Hurrell's work with Joan.
Recommended reading: Hurrell's Hollywood Portraits, a 223-page photo-book by Mark A. Vieira (Abrams).
Hurrell website Hurrell timeline Wikipedia page
---
Husbands of Joan. There were four of them: actor Douglas Fairbanks, Jr. (married June 3, 1929; divorced May 13, 1933); actor Franchot Tone (married October 11, 1935; divorced April 11, 1939); actor Phillip Terry (married July 21, 1942; divorced April 25, 1946); Pepsi executive Alfred Steele (married May 10, 1955; Steele died of heart failure on April 19, 1959). (There was also an alleged first marriage to sax player James Barratt Welton.) Says Joan in CWJC:
...we [actresses] really shouldn't have had husbands...It wasn't through competition between two actors who were married--it was the lack of time together and work schedules that left you so exhausted that when you were together you were both tired and nervous and a little uptight...a part of us wanted a real, personal, private life--husband, kiddies, fireplace, the works--but the biggest part of us wanted the career...
...with Doug I tried too hard...I was so intent on changing me and my lifestyle I'm afraid I overlooked the personal aspects of our relationship...With Franchot and Phil I didn't try hard enough. I needn't have let my career dominate me as much as I did. I was an established star--I didn't have to work as hard as I did and I needn't have spent so much time on the image thing. With Alfred I didn't try at all--everything worked out all by itself, as though it was meant to be that certain way and no other.
I think the main problem with my Hollywood marriages was the really overwhelming obligation I felt to my career. I was an actress first, I wife second; I worked almost constantly and even when I wasn't working there was that image thing of looking like a star, conducting myself like a star. I don't think it's easy for any man to take a backseat to a situation like that, and I didn't try to make it easier for them. I just went ahead like a bulldozer. I'm afraid I was a very selfish woman.
...To do it over again--well, in my personal life I'd have lived with men before marrying them; I'm not talking only about sex, but about the whole range of adjustments two people have to make to cohabit successfully. If one snores, can the other take it? If one smacks his lips can the other take that? And so on, bathroom habits, eating habits, likes and dislikes in food and hobbies and recreation and culture--Christ, there are so many grounds where people have to be copacetic if they're going to live together in a real marriage. But yes, sex is important, too, very important. Anyway, if I had really lived with those men before marrying them there may not have been any wedding bells at all, at least until Alfred came along. I just don't know, and I never will, because that sort of thing wasn't done in my day.
---
Hush, Hush, Sweet Charlotte. See the 1960s Chronology page for Joan's experiences on this set. IMDb info.
---