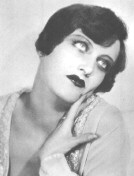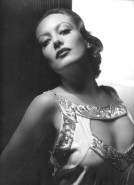 The Best of B
---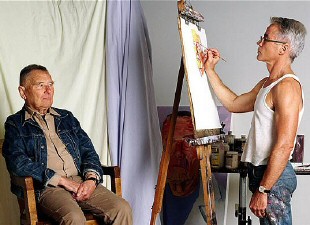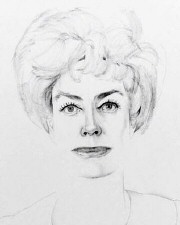 Bachardy, Don (5/18/1934 - ). American portrait artist and 30-plus-year partner of writer Christopher Isherwood. He and Isherwood were friendly with Joan, and Bachardy sketched her in 1974.
Sketch of Joan on this site's Art page.
---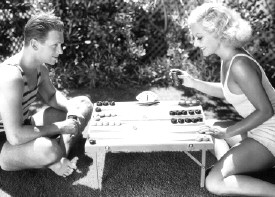 Backgammon. Joan loved the game and can be seen playing it in photos with husbands Doug Fairbanks Jr. and Franchot Tone in the '30s (the latter in their 1936 film Love on the Run), Philip Terry in the '40s, and Al Steele in the '50s. And, according to his 1979 book, Crawford: The Last Years, Joan also found a constant backgammon companion in Columbia publicist Carl Johnes during the early 1970s: "What she did...was impose the game upon me. Whether I wanted to or not, I was going to play backgammon with Joan Crawford. And Joan Crawford turned out to be a stern, gentle, impatient, entertaining, obsessive, and ultimately hilarious instructor."
---
Bailey, Pearl. See Memorial Service.
---
Baily, Bernard (1916-1996). American comic-book artist who had his heyday in the '30s through the '50s; perhaps best known for his DC Comics creations "Spectre" and "Hour-man." In the '30s, Baily worked on one-page movie-star bios, "Star Snapshots," for Quality Comics, including a page for Joan.
---
Bainter, Fay. Stage actress; Joan requested that she appear with her as the mean sister in '38's The Shining Hour.
---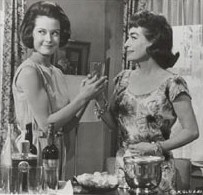 Baker, Diane (2/25/38 - ). Actress who's had an active film and TV career from her debut in 1959 to the present (most recently appearing in the '03 satire A Mighty Wind). She appeared with Joan in '59's Best of Everything, '64's Strait-Jacket (as evil daughter Carol), and '64's TV movie Fatal Confinement (aka Della). She was also interviewed for TCM's '02 Joan doc The Ultimate Movie Star and '02's Battle-Axe: The Making of Strait-Jacket, a short documentary included on the DVD, where she relates how Joan insisted on having the last scene in "SJ."
---
Balalaika. A 1937 MGM "Cossack musical" that, according to IRS records, Joan screened in her home around that time. It happened to feature Phillip Terry, whom she married 5 years later. (Ultimate Star)
---
Balboa Bay Club. California club that named Joan "Woman of the Year" in the early '70s at a banquet to benefit a charitable hospital. Claire Trevor, Jimmy Durante, Cesar Romero, and John Wayne were all in attendance, and producer David Wolper presented a film tribute. (JCB)
---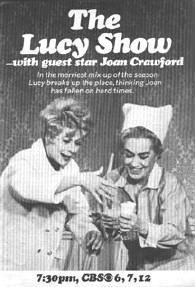 Ball, Lucille (8/6/1911 - 4/26/1989). Joan appeared on "The Lucy Show" on 2/26/68 as herself. Characters Lucy and Viv think she's down on her luck and try to get producers interested in her again by putting on a play.
Joan and Lucy apparently didn't get along. Click here to go to the TV Party site for an account of Joan's appearance on the show. And here for an account of more interactions between Lucy and Joan, and the book author and Joan, from Jim Brochu's Lucy bio.
---

Balls. According to Joan, Gable had 'em. According to Gable, Joan swung more than he did. And according to Joan in CWJC: I've heard stories about how I had balls...hell, Shirley MacLaine has balls, too, but that lady knows how to use them. I didn't, so life was sort of semi-tough for me, both personally and professionally.
---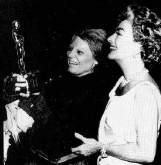 Bancroft, Anne (9/17/1931 - 2/6/2005). Winner of the 1962 Best Actress Oscar for The Miracle Worker (in competition with Bette Davis for Baby Jane). When Bancroft was unable to attend the awards ceremony in April 1963, Joan arranged to accept the Oscar on her behalf (thus satisfactorily upstaging Davis that evening). Bancroft also reportedly was first signed to play Joan in the 1981 Mommie Dearest film, but dropped out because she didn't like any of the scripts and because she feared industry repercussions.
---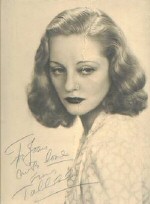 Bankhead, Tallulah (1/31/1902 - 12/12/1968). Irrepressible (to put it mildly) bisexual star of stage, screen, TV, and radio. Tallulah was born in Alabama to a political family; her father was the U.S. Speaker of the House from '36 to '40. After an unsuccessful stab at Broadway in the late teens, she moved to London and was a huge hit on the West End. She made her U.S. film debut in 1927, but only stayed in Hollywood for a few years, returning to the New York stage from the early '30s through the mid-'40s. (There she originated the roles in several plays that were later made into films without her, including "Dark Victory," "Little Foxes," and "Forsaking All Others"--a Joan vehicle in 1934.)
In '44 she briefly returned to the screen for two movies, one of which was her most famous, Hitchcock's Lifeboat. (She wouldn't appear onscreen again until the mid-'60s, when she did a couple of low-budget horror films.) The remainder of her career was again devoted primarily to the stage, with occasional guest appearances on TV (including "The Lucy Show") and radio.
Upon meeting Joan after her marriage to Doug Fairbanks, Jr., in 1929, Tallulah greeted her, "Darling, you're divine. I've had an affair with your husband. You'll be next." At the 1998 Christina Crawford and Lypsinka show at NYC's Town Hall, critic Rex Reed told a story about Joan attending a party for Tallulah and briefly upstaging her, making a begowned grand entrance dusted in gold glitter. Tallulah stormed off, but later re-emerged on her balcony, stark naked with gold glitter in her pubic hair, announcing "Guess who just went down on me?" (A favorite Tallulah quote of mine: "My father warned me about men and booze, but he didn't mention a word about women and cocaine.")
---
Barbier, Larry. MGM publicity man who met Joan at the bus station upon her arrival in Hollywood in January 1925 and drove her to her first California lodgings, the Hotel Washington.
---
Barker, Betty (9/30/1916 - 1/27/2012). Joan's Hollywood secretary from 1955 until Joan's death in 1977. Barker started hanging around Joan and husband Doug Fairbanks, Jr., as a fan and eventually worked for Howard Hughes in the '30s. Joan left her $35,000 in her will.
Said Joan in1962's Portrait of Joan:
Betty Barker, now my secretary, was one of our first fans. Bettina was a little twelve-year-old freckle-faced child. We'd find her sitting out on the curb after Sunday School. Bennett the chauffeur would slow down and Betty would chat with us; sometimes she'd come into the kitchen and have a glass of milk and a cookie. She was a gay, friendly girl and she obviously loved us. You couldn't resist that. I think that when Douglas and I split up, Bettina was bereft. We had looked as happy-ever-after to her as we did to ourselves.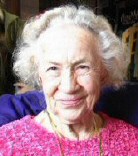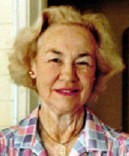 LA Times obituary (1/29/12):
Betty Barker, longtime secretary and assistant to late actress Joan Crawford, died in Los Angeles on January 27, 2012. Born in 1916 in Los Angeles, Betty was the daughter of the late Fletcher and Virginia (Shearon) Barker. She was also predeceased by her brother Fletcher (Dick) Barker, Jr. Betty grew up in Alhambra and attended Pasadena Jr. College. She promptly found employment because of her exceptional secretarial skills which served her well throughout her life. During World War II, Betty lived in Washington D.C. and became secretary to Admiral Frank Gorman, Chief Finance and Supply Officer of the Coast Guard. In 1944 she returned to Los Angeles to begin her secretarial career with RKO, and eventually became a personal secretary to the late Howard Hughes. Upon the relocation of RKO Studios to Las Vegas in 1955, Betty chose to remain in Los Angeles and began her long professional association with Joan Crawford whom she had known since the early 1930s. Betty's final position before her retirement in the mid-1980s began in 1977, after Miss Crawford's death, when she became the personal assistant to the late Eva Gabor. After her retirement, Betty volunteered regularly at The Cinema Glamour Shop (which benefited film-industry charities) until it closed in 2005. She was also a longtime member of WOMPI (Women of the Motion Picture Industry) receiving an award for her contributions to the organization. All of her life, Betty was passionate about current books and films and was an enthusiastic world traveler enjoying visits to most of the continents. Betty enjoyed acquaintances and relationships with famous film and stage stars and numerous other friendships, many of which extended back seventy-five years. Those closest to her described her as one of the most loyal, independent and dignified ladies they had ever known. Visitation will be at Abbott & Hast Mortuary, 315 Silver Lake Blvd on Tuesday, January 31 from 4-8pm and on Wednesday 10 am noon. Graveside service will be held on Wednesday February 1 at 12:30pm at Forest Lawn Cemetery in Glendale. Barker's permanent online Guestbook.
See also this separate page for 24 candid snapshots of Barker in the 1940s (some at Joan's home), 1962, and 1964, those in the '60s shot by Don Gusias.
---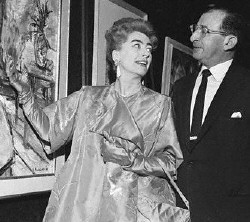 Barnet, Herbert. President of Pepsi-Cola after Alfred Steele's death in April 1959. Steele had hand-picked him as his successor ("Alfred and he were like brothers" said Joan), and at Barnet's recommendation, Joan was appointed to Pepsi's board of directors after Steele's death. In POJ (published in 1962) Joan wrote:
From the first Board meeting until today, Herbert has given me the sense of security and achievement so terribly necessary. 'We're a family, Joan,' he has told me so many times. 'We understand each other, we have a wonderful rapport.'... Working with Herbert is a rare privilege. I treasure his constant thoughtfulness for my well-being, my welfare and my happiness, I treasure his confidence and faith.
---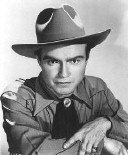 Barry, Don "Red" (1/11/1911 - 7/17/1980). Actor primarily known for his Republic Westerns. Joan had a brief affair with him following her divorce from Phillip Terry in 1946. Things didn't go too smoothly, however. Creditors re-claimed some expensive gifts he'd bought Joan, and the final straw came when he tried to buy the rights to the Broadway play "Anna Lucasta" for her, promising as collateral to deliver her in the film role. (Last Word)
---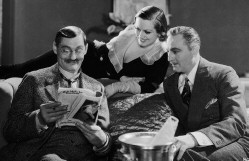 Barrymore, John and Lionel. Screen legends, brothers, and Joan's co-stars in 1932's Grand Hotel. ("Baron Felix von Geigern" and "Otto Kringelein," respectively.) According to JCB, John appeared for their scenes together "hung over and profane," while Lionel was "sympathetic."
IMDb John info. IMDb Lionel info.
---
Bartlett, Hall (11/27/1922 - 9/7/1993). Director, producer, and co-writer of 1963's The Caretakers.
---
Baum, Vicki. Author of the novel and play upon which the movie Grand Hotel is based.
---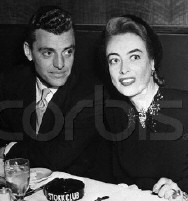 Bautzer, Greg (4/3/1911 - 10/26/1987). Hollywood lawyer and man-about-town with whom Joan had an intense on-again-off-again romance from 1945 through the early '50s. Joan pal William Haines told Bautzer that the ideal Joan mate had to be a "combination of bull and butler," and Rosalind Russell seemed to think Bautzer fit that bill:
He treated her like a star. When they entered a room, he remained a few steps behind her. He often carried her dog or her knitting bag...and, at the dinner table, Greg did everything but feed her. Joan expected her escort to place her napkin in her lap, light her cigarettes and open doors for her. Not many men would put up with it. Greg did all these things without losing his masculinity. He made it seem as if it were the natural thing to do. They were nuts about each other.
Noel Coward thought he had too many teeth. Christina found him "boisterous, fun-loving, handsome, dashing," though the couple's late-night violent fights scared her (MD). Joan herself told her press agent that she had "the most exciting sexual experience" of her life the night that Bautzer broke a window and bloodied himself to get to her. (LW) Their finale apparently came after a party at L.B. Mayer's when Bautzer--a ladies' man who'd been linked with Ginger Rogers, Merle Oberon, Rita Hayworth, and Lana Turner, among others--spent too much time talking to another woman. As he and Joan were driving home, she asked him to get out of the car to check a tire; she then zoomed off, leaving him to walk back to his apartment. (JCB)
Bautzer bio/timeline. Wikipedia page.
---
BBC. Joan appeared on the British Broadcasting Corporation on at least three occasions: An interview with Peter Haigh for "Picture Parade" on 8/7/56 touting her recent Esther Costello film (clips of her visit to the British Film Institute were also shown); on a program called "A - Z," which aired 11/9/56 (click here for transcript); and on "A Film Profile: Joan Crawford," a 30-minute interview promoting her film Berserk, airing on 6/6/67.
---
Beaton, Cecil (1/14/1904 - 1/18/1980). British society photographer, stage designer, and gadabout. In an article on file at the Lincoln Center, he writes of Joan:
She has become one of the most exotic pieces of affectation on the screen. It is occasionally most enjoyable to watch her exaggerated Frattellini clown makeup of white face, goggle eyes and enormous persimmon lips.... A detective is needed to discern any expression other than surprise....At one time she was insatiably interested in Miss Dietrich; then the Fairbanks Jr. house was littered with Marlene's photographs and gramophone records. Then she moved on to Lilyan Tashman, followed by the chief of her idols--Greta Garbo. (Divine Feud)
Click here to see a 1931 shot of Joan by Beaton. Wikipedia entry.
---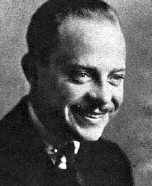 Beaumont, Harry (2/10/1888 - 12/22/1966). American director of Joan's 1928 smash Our Dancing Daughters and 1930's Our Blushing Brides, as well as '31's Dance, Fools, Dance and Laughing Sinners and the never-released 1931 MGM Joan vehicle Great Day. He also directed The Broadway Melody (1929), the first sound film to win an Academy Award for Best Picture.
In Essential Biography, Joan is quoted re the success of "Daughters" and re Beaumont: "I think it helped that Harry Beaumont let us be uninhibited because deep down he wanted to be uninhibited like us, too, but couldn't." The Divine Feud recounts that Beaumont claimed he saw Joan dancing in a nightclub and told MGM's Louis B. Mayer that she would be perfect for the role of Dangerous Diana. Joan denied this, saying "Mr. Beaumont never saw me dance anywhere. I had heard of the picture and I went to the story department late one night and stole the script..."
---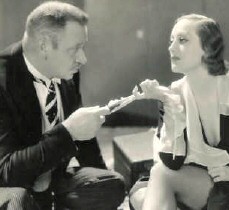 Beery, Wallace (4/1/1885 - 4/15/1949). This curmudgeonly MGM star began his show-biz career in the circus before moving on to Broadway and then Hollywood in 1915 (along with his then-wife Gloria Swanson). He won an Oscar for "The Champ" in 1932. He plays the lecherous magnate "Preysing" in 1932's all-star Grand Hotel.
In 1940, after Norma Shearer bowed out of Susan and God, refusing to play the mother of a teenage girl, Joan accepted the role, famously telling Louis B. Mayer: "I'd play Wally Beery's grandmother if it's a good part!"
---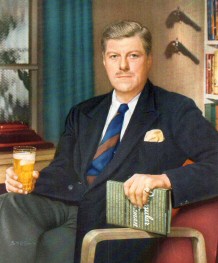 Bellah, James Warner (9/14/1899 - 9/22/1976). Author of primarily Western and military novels and stories (some, such as Fort Apache, She Wore a Yellow Ribbon, and Rio Grande, were turned into John Ford films), as well as a screenplay writer (The Man Who Shot Liberty Valance). His works were also often serialized in the Saturday Evening Post. For purposes here, he was the author of the 1932 novel Dancing Lady, which became the 1933 Joan film of the same name.
Wikipedia entry. IMDb page. Bibliography. This site's book entry.
---
Bell Telephone Company. In early 1923, after quitting Stephens College, Joan entered the training program for Bell in Kansas City, but quickly dropped out. (JCB)
---
Bennett, Bruce (5/19/1906 - 2/24/2007). Born "Herman Brix," this silver medalist (shot put) in the 1928 Olympics went on to a 30-year film career, including some Tarzan movies in the '30s and later as Mildred's husband Bert in '45's Mildred Pierce and as Myra's lawyer in 1952's Sudden Fear.
IMDb entry. Brian's Drive-In Theater page.
---
Bennett, Constance (10/22/1904 - 7/24/1965). From a renowned stage family, Bennett made her Hollywood debut in 1924 and was an elegant and popular star through the 1930s. (Her last role was as Lana Turner's mother in 1966's posthumously released "Madame X.") Bennett played "Sally" in '25's Sally, Irene, and Mary. On set, the established star seemed unapproachable, and Joan always referred to her as "Miss Bennett," though the two later became more comfortable social acquaintances. (JCB)
---
Bennett, Lou. Joan's Hollywood bodyguard.
---
Berg, Phil. Joan's agent at the time she was re-negotiating her 1931 contract with MGM. (Ultimate Star)
---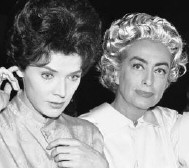 Bergen, Polly (7/14/30 - 9/20/14). In the 1950s, actress/singer Bergen was a protegee of Pepsi head Al Steele, who would marry Joan in 1955. During that decade, Bergen was hostess of the ABC program "Pepsi-Cola Playhouse" and starred in 6 Pepsi commercials. She went on to co-star with Joan herself in 1963's The Caretakers. One of her last projects was the 2006 film A Very Serious Person, written and directed by Charles Busch.
---
Bergman, Ingmar. Author Carl Johnes (Crawford: The Last Years) was friends with Joan in the mid-1970s and at that time tried to get her to appreciate Bergman's Cries and Whispers:
I had told her how much I admired [the movie], which I had seen several times. When it finally appeared on her cable television, she made sure to watch it carefully. She never understood it and I spent almost a half-hour trying to explain what I thought it meant, why I was so moved by it, and how beautiful I found this story of three anguished sisters living on an estate in Sweden around the turn of the century. She listened patiently to my arguments, and then, having obviously resigned herself to my hopeless stupidity, said, "I still say it's about a bunch of dykers."
---
Bergman, Ingrid (8/29/1915 - 8/29/1982). This Swedish-born actress came to Hollywood in 1939 to re-make her earlier European hit "Intermezzo" and became an immediate sensation in the US and worldwide. She's probably best known for 1942's "Casablanca," and she also received Oscars for '44's "Gaslight" and 1956's "Anastasia." She was a nominee for the Best Actress Oscar in 1945, which Joan won for "Mildred Pierce." Bergman also appeared in an earlier Swedish version of A Woman's Face, which was re-made with Joan in 1941. Her final performance was in 1982's "A Woman Called Golda," for which she posthumously received an Emmy.
Said Joan of the ridiculousness of Bergman's Hollywood ostracism in the 1950s following her affair with and 1950 marriage to Roberto Rossellini: "God, wasn't that funny, during the Stromboli affair, when Louella wrote, 'Ingrid, Ingrid, whatever has gotten into you?'" (CWJC)
---
Bern, Paul (12/3/1889 - 9/5/1932). MGM exec and early Joan-booster. The German-born Bern came to the US as a child, attending the American Academy of Dramatic Arts and initially working as an actor before becoming a writer and director. By the 1920s, he'd become production assistant to MGM's Irving Thalberg (the two co-produced Grand Hotel) and supervisor of Garbo's silent films.
Upon her arrival in Hollywood, Bern took Joan under his wing--as he had with other young starlets such as Barbara LaMarr--tutoring her in social graces, suggesting she lose weight, and escorting her to various functions.(He was her escort the night Joan first laid eyes on future husband Doug Fairbanks, Jr, at an LA performance of "Young Woodley" in 1927.) Said Joan of Bern,"He recognized something in me that other men did not care to see--that I had a brain." (DF) In the August 1931 issue of Photoplay, Katherine Albert wrote of Joan and Bern's relationship: "Paul Bern knew that Joan was miserable [in her early years in Hollywood] and he began the awakening of her mind. Paul taught her things she had not known existed...the beauty of words on paper, the feeling for musical harmony, the appreciation of form and color on canvas...that one simply cannot exist in a room cluttered with wildly painted Coney Island dolls."
Bern committed suicide two months after his marriage to Jean Harlow.
---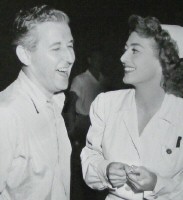 Bernhardt, Curtis (4/15/1899 - 2/22/1981). Director of Joan's Possessed ('47). In Divine Feud, he says of Joan that she was "as easy to work with as can be. She was naturally a little subdued because she was the studio's second-ranking star. She threw her handbag at me several times when I called her Bette by mistake...Bette can snap in and out of a scene quite rapidly. Joan was not as facile an actress. Several times we had to call a break when her hysterics continued beyond the 'cut.'"
Bernhardt was also a frequent date of Joan's; once, when he criticized her for treating her children like circus monkeys, she made him get out of their limo. (JCB)
---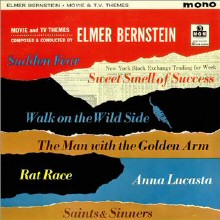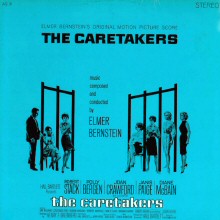 Bernstein, Elmer (4/4/1922 - 8/18/2004). Prolific film composer (14 Academy Award nominations over 6 decades, from the '50s through the 2000s), who did the scores for Joan's 1952 movie Sudden Fear and 1963's The Caretakers.
---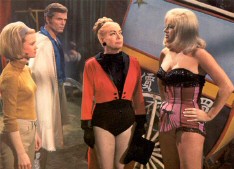 Berserk. Columbia, 1968. Directed by Jim O'Connolly, 96 minutes. Joan's penultimate film before Trog. Joan stars as circus-owner "Monica Rivers," who must deal with murders, geeks, a suspicious tight-rope-walking younger lover (Ty Hardin), and a wayward daughter (Judy Geeson). The movie was filmed in Britain on a low budget, produced by Herman Cohen, who palled around with Joan but also requested that she at least not drink in the morning. (She politely acquiesced.) To help save money, Joan wore her own clothes in the film, except for the ringmistress outfit, which was designed by Edith Head. (JCB)
---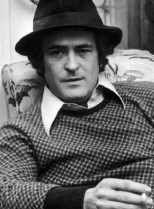 Bertolucci, Bernardo (3/16/41--11/26/18). Italian director. Bertolucci called Johnny Guitar "the first of the baroque Westerns." As one of the writers of Sergio Leone's Once Upon a Time in the West (1968), Bertolucci inserted several Johnny Guitar references into Leone's classic.
In Bertolucci's Last Tango in Paris, the character of the young director films his girlfriend while she tries on her bridal dress, comparing her to a number of classic Hollywood stars: "You are better than Rita Hayworth, better than Joan Crawford, Kim Novak, Lauren Bacall, better than Ava Gardner when she loved Mickey Rooney."
Joan herself didn't think much of Tango. When asked in the '70s about the lack of censorship in current films, she mentions "...Marlon Brando...Oh, what was the film...anyway, the nude scene. He's at least forty pounds overweight, and I think the only sex appeal he has would be to a meat packer. That's art?"
Wikipedia page. Rolling Stone interview (1973).
---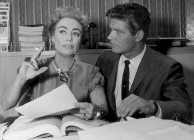 Best of Everything, The. 20th Century-Fox, 1959. Directed by Jean Negulesco, 121 minutes. Joan has a small role as testy senior editor "Amanda Farrow," who delights in tormenting her underlings (Hope Lange, Suzy Parker, Diane Baker).
Says Joan in CWJC: This was a rather complex semi-movie which was supposed to showcase a whole bunch of up-and-coming 20th Century-Fox actors. The youngsters did all right, but for some reason or other I'm proud to say I sort of walked off with the film. Perhaps it was the part--I had all the balls--but I think it was a matter of experience, knowing how to make the most of every scene I had.
This was the first film she made after the death of husband Al Steele; the role was given to her rather as a favor by friend and producer Jerry Wald, partially to get her out of the house and also to get her some money--she'd just given an interview to Louella Parsons saying that Steele had left her "flat broke." (US, JCB)
Vanity Fair article on the making of the film.
Writer Richard Gorey's notes for his BOE lecture.
---
Billy Smart's Circus. This real-life UK circus provided the acts for Joan's 1968 film Berserk. Circopedia entry.
---
Birthdate of Joan. March 23 (an Aries), but the year varies depending on the source-text: 1904: CM, EB, MD, US. 1905: LW. 1906: CWJC, JCB. Joan herself claimed to have been born in 1908, but the 1904, 1905, or 1906 dates seem more likely.
According to the sources that list 1906, this is the birth-year she gave upon registration at Stephens College in the fall of 1922 (this would have made her 16 at the time).
However, she arrived in Hollywood and signed her first contract with MGM in early 1925; MGM required parental consent if the signee were under the age of 21, and their records (according to US) don't show that she required a parent's signature--this would indicate a 1904 birthdate. (In MD, daughter Christina writes that her grandmother---Joan's mother---said Joan was born in 1904.) But one thing that goes against the 1904 date: JB says that according to 1917 Kansas City school records, her older brother Hal was born on 9/3/03 (the IMDb also gives this year for him and California death records state the same date). Joan couldn't have been born only 6 months later, unless she was premature, which no source mentions.
In favor of the 1905 date is the 1910 Comanche County census (dated April 20, 1910), which lists Joan as 5 years old. The problem with this, though, is that it lists Hal as being 8, when he was actually only 6 as of that date.
Click here to see documents requested from the city of "San Antonia" (sic) from both Joan's business manager and her mother in 1942, asking to make Joan's birth year of "1908" official. (Photo of docs from the Doyle New York auction, December 2011.)
See also Horoscope of Joan.
---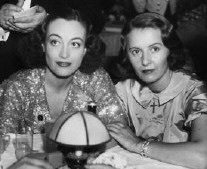 Bisexuality of Joan. In Essential Biography, author Lawrence Quirk says Joan slept with several fellow chorus girls while in NYC, and relates that Joan's press agent Jerry Asher told him Joan had a crush on early co-star Anita Page, and actually slept with Dorothy Sebastian, Gwen Lee, May Clark, and Barbara Stanwyck. (Stanwyck's press agent Helen Ferguson is quoted as saying "There is no doubt in my mind that Joan and Barbara were intimate on more than one occasion.")
Asher also said Joan was interested in Bette Davis in the 1930s (though not at the time Baby Jane was filming, which Davis claimed), when Davis had eyes for Joan's husband Franchot Tone. Said Joan: "Franchot isn't interested in Bette, but I wouldn't mind giving her a poke if I was in the right mood. Wouldn't that be funny?" Quirk also says that in her autobiography, Martha Raye claims she slept with Joan when they were both involved with the USO during WWII.
In Divine Feud, author Shaun Considine quotes director Vincent Sherman (himself a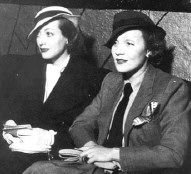 Joan-paramour) as saying, "When we were at Columbia [early '50s] there was a girl who was always hanging around [Joan]. We often wondered about her." Considine also quotes actress Louise Brooks that Joan was "one of those girls who went back and forth." And quotes photographer Cecil Beaton re Joan's frequent crushes: "At one time she was insatiably interested in Dietrich...Then she moved on to Lilyan Tashman, followed by the chief of her idols--Greta Garbo."
In Crawford's Men, author Jane Ellen Wayne relates that when, on the set of '32's Grand Hotel, Greta Garbo took Joan's face in her hands after a chance meeting on-set,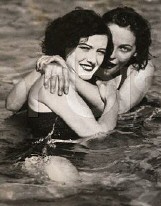 Joan was thrilled and later said, "If there was ever a time in my life when I might have become a lesbian, that was it." (Joan mentions the rather sexual excitement of this meeting in her April '73 Town Hall appearance.)
In Last Word, author Fred Guiles says that Marilyn Monroe told her press agent that Joan had made a drunken pass at her one afternoon while Monroe was trying on clothes at Joan's house. In tapes made for her psychiatrist shortly before her death, published in 2003 in a book by Matthew Smith, Marilyn said of Joan: Oh yes, Crawford. We went to her house from a cocktail party, feeling no pain. We went to the bedroom and went down on each other. Crawford had a gigantic orgasm and shrieked like a maniac. Next time I saw her she wanted another round. I told her straight out I didn't enjoy it much, doing it with a woman. After I turned her down she became spiteful.
In MD, Christina says that a former nurse later told her that Joan had frequently propositioned her. Christina says she already knew about her mother's "lesbian proclivities" and so wasn't surprised at the news, but doesn't elaborate.
In designer Carleton Varney's 1980 book There's No Place Like Home, he reports daughter Christina's interest in her mother's sexuality, expressed during a dinner date:
During the months of preparation for the move to 69th Street [to Imperial House in 1967], I often met a red-haired woman who was helping Joan organize the move. One night I invited Christina to the Jamaica Arms for dinner, and she brought up the redheaded woman. "What do you think of her?" she asked. "Do you think she's a lesbian?" I was taken aback by this comment and sputtered out something she apparently took for encouragement. "Well, what do you think?" she persisted. "Do you think she and Mother are having an affair?" Joan loved to be surrounded by her fans. Some were straight, some were gay. Not having spent any time under her bed, I know nothing of her preferences, but I was a little startled at how ready Christina was to make judgments. But more than anything else, in the face of Christina's curiosity and suspicion, I felt like saying, "Who cares?"
---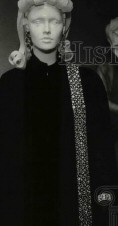 Black and White Ball, Truman Capote's. Truman Capote sponsored this 11/28/66 social event of the season at New York City's Plaza Hotel to honor his friend, Washington Post publisher Katharine Graham, as well as to celebrate the recent popular, critical, and financial success of his In Cold Blood.
Was Joan invited? According to the guest list of 540 published as an appendix of "Party of the Century," the 2006 book by Deborah Davis, no, she was not. (Capote's event was also never mentioned in any biography or memoirs of Joan; nor were any photos of Joan at the event ever published -- and Joan was not camera-shy.)
According to this 1989 Kent State news release/photo sold on eBay in 2015, though, Joan WAS invited to the ball, where she apparently appeared, complete with this cape by Shannon Rodgers (in 1989, the curator ot this Kent State exhibit).
My educated guess? Designer Rodgers created an outfit for Joan in anticipation of an invitation that probably wasn't forthcoming.
---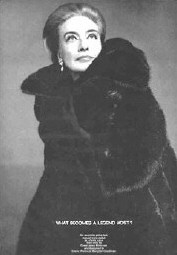 Blackglama. Joan appeared in the ad campaign "What becomes a legend most?" for this mink company in 1969. Photo shot by Richard Avedon. See the Blackglama site (Campaign: Legends) for more info on the "Legends" series. See also the Ads page of this site for more Joan endorsements. Click on the photo and here for a large version of the photo.
---
Blackwell, Earl (1910 - 1995). Friend of Joan and celebrity promoter (he founded "Celebrity Services" in 1939). He made the call to Joan's dressing room on the set of Female on the Beach on New Year's Eve 1954, telling her that Al Steele wished to speak with her.
---
Blanding, Don (11/7/1894 - 6/9/57). Poet and artist, and teenaged neighbor of Joan's in Lawton, Oklahoma. When she cut her foot severely when she was 6, Blanding was the boy who carried her inside her house and called the doctor. (The two would later meet again on the set of 1936's Gorgeous Hussy.) In 1935, Blanding wrote the following poem about his memories of her:
THE LITTLE GIRL ACROSS THE STREET

She was just the little girl who lived across the street,
All legs and curls and great big eyes and restless dancing feet,
As vivid as a humming bird, as bright and swift and gay,
A child who played at make-believe throughout the livelong day.
With tattered old lace curtains and a battered feather fan
She swept and preened, an "actress" with grubby snub-nosed clan
Of neighborhood kids for audience enchanted with the play,
A prairie Bernhardt for a while. And then she went away.
We missed her on the little street, her laughter and her fun
Until the dull years blurred her name as years have ever done.
. . . . .
A great premiere in Hollywood... the light, the crowds, the cars,
The frenzied noise of greeting to the famous movie stars,
The jewels, the lace, the ermine coats, the ballyhoo and cries,
The peacock women's promenade, the bright mascaraed eyes....
The swift excited whisper as a limousine draws near,
"Oh, look! It's Joan. It's Joan. It's Joan!" On every side I hear
The chatter, gossip, envy, sighs, conjectures, wonder, praise,
As memory races quickly back to early prairie days.
The little girl across the street... the funny child I knew
Who dared to dream her splendid dreams...
and make her dreams come true.

Wikipedia page. AllPoetry.com page
.
---
Bloch, Robert. Most famous for his Psycho screenplay for Hitchcock, he also wrote the screenplay for Joan's '64 film Strait-Jacket.
---
Blondell, Joan. This veteran actress was initially slated for Joan's role in 1964's Strait-Jacket, but an accident prevented her from taking the part.
---
Bloody Mary. In The Last Years, Joan instructs author Carl Johnes how to make one: "Always use Snap-e-Tom, never tomato juice!"
---
Blue Oyster Cult. This American rock band's 1981 album "Fire of Unknown Origin" contains a song titled "Joan Crawford," which reached No. 49 on Billboard's Mainstream Rock chart. According to Wickipedia, the video (which can be found today on YouTube) was banned from MTV for containing a "sexually suggestive scene." Click on the above right photo to read the full U.S. trade ad promoting the song.
Lyrics:
The junkies down in Brooklyn are going crazy
They're laughing just like hungry dogs in the street
Policemen are hiding behind the skirts of little girls
Their eyes have turned the color of frozen meat

No, no no no, no no no no no no no no,
Joan Crawford has risen from the grave
Joan Crawford has risen from the grave

Catholic schoolgirls have thrown away their mascara
They chain themselves to the axles of big Mack trucks
The sky is filled with hurt and shivering angels
The fat lady laughs, "Gentlemen, start your trucks!"

No, no no no, no no no no no no no no
Joan Crawford has risen from the grave
Joan Crawford has risen from the grave

(Christina, mother's home!
No, no
Christina
No, no, no, no
Come to Mother
No, no, no, no, no no no no no no
Christina)

Joan Crawford has risen from the grave

---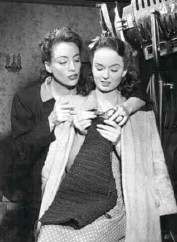 Blyth, Ann (8/16/28 - ). Initially a Broadway actress, Blyth came to Hollywood at age 15 and acted in 4 musicals for Universal before playing Evil Daughter Veda in '45's Mildred Pierce, for which she received an Oscar nomination. Joan and Blyth got along well (Joan rehearsing extensively with her when studio execs were at first reluctant to cast her as Veda, thinking she was too "sweet"). Blyth acted in films up until the '50s, and made TV appearance into the '80s. Today, Turner Classic Movies occasionally runs a 5-minute spot featuring her affectionate remembrances of working with Joan.
In July 2006, Blyth was interviewed at San Francisco's Castro Theatre after a showing of Mildred Pierce. I got to meet her, and she signed my Mildred Pierce book! Click here to see photos from this event.
---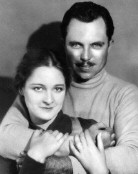 Boardman, Eleanor (8/19/1898 - 12/12/1991). Silent actress, star of 1925's The Only Thing, The Circle, and Proud Flesh. Boardman was married to director King Vidor, and the couple had Joan over for brunch and swimming occasionally in the mid-20s. (LW)
---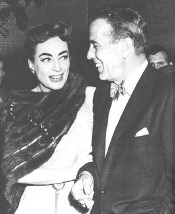 Bogart, Humphrey. In Life magazine, Bogart was quoted as saying:

Movie Stars? I don't like the name. The words 'movie stars' are so misused they have no meaning. Any little pinhead who does one picture is a Star. Gable is a star, Cooper is a star, Joan Crawford, as much as I dislike the lady, is a star, but I don't think the so-called others are.
(If you know the year/setting of this quote, please e-mail me.) Thanks to Debbie for providing the above quote.
---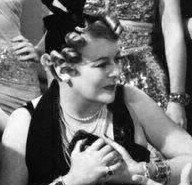 Boland, Mary (1/28/1882 - 6/23/1965). Joan's co-star (the Countess de Lave) in '39's The Women ("Oh, l'amour, l'amour...").
---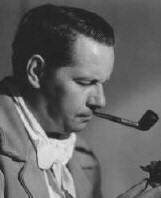 Boleslawski, Richard (2/4/1889 - 1/17/1937). Polish-born director of Joan's '37 film The Last of Mrs. Cheyney. He died during the filming, which was completed by Dorothy Arzner.
---
Bond, Justin. Performance artist Bond developed the stage character of the anarchic 60-something "boozy chanteusie" Kiki DuRane in the mid-90s; he and Kenny Mellman (aka "Herb," Kiki's accompanist/accomplice/collaborator) have since performed as "Kiki and Herb" in New York City cabaret venues as well as making special appearances across the country and in London. (The two gave their "Farewell Concert" at Carnegie Hall in September 2004.) A May 2003 article in Next magazine said : "Sounding like Shirley Bassey filtered through Lauren Bacall, Justin Bond embodies Kiki with the determination of Joan Crawford, the glamour of Lypsinka, and the tongue-in-cheek delivery of Charles Busch."
Bond also collaborated with Bob Ostertag and Otomo Yoshihide in the electronic/experimental noise band PantyChrist. Again, for some reason there are Joan references in reviews: "Justin Bond...has one of those inimitable voices that sounds like Joan Crawford after an acid bath....So if your idea of a good time involves listening to a CD that variously puts one in mind of Jerry Lewis enduring a painful prostate examination, a video game gone haywire,...or the modern audio equivalent of Whatever Happened to Baby Jane?, then PantyChrist is for you."
---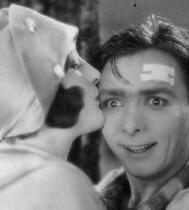 Boob, The. MGM silent, 1926. Directed by William A. Wellman, 64 minutes. Joan plays "Jane," a prohibition agent. George K. Arthur stars as a country bumpkin good-guy.
Said Joan: ...a disaster, even with George K. Arthur. The script was terrible and I simply wasn't cut out for slapstick. (CWJC) In a 1926 letter to a fan, she wrote (with original punctuation shown): I just found out, a picture I made over a year ago called 'Ill Tell the World' Has been released under-'The Boob'. Im so sorry I made such a dreadful mistake. Will you forgive me? You dont need to tell me it was a terrible picture. How well I know. I wouldnt even go to see the preview.
---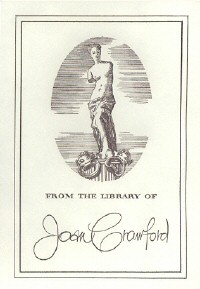 Bookplate, Joan's. (The head on the Venus de Milo statue is Joan's!)
---
Borgnine, Ernest. Co-star of Johnny Guitar.
---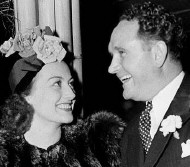 Borzage, Frank (4/23/1894 - 6/19/62). American film director who won two Oscars for 7th Heaven (1927) and Bad Girl (1931). He directed 4 of Joan's films: 1925's The Circle, '37's Mannequin, '38's The Shining Hour, and '40's Strange Cargo.
---
Bow, Clara (7/29/05 - 9/27/65). Known as Hollywood's, and America's, "It"-Girl in her silent-film heyday, the Brooklyn-tenement-born Bow made 57 films between 1922 and her retirement in 1933 to marry cowboy star (later Nevada political candidate) Rex Bell.
In a November 16, 1933, interview with John C. Moffitt in the Kansas City Star, Bow spoke about her Hollywood flapper days and about Joan:
"It's funny. I really learned a lot during those dizzy years when Joan Crawford and I were running around town as the two hey-hey girls of Hollywood. Nobody thought I was learning anything. It seems rather funny to think that I was a sort of trademark for the flapper. The 'flapper' as a type seems about as antiquated as the suffragette or the vestal virgin, but I can remember when the whole country was standing on its ear over flappers. They yelled about us in the pulpits and long-haired guys denounced us in the press. They made a world menace of us and all we were was a bunch of dizzy little gals with our skirts up to our knees and with Fiji Island haircuts. It seems sort of funny that anyone should have taken us seriously. But,boy, you should have seen some of the 'sinner beware!' letters I got."
...Clara then grinned and continued: "My life in Hollywood contained plenty of uproar. I'm sorry for a lot of it but not awfully sorry. I never did anything to hurt anyone else. I made a place for myself on the screen and you can't do that by being Mrs. Alcott's idea of a little woman. Hollywood always reminds me of one of those French Revolution pictures where the women are hollering and waving pitchforks twice as violently as any of the guys are. The only ladies in sight are the ones getting their heads cut off."
With that, Clara gave "what looked suspiciously like a sigh" and added: "Anyhow, we got what we wanted out of it." She then spoke about her present off-screen life and that of her fellow flapper: "Joan Crawford called me up the other day and I didn't know her. She had one of those trick English accents and a Lady Vere-de-Vere voice. She's been married to the son of the royal family and she's running around with Franchot Tone, who they tell me represents the spirit of Cornell and aristocracy on the hoof. Joan's gone a long way from the Charleston contests and you can bet your life she's got what she wants...."
Thanks to Greg for passing along William M. Drew's find.
The Clara Bow Page. Wikipedia page. IMDb page.
---
Box Office Poison. In 1938, Harry Brandt, president of the Independent Theater Owners of America, published an article in The Independent Film Journal complaining about the unappealing (and non-money-making) films being released to theaters. Contrary to popular belief, the main complaint wasn't primarily the stars, but the quality of the subject matter of the films. Said the article: Among those players whose dramatic ability is unquestioned, but whose box-office draw is nil, can be numbered Mae West, Edward Arnold, Greta Garbo, Joan Crawford, Katharine Hepburn, Marlene Dietrich, and Fred Astaire. (CM)
---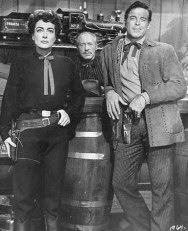 Brady, Scott. Played "The Dancin' Kid" in '54's Johnny Guitar.
---
Branch, Dr. William. Joan's physician who declared her unfit to attend the Academy Awards on the night of her Mildred Pierce victory. Fortunately, her alleged fever of 104 broke after the radio announcement of her win, and Branch allowed her to greet well-wishers and reporters. She had initially personally consulted Branch in 1926; 8 years later, the two teamed up to create a Crawford-Branch clinic within the Hollywood Presbyterian Hospital to treat needy industry cases. And trooper Branch also helpfully stood by during her very first radio broadcast (on Bing Crosby's show) in 1935 in case she needed medical attention. (JCB)
---
Brandeis University. Home of the Joan Crawford Dance Studio (dedicated in 1965 and located within the school's Spingold Theater Arts Center). Joan became a Brandeis Fellow in 1967, "given her interest, time and service to a host of civic and philanthropic causes which has endeared her to a large public that goes well beyond the pale of the entertainment industry." In 1966, 1968, and 1973, Joan donated a variety of theater, community, and business awards to the school, which can be seen on these Brandeis Joan Crawford Award Collection web pages.
See also this site's Awards page.
---
Brando, Marlon (4/3/1924 - 7/1/2004). Brando was rumored to have been wanted by Joan as a co-star for two of her films, 1952's Sudden Fear and 1956's Autumn Leaves. In 1951, Joan had admired Brando in his Streetcar Named Desire performance and sent him a congratulatory telegram after its debut. When it was time for filming on Fear to begin, she submitted the script to Brando's agent; Brando sent it back, rudely saying that he wasn't interested in doing "any mother-and-son pictures at the present time." (DF)
Both the Thomas and Quirk bios report that Joan wanted Brando for Leaves; the latter source, though, also quotes Joan as saying around this time about Brando's looks: "There's something flat and dead about his eyes. Brando doesn't really have the handsomeness of a Clark Gable or a Cary Grant. They were well-groomed and intelligent looking. Brando looks like he changes his underwear about every two weeks." Joan's antipathy would continue into the '70s. In CWJC, she says, re Brando in Last Tango in Paris: "He's at least forty pounds overweight, and I think the only sex appeal he has would be to a meat packer."
---
Brandt, Harry. See Box Office Poison.
---
Brazzel, Michael. Christina Crawford's third husband.
---
Brazzi, Rossano. Italian film star, co-starred as the villainous husband in 1957's Story of Esther Costello.
---
Breen, Joseph L. Appointed head of the "moral watchdog" Hays Office in 1934. The first film to catch some flak? Joan's Forsaking All Others ('34), for reasons of a "cynical twist in the title's religiosity," plus a few too-daring lines. (US)
---
Bremen, The. The ship on which Joan and husband Doug Fairbanks travelled to Europe in 1932 in a failed effort to bolster their marriage.
---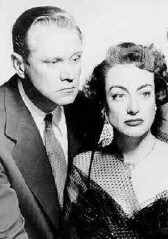 Brian, David. Joan's co-star in '49's Flamingo Road, '50's The Damned Don't Cry, and '52's This Woman Is Dangerous.
---
Brian, Mary. A WAMPAS Baby Star with Joan in 1926, she consoled Joan at graveside in 1958 when her mother died. (Both of their mothers had been active in the Motion Picture Mothers association.) (JCB)
---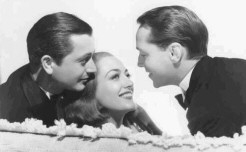 Bride Wore Red, The. MGM, 1937. Directed by Dorothy Arzner, 103 minutes. Joan stars as "Anni," a cabaret singer masquerading as a society girl to land a rich man, in her 7th and final film with husband Franchot Tone. (Robert Young plays the rich guy, and Tone the rather fruity flute-playing postman who loves her.) Joan had looked forward to working with a female director, but by the end of filming, she and Arzner weren't speaking. (JCB) Said Joan in CWJC: ...a waste of time for everyone but I guess it made money because that "Crawford" audience went to see it loyally. But what a botch.
---
Brinke, Anna Marie. See Mamacita.
---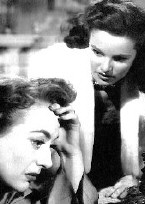 Brooks, Geraldine (10/29/25 - 6/19/77). This actress had a brief film career in the '40s before going on to a 25-year TV career. She plays Joan's stepdaughter in 1947's Possessed. Brooks also gave a eulogy at Joan's memorial service in NYC, May 17, 1977.
---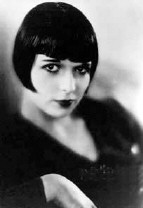 Brooks, Louise (11/14/06 - 11/8/85). In 1957, former silent star Brooks wrote an unpublished essay on her early impressions of Joan. An excerpt:
The first chance I got, I went to see Sally, Irene and Mary. She was beautiful, all right, in spite of her hair parted in the middle to give her a madonna look. And her legs were beautiful even though she used them to dance the Charleston like a lady wrestler. But she played her part like a chocolate-covered cherry – hard outside, and breaking up all gooey with a sticky center. I didn't care for her… She isn't truly like a chocolate-covered cherry; she is like biting into a delectable piece of wedding cake and hitting the brass ring.
Click here to read the rest of the essay. Louise Brooks Society. IMDb info.
---
Brown, Clarence (5/10/1890 - 8/17/1987)
Director of 53 films (from 1920 to 1952), primarily at MGM. From Wikipedia:
He was nominated five times for the Academy Award as a director and once as a producer, but he never received an Oscar. However, he won Best Foreign Film for Anna Karenina, starring Garbo, at the 1935 Venice International Film Festival.
Brown's films gained a total of 38 Academy Award nominations and earned nine Oscars. Brown himself received six Academy Award nominations and in 1949, he won the British Academy Award for the film version of William Faulkner's Intruder in the Dust. In 1957, Brown was awarded The George Eastman Award, given by George Eastman House for distinguished contribution to the art of film.
Along with Jack Conway, Brown was Joan's most frequent director (5 films apiece): '31's Possessed, '32's Letty Lynton, '34's Sadie McKee and Chained, and '36's The Gorgeous Hussy. During her marriage to Franchot Tone, Brown once visited her on a set; noticing her facial bruises from her husband's beating, he in turn threatened to "beat the hell out of" Tone. (Joan talked him out of it.) (JCB) In CWJC, Joan says that Brown was one of the four directors who ever actually helped or influenced her (the others: Edmund Goulding, George Cukor, Mike Curtiz):
Clarence, I think, was a genius who really became appreciated properly only after Thalberg shook things up and convinced Louis B. [Mayer] that the director could be a creative asset, not just the man who kept the budget down and the picture on schedule. He helped me so much--and I think he helped all the actors in his films. He made you "right" and convinced you that you were "right," and he picked up on subtle things the producer missed entirely. At Metro I think he was the first director to leave his stamp on a picture, and most of us recognized this but we were afraid to say so out loud because the producer's ego wouldn't stand for it...Clarence was a doll. I remember once, when I told him I couldn't do a particular scene his way because I was too stiff to play comedy, he said, "Joan, goddammit, you're one of the three actresses in this town who can do anything, so do it!" And I did. (Funny, but I never did find out who those other two actresses were.)
Who Was Clarence Brown? by Jack Neely
---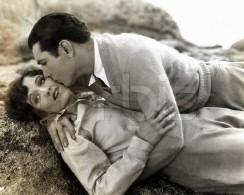 Brown, Johnny Mack (9/1/1904 - 11/14/1974). Brown was initially an Alabama Crimson Tide football star, winning a national championship with the team in 1925 and being named MVP of that year's Rose Bowl. After a successful screen test in 1927, he then co-starred with Joan in '28's Our Dancing Daughters, '30's Montana Moon, and in the unreleased 1930 Joan musical Great Day. He went on to play primarily in dozens of Westerns up through the early '50s (with some Western cameos into the '60s).
---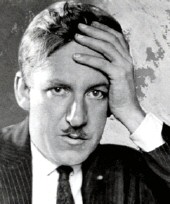 Browning, Tod (7/12/1880 - 10/6/1962). Perhaps best known for directing 1932's Freaks, Browning also directed Joan and Lon Chaney in '27's The Unknown, a film that seems to mirror Browning's biography, since he ran away from home at age 16 to follow a circus girl. (He eventually made a total of 9 films with Chaney.) He began working as an actor after meeting D.W. Griffith (appearing in Intolerance) and began directing in 1914, ending his career in 1939.
---
Brynner, Yul. In MD, Christina says that Brynner was one of the many "uncles" who hung around Joan. One day he appeared at the door of Joan's Brentwood home in full "King and I" regalia, scaring the bejesus out of little Christina and scarring her for life, probably.
---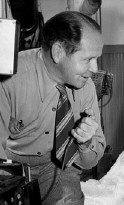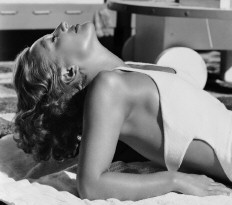 Bull, Clarence Sinclair (5/22/1896 - 6/8/1979). Photographer and head of the MGM stills department from 1924 until his retirement in 1961. He's most famous for his over 4,000 stills taken of Garbo between 1929 and 1941, but he was also a frequent photographer of Joan. See this site's 1930, 1931, 1932, and 1933 Images pages for examples of his Joan portraits.
Wikipedia page. artnet.com page.
---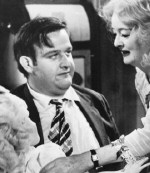 Buono, Victor (2/3/1938 - 1/1/1982). Stout, gay, prolific American actor who played mama's boy and potential Jane Hudson accompanist Edwin Flagg in Baby Jane. He received both an Oscar and a Golden Globe nomination for the role. (He also appeared in 1964's Hush...Hush, Sweet Charlotte and as "King Tut" in American TV's Batman.)
---
Burke, Paul (7/21/1926 - 9/13/2009). Joan's co-star in her 1964 TV pilot "Royal Bay" (aka "Della," aka "Fatal Confinement.") Said Joan, "Paul Burke is my idea of an appealing man. Very masculine, very sure of himself, very confident in his attractiveness. He certainly got the juices flowing." (Essential Biography)
---
Burnett, Carol. American comic legend with a long-running (1967-1978) CBS TV series. Twice on the show she featured parodies of Joan's movies, in skits called "Mildred Fierce" (11/20/76) and "Torchy Song" (1/22/77). Joan enjoyed the former and phoned Burnett to tell her so, but found the latter "cruel and grotesque." (JCB)
Click here to read an excerpt re Joan from Burnett's 2010 autobiography.
Mildred Fierce episode (IMDb). Torchy Song episode (IMDb).
---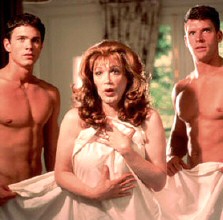 Busch, Charles (8/23/1954 - ). Writer, sometime drag artist, and star of the 2003 film "Die, Mommie, Die," which won the 2003 Sundance film fest for best performance and was described by the NYTimes as a "sendup of Joan Crawford's late career as a horror movie star." (My note: This hilarious "women's picture" pastiche is a must-see; Busch gets just about every nuance of Lana, Joan, Jane, Bette et al. exactly right.) Busch also appeared as a commentator in the 2002 Turner Classic Movies Joan-documentary, The Ultimate Movie Star, as well as on the May 2006 DVD re-release of "What Ever Happened to Baby Jane?"
Official Charles Busch website. Wikipedia page.
---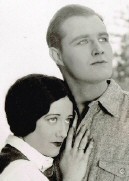 Bushman Jr., Francis X. (5/1/1903 - 4/16/1978). American actor; Joan's co-star in '27's The Understanding Heart. In CWJC, Joan called him "a fine gentleman" because he let her "steal almost every scene."