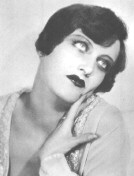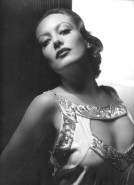 The Best of J
Jack's at the Beach • Jack-o-Lantern • Michael Jackson • Rona Jaffe • Elizabeth Janeway •
Jewelry • Carl Johnes • Johnny Guitar • Anna Bell Johnson • Ray Johnson • Journey to the Unknown • Jungle Gardenia
---
Jack's at the Beach. Hollywood eatery frequented by Joan. (MD)
---
---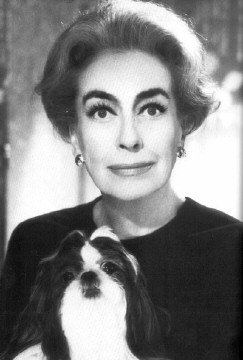 Jackson, Michael. In an 11/25/03 article on the troubled star, the New York Times led off with, "When he surrendered to the Santa Barbara County sheriff last week, Michael Jackson resembled an aging Joan Crawford, pale, frail and weighing 120 pounds..."
---
---
Janeway, Elizabeth. Author of the 1945 novel Daisy Kenyon, upon which Joan's 1947 film of the same name is based.
---
Jewelry of Joan. From the Jones Jewelers website: "[Joan Crawford] loved sapphires so much the press called them 'Joan Blue.' One of her favorite pieces was a bracelet set with three star sapphires of 73.15 carats, 63.61 carats, and 57.65 carats. She also received a 70-carat star sapphire engagement ring from her second husband. She also owned a 72-carat emerald cut sapphire which she often wore on the same finger! In the forties, Crawford added a 75-carat amethyst ring and a huge 100-carat citrine ring, both emerald-cut with a simple mounting."
Click here to go to a 1995 article re a sale of Joan's jewelry in Virginia Beach, which includes interesting info on types of jewels and personal inscriptions on some of the pieces. Page includes 2 photos.
And see this site's Joan Crawford Jewelry page for over 45 photos and descriptions of various pieces.
---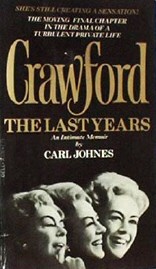 Johnes, Carl. Johnes was a young assistant initially sent by Columbia Pictures in 1972 to help Joan sort out her book collection. The two eventually became friends and remained so from 1974 'til her death in '77. Johnes' honest and humorous recollections of their times together were published in his 1979 book Crawford: The Last Years.
---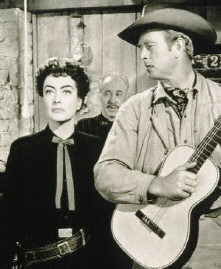 Johnny Guitar. Republic, 1954. Directed by Nicholas Ray (of "Rebel Without a Cause" fame), 110 minutes. A 1966 poll of 28 French critics named this the top Western of all time. Says French director Francois Truffaut:
I once said (and I am ready to say it again before the camera) that "Johnny Guitar" has more importance in my life than in Nicholas Ray's. I possessed a passion for the film from the moment I saw it. I was a critic at the time, I wrote some articles about it, and began a correspondence with Nicholas Ray. . . "Johnny Guitar" was very important to my life. Because I found it very powerful and profound on man-woman relationships. It is the only film I have seen that dealt with a certain aspect of love relationships...
--(from the documentary film "I'm a Stranger Here Myself," 1974)
Joan plays "Vienna," a shrewd saloon-owner with a soft spot for returned lost love "Johnny Guitar," played by Sterling Hayden, and a definite hard spot for nemesis "Emma Small" (Mercedes McCambridge), who wants to run Vienna out of town. This movie's been touted as Sophoclean, anti-McCarthy, proto-feminist, you name it. Whatever you read into it...Joan's intense. In 1998, Premiere magazine named Johnny #49 on its list of "100 Most Daring Movies Ever Made." Says Joan in CWJC, though: I should have had my head examined. No excuse for a picture being this bad or for me making it.
---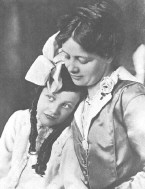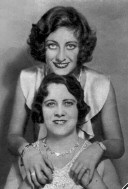 Johnson, Anna Bell. (11/29/1884 - 8/14/1958) Joan's mother. Says Joan in CWJC:
I don't think she really loved me, but when you consider the life she led, what the hell. She married too young and too often. She was a little Swedish girl who wasn't too bright. All the way along, the wrong men appealed to her, and she worked her ass off, more often supporting them than they supported her. She was old and tired by the time she was 49, and when she came out here [Hollywood] at least a few of the fires had been put out, and she could be Hal's [Joan's brother] servant and my friend. She was a good woman, even though she ignored me when I was a kid, and she found life a lot easier during her last years... We weren't really close--we never had been...I let her live her own lifestyle, and that style included Hal, and I simply wouldn't have him around, so her loyalties had to have been divided.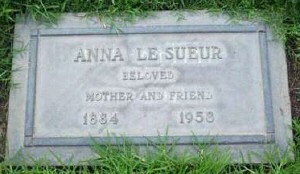 When Johnson died in August 1958, Joan flew home from vacationing in Bermuda with husband Al Steele to attend her funeral. She is buried at Los Angeles's Forest Lawn cemetery.
See also Family Tree and Hal LeSueur. And click here to read more info on Johnson and her side of the family on RootsWeb.com.
---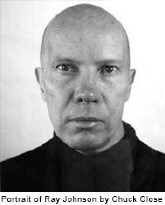 Johnson, Ray (10/16/1927 - 1/13/1995). American artist known for his collage and "mail" art. In January 1973, apparently after sending Joan a letter, he received this response from her: "I am delighted that the 'Joan Crawford Dollar Bill' was sold to America's Leading Art Collector, Joseph Hirshhorn. I hope that you had a magnificent Christmas and will have a beautiful new year."

artnet.com page. Wikipedia page.
---
Journey to the Unknown. This British anthology television series, produced by Hammer Film Productions and 20th Century Fox Television, aired on ABC (US) from September 26, 1968, to January 30, 1969. (The series aired in the UK on the ITV network during 1969.) Eight episodes were later released in bundles of two on ABC as made-for-TV movies. Joan hosted two of these "bundles": The first, with the same name as the series, aired June 15, 1970, and contained the episodes "Matakitas is Coming" and "The Last Visitor." The second, called Journey to Murder, aired January 30, 1971, and included the episodes "Do Me a Favor and Kill Me" and "The Killing Bottle."
---
Jungle Gardenia. See Fragrances.