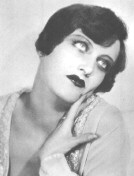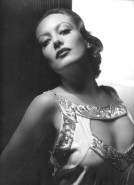 The Best of V
Jack Valenti • Lou Valentino • Valley of the Dolls • Mamie Van Doren • Winifred Van Duzer •
W.S. Van Dyke • Carleton Varney • Robert Vaughn • Vegetables • Conrad Veidt • Bayard Veiller •
King Vidor • Senta Vincent • The Virginian • Voices Across the Sea • Michael Vollbracht • Nicholas Volpe
---
Valenti, Jack. Head of the Motion Picture Authority at the time of Joan's death (May 10, 1977); he requested a minute of silence on all Hollywood lots on the Friday following her death.
---
Valentino, Lou. Film commentator and designer, one of around 125 who signed the May 10, 1984, full-page memorial to Joan in "Daily Variety" on the 7th anniversary of her death.
---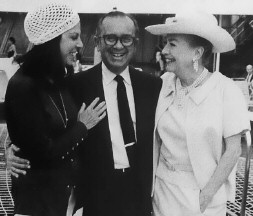 Valley of the Dolls. 1967 film based on the Jacqueline Susann novel of the same name. It was rumored that the character of Helen Lawson, a boozy, tough-as-nails Broadway star, was partially based on Joan and perhaps also Ethel Merman. Author Susann seemed to dismiss both claims, saying "Ethel Merman was a lady and a philanthropist compared to Joan Crawford. If I had known Joan when I was writing 'Valley of the Dolls,' Helen Lawson would have been a monster." Bette Davis was allegedly up for the Lawson role, which ended up going to Susan Hayward. (Divine Feud)
---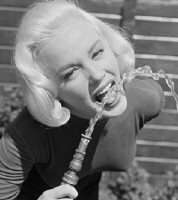 Van Doren, Mamie (2/06/31 -- ). 50s sex-pot starlet who sat at Joan's table (as Rock Hudson's date) during the 1953 Photoplay awards ceremony. (Joan was voted Favorite Actress that year. This was also the year that Marilyn Monroe made her infamous grand entrance, later severely criticized by Joan to tabloid columnists.) Says Van Doren of the evening: "...I realized that Crawford was on the way to becoming blind drunk. Every so often she'd knock back a slug of her drink and look around the room malevolently."
Two years later, Joan and Mamie exchanged pleasantries at Universal, during Joan's filming of Female on the Beach. Joan claimed not to remember Van Doren from the awards show.
Finally, in January 1977, 4 months before Joan's death, Van Doren said that she had the hotel room next to Joan at the Ambassador East in Chicago: "She was seldom seen outside her room, but I could hear her up at all hours of the night, watching television and moving about like a phantom." (Crawford's secretary says Joan never left New York in 1977.) (Divine Feud)
---
Van Duzer, Winifred. Author of the 1928 novelization of Our Dancing Daughters, published by Grosset & Dunlap to accompany the 1928 Joan-film of the same name.
---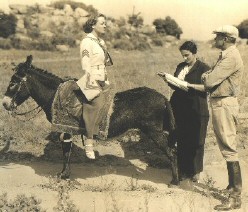 Van Dyke, W.S. (Woody) (3/21/1889 - 2/5/43)
A former child vaudevillian and assistant to D.W. Griffith on 1916's Intolerance, Woodbridge Strong Van Dyke went on to direct 4 Joan films: 1927's silent Winners of the Wildnerness, '34's Forsaking All Others, '35's I Live My Life, and '36's Love on the Run. Considered a "workmanlike" and "uninspired" director by some, as well as an aficionado of Orange Blossoms (gin and OJ), Joan said of him on the set of "Winners": "At the end of the day, he was pretty much sloshed. It made for some interesting final scenes." (EB)
Apparently his workmanlike abilities stood him in good stead, though, winning him Oscar nominations for '34's The Thin Man (he also directed 2 other of the series' films) and '36's San Francisco. Before his 1943 suicide, he directed nearly 90 movies, including '33's Tarzan the Ape Man and '34's Manhattan Melodrama, as well as a Dr. Kildare and an Andy Hardy film.
---
Interior designer whom Joan first met in 1965 and later hired to decorate her Imperial House apartment on 69th and Lexington in NYC. He gentlemanly stated about Joan, "She was no psychopath about dirt." And defended her child-rearing skills: "...nearly all parents (saints included) regret a shameful episode or two when they lashed out at their children" (Essential Biography). He also commissioned Joan's daughter Cathy to do 75 floral paintings for the Westbury Hotel in NYC (My Way of Life).
Wikipedia page. And from his 1980 book There's No Place Like Home: Descriptions of Joan's Fifth Avenue, Imperial House 22-G, and Imperial House 22-H apartments.
---
Vaughn, Robert. Joan's co-star in "The Man From U.N.C.L.E." movie The Karate Killers.
---

Vegetables. According to Joan: Whatever you do, don't serve a red one next to a yellow one, or two white ones together! (MWOL)
---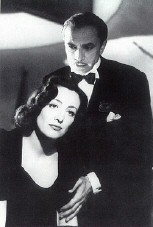 Veidt, Conrad. (1/22/1893 - 4/3/43) German-born actor perhaps best known for his roles in 1919's Cabinet of Dr. Caligari and 1942's Casablanca. He played Joan's manipulative lover in 1941's A Woman's Face ("I'm Lucifer in a tuxedo!" he said) and also co-starred with Joan in 1943's Above Suspicion (his last film).
---
Veiller, Bayard. Author of the Broadway play "Within the Law," later made into a silent film. In 1930, the film was resurrected as a Norma Shearer vehicle. When Shearer became pregnant, Metro assigned the role of Mary Turner to Joan, and the movie was re-named Paid.
---
Vidor, King. Hollywood director whose actress-wife Eleanor Boardman often invited Joan over for "Sunday swims and buffets" in the mid-1920s. Joan met the screenwriter for her film A Woman's Face, Donald Ogden Stewart, at the Vidors' home in 1925. (LW)
---
Vincent, Senta. Joan's maid in the early 50s. She relays that screenwriter and director Charles Martin lived in Joan's home for a period, but that Joan was not in love with him. "He was 10 or 15 years younger than she was. He was also very lazy." (LW)
---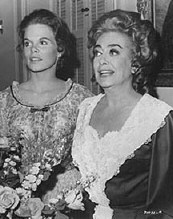 Virginian, The. Joan appeared as "Stephanie White" on this U.S. Western TV show on 1/21/70 in an episode entitled "Nightmare." See the TV page for more info.
---
Voices Across the Sea. 12-minute short film featuring Joan, released by MGM in 1928 in conjunction with the William Haines vehicle, Alias Jimmy Valentine. Writes Mordaunt Hall in the New York Times on 11/16/28 at the end of his Valentine review:
As a prelude to this picture there were presented three audible subjects, the most interesting one being a series of scenes with Ernest Torrence, John Gilbert, George K. Arthur, Joan Crawford and Norma Shearer. Mr. Torrence is supposed to be in London at the opening of the new Empire Theatre. He is addressing the audience; then he takes up a telephone and decides to talk to Mr. Gilbert and the others in California. Mr. Torrence is splendid. He is amusing and every word he utters is distinct and, what is more to the point, natural. Mr. Arthur's jocose utterances added to the laughter last night. Mr. Gilbert decided to use words like "colossal, amazing and wonderful." Miss Shearer and Miss Crawford were quite good.
Click here to read further summaries of the short film, appearing in The Films of Norma Shearer (Jacobs and Braum) and Norma: The Story of Norma Shearer (Quirk).
[Thanks to Shearer scholar Mike O'Hanlon for sharing this info.]
---

Vollbracht, Michael (formerly "Michaele") (11/17/47 - 6/7/18)
Fashion designer, artist, and Friend of Joan in the 1970s. Vollbracht's portrait of Joan hung in the bedroom of her Imperial House apartment in New York City, and he was in her entourage on the night of her last public appearance (September 1974) at NYC's Rainbow Room, where she introduces him several times to the camera and delights in pronouncing his last name correctly. His 1985 book Nothing Sacred, a "visual diary" of his NYC years, features Joan, and his quote about her, on the back cover.
Wikipedia page. This site's Vollbracht page.
---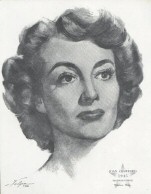 Volpe, Nicholas (1911 - 1992). Celebrity artist who did a 1962 charcoal sketch of Joan (as part of a series of Oscar winners from 1928 to 1961), which was later displayed at the Beverly Hills Brown Derby restaurant. Prints continue to be sold on eBay today.
This site's Volpe page, with large version of sketch and more info about the artist and Academy Awards portrait book in which it first appeared.