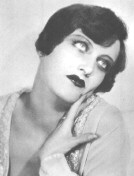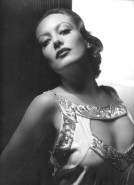 The Best of I
Ice Follies of 1939 • I Live My Life • Imperial House • Audrey Inman • Innocent Eyes • John Ireland •
I Saw What You Did • It's a Great Feeling • I've Got a Secret
---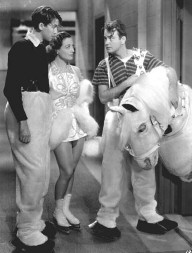 Ice Follies of 1939. MGM. Directed by Reinhold Schunzel, 82 minutes. Joan stars as "Mary McKay," part of a husband-wife-friend ice show. When Mary gets a film contract, the marriage and the show are threatened. James Stewart and Lew Ayres co-star. The real purpose of the film was to hype the latest MGM find, "The International Ice Follies" show; a long sequence at the end of the film features a technicolor ice extravaganza, with Joan and Jimmy sitting in the audience. Joan sang two numbers--"It's All So New to Me" and "Something's Gotta Happen Soon"--that were cut from the film.
Says Joan in CWJC: Christ. Everyone was out of their collective minds when they made "Ice Follies." Me, Jimmy Stewart and Lew Ayres as skaters--preposterous. A dancer I am, a skater I'm not; whenever I couldn't fake it or use a double I skated on my ankles. Nice music and costumes, and the Shipstad ice people helped, but it was a catastrophe. The public thought so, too.
---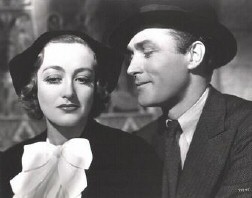 I Live My Life. MGM, 1935. Directed by W.S. Van Dyke, 85 minutes. Joan stars as "Kay," a society girl who falls in love with a serious-minded archaeologist (Brian Aherne) while on vacation. Says Joan in CWJC: ...the only thing I want to remember is the costumes by Adrian. Formula stuff, but I guess by then I had an audience that wanted me to do the same things over and over again. Or at least Metro thought so.
---
---
Inman, Audrey Davenport. Helped Joan write her 1971 book My Way of Life. In the book, Joan thanks Inman, "who for several months kept hitting me over my head to make me sit down at my tape recorder and finish dictating this book... My head is still sore. I appreciate her expertise in organizing it and her persistence in making me edit it."
---
Innocent Eyes. Joan made her Broadway debut at the Winter Garden Theatre in this J.J. Shubert-produced musical revue. The play ran from 5/20/24 to 8/30/24, for 126 performances. After that, it went on tour, without Joan, who opted to stay in NYC to perform in the next Shubert production, The Passing Show of 1924, which opened that September.
Internet Broadway Database info.
---
Ireland, John. (1/30/14 - 3/21/92) Joan's co-star in Queen Bee ('55) and I Saw What You Did ('65). According to "QB" co-star Betsy Palmer, he and Joan "whooped it up" a bit on the set and on occasion couldn't be filmed because they'd been up so late the night before "boozing and balling."
IMDb info. Excerpt re Joan from Ireland's unpublished bio.
---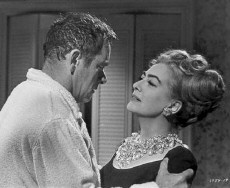 I Saw What You Did. Universal, 1965. Directed by William Castle, 82 minutes. Joan has a small part in her second Castle film as "Amy Nelson," a possessive older woman who gets bumped off early in the film by her eeevil lover (John Ireland), who in turn is tormented by teenage girls playing phone pranks. Said the Saturday Review: Unfortunately, there is little for eye, ear, or mind in William Castle's egregiously low-budgeted I Saw What You Did, an attempt at terror...
---
It's a Great Feeling. Warner Brothers, 1949. Directed by David Butler, 85 minutes. Joan makes a brief cameo as herself, berating stars Jack Carson and Dennis Morgan and slapping them (as co-star Doris Day looks on) because, "I do that in all my pictures!" She then briskly walks away with a snappy salute. Says Joan in CWJC: ...one of my favorites...The first comedy I'd done in ages, and I loved every minute of it. Marvelous therapy, after doing all those heavy parts, one after another, starting with "Mildred."
---
I've Got a Secret. Joan appeared on this CBS game show in May 1963.