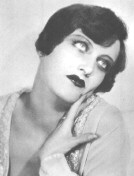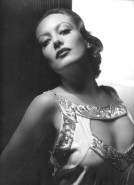 The Best of C
---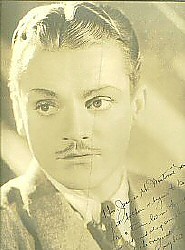 Cagney, James. (7/17/1899 - 3/30/1986) This American film icon known primarily for his pugnacious roles was born on the Lower East Side and played vaudeville and Broadway (as a chorus boy) before being signed to Warners in 1930. He's probably best known for his parts in Public Enemy (1931), Angels With Dirty Faces (1938), and Yankee Doodle Dandy (1942)---the latter in which Joan was offered a role and said: "I'm too old. Give it to Joan Leslie."
Joan and Cagney were friends. The picture to the right, given to Joan in the early '30s, was inscribed with: "This, Joan, is the Westmore version. If it bothers or begins to pale after a time, let me know and I'll send along something closer to the original. In any case, my very best to you, Jim Cagney."
Click here to read a March 1972 letter from Joan to Cagney, expressing appreciation for a recent Cagney-week on TV.
---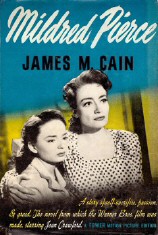 Cain, James M. (7/1/1892 - 10/27/77)
Author of the 1941 novel Mildred Pierce, upon which the 1945 Joan-film of the same name was based. He also wrote other noir classics later made into films, including The Postman Always Rings Twice and Double Indemnity.
Wikipedia page. IMDb page. EditorEric.com.
This site's Mildred Pierce book section. 1946 letter from Cain to Joan on Oscar night.
---
Campbell's Funeral Home. Located on Madison Avenue in NYC, Joan's funeral was held here on Friday, May 13, 1977, at 10am. (LY) Around 75 people attended this service for close friends and family, including Joan's four kids and brother Hal's daughter Joan Crawford Lowe Fuller.
---

Caniff, Milton. (2/28/1907 - 4/3/1988) Friend of Joan and author of the comic strip "Terry and the Pirates," which ran from 1934 to 1946. This strip's character "The Dragon Lady" was based on Joan. Caniff explained in 1973 that Joan had been the model "In appearance only, not personality. I saw her in some movie [Chained, 1934] in which she played a siren. She had her hair parted in the middle and wore a high-collared cape. And that became The Dragon Lady."
See this site's Caniff Art page for two personal sketches Caniff did for Joan in the 1960s (including a full-length "Dragon Lady" sketch).
Comic Art & Graffix Gallery. Wikipedia page.
---
Capote, Truman. See "Black and White Ball."
---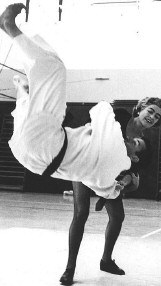 Caretakers, The. United Artists, 1963. Directed by Hall Bartlett, 97 minutes. Joan plays "Lucretia Terry," a stern head nurse at a mental hospital who butts heads with doctor Robert Stack and his newfangled ideas about how to treat patients.
---
Carmel (California). Joan often took her children for weekend vacations there. (MD)
---
Carroll, Mildred. Dubbed Joan's voice in the "Rhythm of the Day" number in '33's Dancing Lady.
---
Carson, Jack. (10/27/10 - 1/2/63) An actor who had a 25-year career, Carson played the greedy Wally Fay in Mildred Pierce and also co-starred with Dennis Morgan and Doris Day in 1949's It's a Great Feeling, in which Joan made a cameo appearance. IMDb info.
---
Casa Brasil. A favorite restaurant of Joan's in New York City.
---
Cassin, Billie. Joan was born "Lucille LeSueur," but her childhood nickname was "Billie" and she used her stepfather's last name "Cassin" after her mother's remarriage. (See Henry Cassin info below.)
---
Cassin, Henry. (c. 1867 - 10/25/22) Joan's stepfather, whom her mother Anna Bell Johnson married July 13, 1909, after moving her family to Lawton, Oklahoma, after Joan's father, Thomas LeSueur, abandoned them.
Cassin was a small man of Irish descent who dressed flamboyantly and operated Lawton's "Ramsey Opera House" and "Air Dome Theater," home to travelling vaudeville shows and such. Joan thought he was her real father (she was known then as "Billie Cassin") until about age 11, when brother Hal informed her otherwise. Cassin encouraged Joan's dancing, even paying for lessons, and let her hang around his theaters and the show people. Said Joan in CWJC: "If I could really give credit to the people who helped me the most, I guess he'd top the list, even after all these years...."
In September 1916, he was accused of embezzling; after being acquitted in a 1917 trial, the family moved to Kansas City, where they briefly operated the rather seedy Midland Hotel. (In the Essential Biography, author Quirk says that Joan told him that she and Cassin had had sex when she was 11 and that this is what prompted the family upheaval at that time.) In Kansas City, Cassin enrolled Billie in the St. Agnes convent school and initially paid her tuition, but when he left the family soon afterwards, she was forced to work for her keep. (CWJC) Months after Cassin left her mother, Billie would roam downtown KC looking for him; she found him once and he took her for an ice-cream. She never saw him again. (JCB)
While various Joan bios speculate that Cassin seems to have disappeared completely after this time and possibly died in 1919, in fact his actual whereabouts and death and burial are a matter of public record. Specifically (according to Cassin researcher Katie Soto): He died on October 25, 1922, in Nashville, Tennessee, where he was a resident businessman, and was buried October 31 in Lawton, Oklahoma's Highland Cemetery. (His mother, Mary Lyden Cassin Delehanty, is also buried in Highland Cemetery, as are his half-sisters Katherine and Mary Delehanty, and his brother William, who died in a car accident near Lawton in 1918.)
From the Lawton Constitution:
HENRY CASSIN TO BE BURIED HERE
Former Lawton Citizen Dies Suddenly In Nashville of Heart Attack.
Funeral Services for Henry Cassin, former Lawton citizen who died Thursday in Nashville Tenn., will be held at 9 o'clock Tuesday morning at the Catholic church. [The service was given by Father Lamp.] Mr. Cassin died suddenly of heart trouble while on a business trip to Tennessee.
The body arrived in Lawton today noon accompanied by the two sisters of Mr. Cassin, Miss Mary and Miss Katherine Delehanty. St. Clair's have charge of the body.
Mr. Cassin will be remembered by many Lawton people. For years he was engaged in the abstract business here later going in the oil business which took him away from Lawton.
Mr. Cassin was 48 years old. [This age is disputed. Census records show he was more likely born around 1867, which would have made him around 55.] He was born in Davenport, Iowa.
He is survived by his mother, Mrs Delehanty, two sisters, Miss Katherine and Miss Mary Delehanty, and one brother Michael F. Delehanty, who resides in Washington. He will be unable to come to the funeral.
Pallbearers will be Ray Keegan, Dick Jones, Bob Landers, J. H. Mullins, Charles Graybill and E. G. Warren.
Henry Cassin's mother, Mary Lyden, was born in Galway County, Ireland about 1849. Her brother, Patrick Lyden, was also born in Galway County, and their parents John and Julia Henry Lyden came to the United States in 1855 to Davenport, Iowa. Mary married her first husband, Cassin, around 1865; she had three sons--Henry J., William, and James--with him. Her first husband passed away, and she then married Michael Delehanty. Census records indicate Henry was born around 1867. The 1900 Census for Iowa shows Henry living with his mother Mary and her husband Michael Delehanty and their children. The entire family moved to Lawton, Oklahoma, a few years later.
Many thanks to researcher Katie Soto for providing the until-now-unknown above information on Cassin.
See Cassin's entry on RootsWeb.com for more information on his family background. Find A Grave memorial.
---
Casting Couch, The. I remember finding a Joan quote online that said something like "I'd rather sleep on a casting couch than on a cold hard floor." (If you know the exact line and in what context she spoke it, please e-mail me.) This was also one of the supposed names of the supposed porn film she made prior to coming to Hollywood. (LY says it was also known as "The Plumber"--See also X-rated Movie.) In CWJC, Joan says of the figurative "casting couch":
...Louis B. didn't approve very much of the casting couch, so that wasn't a very big thing at Metro. A lot of actresses, however, could be intimidated, and were. They were not only vulnerable, they were willing to do damned near anything to "make it" in Hollywood and not go back to St. Paul, Minnesota, to spend the rest of their lives up to the ass in kids and snow. God only knows how many times the casting couch was used to get a part or a contract, and how many tears were shed when that little fling on the couch didn't turn into anything.
---
Castle, Charles. British writer and TV producer, author of the 1977 Joan bio The Raging Star (which isn't, contrary to its claims, "authorised"). Castle had done a documentary on Noel Coward that aired on NYC TV in 1974. He expressed an interest in doing a similar show on Joan and the two met several times to discuss it; Joan didn't like how the Coward program turned out, though, so decided against working with Castle. (LY)
---
Castle, William. (4/24/14 - 5/31/77) Schlockmeister producer and director with a definite knack for promotion. He directed Joan in '64's Strait-Jacket and '65's I Saw What You Did. Other feats: He was the producer of '68's Rosemary's Baby and directed the '59 Vincent Price vehicle House on Haunted Hill.
IMDb info. The William Castle Story.
---
Catlett, Walter. (2/4/1889 - 11/14/60) Blustery comic of the Ziegfeld Follies and Joan's co-star in Rain. During the welcome dinner for the Rain cast, Joan tried talking to Catlett about her interpretation of the Sadie Thompson character. Catlett responded: "Listen, fishcake, when Jeanne Eagels died, Rain died with her." (What a gent!) (JCB) IMDb info.
---
Chadwick School. Palos Verdes, California, school founded in 1935 by Margaret Chadwick. Each of Joan's children attended it (most famously Christina, as she recounts in her book Mommie Dearest), only to be withdrawn by Joan in November 1954 in a fit of pique. School link.
---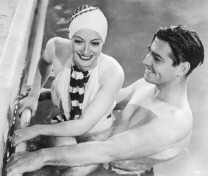 Chained. MGM, 1934. Directed by Clarence Brown, 74 minutes. Joan stars as "Diane Lovering" in a love triangle with an older married man and the available Clark Gable. It's her 5th film with Gable. Says Joan in CWJC: ...Clark and me together again, with all the overt and implied sexuality.
---
Chandler, Charlotte. Author of the 2008 Joan bio, Not the Girl Next Door. See the Books page for more information. Wikipedia entry.
---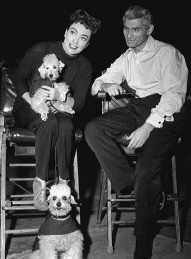 Chandler, Jeff. (12/15/18 - 6/17/61) Born "Ira Grossel" in Brooklyn, Chandler was the top star at Universal at the time Joan specifically requested him as co-star in that company's 1955 film Female on the Beach. According to EB, the two had had an affair a few years prior to Female, when Chandler was a contract player and Joan interviewed him for her production company. Joan friend Jerry Asher said that Joan had broken off the fling, but the two remained friends and resumed sexual relations during the Female shoot. In 1973, 12 years after Chandler's death, Joan said, "I love him. He was such a good person, a really nice guy."
---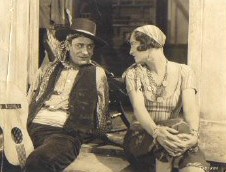 Chaney, Lon. (4/1/1883 - 8/26/1930) One of silent cinema's biggest stars, "The Man of a Thousand Faces" is perhaps best known for his work in horror films such as 1923's Hunchback of Notre Dame and '25's Phantom of the Opera. Joan co-starred with him in 1927's The Unknown, where he played the allegedly armless circus knife-thrower Alonzo. Joan later said of his influence:
[After observing Chaney] I became aware for the first time of the difference between standing in front of a camera and acting. Until then I had been conscious only of myself. Lon Chaney was my introduction to acting. The concentration, the complete absorption he gave to his characterization filled me with such awe I could scarcely speak to him. He demanded a lot of me. A lot of times I was afraid I wasn't giving him what he wanted to play off, but I guess he thought I was okay. (EB)
---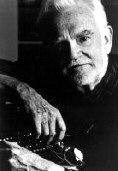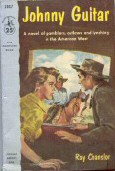 Chanslor, Roy (8/25/1899 - 4/16/1964).
Screenwriter, novelist. Author of the 1953 novel Johnny Guitar, upon which the Joan-movie of the same name was based. Joan writes on the foreword page of the 1954 paperback edition of the book: When I read Roy Chanslor's turbulent drama of the legendary woman known as Vienna and her Johnny Guitar, I wanted to do it on the screen. For me there was a special excitement in the role of this fascinating woman and in the fast-paced drama of this story of the West...
Chanslor began his career as a NYC newspaperman, segueing into films with his 1931 screenplay for Shanghaied Love. Along with JG and his dozens of screenwriting credits, he also wrote the novel that was the basis for the 1965 film Cat Ballou.
Chanslor IMDb page. This site's Johnny Guitar book section.
---
Chauveron. One of Joan's favorite restaurants in NYC. (MWOL)
---
Chelsea Cinema. This NYC theater (on West 23rd St., between Seventh and Eighth Avenues) once featured a "Thursday Classics" movie-night, hosted by drag diva Hedda Lettuce. In March 2004, their star of the month was Joan in Possessed ('47), Berserk!, Flamingo Road, and Strait-Jacket. (There were numerous other Joan evenings; in March '06 I attended a screening of Berserk there; Harriet Craig and Baby Jane were on the spring '06 schedule; and Flamingo Road showed again in September 2006.) The theater is now known as "Cinepolis Chelsea" and still shows some classics, along with art films.
---
Childhood, Joan's. Says Joan in the intro to CWJC when asked about happy moments in her life:
Well, we can skip childhood because I didn't have any. Not one goddam moment on the Good Ship Lollipop. Boarding houses and hash joints and dime stores and chorus lines is about all I remember, but I'm not complaining because if it hadn't been for that sort of a beginning there'd have been no Joan Crawford. I agree with the English writer, whoever he was, who said that a miserable childhood is the ideal launching pad for success. I was sure as hell not going to repeat my mother's miserable life. No way.
Later in the book she elaborates on her school days:
I never had a chance to be part of a clique, something every little girl wants, and I never had any close chums. Instead of being pretty I was "different," and you know how damned cruel kids can be to anyone who's "different." I kept thinking I might be popular if I stood out more, so I did three things--I walked around looking as though I was self-assured, but I came off brassy. I did little things to mother's dresses to make me look different, but I came off a freak. And I worked my ass off learning how to dance, but I became an exhibitionist. If there was a laughing-stock, a class joke, it was little Lucille. Look, I'm not feeling sorry for myself. True, I was lonely at home (if you can call boarding houses and kitchenette apartments and a few sleazy rented houses home) and lonely at school, but a lot of it was sheer stubbornness and perverseness. I guess maybe I didn't want to conform, and I paid the price for that.
See also Johnson, Anna Belle , LeSueur, Hal , Cassin, Henry.
---
Christian Science. A spirituality and health movement founded by Mary Baker Eddy. (Eddy's ideas on the subject were first published in 1875, in her book Science and Health with Key to the Scriptures; four years later her Church of Christ, Scientist was founded in Boston.) Joan became a follower of Eddy's teachings in the 1930s, and continued to be influenced by its practices until her 1977 death. Said Joan in CWJC:
I can't say that I'm [a] strict [follower]. I do things a really disciplined Scientist wouldn't do, but I firmly believe that the body can cure its ailments through faith instead of medication or surgery. I realize there are times when one must have a doctor, but we can take care of most things ourselves, with faith and prayer and patience. I think Science would be a wonderful answer to the drug and dope problems we have today. I think it would have been of great help to people like Tyrone Power, Marilyn Monroe, and Judy Garland, who made drugs a way of life. It also teaches you moderation. I should really practice more strictly...but I've done wonders, at least as far as a certain peace of mind is concerned, to carry it this far.
(For Joan's views on religion in general, see the Religion entry. For more information on Eddy, see the Mary Baker Eddy Library site.)
---
Christie's. Auction house that sold 21 lots of Joan items on 6/19/93, put up for sale by daughter Cathy LaLonde. (Joan's Oscar was the highest-selling item that day, going for $60,000 -- after surcharge and tax, $68,500.) See the complete list of Joan items sold here in '93.
---
Chrysler, Jerry. A frequent dance partner of Joan's in her early days of Hollywood. The two won a cup at the Cocoanut Grove one chilly night, then went driving in his roadster while still damp with sweat... Chrysler came down with pneumonia and later died. Joan had a huge floral display of gardenias spelling "Jerry" made and created a bit of a scene at his funeral, causing his mother to be carried out. (JCB)
---
Cielito Lindo. Joan and Doug's name for the house they shared at 426 N. Bristol in Brentwood. The name is literally Spanish for "Beautiful LIttle Heaven," but is also used as a general term of endearment. Though I don't know whether this is where the couple got the name, it's also the title of a traditional Spanish song (used in '70s US TV commercials with new lyrics: "Ay ay ay ay, I am the Frito Bandito..."). See also El Jodo. Spanish/English song lyrics.
---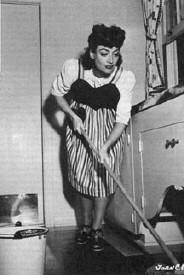 Cleanliness. In CWJC, interviewer Roy Newquist asks Joan about the plastic slipcovers on the furniture in her NYC apartment. Joan replies:
Look, they keep the upholstery clean, and I so seldom have guests these days, that I might as well be as orderly as possible. With all this crap in the air--nothing stays clean that isn't covered. We do not live in a hygienic age.
Maybe I've always been a nut when it comes to cleanliness. When I was a kid I'd scrub the hell out of the rooming houses and crummy apartments my mother and her husbands lived in...and even after I had the money to hire an army of housekeepers and maids I ended up doing the cleaning myself because they never got things really clean. It's just part of being civilized, that's all. And I'm not about to apologize for it.
I had one hell of a time with [second husband] Franchot. He found it amusing and irritating, both, and there were times I could have strangled him when he'd answer the phone and say, "Sorry, she can't speak to you right now; she's cleaning the toilets."
That's one thing I could never understand, out on the Coast. I'd go to a party at someone's house, more like a mansion, really, and I'd go to the bathroom and have to wipe the seat with wet toilet paper before I dared sit down, or I'd sit on a couch, wearing a white gown, and come away with a film of dust. Once I went into the kitchen for a glass of water, and when I turned on the light the cockroaches scattered like mad. I don't understand this sort of sloppiness, and I don't think I ever will.
---
Club Richman. Seeking to supplement her income while working on her 2nd musical with J.J. Shubert ("The Passing Show of 1924"), Joan begged Nils Granlund and Harry Richman (two bigtime NYC radio stars) in the fall of 1924 for a performing job at their new hotspot Club Richman (157 W. 56th St.). The club was considered one of the most lavish and popular of New York's 100,000 speakeasies and catered to the bigwigs, charging a $6 cover (today's equivalent of over $75). Granlund gave her a featured spot as a Charleston dancer and extra money for teaching the Charleston to his other dancers. (And, more importantly, introduced her to MGM's Marcus Loew, who set up a screen test for her.) (JB)
---
Cock 'n Bull. A frequent lunch spot in Hollywood for Joan (sometimes accompanied by daughter Christina). They also supplied secret spices for her famous coleslaw. See Recipes. (MD, MWOL)
---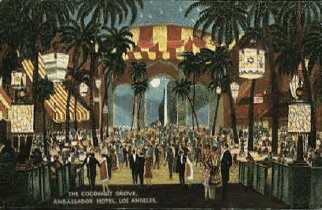 Cocoanut Grove. Los Angeles nightclub, part of the Ambassador Hotel grounds. The club opened on April 21, 1921, and was a favorite Hollywood dance spot of Joan's in her early Hollywood years, where she won over 100 dance trophies. She had a special table there (under a palm tree close to the entrance) just for her and her circle of girlfriends (which included Loretta Young's older sisters, plus Dorothy Manners and Audrey Ferris) who'd meet weekly for "tea dances." Once an audacious upstart named Jane Peters took over Joan's table--Joan raised such a ruckus that the headwaiter never again dared to seat anyone else there. (Peters later became known as "Carole Lombard.") (JCB) The Ambassador and its grounds closed in 1989. See the Ambassador Hotel entry for info on 2004 plans for the Cocoanut Grove building--as a school auditorium. :(
---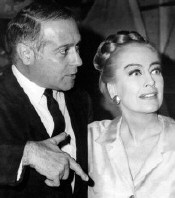 Cohen, Herman. (8/27/25 - 6/2/2002) Producer of Joan's last two films, Berserk and Trog. During the filming of Berserk, he often escorted her to dinner or to the theater, and also politely insisted that she not start drinking on the set before noon. He got his start as an usher at a Detroit theater, eventually working his way to Columbia Pictures, where he produced early teen exploitation films such as '57's I Was a Teenage Werewolf.
IMDb info. The Man and His Movies site (with clips/photos/reviews, etc., from the Joan films)
---
Cohn, Harry. (7/23/1891 - 2/27/1958) Head of Columbia Pictures. In CWJC, Joan says Cohn "loved to sample the goodies." IMDb info.
---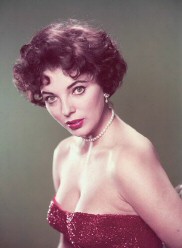 Collins, Joan. (5/23/33 - ) British sex-bomb and ageless diva. Collins made her film debut in 1951's Lady Godiva Rides Again and came to Hollywood in '55, after appearing in Howard Hawks' Land of the Pharaohs. In 1956, she took on the Joan Crawford role in the Women remake, The Opposite Sex. Her film career faded after the '50s, and the next two decades were spent doing low-budget movies and TV appearances (including shows that Joan Crawford also appeared on: What's My Line, The Virginian, The Man from U.N.C.L.E.).
Collins' career rebounded mightily in 1981, when she made a very grand entrance on the 2nd season of the US TV series Dynasty as Queen Bee Alexis Carrington. Ratings for the show soared, and Collins remained a regular on the show until its demise in 1989. Since then, Collins has remained an international glamour-girl---writing novels, making guest appearances on TV, marrying much-younger pretty boys, and most recently co-starring on Broadway with her former Dynasty nemesis Linda Evans.
In Collins' 1997 St. Martin's Press autobiography, Second Act, she wrote about meeting Joan Crawford in July 1956:
In spite of Maxwell Reed's [Collins' first husband] cynical advice, I always tried to get on with everyone on the set and it was only when I met Joan Crawford, some months later, that I discovered what he meant when he had said, "A star should pull rank. A star must be bigger than life." I'd been invited to a 'Welcome to London' party at my favorite haunt, Les Ambassadeurs, for Miss Crawford, then married to Alfred Steele, chief executive officer and president of the Pepsi-Cola company. The newspapers had been full of her starry arrival at London Airport: a huge black limo was followed by three white Pepsi vans, on top of which was stacked Joan's massive amount of luggage, each piece emblazoned with a large J.C. The star took over the Oliver Messel suite at the Dorchester for The Story of Esther Costello, which she was making for my friend the producer James Woolf. Joan Crawford was also an executive producer of Esther Costello and, ever mindful of costs, Jimmy told me that she had reviewed her wardrobe budget and had lopped off thirty thousand dollars from the original seventy thousand by such drastic measures as leaving the sable and mink trims off the hem and sleeves of several dresses, and having a coat lined with velvet instead of seal. The ultimate sacrifice had been for her to wear the same pair of shoes several times in the movie.
I went to the Esther Costello party with Gordon White, a theatrical agent, popular man-about-London and, since I was now separated, an occasional date. Miss Crawford had wanted all the women attending the party to wear either ballerina length or long gowns, so I put on my best bib and tucker to mingle with such august persons as Laurence Olivier, Vivien Leigh, John Gielgud, Noel Coward, Marlene Dietrich, Edith Evans, Rita Hayworth and, of course, Laurence Harvey, who was starring opposite Joan in Esther Costello. Joan Crawford was ensconced like an empress on a tall chair at one end of the triple banqueting rooms of Les Ambassadeurs. A middle-aged, regal, but not terribly attractive woman in a sea-green silk dress embroidered with sequins in the fashionable 'short in front and long in back' style. With eyebrows as thick and dark as Groucho's, lipstick and matching nail varnish obviously 'Jungle Red', and hair done in a curiously old-fashioned forties' style, which was echoed in her ankle-strapped, platform-soled stilettos, she was a formidable sight. When each guest was brought over to greet her, she extended her hand graciously, giving a more than passable imitation of our own dear queen. When Jimmy introduced me as 'one of England's newest and brightest young stars', Miss Crawford didn't take my outstretched hand. Her eyes swept me dismissively from top to toe, her lip curling disdainfully at my low-cut white organza top and full black and white tulle skirt. She obviously didn't like what she saw so she didn't deign to speak to me, but chatted animatedly to Jimmy. I wanted to tell her that my mother, a great Crawford fan, had named me after her, but I didn't think she would have the stomach for such trivia.
At the National Film Theatre Q & A session in London in 1956, Joan Crawford mentioned Collins briefly: You know, our, um, my director on this picture Esther Costello [David Miller] has just done The Women, or redone it as The Opposite Sex, with a great cast and I think he had twelve women, they all got along beautifully. And he didn't know who to cast in my part and, uh, I said why don't you look at this one and that one. So he got Joan Collins and I said 'you stuck with J.C., didn't you?'
(Thanks to James for contributing the Collins book excerpt and Crawford interview excerpt.)
IMDb Collins info. Joan Collins Shrine. Official Collins site.
---
Columbia Pictures. Joan made several pictures for Columbia: 1942's They All Kissed the Bride (on loanout from MGM); 1950's Harriet Craig (on loanout from Warners); 1955's Queen Bee; 1956's Autumn Leaves; 1964's Strait-Jacket; and 1968's Berserk.
---
Considine, Shaun. ( ? - 4/14/2015) Born in Brooklyn, Considine worked as a publicist and photographer before publishing his first book in 1985: Barbra Streisand: The Woman, the Myth, the Music. In Joan-World, he's best known for the entertainment-biography classic Bette & Joan: The Divine Feud, published in 1989 (with a 25th anniversary edition in 2014). In a 2013 interview, Considine, who had met and interviewed both Bette and Joan over the years, said of relations between the women:
...in the beginning it was hard to fathom there would be any envy or jealousy between them. I naively assumed that as major Hollywood "movie stars," they were way above such basic human emotions. At the end of their lives it surprised me to learn that Miss Crawford was the more vulnerable of the two, and that she really wanted to be friends with Bette Davis. But to accomplish that do she would have had to grovel. Being the quintessential movie star, Joan Crawford could never do that.
Up until his death in 2015, Considine was a supporter of and communicator with various Joan fans and websites, including this one. His warm, generous spirit will be remembered and missed.
2013 in-depth interview on the Mermania blog.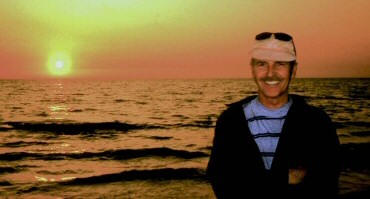 ---
Contracts. As I find them, I'll be posting links here to pages where you can read some of Joan's actual business contracts.
1943. June MGM contract letter, buying her out for $100,000.
1943. July Warners 104-week contract (2 of 31 pages) plus amendment.
1947 Warners contract for 14 films.
1947 letter from Joan to Twentieth Century - Fox RE director of photography for "Daisy Kenyon."
1948. Two "Flamingo Road"-related Warners contracts.
1950. A "Harriet Craig"-related contract.
1950/1951. A "Goodbye My Fancy" and a general Warners contract.
1955. A Universal "Female on the Beach" contract.
1968. 3-year contract with the William Morris Agency.
---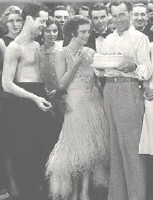 Conway, Jack. (7/17/1887 - 10/11/1952) Directed over 100 films, including several with Joan: The Only Thing (1925), Twelve Miles Out (1927), The Understanding Heart (1927), Untamed (1929), and Our Modern Maidens (1929), on which he also served as producer. (Trivia: Conway was the son-in-law of silent actor Francis X. Bushman, Sr., whose son Francis Bushman, Jr. appeared with Joan in Understanding Heart.)
---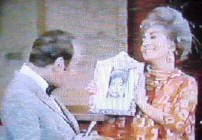 Conway, Tim. Joan appeared on two of this "Carol Burnett Show" alumnus's CBS programs: "The Tim Conway Show" (1/30/70) and "The Tim Conway Comedy Hour" (9/30/70). See the '70s TV page for more info.
---


Coogan, Jackie, Jr. (10/26/14 - 3/1/84) Child star of Joan's 1925 silent film Old Clothes, he perhaps most famously appeared with Chaplin in '21's The Kid and later went on to play "Uncle Fester" in the '60s TV series "The Addams Family." Said Joan of his TV work: "You know, I wouldn't have recognized him, except he's still got that certain look on his face. The big, wide eyes, the same expression. It's old and wrinkled but it's the same face." (EB)
Classic Movie Kids page. Golden Silents Page.
---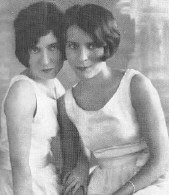 Cook, Lucille and Nellie. A sister singing act in Kansas City in the early 1920s. One night when Joan (then "Billie Cassin") was locked out of her house by her wicked stepfather Harry Hough after coming home too late, the two found her sobbing in a hotel bathroom and took her home with them. A week or so later, the sisters took Billie along when they performed at the Ivanhoe Hotel; a booking agent interested in them also noticed Billie dancing and arranged for an audition as a chorus girl in Katharine Emerine's Springfield, Missouri, show. Billie got the job... and promptly took off with all of the Cooks' costumes! Said Nellie later: "We forgave her, in a way. Billie had such determination and drive, and she was so frightened of failure. She did what she felt she had to do. It's true we were placed in a terrible spot, but it worked out all right." The Cooks later traveled the Orpheum circuit, did national radio shows from New York and Chicago, and even had small roles in Hal Roach comedies in Hollywood. (JB)
---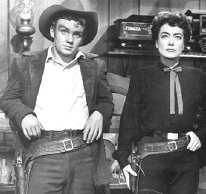 Cooper, Ben (9/30/1933 - 2/24/2020)
In 1942, Cooper started his career as a child actor in Broadway's Life with Father and went on to appear in numerous radio and TV shows and film Westerns. He played "Turkey" in 1954's Johnny Guitar.
IMDb info. Wikipedia info. Hollywood Reporter obit.
---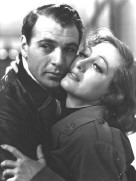 Cooper, Gary. (5/7/01 - 5/13/61) Joan's only film with this legend was 1933's Today We Live; Cooper played an American pilot to Joan's English heiress. IMDb info. Wikipedia page.
---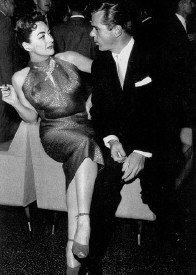 Cooper, Jackie. (9/15/22 - 5/3/11) In his autobiography Please Don't Shoot My Dog (William Morrow, 1981), former child star Cooper tells of his affair with Joan when he was a teen:
I was seventeen, and I began to go over to Joan Crawford's house to play badminton. She was a friend of my mother's and, over the years, had offered me the use of her court. She didn't have room for a tennis court, so had put in a badminton court, and I had learned to enjoy playing the game.

The court was right off the pool house, and one day, sweaty from an hour of exertions, I went into the pool house with Joan. I was thirsty, and she poured me a Coke. As she bent over, I looked down her dress.

"You're growing up, aren't you?" she said.

I was brash, fresh from some romantic triumph, I suppose, and I made some remark which I assumed was sophisticated, witty, and very sexually provocative.

"You had better get out of here, young man," she said.

But I didn't go. Instead, I made a move toward here, and she stood up, looked at me appraisingly, and then closed the drapes. And I made love to Joan Crawford. Or, rather, she made love to me.

Over the next six months or so the performance was repeated eight or nine times. After the first time, however, it was always late at night. I would set a date with her, then manage to sneak out of the house after my mother and stepfather had gone to sleep. I would roll my car down the street until I was far enough away so I could start the engine without waking them. And I would drive to Joan's house.

She was a very erudite professor of love. At the time I suppose she was in her early thirties. I was seventeen. She was a wild woman. She would bathe me, powder me, cologne me. Then she would do it over again. She would put on high heels, a garter belt, and a large hat and pose in front of the mirror, turning this way and that way.

"Look," she would say. I was already looking. But that sort of thing didn't particularly excite me. I kept thinking: The lady is crazy.

But I recognized she was an extraordinary performer, that I was learning things most men don't learn until they are much older – if at all. There was never any drinking or drugs with her. It was all business. She was very organized. When I left, she would put me on her calendar for the next visit. I could hardly wait.

One night, after one of our sessions, she said that was the last time. She said I should never call her again.

"And put it out of your mind," she said. "It never happened."

And then she gave me one last kiss and added, "But we'll always be friends."

I was floating during that period. Fortunately, I had enough sense not to blab my conquest all over town, but it was a magnificent secret to have. My friends might brag about some pimply-faced teenager or gawky sixteen-year old they had had, and I would nod my congratulations. And I would think to myself: But I have been with one of the Love Goddesses of the Screen. Maybe I didn't say anything because I had enough sense not to. But maybe it was because I knew they wouldn't have believed me.

The last time I saw Joan Crawford was when I was doing a guest shot in Peter Falk's Columbo series. She was on the Universal lot at the same time, doing something, and the studio was buzzing with the news that Crawford was around. By accident, I happened to run into her, and she took my hand, looked into my eyes, and, I think, remembered.
---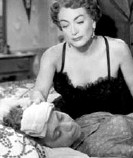 Corby, Ellen. (6/3/1911 - 4/14/1999) This durable character actress made her film debut in 1933 and went on to appear in hundreds of movies and TV shows. Her most famous role is that of "Grandma Walton" on the long-running TV series (for which she won Emmys in 1973, '74, and '75). She was nominated for Best Supporting Actress in 1948's I Remember Mama and co-starred with Joan in Harriet Craig, Goodbye My Fancy, and The Caretakers. IMDb info.
---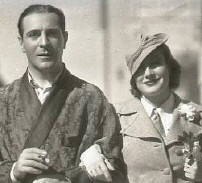 Cortez, Ricardo. (9/19/1899 - 4/28/77) Plays a playboy in Joan's 1930 film Montana Moon. Joan was reportedly escorted to Hollywood events by Cortez post-Doug and pre-Franchot (JC, LW), and also reportedly slept with him during Montana filming (EB).
Cortez was born "Jacob Krantz" in Austria and made his Hollywood debut in 1923. He appeared with Garbo in 1926's The Torrent and as Sam Spade in 1931's Dangerous Female, and continued to act regularly through the 1940s, before retiring to a cushy Wall Street job. His last film role was in 1958's The Last Hurrah.
---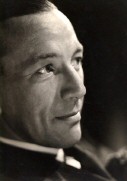 Coward, Noel. (12/16/1899 - 3/26/1973) British actor, playwright, composer, bon vivant. Coward played host to Joan and husband Doug Fairbanks Jr. in the summer of 1932 when the couple traveled to Europe in an attempt to save their troubled marriage. While in London, they attended Coward's "Cavalcade" at the Drury Lane Theater. Coward also hosted a party for them, and they were guests at Coward's country home in Kent. (JCB)
Coward and Joan remained friends through the years. In the autumn of 1952, Joan hosted a dinner for him at Le Pavilion with 200 guests, including her exes Doug and Franchot Tone, as well as her current beau, lawyer Greg Bautzer. When asked later what he thought of Bautzer, Coward said, "Too many teeth." (LW) Coward also attended a 1957 London party to honor Joan (in town to film Esther Costello) at Les Ambassadeurs restaurant. (EB)
The Noel Coward Society. Wikipedia entry.
---
Cox, Mitchell D. Pepsi executive and Friend of Joan's who also made a cameo appearance in her 1964 film Strait-Jacket.
---
Crane, Sharon. Pepsi PR girl who accompanied Joan on business trips for two years. (MWOL)
---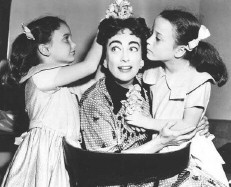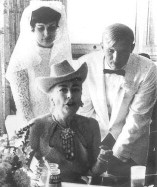 Crawford, Cathy (1/13/1947 - 1/10/2020)
Crawford, Cynthia (Cindy) (1/13/1947 - 10/14/2007)
Joan adopted twins Cathy and Cynthia in the summer of 1947 from a children's home in Tennessee. While their sister Christina has often claimed that they were not twins and that their birthdate was made up, in fact a 1995 article in a Memphis newspaper recounts their search for their birth family and confirms that they are indeed twins with the January 13, 1947, birthdate. (Their birth mother died of kidney failure a week after their birth; they got to meet their father, a road worker, before he died of stomach cancer in 1993. The two parents had been dating but were not married at the time of their birth.)
In an October 1981 article, People magazine updated the lives of the twins; re Cathy:
Cathy, now the wife of a Pennsylvania sportswear executive and a mother of two, says bitterly, "Christina committed matricide on Mother's image."...

[She blasts Mommie Dearest] as "a farce." "Christina says Joan was rotten, and I say she was a good person," Cathy explains. "She was tough on us, sure. You'd get a swat once in a while, but none of the physical beatings – the coat hangers!" Cathy, who lives in northeastern Pennsylvania with her husband, Jerome LaLonde, and children Carla, 11, and Casey, 9, regrets the rift in the family. "I just can't feel for anybody who would do that to their own mother," she says. "It's very immoral."
Says the 1981 People article re Cindy:
A divorcee [from Iowa farmer John S. Jordan], she resides in a modest two-bedroom apartment in a hamlet in central Iowa with her sons, Joel, 10, and Jan, 13. "I think Christina was jealous," she says. "She wanted to be the one person she couldn't be – Mother. I think she'll use Joan until she can't get any more good out of it. Then she'll dump her."

Cindy was in boarding school from age 8, and attended Dubuque University, where she drifted into a romance with a student and soon faced a shotgun marriage. Joan at first offered to arrange an abortion. "But I wanted the kid," Cindy says, "and Mother gave her full support." And Joan applauded her when she divorced seven years later. Like Cathy, Cindy was given a $77,500 trust fund in her mother's will. (The bulk of Crawford's $1 million estate went to charities, though courts later awarded Christina and Chris $27,500 apiece.) Cindy is now scrimping while studying to become an "energy technician." She claims she "never saw Joan drunk," despite the Mommie Dearest script. In Crawford's day, she notes, "It was hard to be a single parent. It's still pretty rough. I've got first hand experience."...
Cindy phoned Joan two days before her death, "but just got a recording saying she'd call back. She never did."
Cindy moved to Mississippi in 1984 before settling in Memphis, Tennessee, after discovering her birth family in 1991. In '95 she was working in an annuity and investment company and her two sons were in grad school in Mississippi. Cindy appeared in the 1996 A&E Biography program on Joan, reiterating her position that Joan was firm but not abusive.
Cathy and Jerome LaLonde separated in 1984 and later divorced. From 1996 to 2006, Cathy worked with the Carbon Lehigh Intermediate Unit as a bus aide for children with special needs, serving school districts in Lehigh County, Pa. In 2006, she moved with daughter Carla and granddaughter Olivia to Miami until about 2016, when they moved back to the Lehigh Valley to be with family.
In 1997, Cathy sold some of Joan's memorabilia at a Lehigh County auction. And in 2005, Cathy's then-32-year-old son Casey began giving interviews and making public appearances to talk flatteringly about his grandmother. (Click here for a July 2005 Globe interview with Casey.)
DEATHS
According to an e-mail received by this site from Cindy's daughter-in-law, Cindy Crawford Jordan died at 2:50pm on Sunday, October 14, 2007, at Baylor All Saints Medical Center from complications of a liver transplant.
According to the Lehigh Valley (Pa.) Morning Call, Cathy Crawford LaLonde died Friday, January 10, 2020, at her home in South Whitehall Township, Pa., after a 6-year battle with lung cancer. She was 72. Legacy.com obituary.
---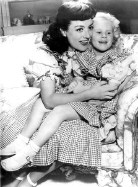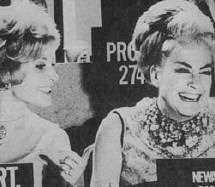 Crawford, Christina. (6/11/39 - ) Joan adopted her first child, initially named "Joan Crawford Jr.," in Las Vegas in May 1940. Christina's most famous, of course, for her 1978 condemnation of her mother, Mommie Dearest, which was made into a highly campy film in 1981. She had a sketchy early career as an actress, appearing in various plays and for 2 years on the '60s soap Secret Storm. (Joan substituted for her on this program on one memorable occasion.)
In October 1981, People magazine wrote re her relationship with her mother:
Christina last saw Joan five years before her death. Like Chris, she was left out of her will. Her sisters, who say she stitched in the "bad parts" about Joan's drinking and tantrums after the funeral, have not seen her since, even though last August Christina was hospitalized by a near-fatal stroke that partially paralyzed her right arm.

Nonetheless, Christina is prospering. With her book and film profits, she and her second husband, film producer C. David Koontz, 41, have a comfortable house in L.A.'s San Fernando Valley and a ranch 140 miles away in San Luis Obispo. Christina has a soon-to-be-released first novel, "Black Widow" (William Morrow, $12.95), which deals with a beautiful, ruthless woman who is cruel to her son and stepdaughter and deadly to the men in her life. Christina expects further criticism, given the plot.

She claims Mommie Dearest has served a good purpose – to strengthen child abuse laws. Though childless herself, she has lectured both at home and in England on battered children and is president of a charity that runs two centers for mistreated children in the L.A. area. "It was very difficult for me to put my life before the public," she insists.

Christina wrote two scripts for Mommie – and got her husband listed as executive producer – but the couple both feel the movie should have been filmed more from Christina's viewpoint. Complains Koontz: "They made a Joan Crawford movie."...
Christina counters her siblings' criticism by pointing out that "in many families where there are victims of child abuse, other members will often deny that they ever witnessed an actual event. That's because if they admit what they actually saw, they're going to have to admit that they have a bad, out-of-control parent. And that's terrifying for a child. Even as adults, these people pretend they forgot, or try to."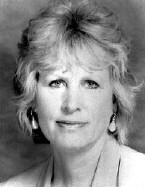 Christina had 8 years of rehabilitation after her '81 stroke, during which she lost both her money and her second husband Koontz. (Her first husband was director Harvey Medlinsky; her third, Michael Brazzel.) From 1994 to 1999 she ran a 5-room bed and breakfast in Idaho called Seven Springs Farm. In 1998, she made publicity appearances in LA, San Francisco, and New York City's Town Hall accompanied by hanger-wielding drag queens and showings of MD. Since 1999, she's been working in Idaho's Coueur d'Alene Casino as Special Events Manager and has appeared on recent TCM documentaries on both Joan and William Haines.
See also her 1960 Redbook interview, the prototype for the later Mommie Dearest. And read a transcript of her interview with Larry King from August '01.
---
(10/15/43 - 9/22/06) Chris was the second child Joan adopted, in 1943, along with then-husband Phillip Terry. (In MD, Christina says his birthdate was changed to October 15.) In an October 1981 article, People magazine had the following update on Chris and his life:
Chris [is] an unemployed former utility company lineman. He lives with his second wife, Gale, and their daughter Chrystal, in sleepy Greenport, N.Y. The 6'4" Chris has not worked since he fell off a ladder two years ago, even though a doctor ruled him fit and he receives no disability benefits; Gale supports the family with her clerk-typist job.

Chris thinks Christina's book "did a good job." He recalls Joan once holding his hand over a fire as punishment for playing with matches. At age 7, he learned from a classmate that he was adopted. "I was kind of a brat," Chris concedes. "I didn't feel accepted at home and I was odd man out at school." He was in and out of a dozen of them by the time he reached ninth grade. At 14 his mother sent him to a shrink. At 16 he got nabbed for car theft. By 19 he had wed a waitress, fathered a daughter and was working as a lifeguard in Miami. There one day, he says, "J.C. summoned me" to her suite at the Fontainebleau Hotel. "She took one look at my child and said, 'It doesn't look like you. It's probably a bastard.' I walked out. It was the last time I saw her."

After he and his first wife divorced (Chris has "no idea" where their three grown children are) and after Army service in Vietnam, he moved to Greenport and wed Gale. Chris says of the movie: "I lived it." He waived any rights to the book and movie for $10,000, so "I wouldn't have to go on talk shows and put up with all the crap."

A photo caption accompanying the article says Chris refers to Joan as "J.C." or "that bitch" but adds, "I guess I loved her." In a 1998 People article, Christina said that Chris was employed and was an occasional visitor to her farm in Idaho.
According to an e-mail that I received from his son Brad on 10/1/06, Christopher died of cancer on September 22, 2006, at approximately 10:50 am, at the Eastern Long Island Hospital in Greenport, New York.
---
Crazy Crawford.

p. 212 of The Divine Feud claims this was the name of a Joan-owned parakeet.
---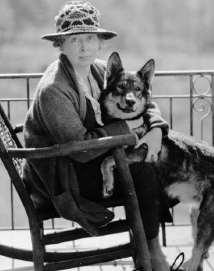 Crothers, Rachel (12/12/1878 - 7/5/1958). American playwright and director, cited as being "the most successful and prolific woman dramatist writing in the first part of the twentieth century" (Keith Newlin, 2000).
After years of writing one-act plays influenced by Ibsen and his "social problem drama," her first full-length play was a Broadway hit in 1906; thereafter, through the 1940s, she was considered a major name in the theater world.
Around a dozen of Crothers' plays were adapted for the cinema, including Joan's 1940 film Susan and God and 1941's When Ladies Meet.
Wikipedia entry. Encyclopedia.com entry.
---
Crowther, Bosley (7/13/1905 - 3/7/1981). A prominent New York Times film critic (early 1940s to 1968) who slammed Joan every chance he got!
NY Times reviews. Wikipedia entry.
---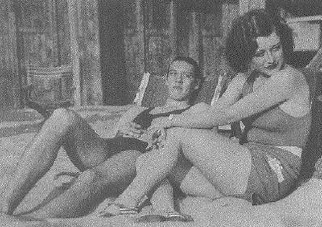 Cudahy, Mike. Dissolute 19-year-old heir to a Chicago meat-packing fortune and "the first great love of Joan's Hollywood life." They dated in 1926-27, were engaged at one point, and often won Charleston contests around Hollywood nightspots such as the Cocoanut Grove. LW quotes future Joan husband Doug Fairbanks, Jr., as saying that Cudahy was one of his best friends at the time and that he often saw the two out dancing. Said Joan in an early interview:
Mike was the answer to that mother-love yearning within me. I was determined to do for Mike what Ray Sterling had done for me. I wouldn't let him drink when he was with me. I wanted Mike to be perfect, to be the one man I had always envisioned in all my dreams. When we were out dancing we were like two happy children. But when we took long drives, sat in the moonlight just talking and talking, I was always trying to instill Mike with the same faith in life and in work that Ray had instilled in me. I used to think of the moonlight drives in Kansas City and how I had sat and listened. Now I made Mike sit and listen.
Eventually Cudahy's mother (a tall, pale recluse living with her son and two daughters in her Italian chateau above Hollywood Boulevard) invited Joan for tea, then told her that she didn't approve of the relationship. Joan was shocked since she felt Mrs. Cudahy encouraged her son's passivity while Joan pushed him to accomplish something. Cudahy kept drinking, and the relationship ended in 1927. (JCB)
---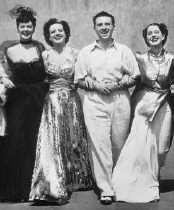 Cukor, George. (7/7/1899 - 1/23/1983) Directed Joan in No More Ladies ('35, co-director), The Women ('39), Susan and God ('40), and A Woman's Face ('41). One of four directors that Joan said helped or influenced her the most (the others: Clarence Brown, Edmund Goulding, Mike Curtiz). He also gave a tribute to her at her 1977 Beverly Hills memorial service, which you can click here to read in full.
Says Joan in CWJC:
George Cukor was the last of my father-figures at Metro, and the most important, because he made me round myself out as an actress and forget any limitations I or the studio placed on my career... George has his limitations--I don't think he's at his best with big scenes. I don't know how he'd have done on "Gone With the Wind," if he hadn't been taken off the picture, but chances are it just wasn't his thing...But where intimate woman's characterizations are concerned the only director who ever matched him was Lubitsch...
George simply has an uncanny ability to define the character of a woman, any type of woman, and how she should react to any given situation. This is what made the screen version of "The Women" better than the play. It could have been played strictly as farce, and still have been a good picture, but George picked up on so many subtle things that each character had a reason to be and do and say whatever happened on the screen. I don't think any other director could have established the characters I played in "A Woman's Face" and "Susan and God." He made me be those women.
Funny, but long after I was gone from Metro, I could actually hear him giving me tips when I read the script for "Mildred Pierce." Mike Curtiz was the director, but before I began working with Mike I imagined how George would set me up for the part. In a way he did.
---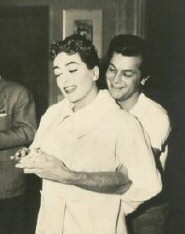 Curtis, Tony. (6/03/25 - 9/29/10) Curtis was born "Bernard Schwartz" in the Bronx and got his start in the New York theater before being signed by Universal in 1949 and going on to star in films such as The Sweet Smell of Success ('57), The Defiant Ones ('58) -- for which he received an Oscar nomination -- Some Like It Hot ('59), and The Boston Strangler ('68).
Joan took a fancy to him in the early '50s; at the time she told Modern Screen, "Usually when a guy has his kind of face and sex appeal you can't touch him with a ten-foot pole, but Tony has a refreshing humility and gentleness." Joan once invited him over for dinner; to her chagrin, he arrived with wife Janet Leigh in tow.
---
Curtiss, Ursula (4/8/23 - 10/10/84). Author of over two dozen suspense novels, including 1964's Out of the Dark, upon which Joan's 1965 film I Saw What You Did was based. Wikipedia page. goodreads.com. This site's book entry.
---
Curtiz, Mike (12/24/1886 - 4/10/1962). Hungarian-born director, perhaps best known for '42's Casablanca, who directed Joan's Mildred Pierce. One of four directors that Joan said helped or influenced her the most (the others: Clarence Brown, Edmund Goulding, George Cukor). IMDb info.
Says Joan in CWJC:
Mike Curtiz was a totally different director. Not subtle, not at all; he wanted scenes to come off like fireworks and they did, but he was smart enough to make the scenes believable. Confrontation was his big thing--not very subtle--but can you imagine "Mildred Pierce" without those very dramatic confrontations? No Oscar, baby.