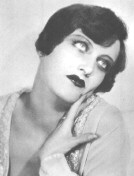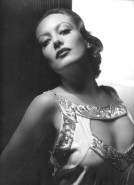 The Best of W
Jerry Wald • Alexander Walker • Jimmy Walker • Florence Walsh • Harvey S. Walter • Charles Walters • WAMPAS
• Andy Warhol • Warner Brothers • Jack Warner • Ruth Warrick • Lou Wasserman • Ruth Waterbury • Franz Waxman
• Jayne Ellen Wayne • John Wayne • Joan and Kirby Weatherly • Clifton Webb • Milton Weiss • Orson Welles
• William Wellman • James Barratt Welton • Sonny Werblin • Nydia Westman • Monty Westmore • West Point
• What Ever Happened to Baby Jane? • What's My Line? • When Ladies Meet • Jack Whiting • Michael Wilding
• William R. Wilkerson • Frances Williams • Van Williams • Laszlo Willinger • Winners of the Wilderness •
Winter Garden Theatre • Keith Winter • Shelley Winters • Within the Law • David Wolper • A Woman's Face • The Women •
Women's Lib • James "Daddy" Wood • Sam Wood • Viviane Woodard Cosmetics • James and John Woolf •
World's Fair • Fay Wray
---
Wald, Jerry. Producer of the Joan films Mildred Pierce, Humoresque, Possessed, Flamingo Road, The Damned Don't Cry, Queen Bee, and The Best of Everything.
---
Walker, Alexander. Author of the 1983 MGM-authorized bio Joan Crawford: The Ultimate Star. (Personal note: I highly recommend this book; after I read it, just out of curiosity, in 1987, I became a full-fledged Crawford aficionado. Aside from the psychologically astute writing, Walker had access to innumerable MGM documents that specifically detail Joan's interactions with the studio, from her precise salaries at various times to inter-studio feuds, etc.)
---
Walker, Jimmy. Mayor of New York City in 1933, he sent eight police motorcycles to escort Joan and Doug Fairbanks, Jr., to the pier as they prepared to sail on the SS Bremen for a trip to England in an attempt to salvage their marriage.
---
Walsh, Florence. Joan's New York secretary. Joan left her $10,000 in her will.
---
Walter, Harvey S. Principal of Scarritt Elementary, later secretary of Stephens College; Joan attended school at both places.
---
Walters, Charles. Director of Joan's 1953 film Torch Song. A one-time dancer and choreographer, he was Joan's personal choice to direct this film (and also received an eyeful one evening when Joan invited him to her home then opened her housecoat to reveal nothing on underneath, saying, "I think you should see what you have to work with.") Walters said 25 years after filming:
I've worked with actresses like Judy Garland and Shirley MacLaine, and I always figured I could get the best performance from them if I knew them better than they knew themselves. It worked with Judy Garland and Shirley MacLaine, but not with Joan Crawford. Drunk or sober, the facade never dropped. (JCB)
---
WAMPAS. The "WAMPAS Baby Stars" promotional campaign was sponsored from 1922 to 1934 by the Western Association of Motion Picture Advertisers (WAMPAS) to promote movie starlets.
Joan was named a WAMPAS Baby Star of 1926, along with 12 other soon-to-be (or already) notables---there was a bit of controversy in the movie press at the time re whether this group, some already arguably established, were truly "up-and-comers."
The 1926 crop of 13 consisted of, alphabetically: Mary Astor, Mary Brian, Joyce Compton, Dolores Costello, Joan Crawford, Marceline Day, Dolores Del Rio, Janet Gaynor, Sally Long, Edna Marian, Sally O'Neil, Vera Reynolds, and Fay Wray.
See the 1926 Images page of this site for candid photos of the group.
See also this 1926 Photoplay article introducing this year's Baby Stars.
---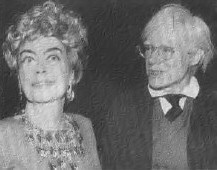 Warhol, Andy. (8/6/28 - 2/22/87) American Pop artist with a fascination for Joan that included a 1962 drawing based on her 1946 Maybelline ad and collecting some of her items at auction. (The sketch appeared at the MoMA Warhol retrospective in 1989.) In '76 or so, Joan told author Carl Johnes that she'd like to go out with friend Paulette Goddard, for instance, but "Paulette is always being followed around by that Andy Warhol and his tape recorder, and the time has passed when Andy Warhol can dress up a room!" (LY)
---
Warner Brothers. Joan signed with this studio after leaving MGM in 1943. Her films for Warners: Hollywood Canteen ('44), Mildred Pierce ('45), Humoresque ('46), Possessed ('47), Flamingo Road ('49), It's a Great Feeling ('49), The Damned Don't Cry ('50), Goodbye My Fancy ('51), This Woman Is Dangerous ('52). They also released What Ever Happened to Baby Jane? ('62).
---
---
Warrick, Ruth. Joan's co-star in Daisy Kenyon. In her memoirs she wrote of Joan, "She seemed to live in a crackle of tension one could almost feel like a physical thing around her." (EB)
---
Wasserman, Lou. Joan's agent after she left MGM in 1943.
---
---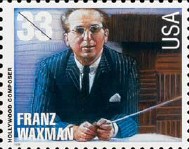 Waxman, Franz. (12/24/06 - 2/24/67) Notable conductor nominated for 11 Oscars for his film scores, winning one in 1952 for A Place in the Sun. The Joan films he worked on: 1936's Love on the Run, '37's The Bride Wore Red, '38's The Shining Hour, '39's Ice Follies (2 songs only: "Cinderella Reel" and "Blackbirds"), and '46's Humoresque (which was an Oscar nominee for Best Music).
---
Wayne, Jane Ellen. Author of the 1988 book Crawford's Men.
---
Wayne, John. Joan's co-star in 1943's Reunion in France.
---
Weatherly, Joan Evans and Kirby. See Evans, Joan.
---
---
---
Welles, Orson. Joan says in CWJC: He's the only real genius Hollywood ever produced, and how the studios fought him! Welles is something else. I think he even taught the Europeans something.
---
Wellman, William. Director of Joan's 1926 film The Boob.
---
Welton, James Barratt. Allegedly Joan's first husband from 1923 to 1924. According to the book Gone But Not Forgotten, he was a saxophonist with the orchestra of "The Passing Show of 1924," in which Joan was a chorus girl, and the two married in New York City. Says a later Welton Wife in the book:
...the big event at that time, one that has been kept locked up in the Hall of Records, was [Joan's] first marriage. When she arrived in Hollywood after a successful screen test to accept MGM's offer, the marriage was verboten. Because starlets in those days testified that they were unmarried, which was the rule. Since she [ Joan ] didn't drive in those days, Jimmy had to drive her daily to the studio at the crack of dawn and then pick her up while trying to keep out of sight. The marriage wore thin and they divorced in the middle or late 20's in California.
---
Werblin, Sonny. MCA executive. Joan met husband-to-be Al Steele five years before their marriage at a party at Werblin's NYC apartment in 1950. (JCB)
---
Westman, Nydia. Plays Joan's secretary in 1942's They All Kissed the Bride.
---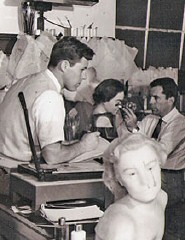 Westmore, Monty. (6/2/23 - 11/13/07) Joan's personal makeup artist for over 10 years later in her career, including for 1962's Baby Jane and 1969's Night Gallery episode "Eyes" (directed by Steven Spielberg). Westmore was a third-generation makeup artist (his grandfather was George Westmore, who came to Hollywood in 1917 and went on to become head of makeup at MGM). Monty began his career in 1943 at Warners, then spent 7 years at Universal, and went on to over 100 film credits (the last, 2000's The Grinch Who Stole Christmas).
Westmore on Joan, from a 2000 Daily Variety interview:
Because the legendary actress preferred to do her own makeup, it was Westmore's job to lay out her makeup supplies and curl six pairs of her false eyelashes each morning before filming began.
"She was wonderful at gluing them on herself, and when you watch her pictures, you see how expressive her eyes looked," he said.
In addition to carrying Crawford's makeup to the set, Westmore also carried another of her essentials: a cooler containing vodka and ice.
"She would always ask for a 'drink of water,' but I never once saw her out of control," he recalled. In fact, "she always tried to get a director tipsy when she wanted the script changed."
She tried doing that with a young Spielberg, but Westmore said he made sure the glass contained more water than vodka.
Joan left Westmore $5,000 in her will.
---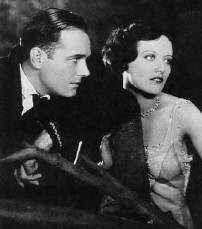 West Point. MGM silent, 1928, starring William Haines. Directed by Edward Sedgwick, 80 minutes. Joan plays hotel owner's daughter "Betty Channing," who's chased by brash young cadet Haines. Says Joan in CWJC: ...Bill Haines' picture, a throwaway for me.
---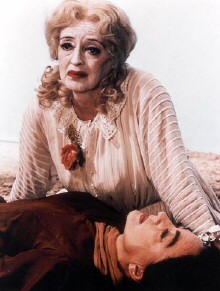 What Ever Happened to Baby Jane? Seven Arts/Warner Bros., 1962. Directed by Robert Aldrich, 132 minutes. Joan and Bette Davis (in their only film together aside from their cameos in 1944's Hollywood Canteen) co-star as psychologically bound ageing movie-star sisters. Davis was nominated for an Oscar for Best Actress. Says Joan in CWJC:
Christ. I still have nightmares about it. I know why the picture shouldn't have been made, and I know why it had to be made. I was lonely, worse than lonely, bored out of my skull, and I needed the money. Alfred had left me with nothing. Less than nothing. It was a good script, and Bob Aldrich had tremendous faith in it. Nobody would finance it; they didn't think either Bette Davis or I had the box-office pull to make it a success. Finally it did get financed, but on such a low budget we had to shoot it so quickly and improvise so many interiors and even exteriors, I felt as though we were filming a newsreel, not a movie. I was tense and nervous and desperately unhappy at the time, but probably nobody on the set or in any audience noticed this, because it was part of my character. The character I played, I mean.
Aldrich's publicity people thought that the best way to promote the picture was to make a big thing about a feud between me and Bette. They were half right, because before filming began, Bette, in an interview, referred to me as a "movie star" and to herself as an "actress." I still wonder what the hell she meant. So I had no great beginnings in legitimate theatre, but what the hell had she become if not a movie star? With all her little gestures with the cigarette, the clipped speech, the big eyes, the deadpan? I was just as much an actress as she was, even though I wasn't trained for the stage, but we were both competing in the same medium, so weren't we both actresses? Film stars? Former film stars, whatever? That kind of snobbery is beside the point. She has almost as many failed marriages and troubled children and financial problems as I have. I don't really find her all that superior, though I admire her so much I can't really dislike her. Anyway, Aldrich got the money, and we shot the film as though there'd been no tomorrow.
I didn't go in blind, mind you. I knew that Bette had the best scenes, that she could top me all along the way. I was a cripple, physically, and she was demented, mentally, and the mental always wins out on the screen. But we didn't feud the way the publicity people wanted us to. We weren't friends, but we got along, and the picture was finished, and I went back to New York and Bette went back to Connecticut, or wherever the hell, and our paths didn't cross again.
I finished that film absolutely exhausted. Physically, mentally, emotionally, you name it. Toward the end of production I finally realized it was a good film, that I'd held my own better than I had in The Women, and that the great actress hadn't totally defeated the mere movie star. Sure, she stole most of my big scenes, but the funny thing is, when I see it again, that she stole them because she looked like a parody of herself and I still looked something like a star. I think she tried too hard, but what the hell.
It's become a cult favorite, not just for the fag-hounds that will go to anything Bette Davis appears in, but to civilized audiences that recognize a movie for what it's worth. I really can't say anything against Bette--but I'm damned glad I'm not being represented in fag circles, like Tallulah Bankhead, the way she is. I never wanted to be some sort of joke, and thank God, I haven't been.
But I've got to stop being bitchy. Baby Jane was a good film, good for everyone involved, and it was a hell of a lot better than the little grotesques we did afterward. Let's just say that everyone involved with Baby Jane was so professional and so dedicated that what could have turned out to have been a tired, forgettable little low-budget picture turned out to be a good one, with a following that exists until this very day.
What Ever Happened to Baby Jane? page
---
What's My Line? Joan appeared on this CBS game show 6 times: 12/8/57, 12/30/60, 1/8/61, 10/14/62, 12/13/64, 7/3/66. See also the Joan TV page.
---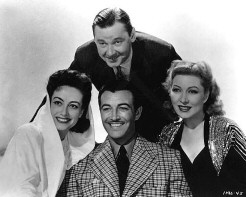 When Ladies Meet. MGM, 1941. Directed by Robert Z. Leonard, 105 minutes. Joan stars as novelist "Mary Howard," who's in love with publisher Herbert Marshall and pursued by Robert Taylor. Greer Garson plays the publisher's wife. Says Joan in CWJC:
...I have nothing but the worst to say for When Ladies Meet. Terrible story, terrible script, and I doubt that any actress could have made the goddam thing believable. Adrian dressed me divinely, as usual, and that's the only good thing I can say for it. Robert Taylor and Greer Garson were wasted, too, so I shouldn't complain too much.
---
Whiting, Jack. Broadway song-and-dance man and husband-to-be of Doug Fairbanks, Jr.'s mother Beth Sully at the time of Doug and Joan's 1929 wedding. Whiting and Sully were both witnesses at the wedding.
---
Wilding, Michael. British actor, Elizabeth Taylor's second husband, and Joan's co-star in 1953's Torch Song.
---
Wilkerson, William R. Trade-paper publisher and Friend of Joan. In 1947, he introduced his lawyer, Greg Bautzer, to Joan while in Las Vegas. Bautzer and Joan began a 4-year affair. Wilkerson also owned a popular Hollywood nightclub, the Trocadero.
---
---
Williams, Van. Plays "Dr. Denning" in Joan's 1963 film The Caretakers.
---
Willinger, Laszlo. Photographer assigned the task of publicity shots for 1939's The Women.
---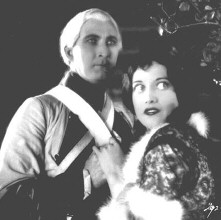 Winners of the Wilderness. MGM silent, 1927, starring Tim McCoy. Directed by W.S. Van Dyke, 68 minutes. In this tale of the French and Indian wars of the mid-18th century, Joan plays French general's daughter "Rene Contrecoeur," who's in love with soldier McCoy. Says Joan in CWJC: I was no match for Tim McCoy in Wilderness.
Winners of the Wilderness page
---
Winter Garden Theatre, The. NYC theater located at 1634 Broadway, which opened in March 1911. (Its name was changed to "Cadillac Winter Garden Theatre" in 2002.) Joan appeared in 2 J.J. Shubert-produced shows here: Innocent Eyes (1924) and The Passing Show of 1924.
Internet Broadway Database info.
---
Winter, Keith. Author of the play The Shining Hour, which Joan saw in New York. She asked L.B. Mayer to buy it for her, and he did. The MGM film of the same name came out in 1938.
---
Winters, Shelley. (8/18/22 - 1/14/2006) Enduring actress who debuted onscreen in 1943. She's perhaps best known for her roles in A Place in the Sun (1951), Lolita (1962), and Poseidon Adventure (1972). IMDB info.
Joan had this to say about Winters: "I saw Shelly Winters in A Place in the Sun. She gave a very moving performance, which surprised me, because Shelly is not a sensitive girl socially." Winters had this to say about Joan: "My idea of a movie star is Joan Crawford, who can chew up two directors and three producers before lunch." In Winters' book The Middle of My Century, she writes about an encounter with Joan in 1955 while Winters was starring on Broadway in "A Hatful of Rain" and had broken a leg during a performance:

I was resting in my dressing room when Joan Crawford came backstage. "Well, Shelley," she haughtily informed me, "you were very powerful and had the entire audience weeping, but if I had a role with a drug-addict husband, was seven months pregnant, and had a broken leg, I could make the entire audience faint." She then kissed me and added, "For God's sake, on opening night, when they say 'break a leg,' they don't mean you literally do it. It's an expression of good luck." She was right. But from then on, when I was opening in a show, I warned people not to say, 'Break a leg'."
---
Within the Law. Original title for the 1930 Joan-vehicle, Paid. Based on the hit play by Bayard Veiller and originally intended for Norma Shearer; when Shearer became pregnant, Joan begged Irving Thalberg for the role.
---
Wolper, David. Documentary producer who presented a film tribute to Joan (with clips ranging from Our Dancing Daughters to Baby Jane) at a 1970 banquet held by the Balboa Bay Club of southern California, which was honoring Joan as Woman of the Year.
---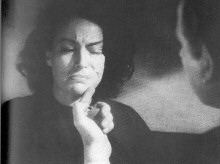 Woman's Face, A. MGM, 1941. Directed by George Cukor, 105 minutes. Joan stars as the facially disfigured "Anna Holm" in a remake of the Swedish film starring Ingrid Bergman. Melvyn Douglas plays the doctor who helps her and Conrad Veidt is the schemer who plots to use Anna to murder his nephew. Says Joan in CWJC:
I have nothing but the best to say for A Woman's Face. It was a splendid script, and George let me run with it. I finally shocked both the critics and the public into realizing the fact that I really was, at heart, a dramatic actress. Great thanks to Melvyn Douglas; I think he is one of the least-appreciated actors the screen has ever used. (Where would Garbo's Ninotchka have been without him?) His sense of underplay, subordination, whatever you call it, was always flawless. If he'd been just a little handsomer, a bit more of the matinee idol type, he'd have been a top star. Funny, but I think A Woman's Face was the reason I won an Oscar for Mildred Pierce. An actor who's been around a while doesn't win an award for just one picture. There has to be an accumulation of credits.
---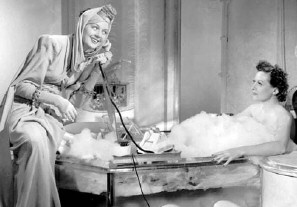 Women, The. MGM, 1939. Directed by George Cukor, 134 minutes. Joan plays husband-stealer "Crystal Allen" in an all-star, all-female cast. Says Joan in CWJC:
Norma Shearer, as usual, played the perpetual virgin, the wronged wife. Roz Russell played one of the bitchiest, funniest women ever put on film. Paulette Goddard was beautiful and a real minx, and all the supporting players, including Mary Boland, or especially Mary Boland, were perfectly cast. My part--I knew it was dangerous for me to play Crystal, but I couldn't resist. She was the epitome of the hard-headed hard-hearted gold digger on the big make, a really nasty woman who made the audience want to hiss. I knew that Norma would walk off with the audience sympathy and that Roz Russell would walk off with the picture, and that I'd be hated. All came true, but I gave a damned good performance and Cukor's direction was superb. It's a classic film, really, and I'm proud to have appeared in it, but I don't think Crystal wormed her way into the public's heart.
---
Women's Lib. In CWJC, Joan was asked both if her career would have gone easier had the rights of women been more established and about the women's rights movement in general. She said:
I don't think stronger characters like me or Kate or Roz Russell were ever intimidated simply because we were women. (God knows Bette Davis wasn't; look at the great battle she put up with Jack Warner.) We all knew 101 ways to say "Go fuck yourself!" without ever, or almost ever, being vulgar.
I don't think Women's Lib came on very attractively. The leaders not only weren't feminine, they looked as though they'd parked their semi's outside when they came in to go on TV. Men didn't like them, naturally, and a lot of women didn't associate and didn't want to. I wasn't exactly what you'd call a housewife, but I wonder how many housewives wanted to be told they were leading useless lives and working as unpaid slaves. Later on they toned down a bit and issues like--oh, equal pay for equal work began to mean something. But at first--well, the wrong people led the parade.
As far as the film industry is concerned, Women's Lib is a laugh. The strong parts are still being written for men. The casting couches have moved from movie studios to TV studios, and from what I hear they've moved in dozens more. Are any more women producing, directing, editing, or whatever, than in my day? I'm not anti-feminist, but I'm inclined to agree with Adela Rogers St. Johns, when she said that Women's Lib is a lot of hogwash, that women have always had their rights, but they were too dumb to use them. She says that any woman with intelligence and ambition has always been able to make it in the so-called man's world. I think she's right. Now that I've set the Movement back five years...
---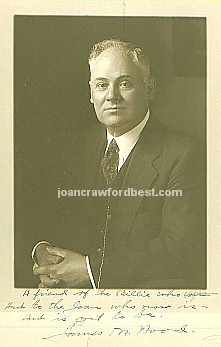 Wood, James Madison ("Daddy"). President of Columbia, Missouri's Stephens College from 1912 to 1947. He became a mentor to Joan after he caught her at a train station in December of 1922 trying to leave school after her first semester there. He later gave her three "rules for living" that she thought enough of to mention in her '71 autobiography:
(1) Never quit a job until you finish it. (2) The world isn't interested in your problems. When your problems are the greatest, let your laughter be the merriest. (3) If you find you can do a job, let it alone, because you're bigger than the job already, and that means you will shrink down to its size. If the job is impossible, you may never get it accomplished, but you'll grow in trying to accomplish it.
A decade after leaving Stephens, Joan would say:
I'll always love Dr. Wood....He was the first person to tell me that my aspirations are all right. He was the first person to speak as though I might realize them. In that little talk at the train station at Columbia, he gave me more to benefit me through life, more human education than all the hours in the classroom put together. He'd be surprised to learn the places where I have heard him repeating his words---while I was a member of a cheap road show, while I was kicking in the chorus on Broadway, in cabarets and Hollywood dance halls. I could always hear him say, 'Don't run away; let your record do you justice.' And I've always tried to obey him. (JCB)
Though they never saw each other again after she left Stephens, the two corresponded until his death in 1963.
Note: His words to Joan beneath his picture at upper left say: "A friend of the Billie who was---And to the Joan who now is---And is yet to be." Year unknown.
Photo and bio below are from the 1923 Stephens College yearbook, the Stephensophia. Click on either to see larger.
---
Wood, Sam. Director of Joan's 1930 movie Paid.
---
Viviane Woodard Cosmetics. In 1964, Joan received this cosmetics company's "Most Fascinating Actress" award. Joan served on the advisory panel of the company in 1966-67, along with Rudi Gernreich and Candice Bergen.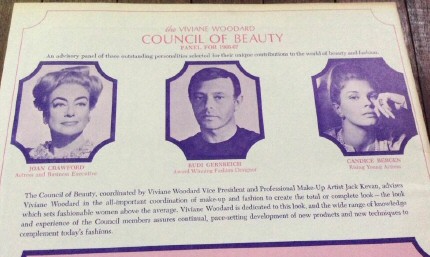 ---
Woolf, James and John. Owners of Romulus Films, which produced Joan's 1957 movie The Story of Esther Costello. (Joan was an uncredited co-producer on the film.)
---
World's Fair (New York, 1964-1965). Joan was instrumental in both the recruiting of Walt Disney and the completion of Disney's "Pepsi Pavilion" at the Fair. Writes Paul Anderson in his 2001 article, "Disney and the 1964 New York World's Fair":
...The last of the World's Fair projects to be undertaken, and perhaps the most stunning Disney achievement for the Fair, was "It's A Small World." Pepsi-Cola, who was working with UNICEF, the United Nations agency for children's welfare, was looking for an attraction that would provide a "salute to UNICEF and all the world's children."...
Not even a month had gone by since Walt had accepted Pepsi's invitation, and he already had his show designers working on concepts, a boat-ride system for the Pavilion, and plans for the building in New York, with construction to begin soon. It was a masterful start to what appeared like an impossible mission.
Joan Crawford to the Rescue
... [P]reliminary ideas ... were put together ... and [flown] out to Pepsi's headquarters in New York for a presentation. Pepsi's board of directors watched with a detached interest [as they were] told of the preliminary plans for the happiest cruise that ever sailed. When [the presentation was] finished, most of the board reacted in a negative manner, asking such questions as, "Why do we need this Mickey Mouse thing?"
The reaction illustrates why Pepsi approached Disney so late in the game. "They couldn't get to first base with any designer or anything," recalled Bob Gurr. "Finally, a year after they should have started, they approached us." Joan Crawford, the film actress, was on the board of directors for Pepsi. She knew that Disney was working on three Pavilions, so it was under her suggestion that Pepsi approached Disney.
It was only about ten months from the opening of the Fair, and Pepsi's board of directors was about to make the same mistake it had made with the previous designers; they were going to derail the concept. Joan Crawford had seen enough. She stood up, and with the talents acquired from years of playing leading ladies in Hollywood, she emphatically informed the board that, "We are going to do this!"
SOURCE: "Disney and the 1964 New York World's Fair," Persistence of Vision Issue #6/#7, Paul F. Anderson, Author and Publisher. © Copyright 2001, Paul F. Anderson. All rights reserved.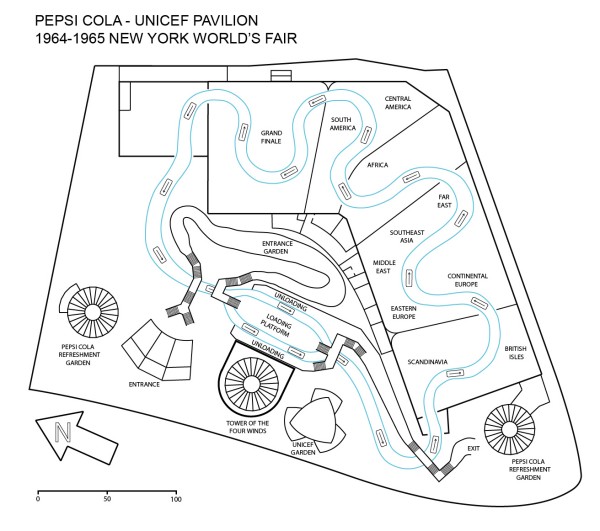 SOURCE: Pavilion Floorplan courtesy Kevin Carsh Collection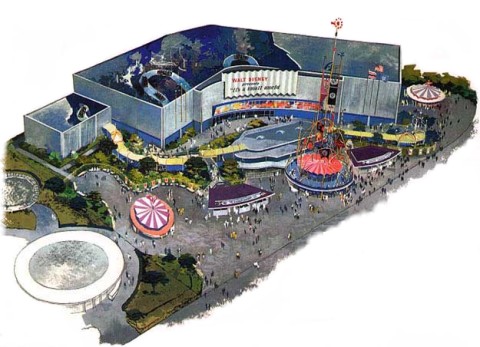 Conceptual artwork for Walt Disney's "It's a Small World" presented by Pepsi-Cola at the 1964/1965 New York World's Fair.
SOURCE: eBay postcard via the New York World's Fair 1964/1965 website.
Joan at the Pepsi Pavilion boat ride in April 1964. SOURCE: findadeath.com Disney page.
---
Addendum: The '64-'65 NY World's Fair also had an exhibit of 3 houses, called "House of Good Taste," designed to "provide visitors with a yardstick of home building and decorating standards." Below is the "Joan Crawford Room." I have no information on why it is so called or what Joan's contributions, if any, were to its creation.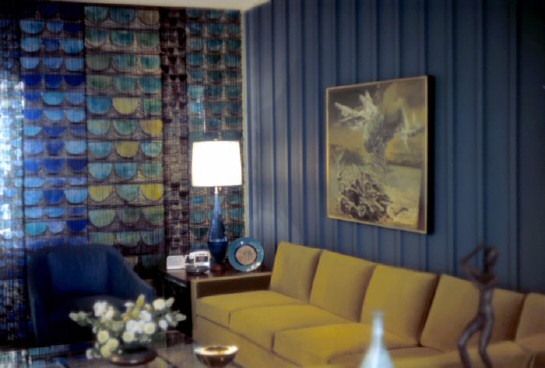 Official NY World's Fair site: Pepsi Pavilion pages.
Wikipedia NY World's Fair page.
---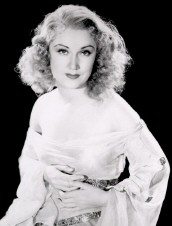 Wray, Fay. (9/15/07 - 8/8/2004) Most famous for her role in 1933's King Kong, Wray also co-starred with Joan in '55's Queen Bee and was a WAMPAS Baby Star of 1926, along with Joan and 11 others. In Wray's 1989 autobiography, On the Other Hand - A Life Story, she wrote re Joan:
Joan Crawford had written me a note when she knew I would be working again. It said, "Welcome...we need you." At Columbia again, I played a part in Queen Bee with her and had the opportunity to see how she continued to challenge each of life's moments as she lived them: self-critical, compulsively clean, washing her hands often and applying lotion from elbows to fingertips, using every free moment between scenes to answer fan mail, never relaxing.
(Thanks to Brad for the quote and for Wray's death date.)